by
posted on December 4, 2018
Support NRA American Rifleman
DONATE
Henry Repeating Arms has been a long-time supporter of our more compact compatriots within the shooting community, including first timers, small-frame shooting enthusiasts and our all-important young enthusiasts. The company offers a variety of reliable youth bolt-actions, trim rimfire lever-actions and soft-shooting pistol-caliber carbines. This year, Henry rounded out its extensive line up of handsomely crafted single-shots with two new youth models chambered in small-frame-friendly cartridges, including a .243 Win. rifle and a 20-ga. shotgun with reduced length stocks.



These two break-action Youth models are made at Henry's Rice Lake, Wis., facility and share several key features. You won't find any polymer parts on these guns. Instead, they are constructed around matte-blued steel receivers, with barrels, controls and appointments also made of steel and finished to match. The stocks are shaped from American walnut. The only component I could find that is not made of wood or steel is the soft, textured-rubber recoil pad featuring the Henry logo.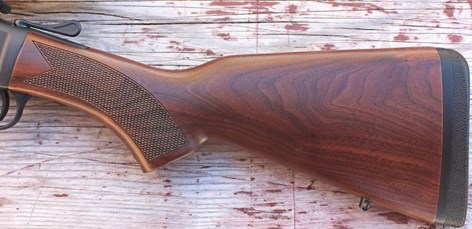 The shoulder stocks have checkered pistol grips and have been shortened to provide a 13" length of pull (LOP). On top of the receiver, directly above the trigger housing, is an ambidextrous, dual-direction release lever. It can be pressed right or left in order to open the action, whereas many break-action designs have releases that move only in one direction.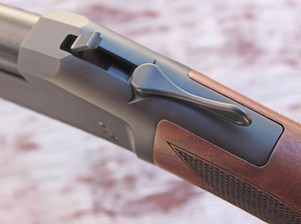 The trigger is single-action, meaning, the exposed hammer must be manually cocked in order for the gun to fire. The hammer spur is serrated for improved purchase and grooved to accept a knurled hammer extension when an optic is in use.  While some Henry models have transfer-bar or half-cock safeties, the single shots use a rebounding hammer safety. After the hammer strikes the firing pin it bounces, or rebounds, back from the firing pin and locks in a neutral position. The trigger is disengaged and will not fire the gun until the hammer is fully cocked once more.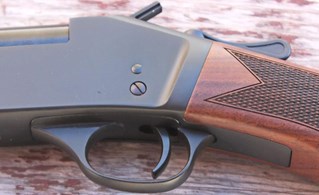 The metallic trigger guard is a rounded sporting design and houses a smooth-faced steel-bow trigger. The 9.5" long fore-ends are rounded at the nose and fitted with a steel cap where they meet the receiver. Each fore-end is secured to the round-profile, blued-steel barrel by a Phillips head screw. This is where the feature sets diverge between the two Youth platforms.

The Youth rifle is chambered in .243 Win. which is a popular, flexible and soft-shooting round. It was developed in 1955 by necking down the .308 Win. cartridge case to .243 caliber. Today's factory loads can be found topped with bullets ranging from 55 gr. to 105 gr. launching at nominal muzzle velocities from 2600 f.p.s. to 3800 f.p.s. Depending on the bullet weight selected, this round can be used for varminting, harvesting medium-size game like whitetail deer and long-range target shooting. This rifle features 6 land-and-groove rifling cut at a 1:10 RH twist suitable for stabilizing .243 Win. bullets up to 100-gr.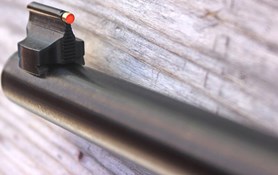 The 22" barrel is topped with a fully adjustable, folding-leaf rear sight paired with a brass-bead front sight set in a dovetailed steel base. The brass bead has a touch of bright-orange enamel to make it even easier to see. The receiver is drilled and tapped to accept a Weaver 82 scope base or the H015 Series Talley Ring Base Set that was used to support an Alpen Optics Kodiak Wide Angle 3-9X 32 mm scope for this review. A hammer-spur extension is a must when an optic is installed.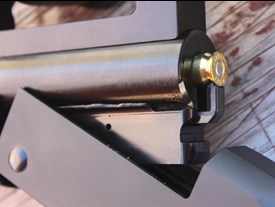 The chamber is fitted with an extractor that presses spent cartridge cases out just far enough to be manually removed. The fore-end is flat across the bottom edge, narrows towards the muzzle and has checkering along both sides. Sling swivels have been installed in the fore-end and shoulder stock. The Youth rifle weighs in at 7 lbs. 2 oz. with a smooth trigger pull of 5 lbs. 12 oz.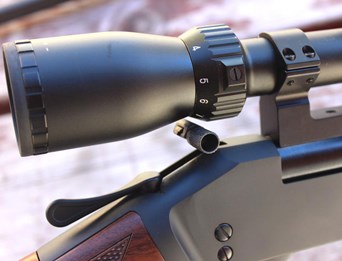 The 20-ga. Youth Shotgun sports a 26" barrel topped with a brass-bead front sight. It is fitted with a removable Modified choke (a choke wrench is provided). The chamber accepts shells up to 3" in length allowing it to be used with this cartridges full range of power levels and projectile options. The ejector neatly launches spent hulls out of the chamber and over the shoulder. The straight-profile fore-end features wrap-around checkering. The Youth shotgun tips the scales at 6 lbs. 8 oz. with a crisp, clean 5 lbs. 14 oz. trigger pull.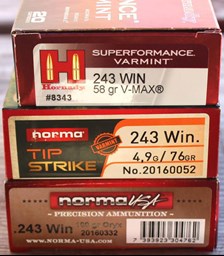 At the range both Youth models exhibited the high-quality craftsmanship, easy handling characteristics and reliable operations that make them much more than just practice guns. I started off with the Youth .243 Win. rifle. It should be noted that the scope needs to be positioned so the eye piece does not block the hammer from cycling properly. In my case, I had to switch optics to get the right fit.
 Because the Youth rifle has such a simple action, most of the weight resides at or behind the receiver resulting in a natural swing and a nice balance that makes it easier to hold up off the bench. The iron sights created a clean, crisp sight picture. For formal, bench-rested, five 5-shot group testing at 100 yards, the rifle was topped with a now discontinued Alpen Optics Kodiak Wide Angle 3-9X 32 mm (#2040) scope using a Model H015 Series Talley Ring Base Set provided by Henry.

Hornady's Superformance 58-gr. V-Max ballistic tip knocked out a best single group of 1.21" with a five-group average of 1.32".  Norma USA's TipStrike 76-gr. ballistic tip printed a best group of 1.18" with an average of 1.25". Over at American Hunter, contributor Philip Massaro said the Norma USA Oryx 100-gr. bonded soft point, "... may be one of the best all-around hunting bullets available." It certainly did not disappoint during this test with a best group of 1.05" and an average of 1.17".

The 20-ga. Youth shotgun handles as nicely as the rifle, with the same attention to detail evident throughout its fit and finish. Although the 20-ga. shell is not quite as flexible as the 12-ga., it is capable of launching 80 percent of the larger shell's payload with only 50 percent of the felt recoil. But unlike 16-ga. or 28-ga. shells, which can be harder to find, 20-ga. shells are nearly as ubiquitous as 12-ga. and can usually be found at local big-box and sporting-goods stores, packed with birdshot, buckshot and rifled lead slugs.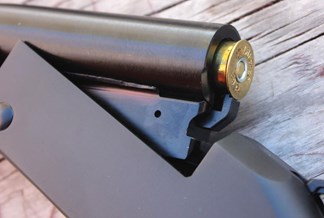 The shotgun was patterned at seven yards using Birchwood Casey 12x18 Shoot-N-C Silhouette targets to capture the results. I started off with a typical budget-friendly sporting load, Federal's blue box Game Load 2 3/4" shell filled with 7/8 oz. of #7 1/2 lead birdshot launching at a listed muzzle velocity of 1210 f.p.s. Felt recoil was the moderate level typical for 20-ga. platforms with a pattern of 5.5".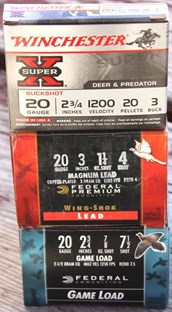 Next up was a hotter Federal Premium Wing-Shok 3" Magnum shell packed with 1 1/4 oz. of #4 copper-plated lead birdshot traveling at 1185-f.p.s. Printing a 6" pattern, this excellent hunting round generates felt recoil up in the 12-ga. range. Winchester's more moderate Super X 2 3/4" shell fires twenty #3 lead buckshot pellets at 1200 f.p.s. with a 4" pattern from this particular single-shot.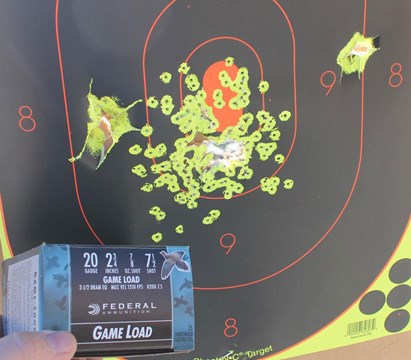 Henry Repeating Arms' new American-made Youth Single-Shot rifle and shotgun reflect this company's continuing tradition of supporting the shooting endeavors of customers in every age, size  and skill category. Their sleek lines, balanced handling and shorter stocks make these long guns a ideal option for youngsters who are ready to graduate from rimfire rifles and work with more powerful platforms that are still manageable.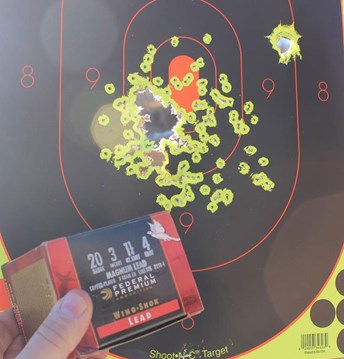 While some companies treat single shots as an afterthought, manufacturing them as cheaply as possible, Henry's offerings thoughtfully elevate the platform to its rightful place as a serious shooter's option while maintaining fair prices. The finely grained hardwood and all steel construction gives smaller-framed adults looking for lighter, compact long guns an option they can take pride in owning without feeling like they're stuck sitting at the kid's table.
The accessories mentioned in this review, including the hammer extension and Tally scope base, are available at the henrypride.com website.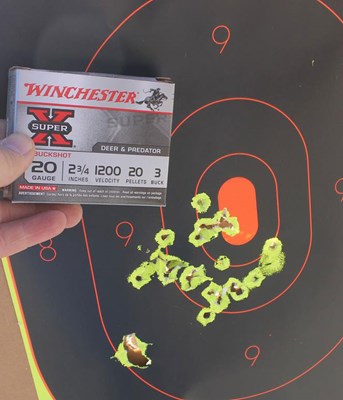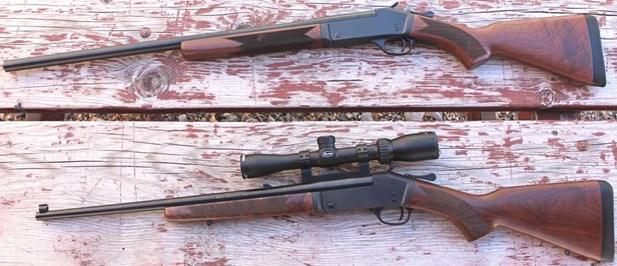 Specifications:
Manufacturer: Henry Repeating Arms
Model: H015Y-243
Action: Break-Action Single Shot
Caliber: .243 Win.
Barrel: Blued Steel, Round Profile with Extractor
Receiver: Blued Steel
Fore-end: Checkered American Walnut
Shoulder Stock: Pistol Grip, Checkered American Walnut
Recoil Pad: Black, Solid Rubber
Front Sight: Dovetailed Brass Bead
Rear Sight: Dovetailed Fully Adjustable Folding Leaf
Optics: Drilled & Tapped for Scope Mount
Safety: Rebounding External Hammer
Locking Lever: Pivoting Dual-Direction
Trigger: Single-Stage
Trigger Pull: 5 lbs. 12 oz. (As Tested)
Hammer Extension: Sold Separately
Barrel Length: 22"
Overall Length: 37.5"
Length of Pull (LOP): 14"
Sling Swivel Studs: Yes
Weight: 7 lbs. 2 oz.
Capacity: 1 Round
Twist: 1:10" RH
Rifle Grooves: 6
Accessories: Owner's Manual
MSRP: $448

Scope: Alpen Optics Kodiak Wide Angle 3-9X 32 mm (#2040) Discontinued 
Scope Mount: Talley Ring Base Set (H015 Series) $39.99
Hammer Extension: Carlson's Hammer Expander (Ambidextrous) $11

Model: H015Y-20
Action: Break-Action Single Shot
Caliber: 20-ga., Up To 3" Shells
Barrel: Blued Steel, Round Profile with Ejector
Receiver: Blued Steel
Fore-end: Checkered American Walnut
Shoulder Stock: Pistol Grip, Checkered American Walnut
Recoil Pad: Black, Solid Rubber
Front Sight: Fixed Brass Bead
Rear Sight: None
Optics: None
Safety: Rebounding External Hammer
Locking Lever: Pivoting Dual-Direction
Trigger: Single-Stage
Trigger Pull: 5 lbs. 14 oz. (As Tested)
Barrel Length: 26"
Overall Length: 40.5"
Length of Pull (LOP): 13"
Sling Swivel Studs: No
Weight: 6 lbs. 8 oz.
Capacity: 1 Round
Rifle Grooves: Smooth Bore
Choke: Removable Modified with Rem-Choke Type Threading
Accessories: One Removable Modified Choke, Choke Wrench, Owner's Manual
MSRP: $448