by
posted on September 30, 2020
Support NRA American Rifleman
DONATE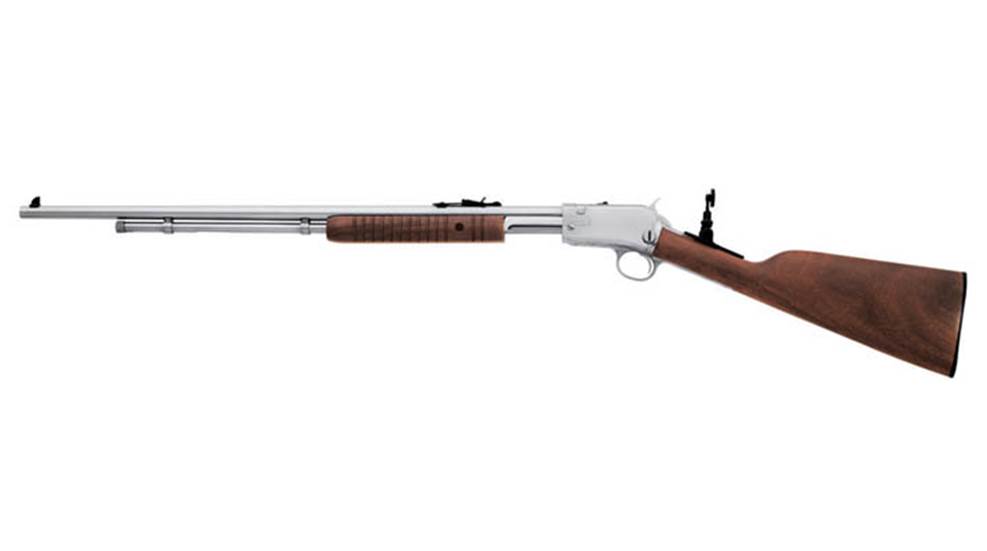 The Taurus Model 72 pump-action rifle's design reflects that of the Winchester Model 62, a classic among collectors. It does a great job emulating the original, which was phased out in 1958 after roughly 400,000 were produced.

The looks and operation are similar, but most of the Model 72s produced feature the Taurus Security System, as well as a manual safety. You won't find a factory-fresh model available today. There are, however, plenty available on the used market, complete with box, manual and sometimes the sales receipt. Prices vary by condition, but expect to pay at least $300 on a good day.

It was 2008 when Taurus Model 72s completely disappeared from the Taurus catalog. The year before the only version still listed was stainless steel, seen above, with a Marble's-like tang sight.

These firearms are chambered for .22 WMR. They were available in either 16.5" barreled carbines or 23" rifles. Both models held 10 of the .22 magnum rimfire rounds in their tubular magazines.

For survival use or convenient storage, the guns could be broken down into two pieces by loosening a knob on the left side of the gun. The carbine's total length was 32.5", and it weighed 4.5 lbs. The rifle measured 39" and tipped the scales at roughly 5 lbs.

Furniture was hardwood, and the fore-end slide was grooved to ensure a positive grip in poor weather or with gloved hands. The front sight was a post and all models used leaf-and-elevator at the rear, where the owner could adjust elevation. The Marble's-like option allowed for more precise changes in point of aim.

Despite being discontinued for more than a decade ,the Taurus Model 72 ranked fifth most popular among pump-action rifles on GunBroker.com. It's a big move up from its tenth spot the year before.