by
posted on February 10, 2021
Support NRA American Rifleman
DONATE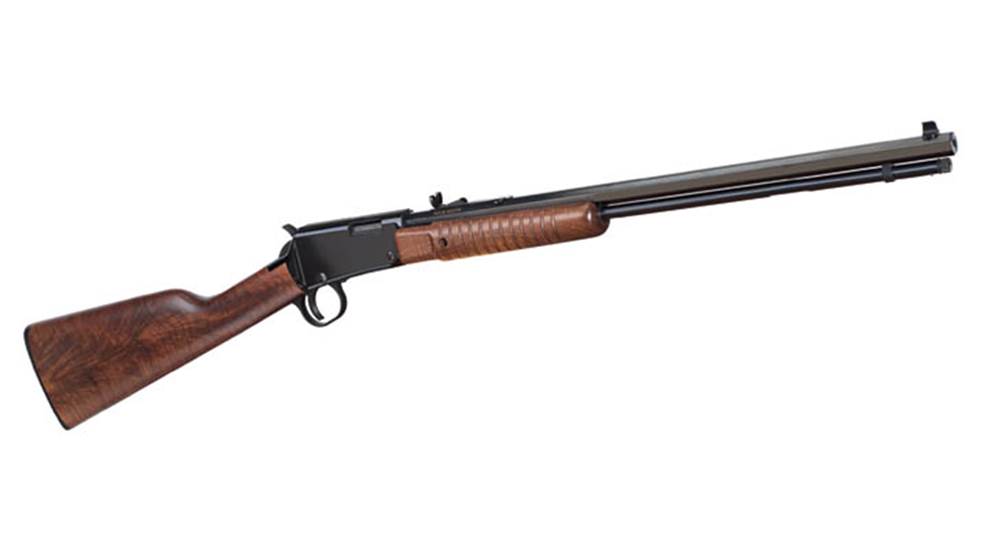 Much like comedian Rodney Dangerfield, pump-action rifles don't get any respect, or at least not as much as they deserve. With a sleek tubular magazine they offer plenty of fast-pace action at the firing line, quick follow-up shots in the game fields and a rugged reliability that has allowed them to survive, despite lack of viral fame.
Knowledgeable enthusiasts prefer to keep things secret, though. Without the fanfare new models can still be found, even at a time when those spots previously occupied by most trendy semi-autos and bolt-action rifles are collecting dust on gun store shelves. They also know investing in one pays long-term dividends.
Last year the Henry Pump Action Octagon rifle was the most popular model in the category among retailers using the services of Gunbroker.com. The rifle traditionally a high performer, having held third place in 2019 and second the year before.
There's good reason for the popularity, whether you go with the .22 S/L/LR chambering or .22 WMR. Both rimfires resurrect memories of shooting gallery guns, back when such things were common at county and state fairs, but the blued and octagonal barrels give them the kind of timeless look that appeals to an all-new generation of shooters.
The stocks are American walnut for a warm and traditional look. The rear sight is a fully adjustable Marbles semi-buckhorn, but if you prefer, the receiver is grooved for scope mounting.
Magazines capacities are 15 rounds of .22 LR or more generous 21 in .22 Short ammunitioin. The magnum rimfire version can hold 12 cartridges. MSRPs are $605 and $648, respectively. Both rifles have a 14-inch length of pull and come with a barrel that measures 20 or 20 1/2 inches, depending on chambering. Rifling is 1:16 and each tips the scales at 6 pounds.
As for performance, American Rifleman reviewed one of the rifles in 2010 and, "In the end the rifle proved to be very accurate for a small-game hunting or plinking rifle, as the results in the accompanying table indicate."