Support NRA American Rifleman
DONATE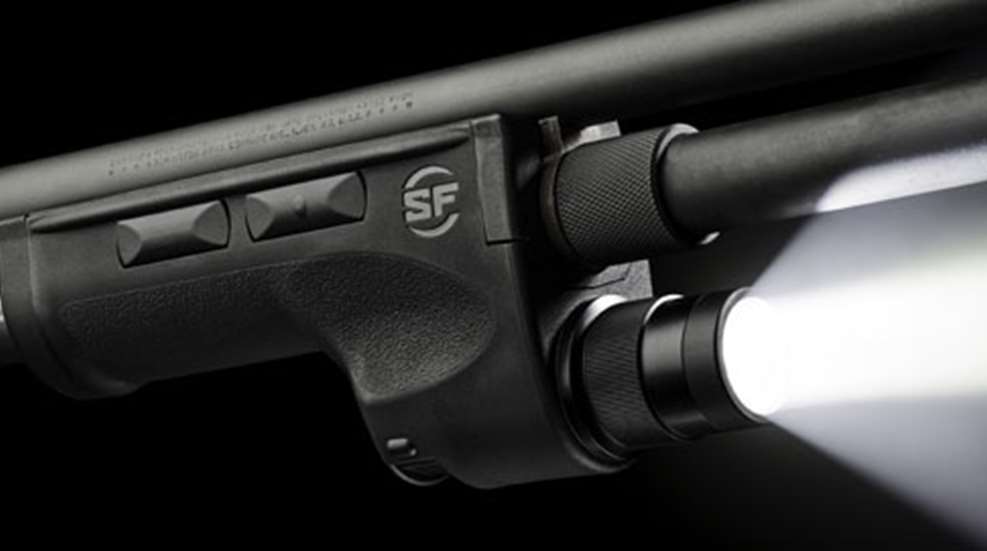 She was like a little girl at Christmas who had just unwrapped a new Barbie, pink Corvette to match and a completely furnished Dream House (like they ever come without furniture). OK, that's not the way children's holidays go anymore, but it's about the only comparison to the moment my wonderful bride unwrapped a SureFire Fore-end Weaponlight for her Winchester Model 1300 Defender two years ago.
It went on in minutes, after she read the instructions and threatened to take away my Ma and Pa Kettle fan club charter membership unless I let her give it a try. I'd been toiling with it for hours on the workbench, wondering what that spare part was that came in the box-turns out to be a handy tool that made things easy enough that I haven't been asked to put anything together since. I love it when a plan comes together.
Once on the shotgun it retains the same manual of arms. There's nothing new to learn, and the flashlight automatically comes on when you firmly grip the fore-end. If you're waiting for the authorities to arrive at first light, and you spot the bad guys vaulting back over the fence, you don't need to fumble around looking for a flashlight. It's fast, automatic and racy looking enough to attract stares-sorta like that pink Corvette.
I was golden, until this week when SureFire announced improvements to its Dedicated Shotgun Fore-end lineup, including a hair- and hand-raising output of 600 lumens. That's enough to cook an MRE, singe an armed criminal's hair and make me boiling mad. So much for the perfect gift. I might as well write a check today.
It's a completely new design, one capable of being seen by Helen Keller at 100 yards or dialing down to a kinder, gentler solar flare of 200 lumens. A pressure switch turns it on when grasped tightly, as it did in the old system, but now constant-on and pressure switches are found on both sides. You can also control output and there's a master disable switch that ensures batteries don't die during long-term storage.
The body is constructed from hard-anodized aluminum, as expected from SureFire, and the textured polymer housing provides a solid grip. A pair of 123A batteries powers the unit, and O-rings make it weatherproof. Add a tempered window, great new reflector that scatters just enough light nearby to move if need be and the fact nothing is modified on the shotgun during installation, and I know exactly what's going to be on my gal's wish list this year.
If you're in the same boat-or even have a slightly more "regular" bride who relies on a shotgun for home-defense-it's time to visit SureFire and order before the holiday rush. MSRP is $375-$395, depending on shotgun model.