by
posted on February 14, 2017
Support NRA American Rifleman
DONATE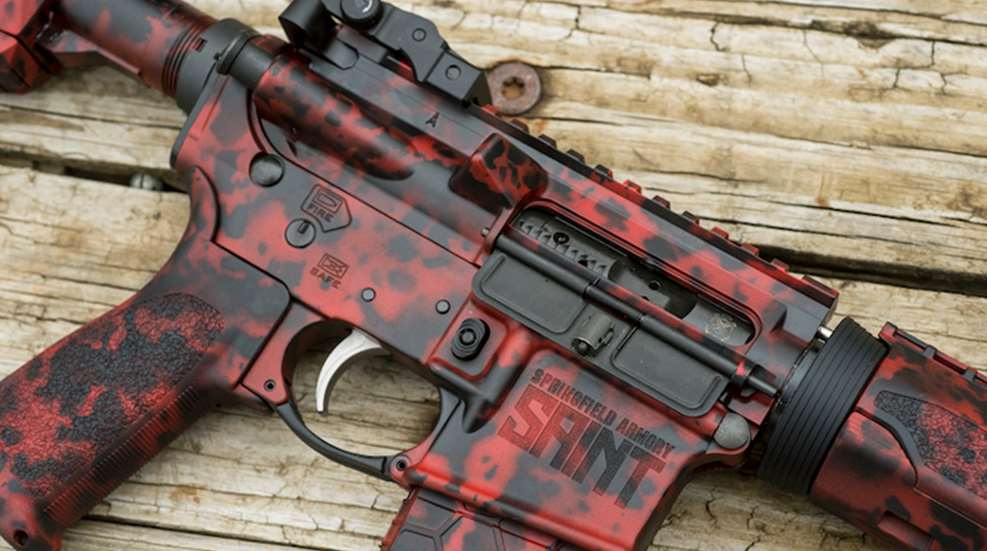 Springfield Armory has announced a Valentine's Day fundraiser benefiting the Chris Kyle Frog Foundation (CKFF). Partnering with the gunsmithing and finishing experts at XDMAN, the company will auction two custom-finish "his and hers" Saint AR-15 rifles on GunBroker.com and donate all proceeds to the Foundation.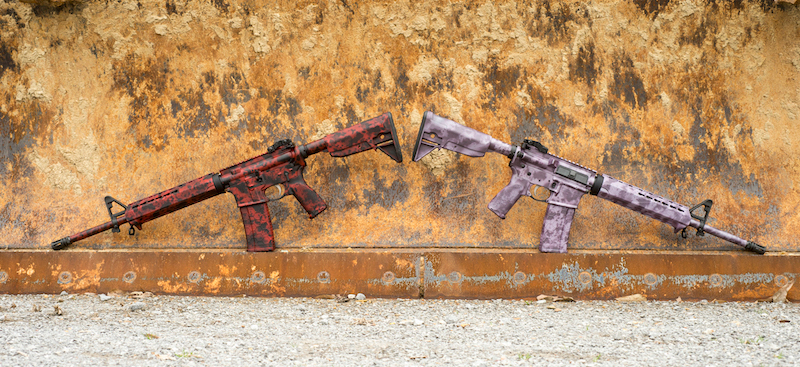 The 14-day auction began Feb. 14 at 12 a.m. and runs through Feb. 28 at 12 a.m. View the listing here.
The Springfield Armory Saint AR-15 rifles feature distinctive tactical KG Gunkote finishes, painstakingly designed and applied by noted gunsmith James Nicholas. The rifles also contain consecutive serial numbers.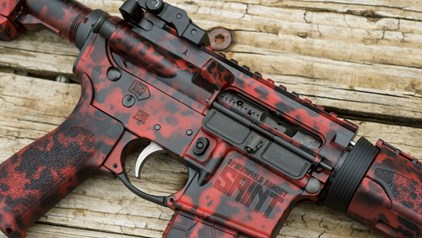 The first Saint rifle boasts a KG Gunkote Red and Black Splatter Coat finish. The two-color ghosting effect, one of XDMAN's most popular designs, has a tactical appearance with a modern-day camouflage pattern.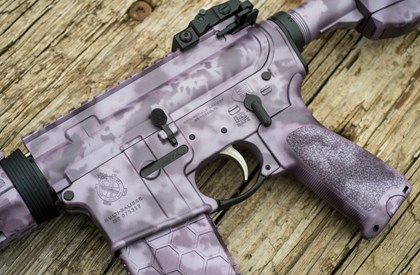 The second Saint rifle also utilizes the Splatter Coat technique with a custom mix of colors and splatter to make a unique finish. The base coat uses both Silver and Pink coatings to create a Lilac background, while the splatter effect uses both Titanium and Purple. The resulting pattern has a beautiful metallic sheen when exposed to light.
As a finishing touch, Nicholas applied matching finishes to Hexmag Series 2 magazines as the innovative design of these durable advanced composite magazines add to the aesthetic value. Both rifles will also ship with the original, unaltered, Magpul 30-round magazines.  If the winning bidder resides in states with magazine capacity restrictions, an alternate state-compliant magazine will be provided.
"I was intrigued by the idea of customizing his and hers rifles with consecutive serial numbers," said Nicholas. The Splatter Coat technique has been XDMAN's most popular finish, and Nicholas said he wanted to highlight the Valentine's Day timing of this fundraiser with carefully chosen colors. "I think the result is something really special."
At the completion of the auction, all proceeds will be donated to the Chris Kyle Frog Foundation. Taya Kyle currently leads as CKFF Executive Director and continues the legacy of the Foundation's namesake. Her husband Chris authored the highly acclaimed memoir, "American Sniper," documenting his life serving as a Navy SEAL sniper before his untimely death in 2013. The Foundation's mission is to "Honor God, County, and Families Who Serve" by providing unique experiences to military and first-responder marriages and families. Current programs allow time and space to reconnect after the extreme stressors of service with the support of clinical coaching.
"We're thrilled that Springfield Armory is continuing their support of the Foundation," says Taya Kyle. "This fundraiser represents their esteem of our law enforcement, EMS, and military communities and desire for these families and marriages to thrive. It's great to have this kind of support." 
Springfield Armory CEO Dennis Reese added, "We're honored to continue our support of this Foundation honoring a great American hero," referencing the Limited Edition Springfield 1911 Legend Series TRP pistol that American Sniper Chris Kyle carried in combat to benefit the Foundation. This year, we wanted to continue that tradition and find a new way to support the great work being done by Taya Kyle and the Foundation team."
For all the rules and complete information on the Saint Valentine's Day auction, including state rules and regulations, please visit gunbroker.com