by
posted on September 14, 2017
Support NRA American Rifleman
DONATE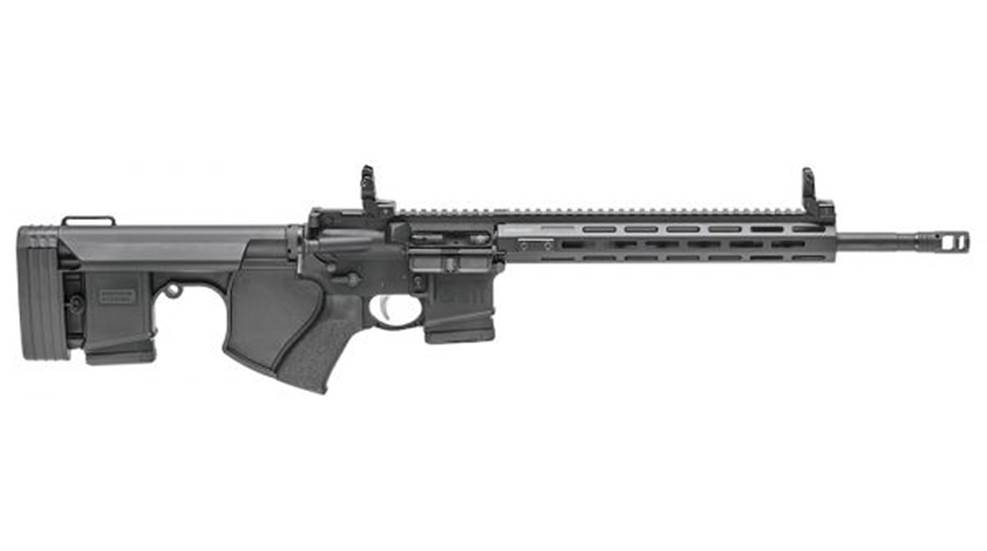 The Springfield Armory Saint with free-float handguard is now available in a fully California-compliant version.
Factory-equipped with state-approved stock, 10-round magazine and muzzle brake, the new California-edition Saint does not require registration as an "assault rifle" and does not demand questionable aftermarket modifications.
The California model of the Saint featuring a free-float handguard is a "featureless" firearm, with no components that might call compliance into question.
Instead of the standard Saint six-position buttstock and Bravo Company Mod 3 pistol grip, the California Saint has a rigid Survivor System Option Zero stock and Tango Down BG 16 grip. The stock feels and fits like a sporting rifle, and the angled "back paddle" grip keeps the thumb on one side of the firearm—a shooting position that's easily adopted, accurate and state-compliant.
A 10-round Magpul PMAG Gen M3 magazine replaces the standard 30-round version. Instead of a typical AR-15 flash hider, the California Saint sports a proprietary Springfield Armory muzzle brake that dampens barrel jump and meets state specs.
"This is not a stripped-down Saint or a band-aid fix," Springfield Armory CEO Dennis Reese said. "The California Saint is a ground-up, factory-engineered response to some of the tightest regulations in the country. It gives California shooters an AR-15 they know is compliant and know they can count on. This Saint is a solution—not a sacrifice."
Nor will Saint shooters sacrifice comfort or flexibility. Add-on buttpads let operators easily fit stock length to their liking. The stock holds a second mag, keeping fresh rounds close at hand. The textured grip provides a secure hold that quickly feels natural. An ambidextrous safety lever sits just below the thumb, providing both peace of mind and shooter's thumbrest.
Aside from state-approved stock, magazine and muzzle brake, this California Saint AR-15 is identical to the 49-state version, well equipped and ready to shoot out of the box. At 7 lbs., 4 oz. unloaded, the new SAINT is nimble and well balanced. 
"California shooters deserve a premium firearm that meets every challenge they face," Reese said. "With the California Saint, we're proud to offer them exactly that."

MSRP: $1,135

For more information visit springfield-armory.com