by
posted on July 1, 2020
Support NRA American Rifleman
DONATE
When
Springfield Armory
launched its innovative Hellcat micro-compact pistol in 2019, the company took steps to highlight the durability of this dedicated defensive pistol. In the same year, one Springfield Armory Hellcat, Serial No. AT234795, was fired 10,000 times with no parts breakage and minimal cleaning. Now, that same gun did it again, going 20,000 rounds with no gun-related issues.
In one marathon range session, Paul Carlson, owner of
Safety Solutions Academy
, and a team of shooters put 10,000 rounds of
Federal Premium
American Eagle 9 mm through Hellcat No. AT234795 in 10 hours. The test differed slightly from the first 10,000-round shoot, but the team recorded every round fired and maintained a minimal maintenance schedule. To prevent the gun from becoming too hot to handle, the Hellcat was cooled off by an air compressor every 250 rounds.
"We are very proud to see that the Hellcat once again proved its dominant position in the market as the finest and most durable micro 9mm available," says Steve Kramer, vice president of marketing at Springfield Armory. "Carlson's test held the Hellcat to a very high standard, and it once again showed that the pistol has what it takes to deliver the performance and capability concealed carry users should demand."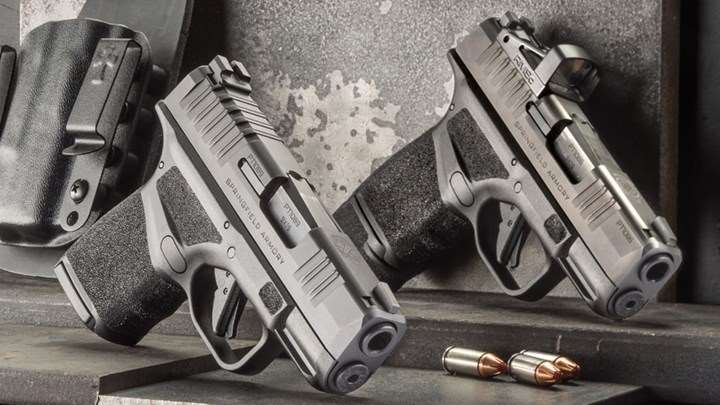 The Springfield Armory Hellcat,
reviewed here by
American Rifleman
, boasts an on-board carrying capacity of 11+1 rounds in a flush-fit magazine or 13+1 rounds in the extended magazine. This dramatic jump in round count is made possible through a stagger-stack magazine design, which allows the Hellcat to maintain a size similar to many popular single-stack handguns while significantly increasing capacity. The gun is offered in iron-sighted and optic-ready models, and
an all-new FDE-finished variant
launched in mid-2020.
"No one would ever expect a micro-sized pistol intended for CCW to be subjected to such an incredibly demanding test, but we never doubted the Hellcat would come out on top," says Dennis Reese, CEO of Springfield Armory. "Quality is our number one priority and it always will be, and the Hellcat proved that during this test. We'll be watching as it continues to prove itself for the next 10K rounds, and beyond."
For more details on the test and the gun itself, visit
springfield-armory.com
.