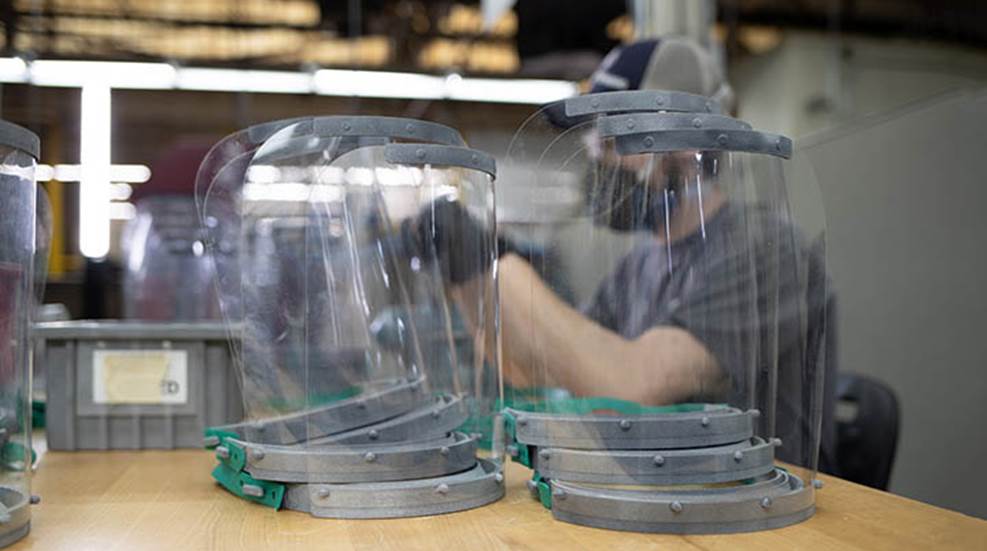 Smith & Wesson reported late last week that it has taken a variety of measures to support its employees and local communities during the COVID-19 pandemic. Leveraging its manufacturing capabilities and specialized equipment, the company has re-purposed a portion of its manufacturing capabilities to help alleviate a nationwide shortage of personal protection equipment (PPE) and help keep front line personnel safe.

"As a manufacturer, Smith & Wesson has talented engineers, specialized equipment, and production capability that we've been able to repurpose to help the local community during the coronavirus outbreak," said Mark Smith, co-President and co-CEO of parent company American Outdoor Brands. "Contributing to our local communities has always been important to Smith & Wesson, and we'll continue to help wherever and however we can."

Within a few days of the outbreak, the company's engineering team designed a process to produce face shields utilizing 3D printers and readily available materials and commenced building. Within two weeks, the company's plastic injection-molding facility had designed, manufactured and tested molds allowing for large-scale production.

The company is now producing 1,000 face shields per day for use by employees, the medical community and first responders. To date, the company has donated more than 7,000 face shields and 12,000 pairs of eye protection to support front-line personnel across the nation.

As a provider of firearms, restraints, parts, training, and other services to law enforcement agencies, Smith & Wesson has been considered an essential business and continued to operate while working diligently to keep employees safe. The company has staggered its shifts to reduce crowding, enhanced cleaning protocols and equipment, implemented strict social-distancing policies, supplied face masks to all employees, and has implemented no-touch infrared temperature scanning at all locations. The firms's office staff continues to work remotely offsite.

"Employee safety is our top priority," Smith said. "At the onset of this outbreak, we felt it was extremely important that we do everything possible to not only keep our employees safe, but to thank our staff for working diligently during this time we immediately implemented a 20 percent pay increase for any employee whose job duties require them to be onsite, and have modified our paid time off and insurance policies to allow flexibility for any of our employees who may need to be away from their job during these challenging times."

The Smith & Wesson leadership team continues to monitor CDC guidelines for cleaning and sanitation to ensure that the company is not only meeting these guidelines, but exceeding them.