Support NRA American Rifleman
DONATE
Smith & Wesson Corp.
has announced a partnerhship with former New England Patriots player and three-time Super Bowl Champion Matt Light to raise money for charity through the auction of three
Model S&W 460XVR
special edition Performance Center revolvers. Proceeds from the special edition revolvers, which will be auctioned off at
Gunbroker.com
, will be used to support the Light Foundation and its continued efforts to provide unique outdoor learning experiences to children of different backgrounds.
"When Matt first approached us about the possibility of auctioning off a special edition revolver for his charity, the Light Foundation, we knew this was an opportunity that would have an immense benefit to thousands of children and communities across the country," said Mark Smith, Vice President of Operations for Smith & Wesson. "An avid outdoorsman himself, Matt has had a major impact in the lives of youth who participated in his charity as they develop critical skills and values through specialized programs and initiatives that focus on topics such as responsibility, accountability and hard work. Smith & Wesson is honored to play a small part in the continuation of this work as we firmly believe in the benefits of getting more children outside so they can foster a greater appreciation for the outdoors."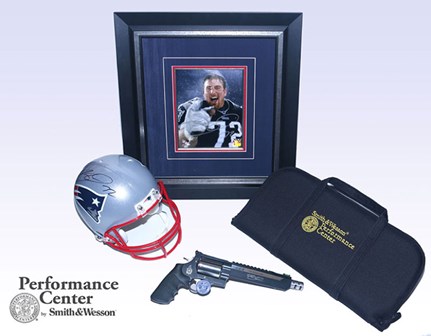 The Matt Light special edition revolver will be available in a limited run of four firearms, three of which will be auctioned off online through Gunbroker.com. The fourth revolver will be auctioned off at the
Matt Light Celebrity Shoot-Out
later this year. Each revolver package will include an autographed football helmet and a signed photograph of Matt Light. In addition, all three winners of the Gunbroker.com auction will be eligible to take part in a "Smith & Wesson Experience." Winners must meet all applicable legal requirements, including those under the International Traffic In Arms Regulations (ITAR). For the complete terms and conditions, go to
Gunbroker.com
.
Manufactured on
Smith & Wesson's massive X-Frame
, the special edition revolver is chambered in the versatile .460 S&W Magnum. Delivering velocities exceeding 2,400 feet per second, the Model S&W 460XVR earned the distinction as the highest velocity production revolver when first introduced. The revolver features a stainless-steel frame, an unfluted cylinder and a 7.5-inch barrel design.
The Matt Light Performance Center special edition is standard with synthetic rubber grips along with the company's renowned smooth double-action and crisp single-action trigger pull. To help aid in recoil management, the revolver is also standard with a Performance Center muzzle brake.
Equipped with a variety of special features that only the individual attention of master gunsmiths can achieve, the Matt Light Performance Center special edition 460XVR is hand-cut and fit to insure top-notch accuracy and precision. Additional Performance Center features include a heavy-duty ball detent lock-up along with a chrome teardrop hammer and trigger. All these features contribute to a revolver capable of answering the needs of any serious handgun hunter.
The Model 460XVR weighs in at 4.81 pounds and has been fitted with a fiber-optic front sight and an adjustable white-outline rear sight to help aid in target alignment. When traditional sights are not being used, hunters will appreciate the integral weaver base located on top of the barrel, which allows for optics to be easily mounted. The Model 460XVR is also engraved with Matt Light's logo on the sideplate and his signature is predominately featured on the barrel.
For more information on the special edition Matt Light revolvers, please visit
gunbroker.com
. For more information, visit the
Matt Light Foundation
.