by
posted on June 22, 2022
Support NRA American Rifleman
DONATE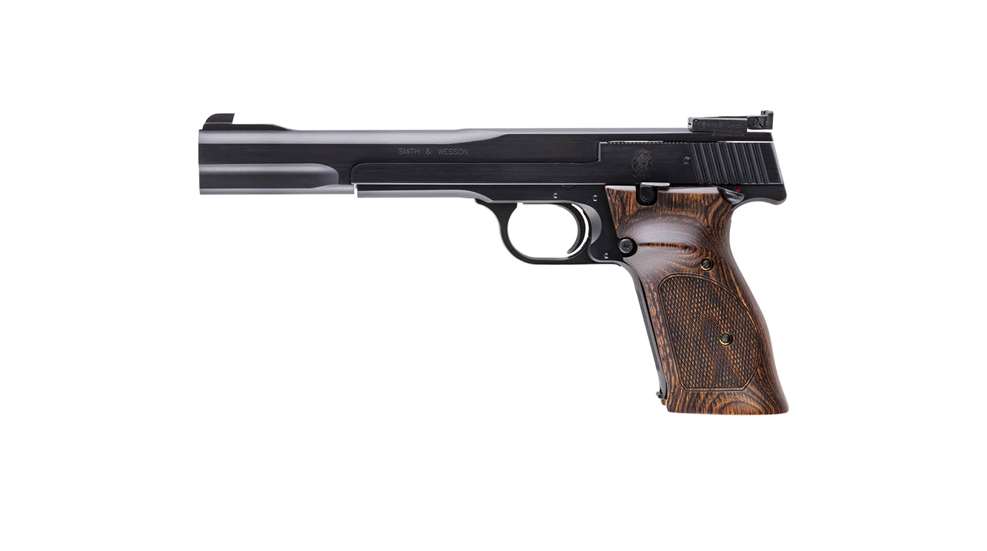 Smith & Wesson's reputation was built on a solid foundation of revolvers with enviable performance, reliability and longevity. The company's first semi-automatic pistol appeared in 1913—the .35 Automatic—but it would be decades before enthusiasts viewed their autoloaders with the same respect.
Shortly after World War II, the company set out to change that perception. The Smith & Wesson Model 39 was developed during the U.S. Army's search for a new semi-auto pistol in 1954. It didn't displace the venerable 1911, although it was a success when it hit the commercial market in 1955.
The big breakthrough came in 1957, when the company introduced its Model 41 semi-automatic target pistol chambered in .22 LR. Enthusiasts clamored to claim one for themselves, and the rimfire handgun was on backorder for several years, despite staggering increases in production.
The first versions came with a 7 3/8" barrel, blued steel, Patridge sights and a muzzle brake. The company wisely used the same grip angle as the 1911 and stocks were checkered walnut.
A number of variants were introduced throughout the years, but it took a back seat to other semi-autos. Production stopped or reduced to a mere trickle with annoying regularity until 2013. That's the year the company revived the classic in a big way. Sheriff Jim Wilson got his hands on one during that year's SHOT Show, and was impressed with the performance and modern refinement on the straight-blowback-operated gun that now wore a Picatinny rail for mounting optics.
As for how it handles, Dave Campbell explains in his review that, "If you haven't had the opportunity to shoot a Model 41, find someone who has one and will let you shoot it. Over the years, I have had three opportunities to shoot a Model 41, including one with the Model 41-1 in .22 Short. It really takes you to a different, more rarified level of shooting."
Today Smith & Wesson offers two standard versions of the rimfire Model 41, MSRPs $1,429, and a model from the Performance Center ($1,679). Barrel lengths are either 5.5" or 7", magazine capacity is 10 cartridges and stocks are target style made from wood. Standard models have a Patridge sight up front with an adjustable sight at the rear. All have a user-adjustable trigger stop. The Performance Center model wears an integral Picatinny rail atop, its front sight is removable, the rear is adjustable and it ships with the 5.5" barrel (although it's capable of using the 7" unit).