by
posted on August 26, 2023
Support NRA American Rifleman
DONATE
If you're like me, when starting your automobile(s), you do so with an unsophisticated, traditional machined key, and it works just fine. Or perhaps you have a newer model that, once entry has been made using a digital key, employs a push-button (keyless) start. Regardless of how it's accomplished, the end goal is met—the vehicle "starts."
Firearms are similar. The trigger can (and does) vary aesthetically and functionally; however, the "go-switch" on a gun is designed for one task only: initiate the chain of events resulting in the discharge of the firearm. How triggers operate, though, can differ greatly—particularly on rifles.
Effectively, there are two types of rifle triggers: single- and two-stage. Although the former currently comprises a disproportionate portion of what is encountered on production, semi-custom, and custom rifles, that trend appears to be changing—depending on whom you query. And ask I did. Just wait.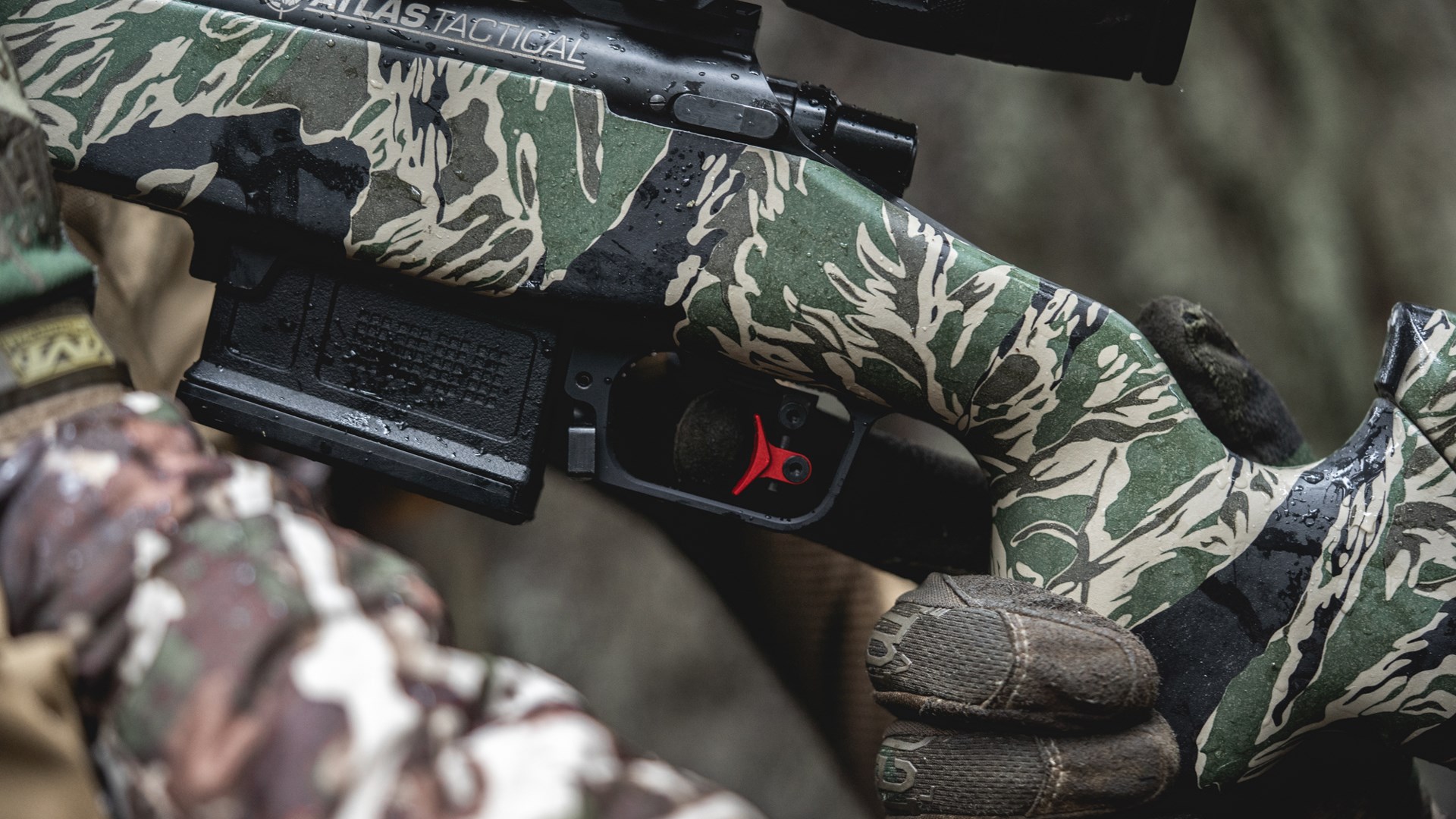 So, what is a single-stage trigger, and how does it contrast with the newer two-stage design? To answer those fundamental questions, as well as the advantages and drawbacks of each, I conducted wide-ranging research, interviewed multiple personnel from rifle and trigger manufacturers, as well as a competition-winning shooter, and drew from my own experience. Below is what you need to know.
Living Single
As previously mentioned, most rifles come equipped with single-stage triggers, so if you've fired one, then you've likely encountered this design. Still, a definition is warranted. According to the NRA Firearms Sourcebook, a definitive source for all things firearm-related, a single-stage trigger is, "a trigger mechanism in which the trigger travel is relatively short and there is no significant sensible change in pull force from the beginning of movement up to the point of firing." To this was added, "a trigger which releases with a single pull."
Now let's delve a little deeper and elaborate. From the initial movement of the trigger until the firearm fires, there's constant, uninterrupted rearward travel, though said movement isn't always short, crisp or lightweight. The pull weight itself, however, is usually adjustable on premium aftermarket models and Savage's renowned AccuTrigger, or it can be overcome if the trigger can be "set," which reduces the pulling force.
Concerning movement, there can be "trigger creep," which the aforementioned book describes as, "the sensible movement of the trigger after pre-travel or slack has been taken up, but before [the] sear releases." Ideally, you want a crisp trigger, where movement is imperceptible—or nearly so.
If a single-stage trigger is especially crisp, the shooter will be "surprised" when the rifle discharges. Because of this, there's less anxiousness that could negatively affect accuracy; anticipation is often detrimental to accuracy, particularly on harsh-recoiling rifles. Some shooters like this unknown break, others don't; instead, they prefer a discernible break of the trigger. In general, though, a quality single-stage trigger will perform admirably across the board.
Two-in-One
The NRA Firearms Sourcebook describes a two-stage trigger as, "A trigger which has two distinctive pull characteristics. The first or take-up stage is usually long and light in pull force; the second stage having a short but distinct increase in the pull force required to discharge the firearm." I'll add to this definition and description.
The first stage of the trigger pull is usually very light and long (relatively speaking) and ends with a solid stop, as if hitting a wall. That's where the second stage begins. For those unaccustomed to two-stage triggers—and aren't jerking the trigger—it will feel almost as though something's amiss, like the safety is on. It's not. Though heavier, the second stage is generally exceptionally short (or creep free) on quality triggers. So, whereas on a single-stage trigger the break will come as a surprise, it'll be less so with a two-stage trigger.
Using my own SSK Industries- (now SSK Firearms) customized Remington Model 700 as an example, the initial stage of the aftermarket Timney Remington 700 Two-Stage Light trigger is long, yet smooth, with a pull weight of around 8 ozs. The second stage, though, exhibits no discernible creep and breaks at an average of 1 lb., 12.9 ozs. It's perfect for the range, and I use it for the field, too.
Diverse Opinions
Reaching out to some of the biggest names in the industry, I wasn't surprised to find that there were differences of opinion on the subject. But, there were some surprises along the way, too.
First, I contacted Don Fraley, owner of Advanced Weapons Technology, LLC, in Russell, Ky. Beyond his vast military experience, according to the company's website, "Don is former lead sniper for the prestigious Kentucky State Police SRT team and winner of the coveted Carlos Hathcock sniper school's "Top Gun" award. Yeah, he's qualified to speak on the subject. So what has he observed?
Of the hunting and precision rifles that his company builds, around 95 percent of them feature single-stage Timney triggers, so the design is popular and practical for varied tasks. Fraley himself prefers this design, and while light, he wants "some feel" before the trigger breaks. As for two-stage triggers, he sees them as fitting best in Civilian Marksmanship Program (CMP) National Matches at Camp Perry and similar and being used in M1A/M14s and other rifles for such. He didn't recommend them for benchrest competition.
Nosler is best known for its premium-quality bullets, but for nearly as long the company has made rifles in which to test them. Commercially, the sporting rifles—beginning with the Model 48 and, more recently, the model 21—have been available to consumers for more than a decade. Although the company has used both Timney and TriggerTech triggers, the commonality is they are single-stage in design. Why? That's why I reached out to Nosler, Inc. Public Relations Manager Zach Waterman.

"Opinions are nearly split on single versus two stage, but single stage tends to fit better in the hunting realm," explained Waterman. "If we had built the gun with the intent of a long-range shooter, we probably would have gone with a two-stage. [What's more,] single-stage triggers are more apt for bolt-action rifles, and we haven't had much (or any) demand for a two-stage trigger." This is similar to Advanced Weapons Technology, LLC.
Rock River Arms (RRA) uses single- and two-stage triggers for its diverse lineup. There are reasons, though. "Single-stage AR triggers are more inexpensive for the commercial side," shared Dawn Wehunt, national sales manager for RRA. "They are better for LE/Duty use because of the higher pull weight. We chose the single-stage, drop-in premium triggers for the RBG [bolt-action] and the Ascendant [semi-automatic] for lighter pull weights, quicker resets, and shorter travel for better accuracy. Most of the commercial ARs we sell come with two-stage triggers, and our commercial trigger sales only are 95 percent two-stage." Interesting.
Louisianan Robert Brantley is one of the biggest names in competitive shooting, and for good reason—success. He recently took first place in the Tactical Division at the 2023 K&M Kahles Precision Rifle Competition, as well as the Tactical Division at the 2023 Leupold Best in Texas Precision Rifle Series event. And, that's just the beginning.

What are Brantley's opinions on the subject? "I use single stage but am a big fan of two stages as well," said Brantley. "I stick to single stage as I like to keep consistency. It's a personal preference thing. If you're hunting more, I like the two stage, but for matches, the single stages are hard to beat." Brantley uses TriggerTech triggers.
Concerning two-stage triggers, Brantley commented, "The biggest drawback I see is, if you mostly run two-stage triggers and then you grab a light single-stage, the odds of an [accidental discharge] are a little higher. Having mostly single-stage [triggers] and then grabbing a two-stage has little risk as you have a take-up. But knowing your trigger on either is a must, and both can give you exceptional results. Since a lot of my rifles get used in classes and such I stick to single stage, as it seems much more common. On a personal level, I have no love/hate for either. As it breaks clean and reliable, I'm a fan."
Lastly, I reached out to Timney Triggers. Naturally, Timney offers both trigger types, but why? "Easy. We listen to our customers," remarked Timney Marketing/Communications Vice President Chris Ellis. "After nearly 70 years of manufacturing best-in-class, single-stage triggers, we listened to our customers and introduced our two-stage Remington Model 700 and AR triggers in 2016. They asked for it, and we delivered."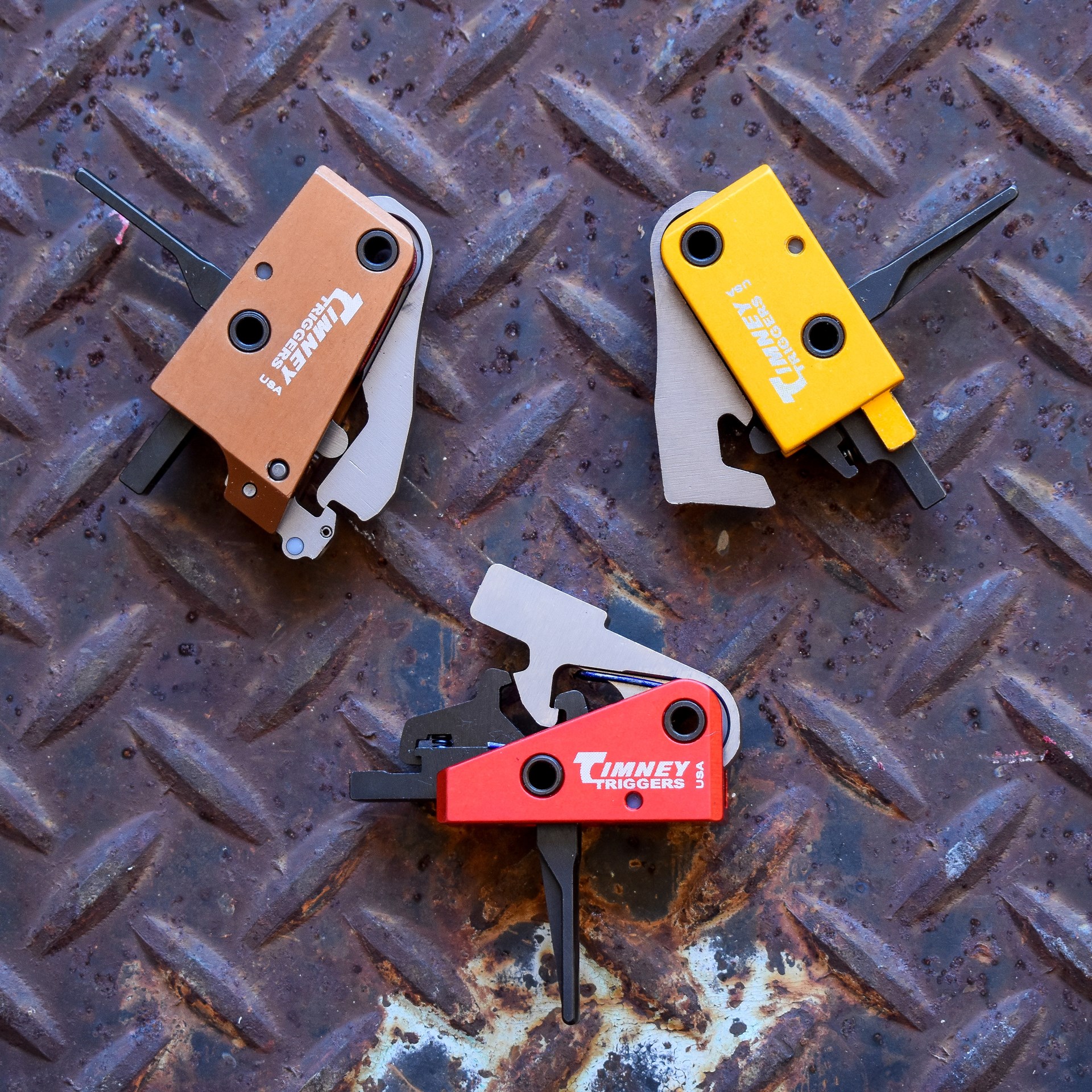 Despite being introduced more than a half century later, two-stage triggers are gaining momentum. "Yes, they are a major part of our current lineup with replacement two-stage triggers such as Remington 700, AR, AR PCC, Ruger 10/22, MP5, Ruger Precision, Daniel Horner Signature AR, Tikka, Remington 870 shotguns, and others," shared Ellis. [Roughly], I would put our customer preferences at 4:1 single stage over two stage." That could change as more people are exposed to two-stage triggers. Still, that's some serious headway in a short time.
As for advantages/drawbacks to the designs, Ellis shared his personal observations. "I have witnessed several shooters (some of them could really shoot well—both hunters and competition folks) drop their group sizes dramatically by switching to two-stage triggers. When I asked them why, they stated the 'ready, set, go method' of pulling the two-stage fits their minds better. I am the opposite; I can shoot the best with a single-stage trigger set to my preferred pull weight of three pounds. My brain doesn't work that way."
Ellis ended with this sage advice: "The benefits and drawbacks of each design are individual preferences—which trigger allows them to become the most accurate with the platform. A great trigger, no matter a single or two stage, will help them do so." That sums it up nicely.
The next time you're in the market for a rifle or are looking to upgrade the performance of your existing one, don't overlook the trigger. Purchase quality and find the one that fits you. It could make all the difference.