by
Brian C. Sheetz, Editor In Chief
posted on January 11, 2020
Support NRA American Rifleman
DONATE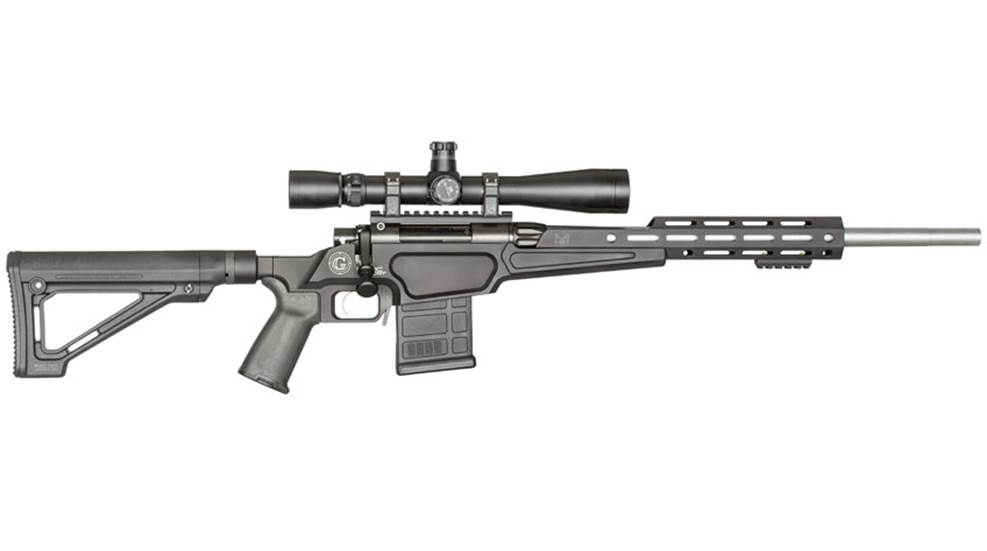 Assembling a bolt-action rifle from off-the-shelf components can be a rewarding experience—and may be the only way to end up with exactly the gun you want. My first build (April 2018, p. 52) was aimed at wringing the full potential out of the .300 Win. Mag. at long range, yet in a platform that was still somewhat portable in the field.

And while I consider it a success—capable of shooting half-m.o.a. groups—its weight and price are not for the faint of heart. So, more recently, I decided to put together a lighter, less costly and more compact rifle chambered in .308 Win. The idea was to strike a balance between the "general-purpose" rifle concept and a precision competition rig.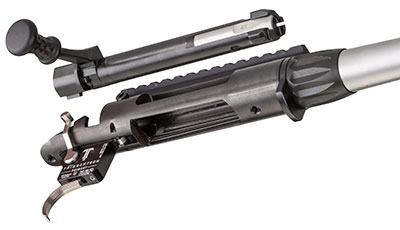 Given the respect I gained previously for American Rifle Co. (americanrifle.com) and its Mausingfield, I decided to give its newer Nucleus action a try. Weighing 2 lbs., 2 ozs., and priced at $1,000, the Nucleus offers 83 degree bolt rotation by way of three locking lugs. Anti-bind slots on each lug and dual cocking cams promote fluid bolt manipulation, and a generous claw extractor and beefy bolt stop ensure reliable operation. A separate recoil lug is keyed to the aluminum Picatinny optic rail, which is fastened to the receiver with five No. 8/36 TPI cap screws.

The feature set is unique, to be sure; however, like the Mausingfield, the Nucleus follows the common Remington Model 700 footprint and trigger pin locations and makes use of 11⁄16x20 TPI tenon threading to accept Savage small-shank-pattern barrels. That all makes it compatible with most aftermarket Model 700 stocks.
When it came to the barrel, I relied on the expertise of Northland Shooters Supply (northlandshooterssupply.com), which recommended a 20", button-rifled, stainless steel, heavy-sporter-profile model ($299) made by Shilen (shilen.com). It was also threaded 5/8x24 TPI at the muzzle for future accessory use. Along with "Go" and "No-Go" headspace gauges ($57) and an action wrench ($60) from NSS, I was able to torque the barrel into the receiver with minimal effort in only a few minutes, securing it with a barrel nut ($40) from Big Horn Arms (bighornarms.com) and a standard 12-point, 11⁄8" box-end wrench. That left only choosing a trigger to complete the barreled action, so I turned once again to Trigger Tech (triggertech.com) for its Primary model ($145), which has a unique roller-aided sear engagement that results in a crisp, clean single-stage break.
My choice of stocks came through a chance meeting with representatives of Yankee Hill Machine (yhm.net) at the 2019 NRA Annual Meetings & Exhibits. Well known for its AR rifles and pistols, AR accessories and sound suppressors, Yankee Hill had just branched out with its Graham Brothers Rifleworks brand and the MARC chassis system ($499). The CNC-machined chassis is designed for Model 700-pattern bolt-actions and machined entirely from 6061-T6 aluminum.

The main section integrates: a V-cross-section bedding area; bolt-handle cutouts to accept either left- or right-hand actions using a removable filler plate for the off side; a trigger guard and magazine-well area with a Melonited steel release lever that accommodates AICS-pattern magazines; and interfaces for an AR-style pistol grip and buffer tube, the latter by way of a carbine ($50) or A2 ($57) buttstock adapter. An M-Lok-pattern handguard with push-button sling swivel sockets ($99) and an Arca-Swiss rail adapter ($99) are options.
After thinking through the requirements of the gun, and making some decisions on such things as length of pull, I decided to assemble the main section, handguard and carbine adapter using components from Magpul (magpul.com), specifically its Mil Spec MOE Fixed Carbine buttstock ($30) and MOE+ Grip ($24). I then torqued the barreled action into place using the chassis' included screws. Reaching for a trusted riflescope and ring combination taken off another rifle—a Leupold Mark 4 3.5-10X 40 mm in steel Badger Ordnance rings—I adjusted for proper eye relief and mounted them on the action's 20-m.o.a. rail. The combination of the scope's magnification range, objective size and the rings' height proved ideal for the application.
The complete gun's overall weight, with sling, bipod and an empty magazine and mounted optic, came to 10 lbs., 10 ozs.—not exactly light, but acceptable nonetheless for a rifle that has applications stretching from hunting to tactical to moderately long-range shooting. All that was left was to take the newly minted rig to the range, where, shooting off bags from a benchrest, it managed a 0.684" five-shot, 100-yd. group with Hornady 168-gr. ELD Match ammunition—not bad for a do-it-yourself build!
The skills and techniques used to assemble a rifle like this one are well within the capabilities of most shooters, and, certainly, lighter and less costly components could have been chosen. This particular build simply reflects one vision—and I hope will serve as an inspiration for others to see their own ideas become reality. Regardless of the specific results, such a rifle is likely to shoot well and provide a great deal more pride of ownership than any off-the-shelf example ever could.