posted on December 24, 2018
Support NRA American Rifleman
DONATE
There has been confusion and speculation about the M1903 Springfield "Stripped for Air Service." Documents from the National Archives explain the why, how many were made and how the "Air Service '03" was obsolete before it was even made.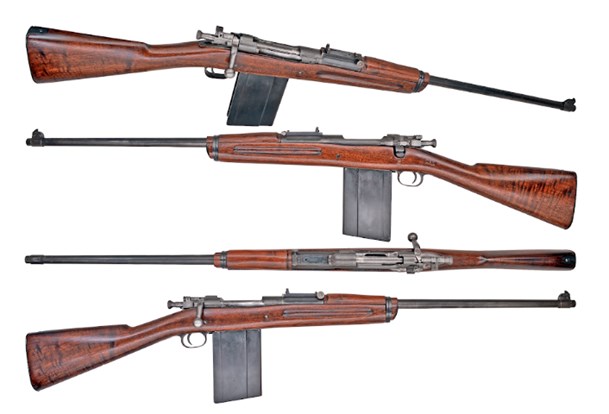 Photo courtesy C&Rsenal


In the absence of concrete data, conjecture is born. With that, nothing breeds conjecture like a historical artifact without any real knowledge of why it exists. With that, stories are repeated about these items until they are eventually accepted as fact. For decades, students of the Model of 1903 Springfield have seen or heard about one elusive version referred to as the "Air Service Rifle." This version took the beloved '03 and utilized a shortened stock that lacked sling swivels, a simplified rear sight and most notably added a gargantuan 20-round magazine extension. This extended magazine added another 20 rounds to the five-round internal magazine for a total of 25 rounds. The rifle officially became known as "Model of 1903 Springfield Stripped for Aircraft Use" or "Model of 1903 Altered for Aircraft Use." Some official correspondence would simply refer to them as "Stripped Springfield Rifles." All appear to be the accepted nomenclature for the time. That being said, this particular variant has a very short-lived, but fascinating, history.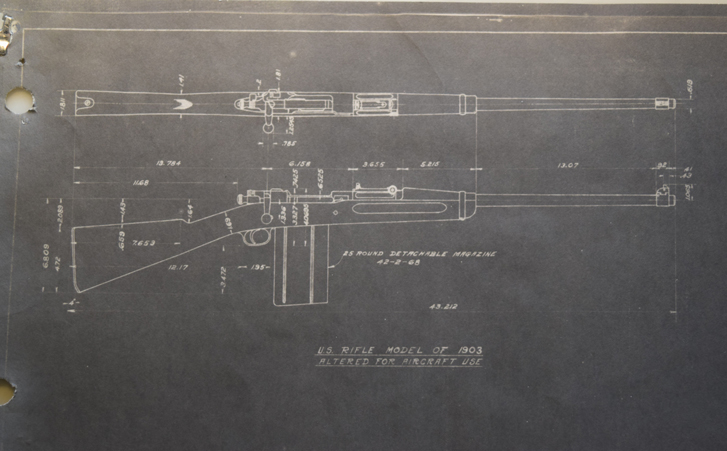 Archival Research Group photo

A number of theories have come to life as the motivation for this variation of the rifle. Some claim it was used by balloonists to take defensive shots at attacking enemy fighter planes. Others believe it was used as a survival rifle in case a pilot were to crash in enemy-held territory and needed to make it back to friendly lines. According to this theory, should the pilot find himself down behind enemy lines he would have then more than five rounds for his route back and not need to worry about wearing a bulky cartridge belt inside the cramped cockpit of the aircraft. Recent research conducted by the Archival Research Group has uncovered concrete data on these rifles at the National Archives in College Park, Md. These recently discovered documents show the real purpose of this oddity, and they tell the tale of its short and rocky service life.
In 1917, the United States found itself thrust into the Great War, the conflict that had been raging for nearly three years and had already cost millions of lives. The United States entered World War I in April of that year, and the Armed Services were scrambling to learn as much possible from their Allies, who had already been fighting for several years. In November, it was reportedly recommended to have an emergency arm for aircraft observers. The document cites several different reasons, including: If the twin machine gun were to jam, the plane was not left defenseless, or if the enemy plane placed himself behind and below the tail—rendering the observer's twin machine guns useless—the observer would still be able to engage the enemy. From the French 3rd Aeronautical Army came the recommendation  to obtain semi-automatic Winchester .351 rifles or the Model of 1911 Colt Pistol with a steel wire stock.

It should be noted that these recommendations were for the two-seater observer aircraft—not single-seat fighters. The recommendation for the single-seater pilot's best defense was the craft's "speed and managebleness." The request specifically called for an arm that was "automatic repetition," and while the Winchester .351 self-loading rifle (SLR) met the need, they were truly focused on the Winchester .451 SLR. In addition, the request called for bullets that were explosive or incendiary so if the man is missed, the engine or the tank would not be missed. While the morale affect of the rifle would be greater, if it is out of the question it was suggested to have a Colt pistol equipped with a wire stock. The paperwork suggests that this pistol could be taken up, pointed, and that its power was "sensibly equal" to the .351 if nothing better was found. It was hoped that, by going with a commercially manufactured firearm, they would have the arms and ammunition readily available and would not have to wait for the industry to gear up to wartime production.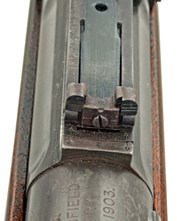 Instead, neither the Winchester SLR's nor the wire-stocked Colt pistols came to fruition. As a result, Springfield Armory took the task at hand and designed the "U.S. Rifle Model of 1903 Stripped for Aircraft Use." Production began, and 825 of these "stripped for aircraft use" rifles were to be ready to ship to France by June 1, 1918, and arrive to the American Expeditionary Force in mid-July. However, a very terse reply from Col. Fox Conner, assistant chief of staff to the shipping notification, stated they did not want the rifles. In his opinion, it would be a waste of money and tonnage to bring over the arms as they are a "relic of airplane warfare as it previously existed." The memo cites multiple reasons why they did not want the rifles, including: they thought it unlikely that both machine guns would jam at the same time; that air battles only last mere seconds; and when the fliers of the only two-seaters on the front, 1st Aero Squadron [observation] were asked their opinion of such an emergency rifle, only one out of 18 observers thought of carrying the emergency arm. Finally, it suggested if there were a change in the type of warfare to a more open type that if pilots/observers thought necessary, they could carry a pistol or a standard service rifle. (above right and below: C&Rsenal images)

The modified '03s appeared vastly different from their standard service rifle in several ways. Just forward of the lower band, the stock was cut off, and the lower band itself was a solid metal that was retained in place by a single wood screw going up vertically from the bottom of the band. The stock had grasping grooves but lacked the inletting in the butt for the sling swivel. The rear sight was a simple open notch, which was intended to mimic the rear sight of the M1918 Browning Automatic Rifle. The extended magazine was produced by the National Blank Book Company, which was based out of Holyoke, Mass., outside of Springfield, Mass., in two contracts. The first was for 908 magazines to be provided with the rifles, and a second for 1,815 spare magazines as spares at a cost of $1.25 each. In late May, the office of Col. Ruggles, who was the chief of the inspection division, wrote a memo recommending that Maj. Elder, in the engineering bureau, should be the inspector of these 25-round magazines, since he was the inventor of the same. Almost all examples of these magazines have an inspection stamp on the bottom corner, in the design of an Eagle head over an "X32." If the recommendation was authorized, the X32 inspection stamp would be likely be the inspection stamp of Maj. Elder.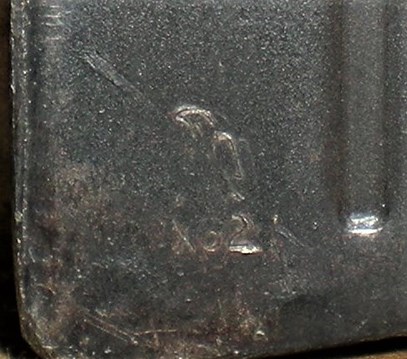 Archival Research Group photo
Unfortunately, identifying authentic Stripped Springfield Rifles is incredibly difficult. No serial number records identifying them appear to have survived the test of time. Fortunately, the Springfield Armory National Historic Site has four examples in its collection. The serial numbers are: 860725, 860924, 861079 and 862079. We were granted permission to photograph rifle number 862079. Photography of this rifle was provided by Andrew Schmidt Photography, LLC. Additional Air Service Rifle photographs were provided by C&Rsenal of the example in their collection.




Andrew Schmidt Photography, LLC
We have compiled a brief list of data points on these rifles that are in the custody of Springfield Armory National Historic Site:
Rifle No. 860725
Barreled reciever
2/18 "A" Stamped barrel
No bolt
No stock
Indexed at museum as an Air Service rifle
Rifle No.  860924:
5/18 "A" Stamped Barrel
Bolt heat/steel lot "J5" stamped under the safety lug

"

JFC

"

inspected stock
"P" stamp behind trigger guard at wrist of stock
Oiler found in buttstock

Andrew Schmidt Photography, LLC

Rifle No. 861079:
4/18 dated barrel
Bolt heat/steel lot "C8" stamped under the safety lug

"WES"

stock
Shows signs of damage from a fire the museum suffered in 1931.
Rifle has been wax treated
All rifles receive stabilization treatment, which wax is used. Since this rifle was damaged in the 1931 fire, it received priority in this stabilization treatment.
"P" stamp behind trigger guard at wrist of stock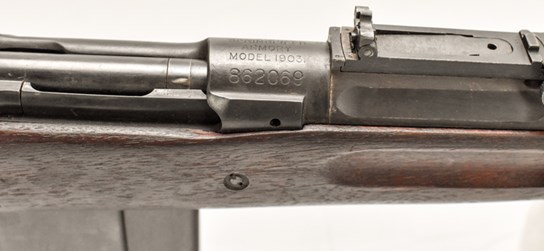 Andrew Schmidt Photography, LLC
Rifle No. 862069:
5/18 "A" Stamped barrel
Bolt heat/steel lot "C8" stamped under the safety lug
No final inspection stamp

All four rifles have a front sight blade which is 0.10" wide. A standard sight blade measures 0.05" wide.
A memo originating from the office of Maj. Gen. C.C. Williams addressed to of the Chief of Ordnance for the AEF, Maj. C.C. Sheppherd, states that 907 Stripped Springfield Rifles were floated on the ship the "Munares." This is likely a typo as there was no cargo ship under that name; however, there was a cargo ship under the name of the "Munaires." The deck logs, archived at the National Archives in Washington, D.C., indicate it was docked in Brooklyn, N.Y., and sailed for France July 14, 1918. The logs indicate it arrived and docked at the town of Bessens, France, on Aug. 1, 1918 where it began to unload its cargo. From here, these rifles ended up at the storage unit at Is-sur-Tille No. 2, about 444 miles northeast from this port. In a memo between the Ordnance Chief, USA, Major General Williams and Major Shepherd, Chief Ordnance Officer in the AEF. It notes that these rifles were ordered for emergency use, but were displaced before they arrived in theater. It further states that these rifles have never been used and probably never will, but their magazines are suitable for any Model 1903 rifle. There is noted interest in the possibility of these magazines having value on the battlefield. The chief of ordnance expressed great interest and suggested that if the rifles were not being used, a test should be conducted for one regiment to use in actual combat. Furthermore, if the Ordnance Department can establish quick production on magazines for the M1903 and for the M1917. Major General Williams was extremely eager to determine the value of the magazine from a tactical standpoint. Colonel Maloney, of the Aircraft Armament Section, was also noted to be anxious to receive these rifles. He was the officer originally responsible for their order.

This memo was marked as received on Oct. 15, 1918, right before the war's end. The first endorsement of this memo indicated that the BARs were not approved as an Emergency Arm and that Stripped Springfield Rifles were being tested as of Oct. 15, 1918. Brigadier General J. H. Rice requested more 25-round extension magazines and that if it is decided to adopt this type of emergency arm (the Stripped Springfield Rifle), the Office of the Chief of Ordnance would be notified of the completion of the tests. The size and scope of the tests is not mentioned, nor how extensive and how much combat experience these rifles potentially gained. By the time this memo reached the Ordnance Office at home, it was Dec. 4, 1918 and the war had ended. Colonel James Dillard replied with, "It is believed that nothing can be learned as to these magazines by means of a test that cannot be learned by the test now being made on Stripped Springfield Rifles equipped with such magazines." It was decided that no more 25-round extension magazines be shipped to the AEF, and the life of this variation of the M1903 died almost before it began. It is noted that the magazines in fact only hold 20 rounds, but all document refers to these magazines as "25-round magazines."
The Air Service '03s did arrive in France, but their role there was largely limited to residing in a storage unit at Is-sur-Tille No. 2. From here, 25 of these rifles were ordered to the front to the 1st Air Depot for "extensive testing" at Colombey-les-Belles as mentioned, but 680 remained in storage. It was reported by the beginning of November 1918 to Lt. Col. Maloney that the rifles were not wanted in the Air Service, and perhaps they would be better suited issuing them to dispatch riders or for automobile protection. Had the war gone on longer, the rifles might have been given an extensive test and the 20-round extension magazine may have been repurposed for other uses had they been found tactically advantageous. It is noted that a discrepancy in the number of rifles was recorded in the paperwork—that 825 were ordered to be produced, 907 were shipped to the AEF and only 680 could be accounted for in the Ordnance Depot of Is-sur-Tille No. 2. There is no explanation for this.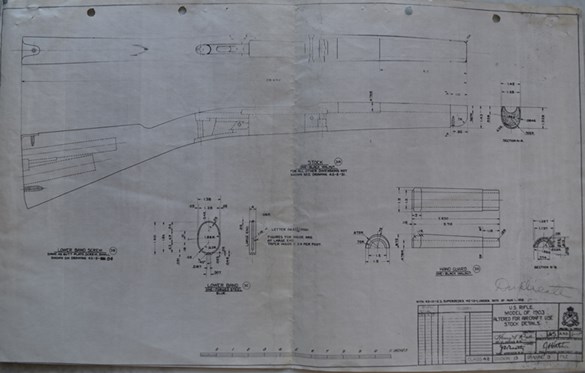 Archival Research Group photo
Not much is mentioned about the "Stripped Springfield Rifle" until September 1920. A document written by the office of Brig. Gen. Burr, Chief of Field Service, requests information on these rifles, stating that his office cannot identify them. The office of Maj. Case, who was the commanding officer of Raritan Arsenal, replied with a brief description of these rifles and advising there were 140 of these rifles at the arsenal. General Burr's office replied that when funds become available these rifles should be shipped to the Commanding Officer of Springfield Armory for the purpose of placing them in repair. It is believed that these rifles were likely converted back into standard service rifle configuration, which adds to why surviving examples are exceedingly rare.
The Stripped Springfield Rifle is an example of the United States trying to quickly adapt to a rapidly evolving war and trying to play catch up to the rest of the armies that had been involved in harsh fighting for several years. It is also an example of how quickly warfare during World War I could evolve, where a small arm could become obsolete even before it was tested in combat, that its fate could be sealed before it arrived in theater. Fortunately, from these recent discoveries at the National Archives, we can get a more definitive understanding as this small but intriguing story of a little known variant of the Model 1903. Had the Stripped Springfield Rifle had a more pivotal role, or been considered more useful long term, it would have more of a history paper trail at the National Archives this is not the case.
It is important to add that proper research with primary data is just as rapid in its evolution. A new file at the National Archives could reveal information that could add or drastically change to this story as we know it and more might be hidden in the vaults of the National Archives.
A special thanks goes out to Andrew Schmidt Photography, LLC, and the C&Rsenal team for their support in providing photographs. Another special thanks goes out to Alex MacKenzie, Curator of Springfield Armory National Historic Site for his hospitality at the museum. Their contributions helped make this project possible.