by
posted on November 29, 2018
Support NRA American Rifleman
DONATE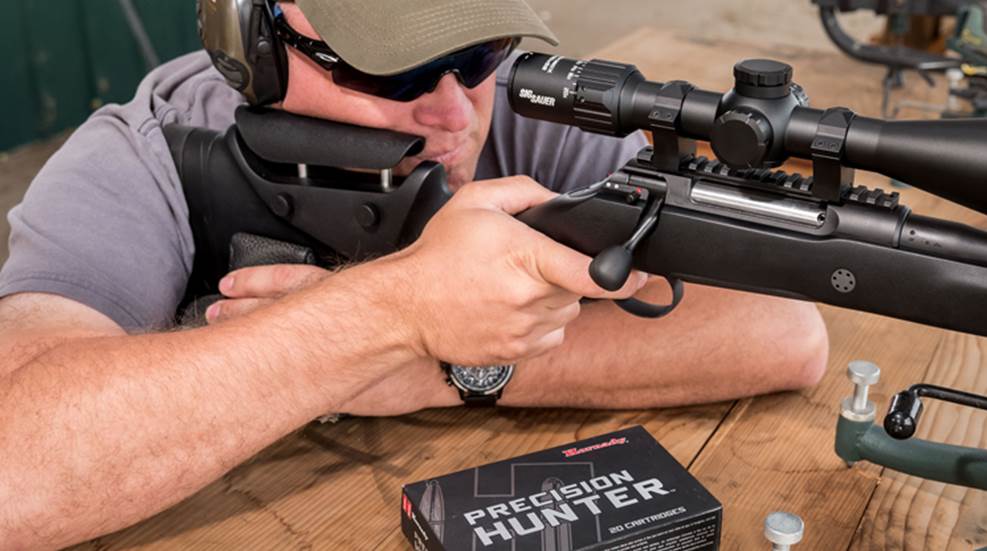 Hornady announced its 6.5 PRC cartridge late in 2017, and now J. P. Sauer & Sohn is shipping all versions of its Sauer S100 bolt-action rifle in the new chambering.  MSRP starts at $799.
Sauer is the first to European manufacturer to offer a mass production rifle chambered for the new Hornady cartridge, which is rapidly gaining a following for its accuracy, flat trajectory and long-range performance. The 6.5 PRC is a magnum version of the 6.5 Creedmoor and has a flatter trajectory and higher impact velocity than the 6.5 Creedmoor. Utilizing moderate powder charges that result in repeatable accuracy, low recoil and high velocities with performance well beyond 1000 yards, the 6.5 PRC is an excellent caliber for F-Class benchrest shooting and hunting medium to large game.
"We are delighted that Sauer, a highly respected German gunmaker that has been producing guns for over 267 years, has worked with Hornady to chamber a rifle in 6.5 PRC," said Steve Hornady, President of Hornady Manufacturing Company. "Sauer is the first European manufacturer to work with us to have a rifle chambered in a new caliber Hornady has developed at launch. This is a proud step for both companies."
"With a starting price of $799, the Sauer S100 is hands down the best value on the market today for a rifle chambered in 6.5 PRC," said Christian Socher, CEO of Blaser USA. "The Sauer 100 is designed for accuracy, delivering a guaranteed five-shot sub-MOA performance, and we are excited to offer this line in the new Hornady 6.5 PRC chambering."
Distributed by Blaser USA Inc., the Sauer 100 rifles are ideal for budget-conscious sportsman and women, yet still expect maximum performance and style. The extended line of Sauer S100 rifles gives shooters numerous options to meet their needs in the field and on the range. Each rifle features a crisp, user adjustable single-stage trigger, three-position safety, cold hammer-forged Sauer barrel, and smooth action bolt.    
The chambering is vailable in the S100 Classic XT with Ergo Max stock and five new configurations:




The S100 Ceratech is coated with a cerakote finish for ultimate durability.




The S100 Pantera features an ergonomic stock, a heavy fluted barrel, adjustable comb and sculpted pistol grip designed for long-range shooting.





The S100 Fieldshoot is a match-quality rifle using the same laminate stock as the Pantera in natural wood and a heavier match barrel.





The S100 Cherokee, with a synthetic digi-camo stock and tundra green cerakoted barrel and action, is designed to blend seamlessly into darker terrain.




The S100 Atacama features a desert-sand cerakoted barrel and action.
MSRP: From $799
Additional Reading:
New From Hornady: 6.5 Precision Rifle Cartridge
Editors' Picks 2018: Hornady 6.5 PRC Ammunition
Chain Breaker: Hornady's 6.5 PRC
Hornady Announces 300 PRC
Sauer S100 Pantera Precision Rifle Now in 6.5 Creedmoor
Tested: Sauer 100 Classic XT Rifle