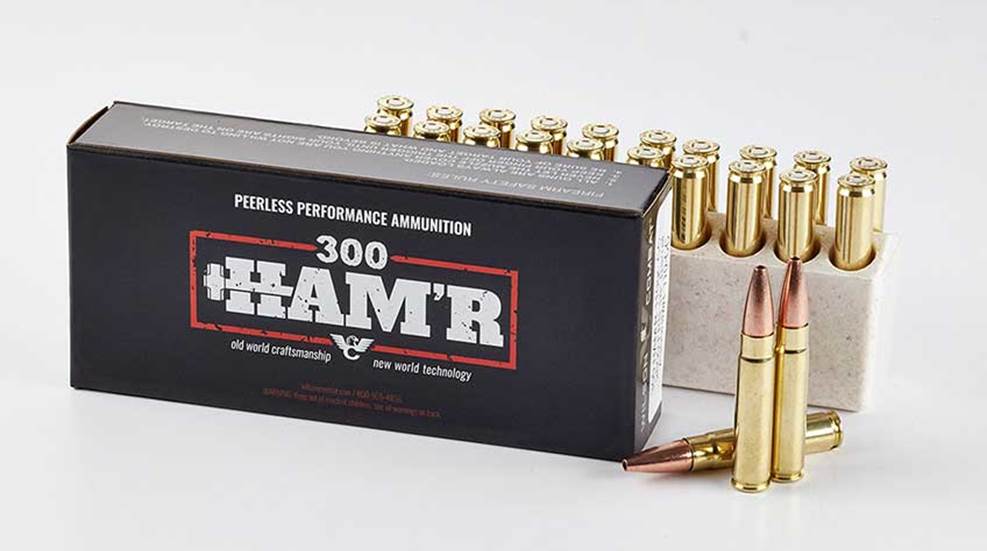 The
Sporting Arms and Ammunition Manufacturers' Institute (SAAMI)
—the organization that creates industry standards to ensure the safety, reliability and interchangeability of firearms, ammunition and components—has officially accepted the .300 HAM'R rifle cartridge and published [PDF] its specifications. The cartridge, developed by
SIG Sauer
, was introduced with a maximum average pressure (MAP) of 57,500 psi with a 125-grain bullet at a velocity 2,450 fps or 130-grain load at 2,425 fps.
Wilson Combat
first introduced the cartridge to enthusiasts in 2018, releasing a variety complete ARs and barrels along with ammunition. The company issued a press release last week, thanking, "…
Starline Brass
of Sedalia, MO, Western Powers of Miles City, MT, and SIG Sauer Ammunition of Jacksonville, AR, for their assistance during development and extra thanks to SIG Sauer Ammunition for submitting the cartridge to SAAMI."
The .30-caliber cartridge is designed to optimize the performance of 95- to 150-grain bullets and function in the AR-15 platform. Muzzle velocities range from 2,280 fps to 2,770 fps out of a 16-inch barrel, depending bullet weight, while still adhering to the maximum average pressure specification of 57,500 psi.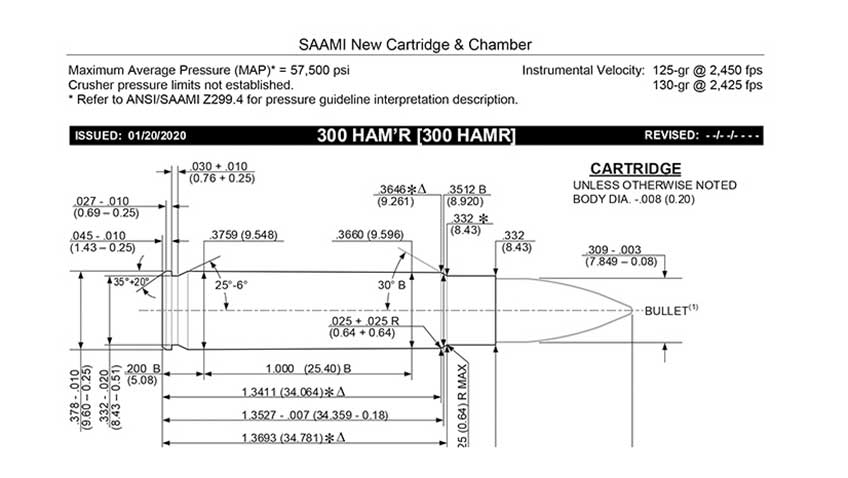 It is tailored for self-defense, law enforcement and hunting applications and features terminal performance comparable to the .30-30 Win. It has, however, a flatter trajectory than the legendary cartridge, due to the bullet's higher ballistic coefficient.
Changing an existing AR-15 to digest .300 HAM'R requires only a barrel change and the use of 300 BLK magazines. Starline Brass produces casings for enthusiasts who prefer to reload, although more common .223 Rem. and 5.56 mm NATO casings can also be resized.
A line of factory ammunition is available from Wilson Combat for a variety of purposes. It recently added two new loads to the lineup; one with a 110-grain solid copper Barnes Tipped Triple-Shock X bullet, with the other featuring a Wilson Combat/Speer 150-grain HAM'R bonded bullet.