Photos by Richard King, richardking.pro
Video courtesy Chris Tran

SIG Sauer has been in the news lately due to safety concerns surrounding its flagship P320 pistol, resulting in a dizzying storm of reports involving the Dallas Police Department, firearm drop-testing protocols, the Army's XM-17/MHS service pistol, negative 30 degree angles and, of all things, Sharknadoes. Even in the midst of all this noise, the New Hampshire-based manufacturer is set to cut through the din with the rat-tat-tat of full-auto fire from its new select-fire, rifle-caliber, short-barreled machine gun—the MCX Rattler.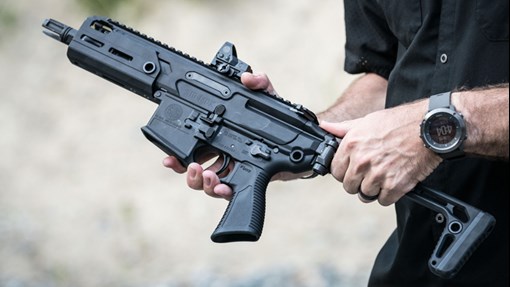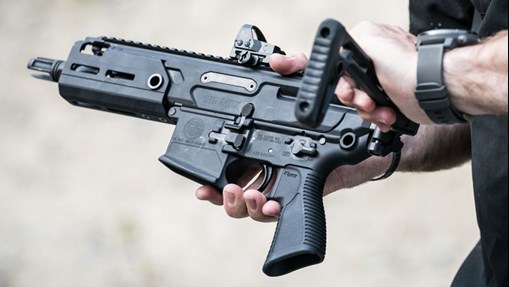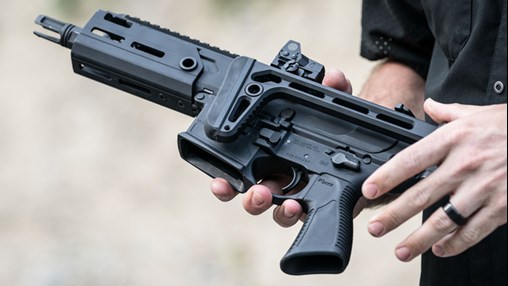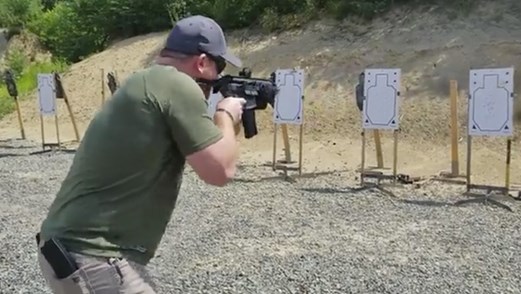 I was at the SIG Academy recently for media event introducing the MCX Virtus rifle—a very cool and versatile platform in its own right, stay tuned for in-depth coverage—when company representatives unveiled the PDW-style Rattler, and gave me and the other writers a chance to pull the trigger and flip the giggle switch. As part of the MCX family, the Rattler is an evolution of SIG's well-regarded piston-driven rifle action, and was developed to meet some very specific requirements for elite military and law enforcement operators. And let me tell you, the SIG engineers had their work cut out for them—there is nothing easy about developing an extremely compact firearm capable of reliable and accurate full-automatic fire with full-power rifle ammunition (and the associated pressures). Against the odds, the Rattler is a handy machine gun chambered for .300 Blackout, but possessing a footprint that is smaller than most sub-machine guns. Thanks to its adjustable gas system, similar to other MCX rifles, the 5.5"-barreled Rattler is capable of firing super- or subsonic .300 Blackout loads, can be run suppressed or unsuppressed, and there will even be a 5.56x45 mm NATO version, though it will not accommodate a suppressor. Speaking of the venerable service cartridge, the Rattler earned its name when prototype testing was conducted and a 5.56 model was fired inside a vehicle—the shot percussions in the confined space were reportedly "teeth rattling."
While details were not available at writing for every planned model, variant or configuration of SIG's new Rattler, I do expect to see semi-automatic rifles—short-barreled rifles, subject to NFA requirements, obviously—and pistols in .300 Blackout and 5.56 NATO (.223 Rem.) making their way to the commercial market.
Get a quick look at the MCX Rattler on the SIG range in this video, and for more, visit sigsauer.com.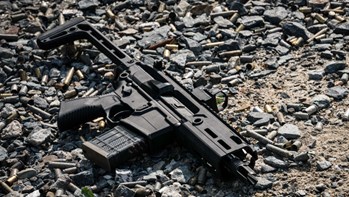 MCX Rattler
Chambering: .300 Blackout
Frame: anodized 7075 T6 aluminum
Sights: none, Picatinny rail
Trigger: SIG Enhanced, 5.5- to 9-lb. pull
Overall Length: 19.3"
Overall Height: 8"
Overall Width: 2.8"
Barrel: 5.5" carbon steel with Nitride finish; 1:5"-twist rifling
Weight w/ Magazine: 5 lbs., 2 ozs.