Support NRA American Rifleman
DONATE
Ruger's LCRx 5-round revolver is now being chambered in .357 Mag. The revolver is equipped with a 1.87" barrel and features an exposed hammer that allows it to be fired in either double-action or single-action mode. The new caliber model retains all the features of the original LCR, including Ruger's patented friction-reducing cam, a next-generation design in fire control systems that results in a smooth, non-stacking trigger pull. The double-action trigger pull force on the LCR builds gradually and peaks later in the trigger stroke, resulting in better control and a lighter felt trigger pull. The LCRx also incorporates single-action functionality for precise shooting.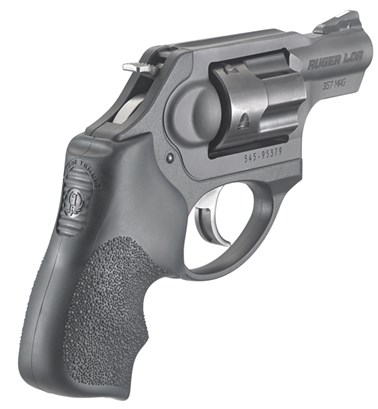 The LCRx is equipped with an integral u-notch rear sight and a pinned, white ramp front sight for quick target acquisition. The Hogue Tamer Monogrip with finger grooves provides outstanding control under recoil. The LCRx chambered in .357 Magnum has three main components: a polymer fire control housing, a stainless steel monolithic cylinder frame and an extensively fluted stainless steel cylinder.
In addition to this new model, the LCRx is available in .38 Spl +P with both 1.87" and 3" barrels. The original design LCR double-action-only model is available in .38 Spl +P, .357 Mag., .327 Federal Mag., 9 mm Luger, .22 WMR and .22 LR.





For more information, visit Ruger.com.