by
posted on December 3, 2021
Support NRA American Rifleman
DONATE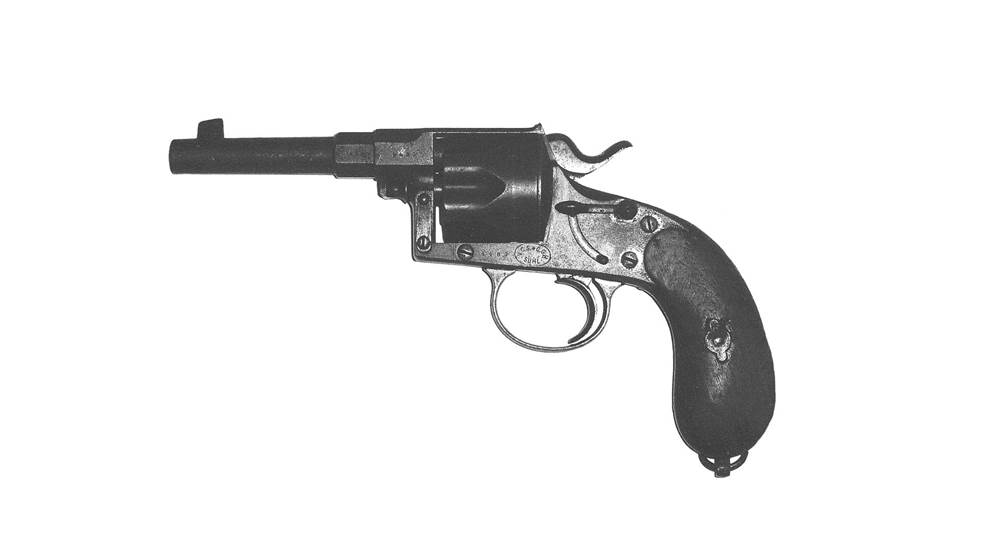 Q. I recently inherited a big single-action German revolver of some sort, but I cannot find any information on it. Can you identify it for me or tell me where I can find out more about it? Also, it seems like .44 S&W Russian cartridges will fit in the chambers. Can I shoot them through it?
---
A. Your photo shows one of the German Service Revolvers Model 1879, 1883 or 1884 chambered in 11 mm German Service (also called 10.6 mm and 10.8 mm German Revolver). The issue Reichsrevolvers were made by a number of German firms, including yours. It is marked "V.C.S. * C.G.H./SUHL" in an oval indicating it was made by V. Charles Schilling and C.G. Haenel in Suhl, Germany. The 1878 version had a 183 mm barrel, and the Infantrie Officer's Model of 1883 had a shorter 126 mm barrel. Both were solid-frame six-shot single-action revolvers. A safety lever on the left side of the frame blocks the mainspring.
"GUSS-STAHL" is means "cast steel" in German and was marked on some of these revolvers. The Reichsrevolver was replaced in German service by the Luger self-loader in 1908.
Do not fire .44 Russian cartridges in your 1879 German Reichsrevolver. The 11 mm German Service revolver cannot handle the pressure of the .44 Russian. These guns are described in great detail with photos in Service Handguns, A Collector's Guide by Klaus-Peter Koenigh and Martin Hugo. Another reference that discusses these arms is The Revolver 1889-1914 by the late American Rifleman Contributing Editor A.W.F. Taylerson.
---
This "Questions & Answers" was featured in the January 2005 issue of American Rifleman. At time of publication, "Questions & Answers" was compiled by Staff, Ballistics Editor William C. Davis, Jr., and Contributing Editors: David Andrews, Hugh C. Birnbaum, Bruce N. Canfield, O. Reid Coffield, Charles Q. Cutshaw, Charles M. Fagg, Angus Laidlaw, Evan P. Marshall, Charles E. Petty, Robert B. Pomeranz, O.D., Jon R. Sundra, Jim Supica, A.W.F. Taylerson, John M. Taylor and John Treakle.
To subscribe to the magazine, visit NRA membership page and select American Rifleman as your member magazine.