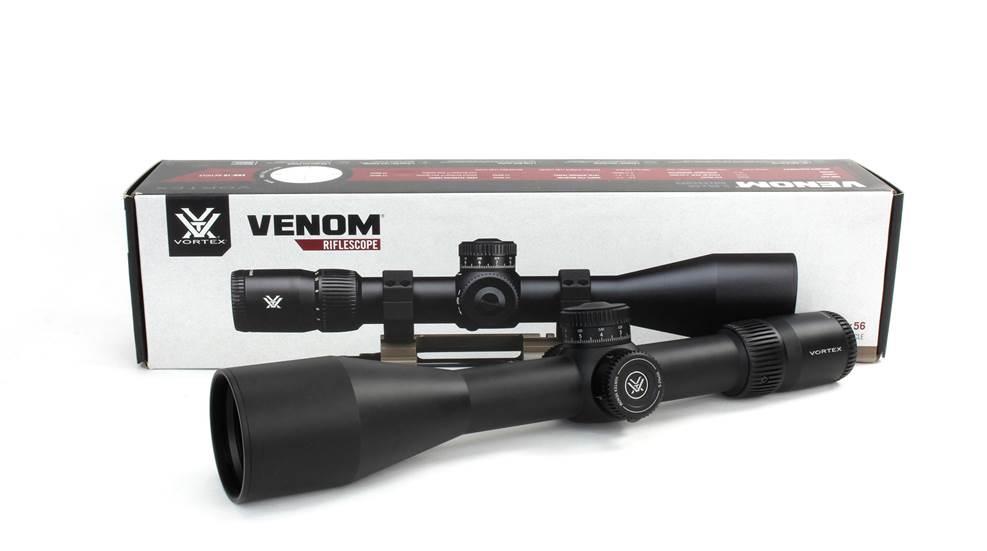 As Americans, we enjoy a freedom that most others do not, and that is the right to bear arms. Being able to own many of the same firearms that have helped defend that right is precisely what the Founding Fathers had in mind. Therefore, few projects are as satisfying as reproducing a service rifle. This piece began with a conversation between myself and a friend, who was stuck in the middle of an M40A3 clone build.
He had already bedded his Remington Model 700 into the appropriate McMillian stock and was sitting on a pair of Badger Ordnance rings and a one-piece rail. He was at the point of selecting a scope when he hit a budgetary wall. Coughing up close to $4,000 for a 3-12X scope isn't easy and limits the rifle's effectiveness on smaller targets, particularly at extended distances. At this stage in the conversation, he said, "What do you think of the Vortex Venom?" As I had not yet heard of the Venom, he gave me the elevator pitch, and I was intrigued enough to get a closer look.
The Venom is Vortex Optics' mid-priced, long-range optic. As per the manufacturer, it falls between the Diamondback Tactical and the Strike Eagle in quality, features and performance. Looking over the specs, I liked that it was built with a 34 mm main tube, as that typically yields enough adjustment for dialing up for long-range engagements. I also liked the 5-25X zoom range, which classically outperforms similarly priced 6-24X options in clarity. Some of the other notable features were the removable throw lever, which can either be your best friend or a complete hindrance, and you never know until to put the scope on the rifle.
As Vortex offers the Venom in both an MRAD and an m.o.a. version, we selected the MRAD for no other reason other than personal preference. Both options feature the EBR-7C reticle that is matched in scale to the turrets. It's safe to say that most manufacturers are doing that these days. Still, it's essential to check, because otherwise, you find yourself dividing or multiplying by 3.6 all day long to figure the conversion between the two. Additionally, the reticle is set in the first focal plane, allowing for range estimation at the ability to call corrections at any power level.
When it arrived, I was eager to crank the knobs and look through the glass. Admittedly, I was apprehensive, because Chinese-made optics have had a poor reputation in the past. However, things have changed dramatically in the last five years alone. At 35 ozs., it just felt well-built to the hand. We also appreciated the extra weight, as this rifle would be fired primarily from a bench or bipod. While heavy scopes might negatively affect offhand shooting, they help keep precision rifles stay put under recoil. This makes it far easier to spot impacts, especially if you aren't running a muzzle brake.
The glass was relatively clear for a product in this price range, and the clicks felt sharp enough that I didn't have any significant concerns. One of the most redeeming features was that each revolution contained 10 MRADs of adjustment. This means that it will be easier to tell how much Data On Previous Engagements (DOPE) you have dialed in than if you had say, 12 or 15 in a revolution. Lastly, I checked the total adjustment from top to bottom and measured 25.5 mils of elevation change. With that said, we mounted the rifle and headed to the range.
We started the live-fire test by zeroing the Venom with 168-grain Sierra Competition .308 Win. ammunition. By simply removing the bolt and sighting down the bore, we were able to get on paper at 100 yards in just a few shots. Once we centered up our impacts, I removed the elevation turret and installed the included RevStop zero-stop device. With it installed, we had about 17 mils left of elevation adjustment, which is more than enough to get .308 Win. out to 1,000 yards. At the same time, we could still dial down half a mil below zero to allow for denser air or slightly closer targets. Speaking of closer targets, at the range was the first time that I noticed the Venom's side-parallax knob dials down to just 15 yards. That makes this an excellent option for somebody looking for an inexpensive NRL-22 optic, as those targets might be as close as 25 yards.
From here, we plopped down into prone and checked the tracking of the scope by conducting a tall-target test and then shooting the square. On both occasions, the scope delivered, and also returned to zero, a hard mark for an inexpensive optic to make. With the precision portion of our test completed, we took turns shooting from improvised support to replicate PRS competition. While this is more of a test of the shooter, our focus was on the scope's build.
One of the key observation points during tests like these is the eye box and how forgiving it is. The Venom checked out, as we were able to wobble our heads a fair amount yet still retain a complete field of view. However, there was next-to-no room for error in eye relief. In the end of the day, that isn't the worst news, as this can be remedied through a combination of practice and length-of-pull adjustment.
Wrapping it up, we think we found a winner for this build and, dare I say, even equipped it beyond a genuine, military-grade M40a3. When you put it into perspective, you are getting more than twice the magnification of the authentic riflescope for about 1/8th of the cost. That leaves you enough money left over for ammunition and the training course of your choice. Sure, being correct is nice, but getting the most out of your dollar is going to score you far more points in a match. For more information, visit vortexoptics.com.
Specifications:
Manufacturer: Vortex Optics
Magnification Range: 5-25X 56 mm
Length: 15.25"
Tube Diameter: 34 mm
Weight: 35 ozs.
Eye Relief:  4" - 3.7"
Field of View:  5x mag: 21' @ 100 yards (4°) 25x mag: 4.7' @ 100 yards (0.9°)
MSRP: $699.99