by
posted on September 30, 2021
Support NRA American Rifleman
DONATE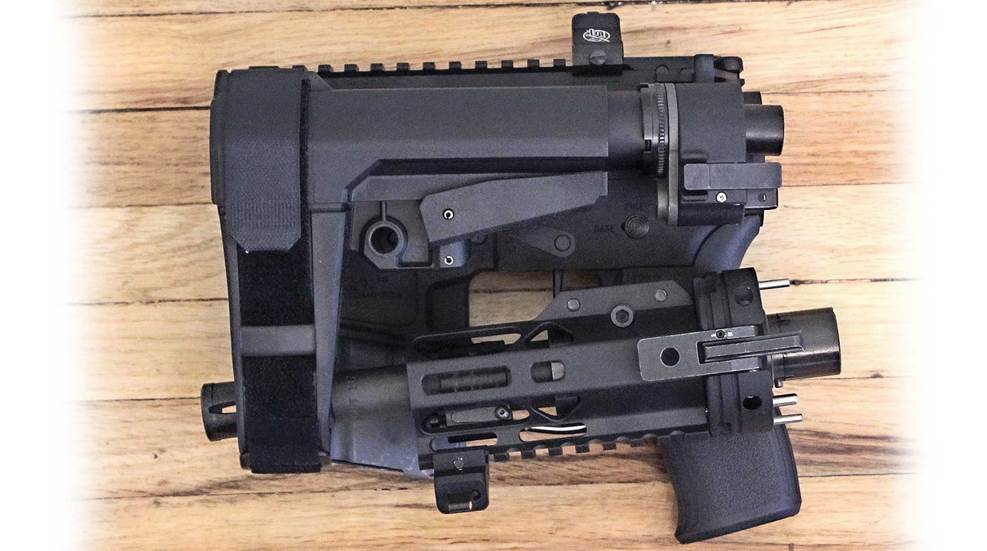 Attendees visiting the 2020 SHOT Show in Las Vegas, which seems a lifetime ago now, saw a variety of exotic AR configurations. AR-type pistols in particular were making a strong showing with takedown models, like the Springfield Armory Edge Evac, stealing the show. The Evac proved to be a hoot to shoot during the media range day and the exceptionally small storage foot print was undeniably handy. Fixed-barrel AR pistols are easier to stow than carbines for camping or emergency preparedness, but the takedown models were the best yet for use as compact bug-out bag options.
Rather than pursue a factory-complete takedown pistol, I opted to go ahead and build one myself. But within a few weeks of the show, COVID-19 concerns dried up shooting supplies of all types across the country, with AR platforms and components becoming particularly scarce. Pulling together factory fresh parts for an AR-10 takedown pistol build was tough but doable. However, key components for what some call a 'lunch box' AR-15 pistol build required more creativity on my part.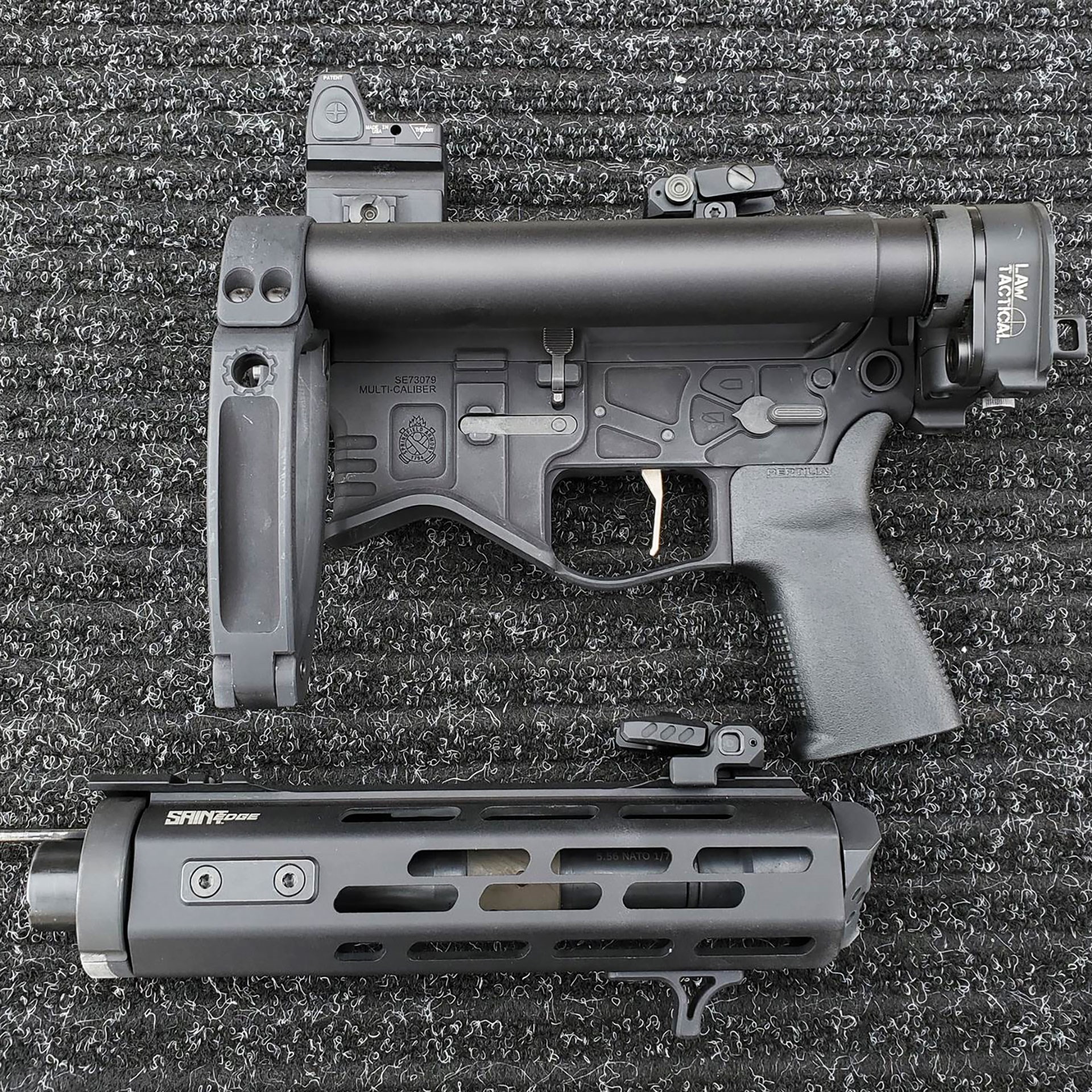 Springfield Armory introduced its takedown EVAC model at the 2020 SHOT Show.
It did get built, and I'm happy with the results. But it was a by-hook-or-by-crook mixing of a new-for-2021 lower receiver, the rebuilding of a previously tested upper receiver, a handful of new parts ordered online and various bits on hand from previous projects. It would have all been for naught if not for the .300 BLK ammunition which was lined up for testing ahead of the latest American ammunition dearth. It may sound like a bit of a mutt gun but, as AR builders know, the right mix of components will get you purebred results every time.
Building Up the Takedown
Assembling this gas-impingement operated AR-15 pistol began with a factory-assembled Ground Zero Precision(GZP) upper chambered in .300 BLK. This 9" barrel upper, which was a part of an earlier range test, was an ideal starting point because it already had most of the components needed for the takedown upper I had in mind. They included the forged 7075-T6 aluminum Mil-Spec upper receiver with forward assist and dust cover, a GZP Deadbolt bolt carrier group, a GZP MS15 charging handle, an SLR Rifleworks Sentry 7 adjustable gas block and an A2-type flash hider.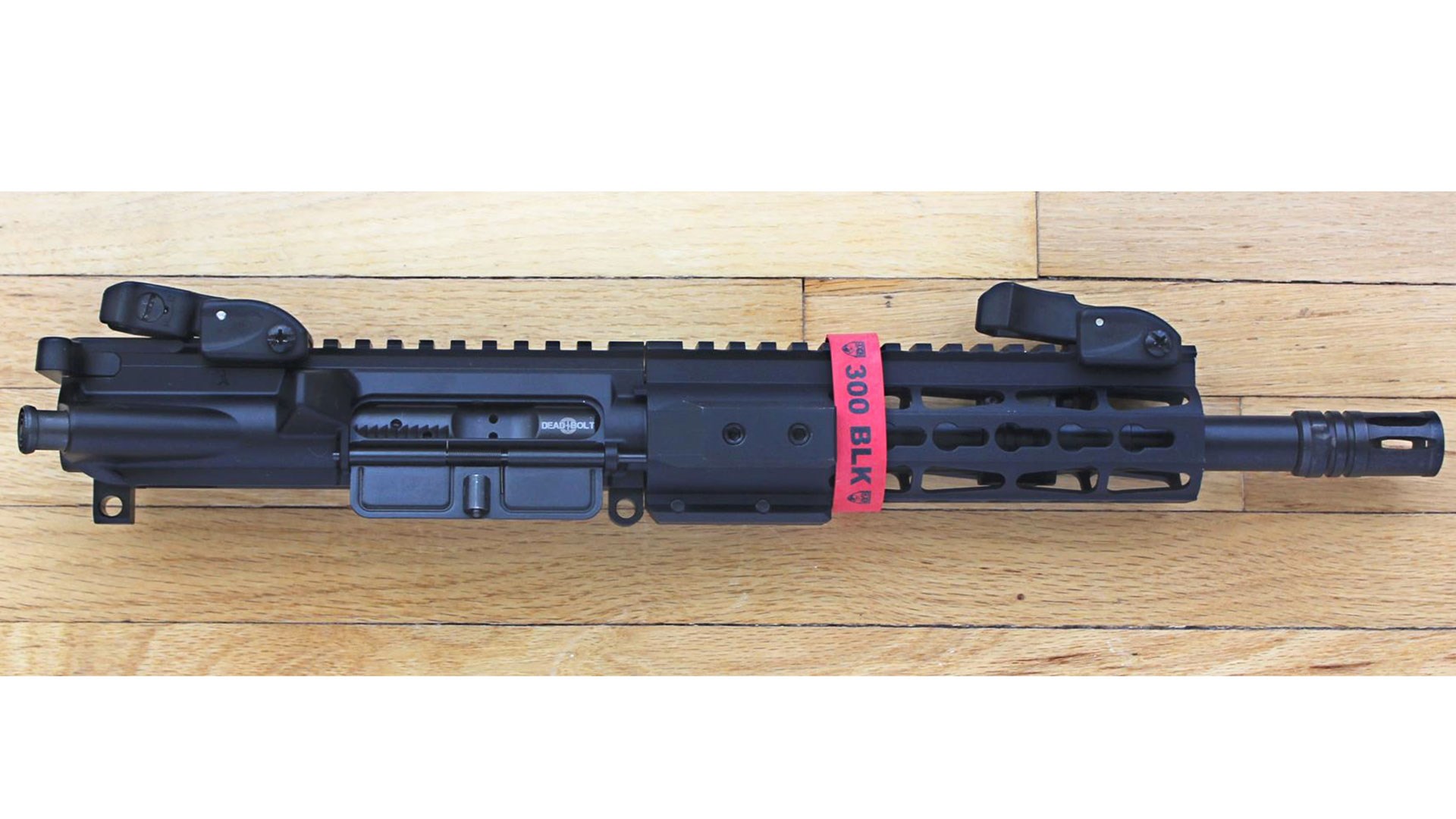 The stock Ground Zero Precision .300 BLK upper receiver group.
The three major component changes included a barrel swap, installing the Cry Havok Tactical Quick Release Barrel (QRB) system, and replacing the handguard.  Although a 9" barrel is the optimal length for short-barrel .300 BLK performance, I wanted the pistol to be shorter for easier storage. The barrel could have been as short as 6", but in the end I split the difference with a GZP 7.5" barrel. Made of 4150 CMV steel, this barrel features a 1:7 rifling twist rate, a magnesium phosphate finish, an M4 extension and a muzzle threaded at 5/8 X 24 TPI. If I really need to shave an inch of barrel length in the future I'll just pull the flash hider and replace it with a thread protector.
Cry Havok Tactical offers a top notch Gen 3, 2-Pin military-grade quick release barrel system for AR-15 rifles and pistols. A pair of round, hard-anodized aluminum plates are used to separate the barrel assembly from the upper receiver. One is mounted to the upper receiver via a star nut. The other is mounted to the barrel by a series of set screws.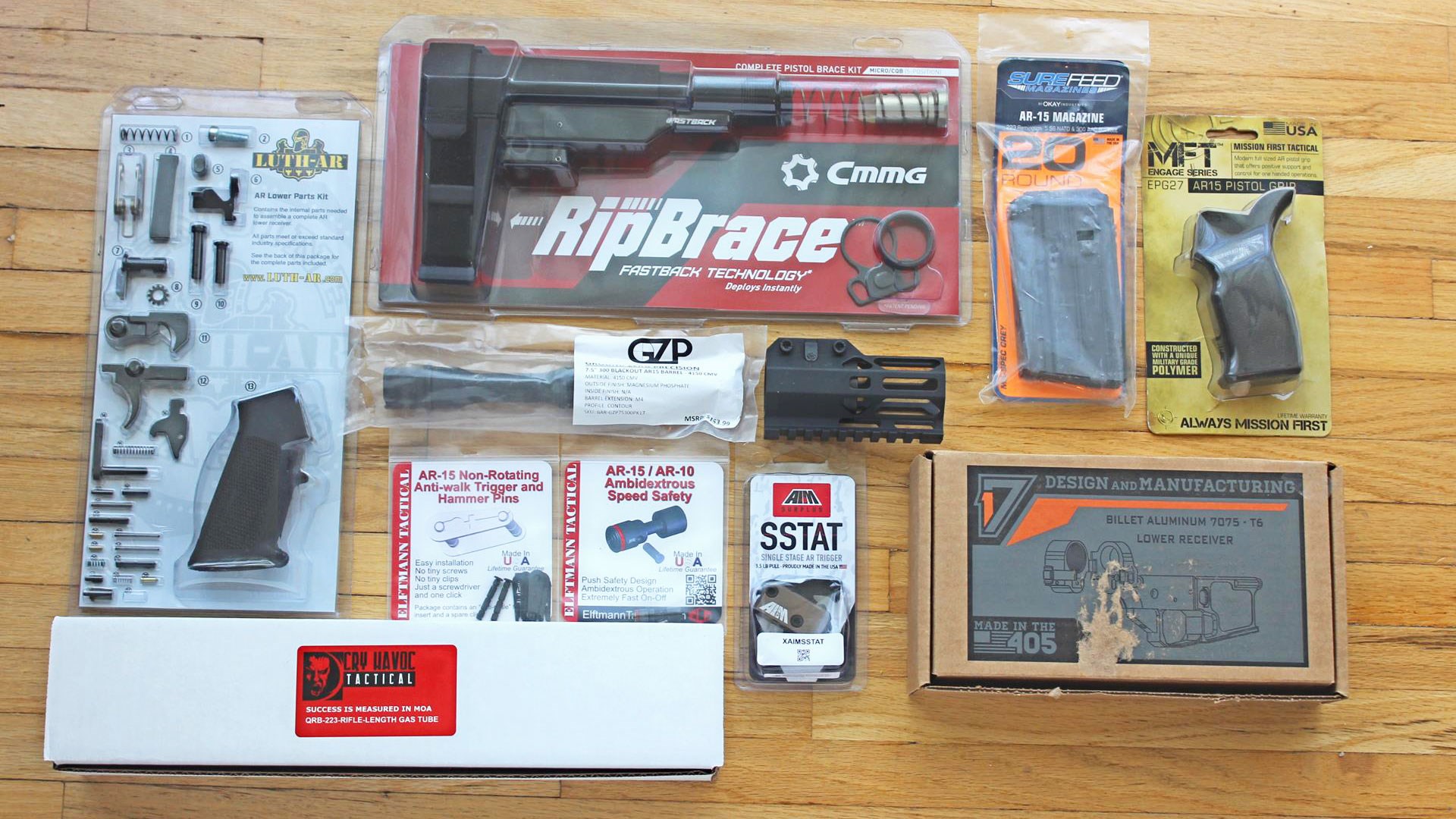 Added components in their packaging.
The barrel plate supports the handguard and has a pair of tension adjustable latches which lock the barrel assembly into the upper receiver plate. The traditional one piece gas tube is replaced with Cry Havoc's patent-pending two-piece gas system. The pair of pins mounted to the barrel plate act as guides when replacing the barrel to ensure proper alignment. It's a rugged, simple to use system which allows the barrel assembly to be removed and reinstalled quickly without altering the barrel's head spacing or point of impact. I'll be sharing more about this product and its history in a future write-up.
Installing the QRB system takes up about 1.5" worth of space in front of the upper receiver which is usually occupied by the free-float handguard. This meant that the original 7" handguard would protrude out past the muzzle and make it more difficult to adjust the gas block. The simple solution was to replace it with a 4.2" GZP Black Dirt Rifle Works Tac-Hunter G4 handguard. It's just long enough for three MLOK accessory slots and to shroud the gas block's adjustment screw.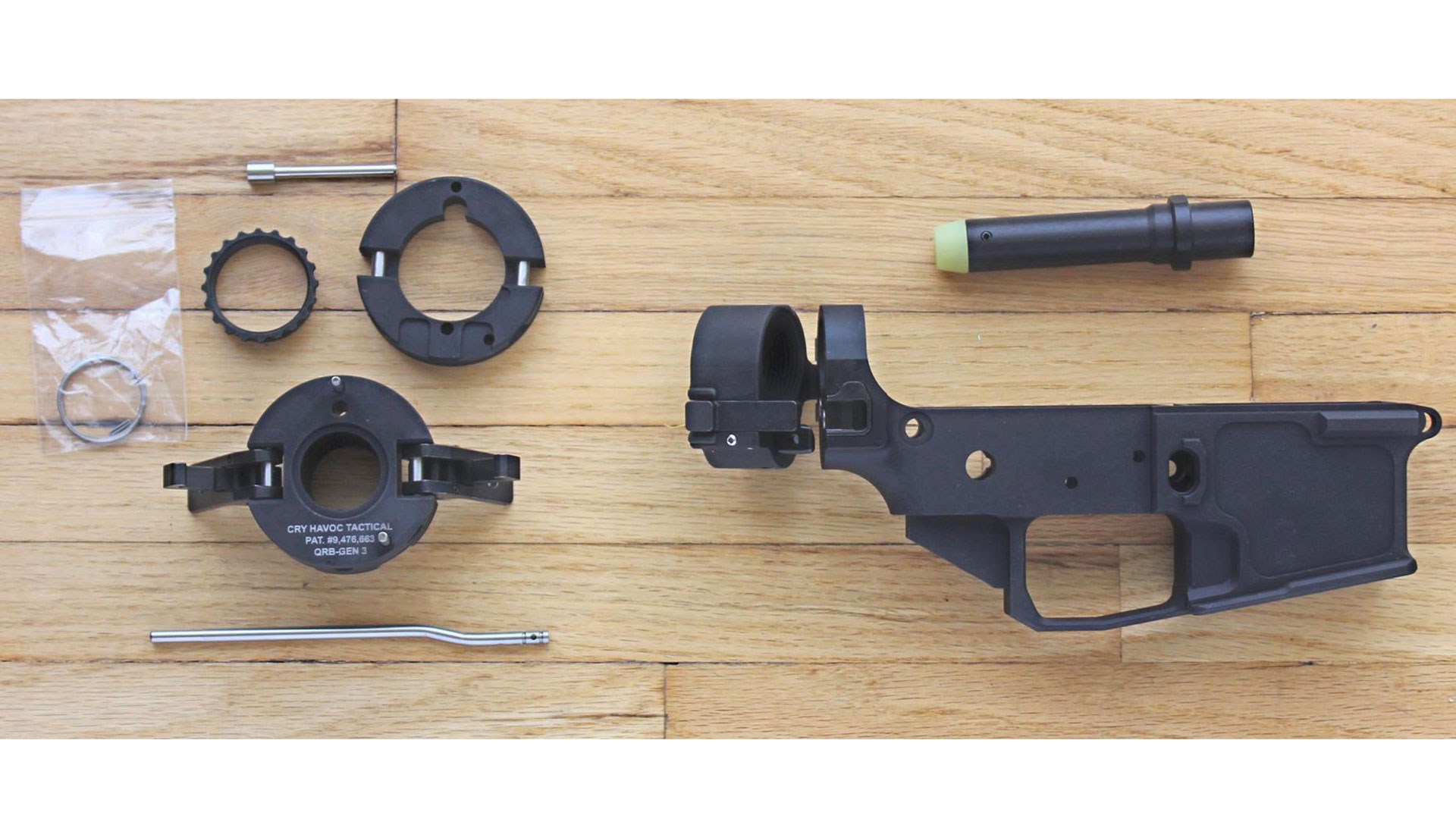 Some of the components out of the box, ready for assembly.
The pistol was outfitted with three different sight systems in the course of building and testing to see which would be the best fit. They included a set of XS Sights 45-degree offset pistol sights (seen in some photos), Diamondhead USA flip-up polymer AR sights and a Leupold Deltapoint Pro red-dot optic. By fitting the red dot with an AR-height Picatinny rail mount it could be co-witnessed with the flip-up sights, so the off-set XS sites were set aside. The red dot was the most intuitive to shoot with so it was used for formal, bench rested accuracy testing. But the more practical option for low profile storage is the flip-up sight set.
I had originally planned to use a folding stock adapter for this build until I saw the 17 Design & Manufacturing Integrated Folding Lower Receiver (IFLR) listed on the AIM Surplus website for $300. That may sound like a lot for a stripped lower, even a milled billet model with features like an integral trigger guard and bolt catch screw.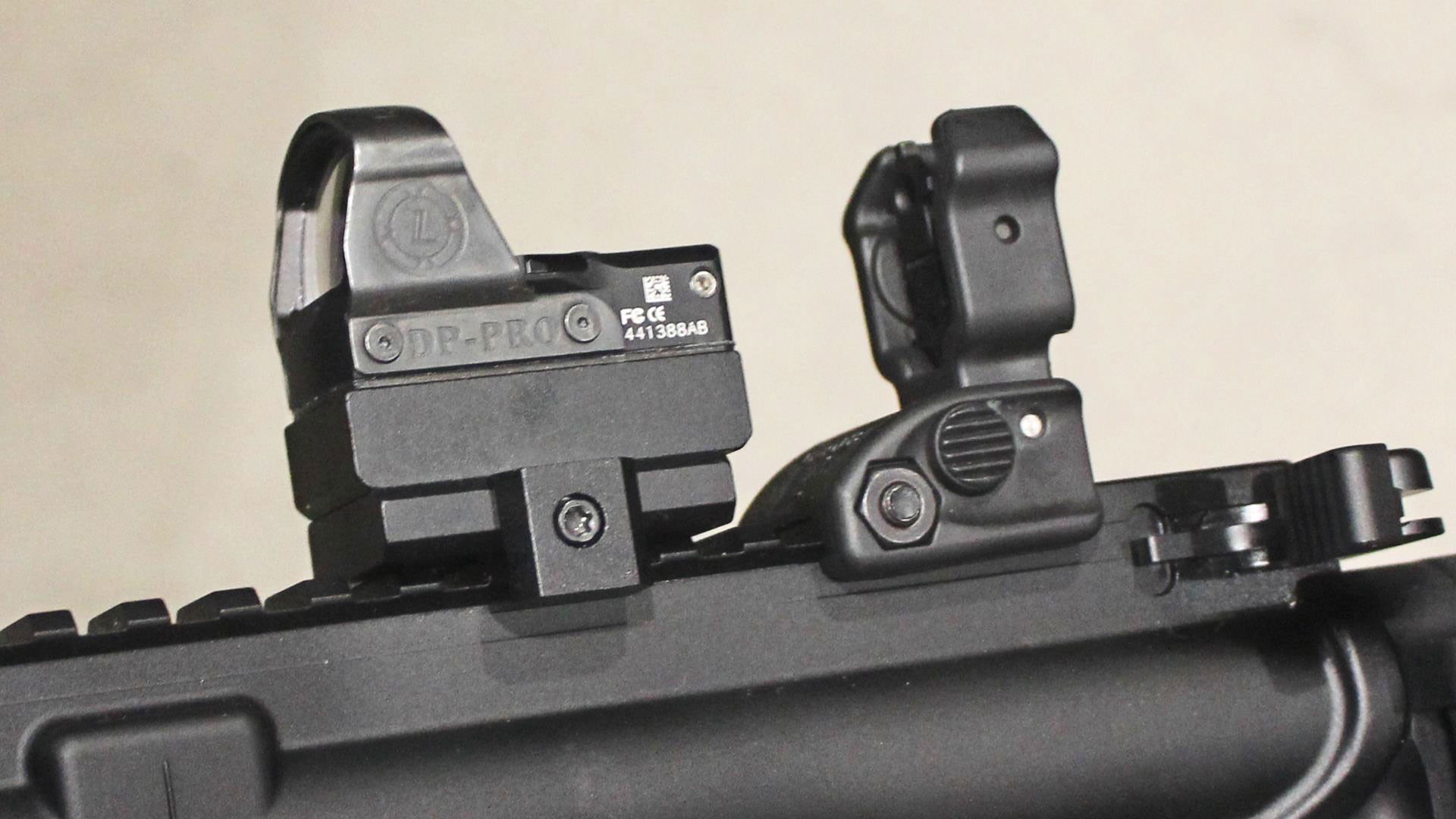 A Leupold Deltapoint Pro red dot optic mounted in front of the rear Diamondhead polymer flip-up sight.
A well-made steel folding stock adapter, like the Law Tactical Gen 3, can cost $270 or more and you still have to invest in a lower you like. The Law Tactical adapters are well made and a worthwhile investment but for this build I wanted the shortest profile and lowest weight possible, and the 17 Design IFLR provided both at a fair price. The lower has a steel reinforces latch point and it ships with an extended 3-oz. buffer.
The stripped lower was filled out using components from a Luth-AR lower parts kit along with some upgrades. The mil-spec trigger group was replaced with an aluminum housed AIM Surplus SSTAT single-stage, flat-face trigger group (XAIMSSTAT) that exhibited a tidy 4-lb. trigger pull. Elftmann Tactical provided the push-button style Speed Safety selector and the anti-walk trigger pins. The A2 grip from the kit was replaced with the comfortable, light weight Mission First Tactical EPG27 polymer grip.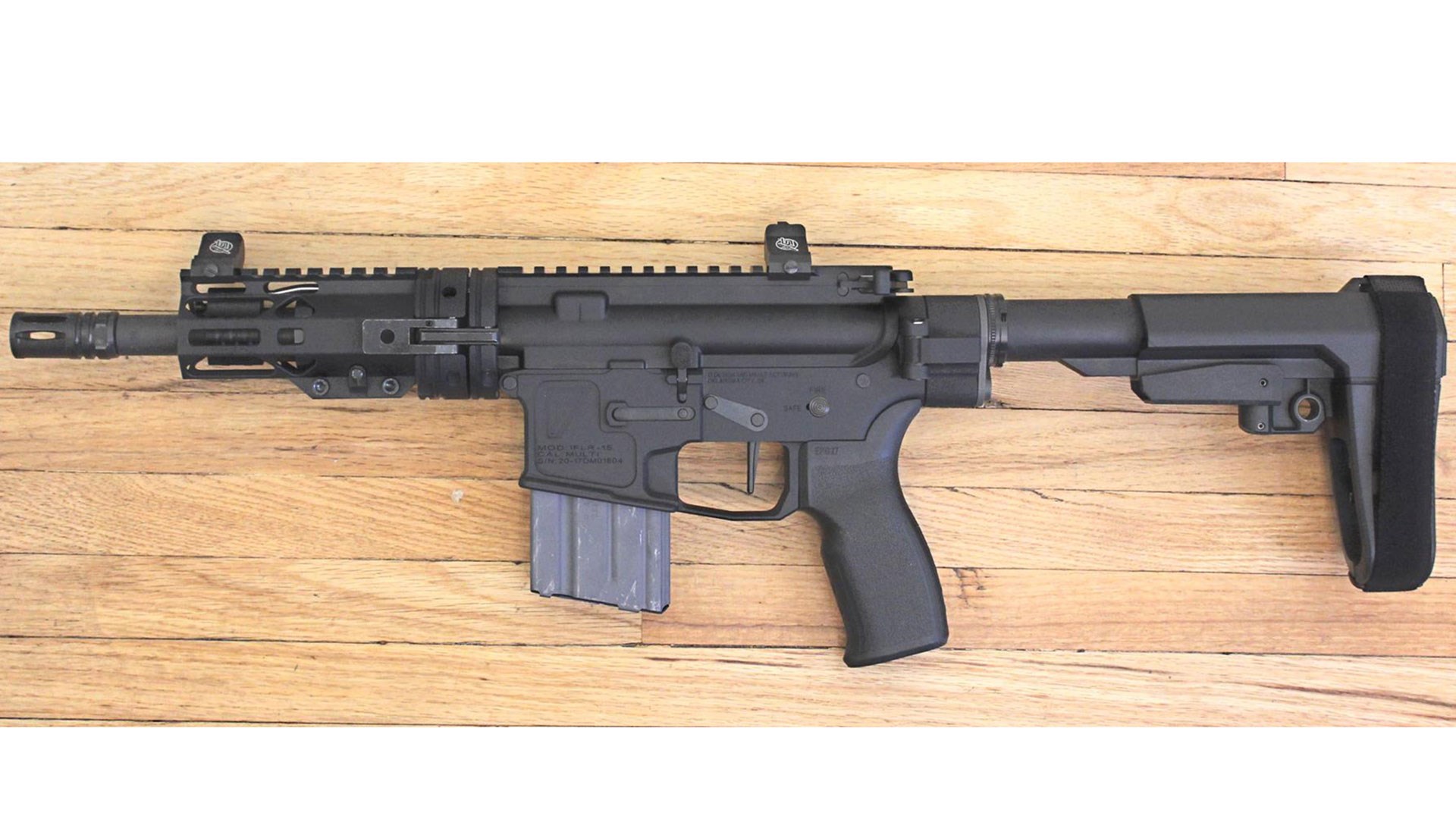 The finished .300 BLK takedown AR pistol build assembled.
I'm fond of 20-round magazines for AR-15 pistols, like the straight-profile aluminum magazines from SureFeed. When seated in the magazine well they are about the same length as the pistol grip making them a good fit for a packable takedown model. The pistol was completed using a 6-position CMMG, Inc. RipBrace kit which includes the company's RipBrace wrist stabilizer, buffer tube, buffer, spring and a dual latch point end plate for use with hooked single-point slings. CMMG offers a shorter 4-position version of the RipBrace, which was the more logical option for this build.
But it turned out that the 17 Design extended buffer was too long for the abbreviated 4-position tube and it works with the standard length buffer tube. The endplate provided with the Ripbrace kit blocked the folding stock hinge from swinging up against the receiver properly. Because of this, it was replaced with a Primary Weapons Systems Ratchet Lock Castle Nut and Endplate Set (4BTLPB1) which provides a single QD sling port.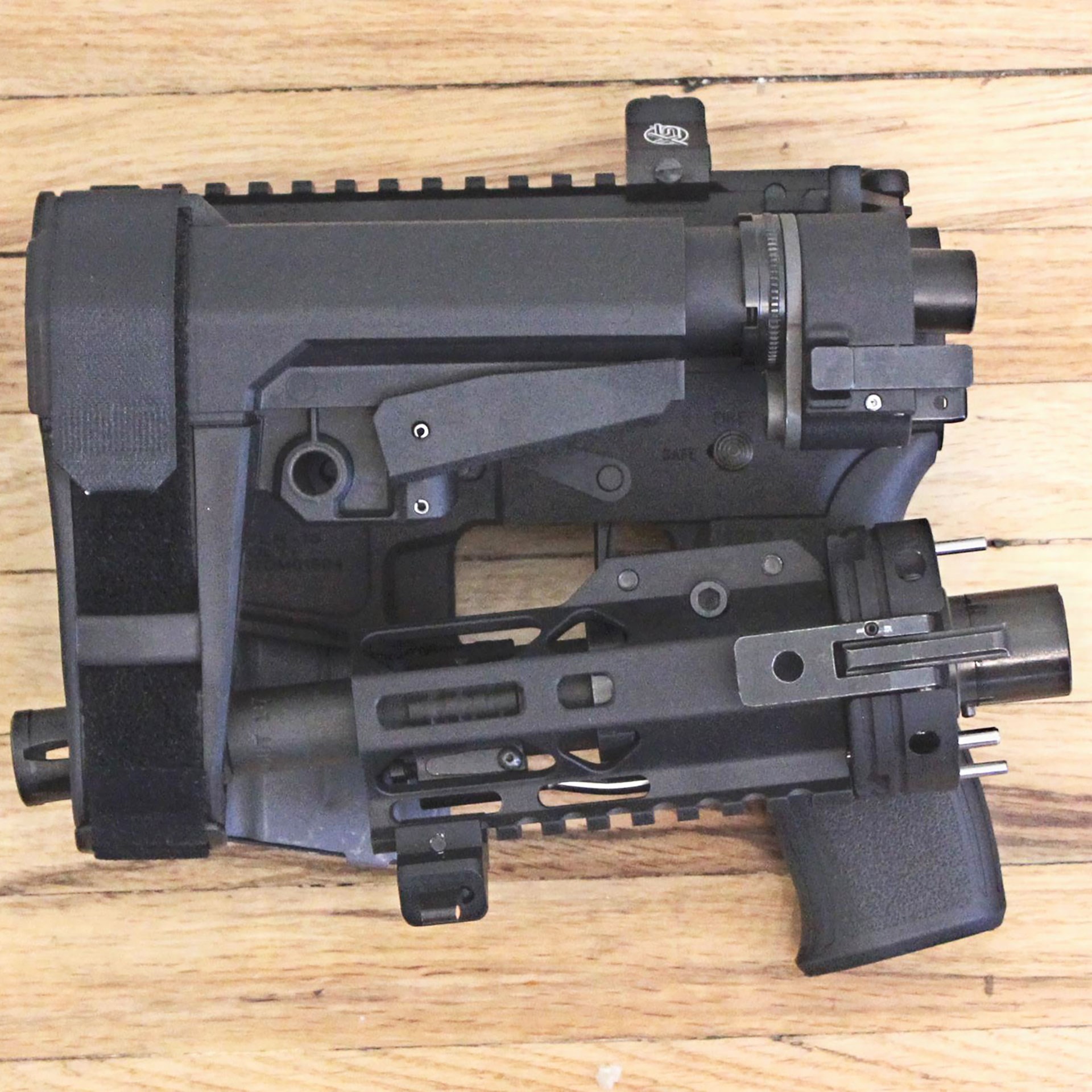 The finished .300 BLK takedown AR pistol build disassembled for stowage.
The finished takedown pistol looks great and handles nicely. The push button release of the lower receiver's folding buffer assembly and the quick release latches of the Cry Havok QRB system are simple and quick to use. Starting with the pistol unloaded and the bolt assembly in the forward position, it takes half a minute to break the pistol down for storage and about the same amount of time to reassemble it. The pistol weighs 6-lbs., without a magazine, and fits into a 9.25" long, 8.25" high, 4.75" wide storage compartment or backpack pocket with room to include a single 20-round magazine.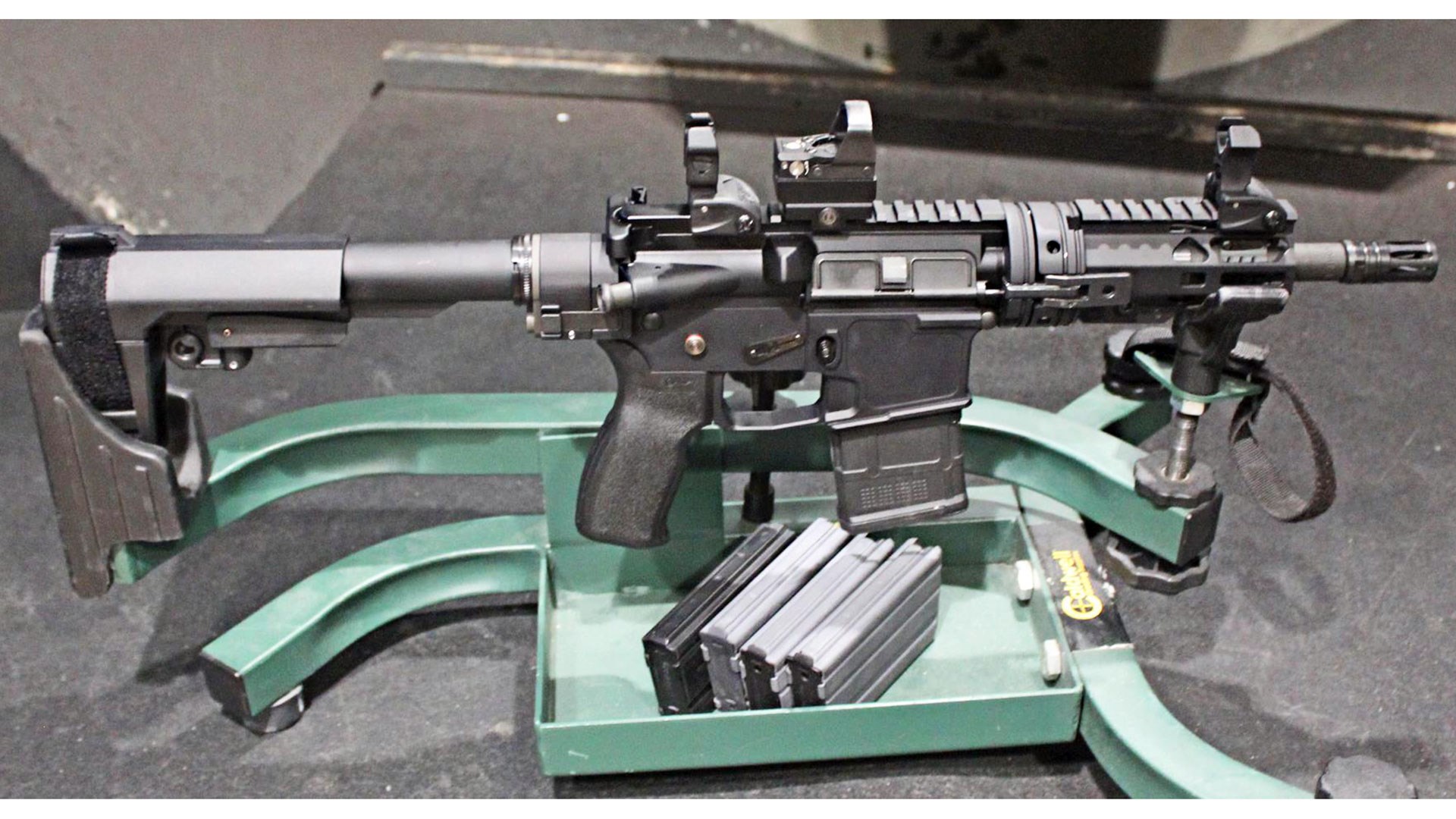 The finished .300 BLK takedown AR pistol build at the range for testing.
The .300 BLK cartridge is a flexible option for AR-15 pistols because it was purpose-built for use with short barrels and sound suppressors. I was able to get ahold of two short-barrel loads from SIG Sauer with listed velocities test-fired from 6.75" barrels instead of rifle-length barrels. One was a heavier polymer tipped subsonic load while the other was topped with a lighter bullet launched at a higher velocity. The third load was a competition-grade subsonic round from Gorilla Ammunition.
Reliability can be a bit trickier with .300 BLK pistols because of a diverse range of bullet weights, velocities and muzzle accessories. That's why an adjustable gas block is usually a must for a gun like this one. The block needed some tuning when switching between high velocity and subsonic loads. The Gorilla match load and high velocity SIG load hummed along nicely once the pistol was tuned in for them.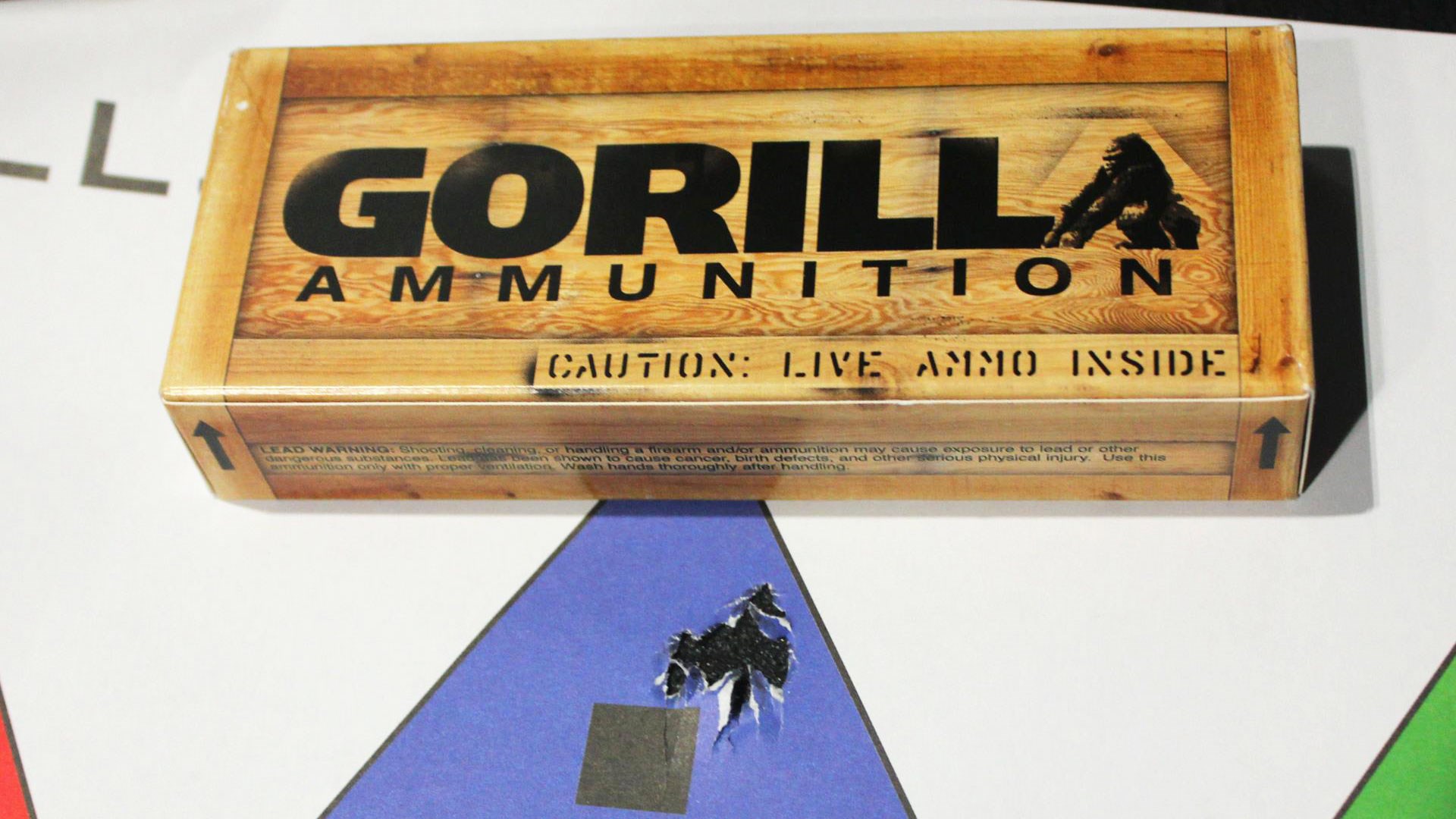 One of the two 5-shot groups that were ragged holes produced by the Gorilla load.
However, the SIG Sauer subsonic loads produced a few more failures to feed than I would have liked. It was a good reminder that some gun and cartridge combinations are not going to yield optimal results even though both are well made. That's why testing ammunition before using it is important.
Here are the results from the bench-rested 5-shot group accuracy testing at 25-yards along with the muzzle velocity numbers. The Gorilla load was the tightest shooting with two 5-shot groups that were ragged holes which had to be measured from side-to-side. I'm not an all-shots-in-one-hole kind of handgunner on most days, so I feel comfortable giving the pistol the credit for those nice, tight groups.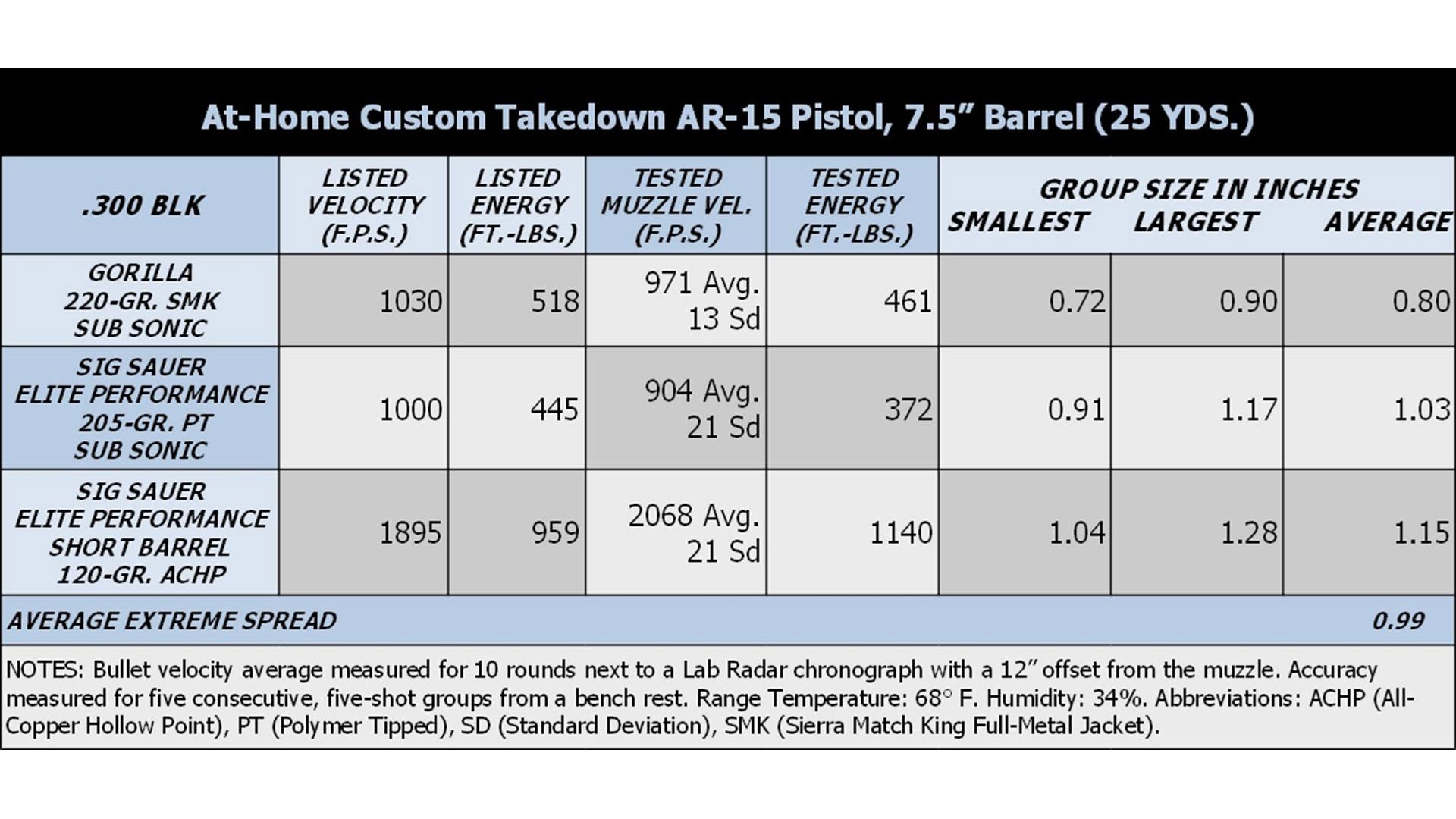 This .300 BLK takedown pistol project is among the most satisfying at-home AR-15 builds I've had the opportunity to work on so far. Thanks to well-designed components and top notch ammunition, it neatly balances the 'cool' factor, portability and the performance I was hoping for without a breathtaking price point. It can be loaded down to 9 mm or .45 ACP pistol performance levels for reduced recoil or ramped up with rifle-velocity loads for use as a camp or trail gun. Its light weight and compact takedown profile make it a great fit for those who need a smaller trunk, bug-out bag option.
Component Providers & Pistol Specifications:
17 Design & Manufacturing (17D)
AIM Surplus (AIM)
CMMG, Inc. (CMMG)
Cry Havok Tactical (CHT)
Diamondhead USA (DH)
Elftmann Tactical (ELF)
Ground Zero Precision (GZP)
Luth-AR (LA)
Mission First Tactical (MFT)
Primary Weapons Systems (PWS)
SLR Rifleworks (SLR)
Model: At-Home Custom Compact Takedown AR-15 Pistol
Pistol Action: Gas-Impingement Semi-automatic
Caliber: .300 BLK
Upper: GZP Factory Complete Upper $554
Upper Receiver: Forged 7075-T6 Aluminum, Mil-Spec Hard-Coat Anodized
Ejection Port Cover: Yes
Forward Assist: Yes
Charging Handle: GZP MS15
Bolt Carrier Group (BCG): GZP Deadbolt, Phosphate Finish
Barrel: GZP 7.5" Contour, 4150 CMV, M4 Extension (BAR-GZP75300PK17) $154
Barrel Finish: Magnesium Phosphate
Rifling: 1:7 RH
Grooves: 5
Muzzle Threading: 5/8 X 24 TPI
Muzzle Device: A2 Flash Hider
Gas Block: SLR Sentry 7 Set Screw Adjustable, Included with Upper
Gas Tube: Provided with QRB Kit
Handguard: GZP Black Dirt Rifleworks 4.20" Tac-Hunter G4 $85
Handguard Slots: M-Lok
Back-Up Sights: DH NiteBrite Polymer (SKU: 1499) $118
Quick Release Barrel Adapter: CRT Gen3 2-Pin 223 Military QRB Kit $400
Lower Receiver: 17D IFLR Receiver (Gen 1) $300 from AIM Surplus
Buffer: 3-oz. Extended, Provided with 17D Lower Receiver
Lower Parts Kit: LA LRPK-1 $57
Safety Selector: ELF Ambidextrous Speed Safety $40
Anti-Walk Pins: ELF $25
Pistol Grip: MFT Engage Series (EPG27) $25
Trigger: AIM SSTAT Single Stage (XAIMSSTAT) $100
Trigger Pull: 4-lbs., as Tested
Buffer Tube Assembly: CMMG 6-Position RipBrace Kit (#55CA9F7) $200
Brace Length: 6.5" Collapsed, 9.5" Extended
End Plate: PWS Ratchet Lock Castle Nut and Endplate Set (4BTLPB1) $40
Capacity: 10 to 30 Rounds, AR-15 Magazines
Weight: 6-lbs. without Magazine or Optic
Assembled Overall Length: 26.75" with Brace Fully Extended
Collapsed Storage Dimensions: 9.25" Long, 8.25" High, 4.75" Wide
Suggested Retail: $2,097 (Taxes, Shipping & Labor Not Included)