by
posted on March 1, 2016
Support NRA American Rifleman
DONATE
Choosing to own an AR-15 pattern rifle means buying into a platform that's fun to shoot and easy to customize. However, freshly minted AR owners need to be aware of a few important points before they start swapping out components. Although AR-15s generally look alike, subtle dimensional differences in some components will cause problems if the wrong size is purchased. Other parts are trickier to install than you might expect. Here are a few of the gotchas that often show up for new AR owners when purchasing and installing upgrades.
1. Parts vs. Assemblies & Kits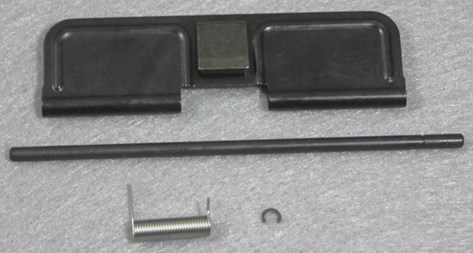 When ordering replacement parts or upgrades online, be sure to pay attention to the product description. Is it listed as a part, an assembly or as a kit? Let's say you've purchased a budget friendly rifle that arrives without an ejection port cover (dust cover) installed. If you order from an online store like Brownells and request a cover, that's exactly what you'll get. Just the cover. In this case what's needed is an Ejection Port Cover Assembly, or an Ejection Port Cover Kit, which includes the cover, spring, hinge pin and hinge pin snap ring.
2. Delightful Detents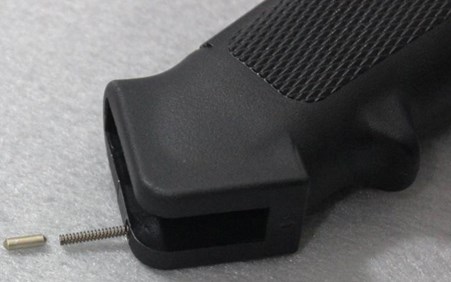 The first three components folks usually like to trade out on ARs are the handguard, the 6-position shoulder stock and the pistol grip. Depressing the Delta ring allows the two halves of the handguard to be lifted off and replaced. Pulling down on a 6-postion stock's release button allows it to be pulled off of the buffer tube and replaced in moments.
But trading out the pistol grip is a bit more tricky. At the top of the grip, on the left side, is a little hole that contains the safety selector's spring loaded detent. It's the pressure of the spring against this rounded detent that causes the safety to 'click' firmly into the Safe and Fire positions. Without that detent the safety will not function properly.
Unfortunately, that particular detent is about the size of a mouse dropping and just as fun to look for if it rolls off of the work bench. When removing the pistol grip, lay the lower receiver assembly on a blanket or towel to help catch that little detent and keep it from rolling away.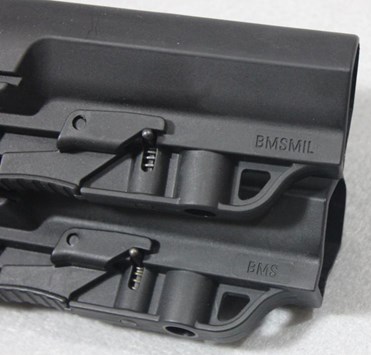 3. Mil-Spec vs. Commercial 6-Postion Buffer Tubes 
The buffer tubes that support 6-postion adjustable shoulder stocks are manufactured in two sizes. Mil-Spec tubes are 1.148" in diameter with a flat base while Commercial tubes are 1.168" in diameter with a 5-degree slant at the base. As a result, Mil-Spec stocks are a very tight fit (if they fit at all) on Commercial buffer tubes and Commercial size shoulder stocks rattle around on Mil-Spec tubes.


It's pretty tough to eyeball a 0.02" difference in diameter. The best way to know the size your buffer tube, if you don't have a set of calipers, is to check the rifle's specifications. Sometimes you can find size information on the shoulder stock installed on the rifle. The Mission First Tactical BATTLELINK Minimalist Stocks shown here are marked with a company code that can be looked up online. The BMS model fits commercial tubes, the BMSMIL fits the Mil-Spec.
4. Hand Guard Rail Slots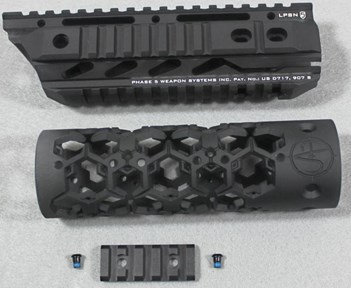 Although rounded plain-Jane polymer handguards are still regularly found installed on AR-15s, the handguards with 1913 Picatinny accessory rails are all the rage. Some units, like the Phase 5 LPSN Quad Rail (top) have integral rails that run the entire length of the guard. Other units, like the Unique-ARs Hex Hazard handguard (bottom) are designed to accept rails of differing lengths at various locations.
But here's the gotcha to watch out for with removable rails: There are several different attachment systems in use which are not compatible with each other. Some accessory attachment systems are in general use by several companies, like the KeyMod system which employs keyhole shaped cutouts. Magpul recently introduced their in-house M-Lok system but other companies are mimicking the M-Lok slots so as to be compatible with Magpul accessory options. Some rails are wholly proprietary. Due to its unusual tubular shape, the Unique-AR handguard only accepts curved base rails and mounting screws provided by the company.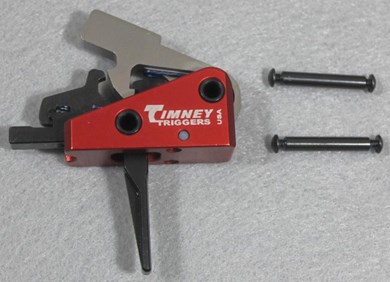 5. Trigger & Hammer Pin Sizes 
Factory AR trigger groups without a housing and drop-in custom trigger groups like those made by Timney Triggers are held in place inside the lower receiver by a pair of hammer/trigger pins. The most common pins are mil-spec with a 0.154" diameter. But there are Colt brand ARs that employ larger 0.170" pins. So, if you have a Colt, make sure the pins are large enough to do the job. 


6. Muzzle Device Caliber & Thread Rate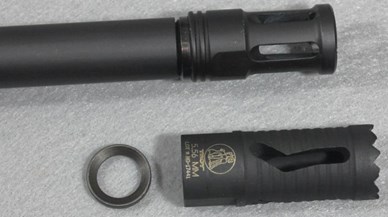 Just as manufacturers will produce the same type of shoulder stock in two models to fit Commercial and Mil-Spec tubes, they will also make a single model of muzzle accessory (flash hider, muzzle brake) in two sizes. One will be sized for AR-15 platforms chambered in 5.56/.223 while the other is made to fit AR-10 platforms chambered for 7.62/.308. As one might expect, these devices are not interchangeable.
Another feature to pay attention to is a device's thread rate, or TPI, to ensure it is compatible with the threading of your barrel's muzzle. For example, the 5.56/.223 devices are often listed as 1/2-28 TPI with the larger 7.62/.308 devices listed as 5/8-24 TPI. This is one of those accessories that you don't want to guess at. Twisting on a device with the wrong thread rate will damage the barrel. Much more dangerous is attaching a device made for a smaller caliber than the barrel is chambered for, like attaching a .223-cal. flash hider to a .30-cal. barrel. The results would be catastrophic.  
7. Gas Tube Length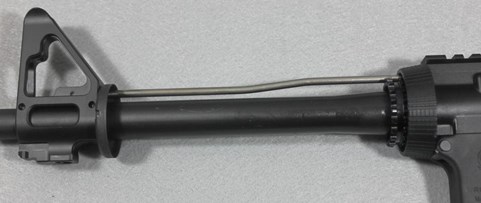 When the gas tube of a direct gas impingement operated AR becomes blocked or cracked, the best option in both cases is to replace it. However, rifle-size gas tubes are manufactured in three different lengths: Carbine (7"), Midlength (9") and Rifle (12"). Just take off the handguard and check with a measuring tape. For the uninitiated, swapping out a gas tube is not terribly difficult since it involves removing the relatively simple gas block assembly. However, if you have any doubts about the hows and whats of a trading out the tube, take the rifle in to a qualified gunsmith to perform the repair.
8. Front Sight Tool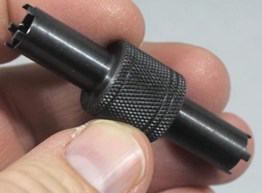 Many sighting systems incorporate a rear sight that can be adjusted to change the height (up or down) of shot placement downrange. The AR's height adjustment is located in the front sight assembly. A small spring-loaded detent is depressed to allow the threaded front sight post to rotate up or down as needed.
Although this detent is designed to be depressed with a bullet tip, knife point or a small punch, do yourself and your sight a favor and buy a dedicated front sight tool. These handy little tubular gadgets can be purchased a la carte for around $5 or as part of a tool kit. The little teeth fit neatly into the notches of the front sight post so it can be twisted easily without scratching the finish or the sight post.
For more information and technical instructions related to AR-15 rifles, see Building a Custom AR-15 at Home.