by
Brian C. Sheetz, Editor In Chief
posted on June 20, 2016
Support NRA American Rifleman
DONATE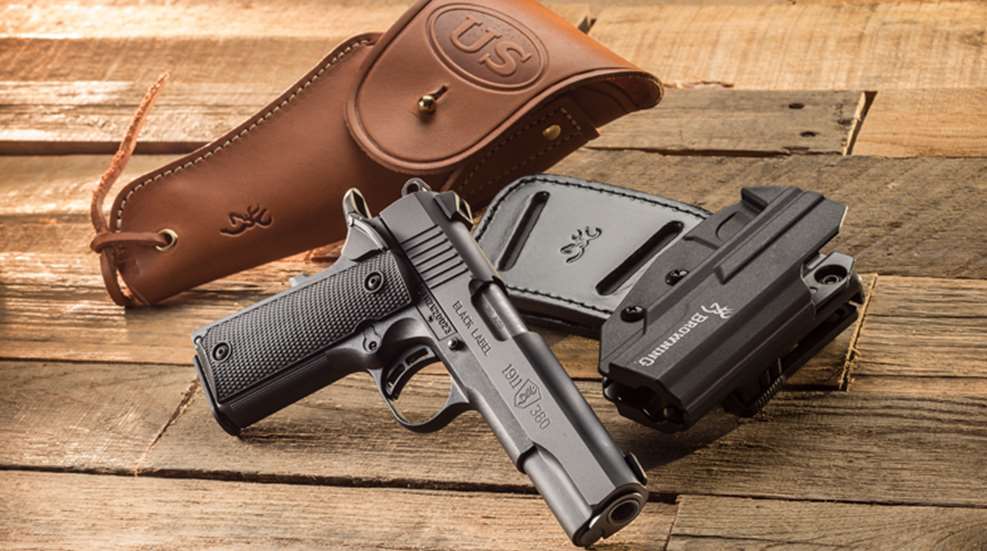 Three entirely different styles of Browning-branded holsters—(l. to r.) the Military Leather, the Leather Slide and the Lock-Pro—fit both the center-fire 1911-380 models and the rimfire 1911-22 models and testify to the versatility and growing popularity of the company'sreduced-ratio M1911 platform concept.

What do the M1911 service pistol and the .380 ACP cartridge have in common? Both are classics, to be sure. More to the point, though, both resulted from the same inventive mind: that of John Moses Browning. It's true that the first was more directly a result of Browning's mechanical genius—apparently an outgrowth of one of several distinct pistol designs patented in 1897, possibly as a hedge against which might ultimately prove most efficacious—while the second was more probably at his behest, with actual development likely carried out by the Union Metallic Cartridge Co.
Of course, the M1911 would go on to fulfill the purpose for which it was intended: a full-size combat handgun for soldiers on the battlefield. And in that service it succeeded like none other, although it has long since transcended that original role, amassing legions of fans in pursuit of the ideal competitive or personal-protection tool. The .380 ACP, on the other hand, was devised primarily for use in pocket pistols and small-frame service sidearms whose dimensions made them comfortable for all-day carry by users who typically moved about in civilian settings. And Browning, the man, who worked on the two separately—the M1911 being conceived in 1905 and the .380 ACP being introduced three years later in the Colt 1908 Pocket Hammerless pistol—probably never envisioned them being paired in the same platform.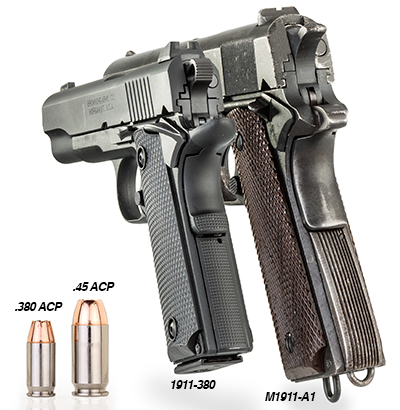 Bucking The Trend
All that changed recently when Browning, the company, saw fit to release the fruits of hard work by its talented team of engineers: an 85 percent proportionally rendered M1911 pistol chambered for the .380 ACP cartridge. Called the 1911-380, the new gun is a unique offering in an increasingly crowded field of minimally dimensioned pocket pistols in the same chambering. Unlike the others, though, it has two huge advantages going for it: It's a miniature of the most beloved pistol ever made, and it minimizes many of the shortcomings typically associated with similarly chambered guns. In fact, in its promotional materials, Browning boasts that the 1911-380 is the "right" size for a pistol chambered in .380 ACP.
I had an opportunity to try out the gun at Browning headquarters in Morgan, Utah, just before it hit the market. After running through a few magazines shooting at paper targets on a typical handgun range, I found that I was grouping unusually well with the gun; so, I decided to move over to an adjacent range, which had targets on a berm 100 yds. out that was littered with clay birds. After aligning the plain black, combat-style sights on an unbroken one and gingerly pressing the gun's reasonably crisp trigger, I came remarkably close. Then, mentally dialing in the necessary holdover, and summoning as many shooting fundamentals as I could muster, I managed to not only hit it, but smaller fragments as well. That told me all I needed to know about the gun's shootability. To characterize such performance from a compact .380 ACP-chambered handgun as merely "acceptable" would amount to British-quality understatement. After all, Browning has other guns more suited to breaking clays.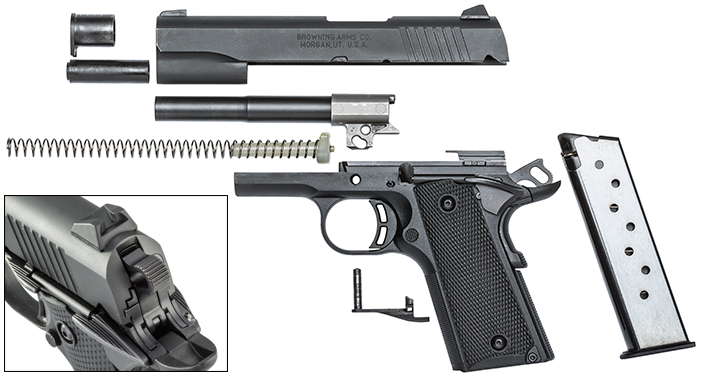 The company's reasons for the 1911-380 having advantages over smaller .380 ACP pocket pistols were beginning to make sense: The longer barrel yielded greater terminal energy; more sight radius allowed for more accurate aimed fire; a longer grip frame helped control the gun, particularly during rapid fire; and extra overall mass reduced recoil energy. Of course, there is no free lunch, and with those advantages come the penalties of greater size and weight in a product category that is, at least partly, based on the idea of deep concealment. But at approximately 4½"x7½", and at fewer than 18 ozs., the 1911-380 does not entirely preclude that role, either. And in a typical inside- or outside-the-waistband holster, it certainly doesn't represent an undue burden on the average concealed carry practitioner.
Cracking The Code
It's not as though the idea of shrinking the M1911 hadn't occurred to anyone before. In years past, such guns appeared from Star (Model S), Llama (Small Frame Model) and, more recently, as pseudo-1911 derivatives from Colt (Mustang), Kimber (Micro) and SIG (P238). But most of those were not true proportional renderings of the full-size masterpiece. Browning, on the other hand, wanted to develop an 85 percent scale version of the M1911 platform that would capitalize on the classic platform's appeal, resulting in a gun that, while smaller than the original, would still be easy to shoot.
In 2011, it had released the 1911-22 in .22 Long Rifle (January 2012, p. 54), which was well-received, and, because of its blowback operation, was relatively easy to engineer. Of course, because of its chambering, it was never intended primarily for personal defense. Rather, it was aimed at informal plinkers and those out after small game. Still, a warm reception in the marketplace proved that there was plenty of pent-up demand for mini M1911-style pistols.
So, seeking to leverage its success, Browning set about to provide the popular .380 ACP cartridge a proper and fitting home. It would take engineers more than two years to develop the larger-caliber, center-fire M1911-380. For instance, Senior Design Engineer Ryan Cook recalled that getting the slide stop to activate after the last shot was particularly vexing. (It was solved by redesigning the magaine's follower and spring.) But the efforts have paid off as the center-fire 1911-380 has proven to be at least as big a hit as its rimfire sibling.
While the .380 ACP cartridge can be made to function in either blowback or locked-breech designs, Browning elected to go with the latter for the 1911-380, which results in its having less perceived recoil than if it were a blowback. It was a wise choice and an indication that the company wanted to extract the most shootability and power from the 1911-380 possible, lending it the legitimacy necessary for serious use. Conveniently, that the 1911-380's overall size needn't be larger than that of the 1911-22, with only minor concessions to overall weight, meant that the pair could share already-available holsters.
An Argument For The .380 ACP
Improvements in bullet and propellant technology in recent years have begun to change the decades-old practice that saw consumers purchasing the most powerful chamberings they could manage in the smallest, lightest platforms they were willing to carry. While that approach still makes sense to many, others have come to understand the advantages of moderately powerful chamberings fired from platforms that are a bit more comfortable to handle.
A spike in the popularity of ultra-compact, single-stack 9 mm Luger-chambered guns is perhaps the best case in point. But the .380 ACP seems determined not to be left behind, even though Americans have typically regarded it as being at the lower end of the threshold for acceptable power from a personal-defense cartridge. That's partly because when .380 ACP-chambered pistols spiked in popularity about eight years ago, most designs were pocket-size featherweights with barrels of less than 3", all of which hampers controllability and stifles energy. With its 4¼" barrel, the 1911-380 counters that trend, producing muzzle energies approaching 250 ft.-lbs. with factory defensive loads. And while that still lags behind comparative figures for the 9 mm Luger from a 3" barrel (close to 300 ft.-lbs.), it's nothing to sneeze at.
In fact, viewed from the opposite perspective, out of similar-length barrels using similar self-defense loads, the .380 ACP's energy levels outstrip not only the .22 Long Rifle (by double) but also the .25 ACP and .32 ACP (by half again more). The Browning's barrel length accounts for 100 f.p.s. or more in additional muzzle velocity and at least 30 ft.-lbs. in energy compared to figures for similar loads fired through barrels in the 3" range. Too, the .380 ACP is easier to train with than more powerful cartridges such as the 9 mm Luger when fired from platforms of slightly more weight. That means the .380 ACP user can develop greater competency through training, and, ultimately, be more effective, through faster shot-to-shot recovery and more precise shot placement. Such a gun can certainly be taken seriously not only at the range but in the dark places where life-or-death struggles often occur.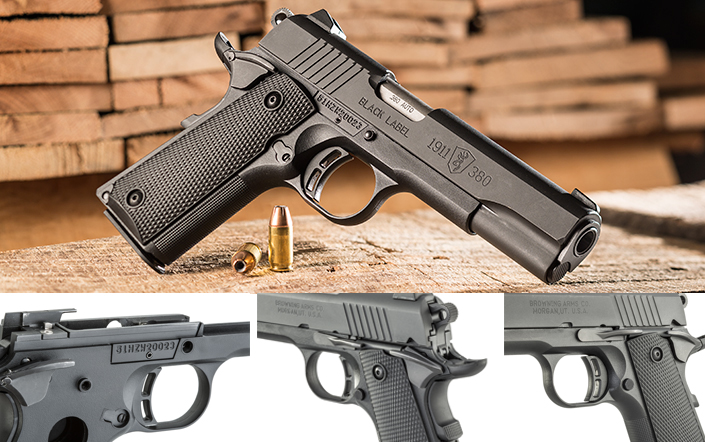 Svelte, Yet Full-Featured
The 1911-380 employs a variety of materials in its construction. The majority of the frame is polymer into which is pinned the serialized receiver—a machined aluminum chassis that includes the rails on which the slide rides. Unlike the 1911-22, there is no all-aluminum frame as of yet, but according to Cook, that could change as the polymer frame was chosen initially because it better accommodated the company's Black Label tactical line enhancements, such as the beavertail grip safety, extended levers and rowel hammer. Parts subject to high stress or wear, such as the hammer, ejector, magazine release and slide stop are made of steel, while the trigger, grip safety and mainspring housing are made of a cast metal alloy. The recoil spring plug and recoil spring guide are polymer. Although a locked-breech gun like its full-size forebear, the 1911-380 is simpler. Rather than the M1911's multiple lugs and recesses cut into its slide and barrel, the 1911-380's barrel hood locks into the slide's ejection port during firing. Then, the slide and barrel travel rearward together a short distance under recoil, separating when a kidney cut in the barrel's underlug acts on the slide stop pin to pull the barrel down and disengage the two. The slide continues rearward and a traditional M1911-style internal extractor and fixed-blade ejector send the spent cartridge case out the ejection port as it re-cocks the hammer, picks up a cartridge from the magazine and returns to battery.
But it is the gun's exterior contours and controls, rather than its internals that set it apart for shooters. Despite the 1911-380's "cute" appearance, it fits the hand well and is easy to manipulate. Its 4 9⁄16" height and 7½" length combine with a 15⁄32" width across the safety levers (3/4" across the slide itself) to make for a package that is nearly as effortless to carry as smaller .380s, but avoids the fumbling associated with such guns.
As to controls, the M1911-380 has all of the enhancements that the past few decades have shown to be an improvement over even the M1911-A1 revision of Browning's original turn-of-the-century masterpiece. They include: an extended beavertail grip safety with bump pad, molded-in checkering on the mainspring housing's backstrap and on the frame's frontstrap, extended bilateral safety levers, and an extended slide stop lever. The hammer and trigger are skeletonized, lending them a degree of mechanical advantage. A magazine disconnect safety acts off the magazine release, preventing the gun from firing if a magazine is not inserted. Sights vary by model, but all are dovetailed to the slide.
Firing a sample gun at NRA headquarters with a variety of premium self-defense loads from major makers produced entirely acceptable accuracy and reliability results. There were a couple of instances of the last round from the magazine becoming vertically "stovepiped" in the ejection port, but that was likely a break-in issue. In fact, Browning claims that many customers have said the 1911-380 operates more reliably than their high-end, full-size M1911s. Staffers who handled and fired the gun found it to be fun to shoot, easy to manipulate and quick to action—qualities not normally associated with .380 ACP handguns.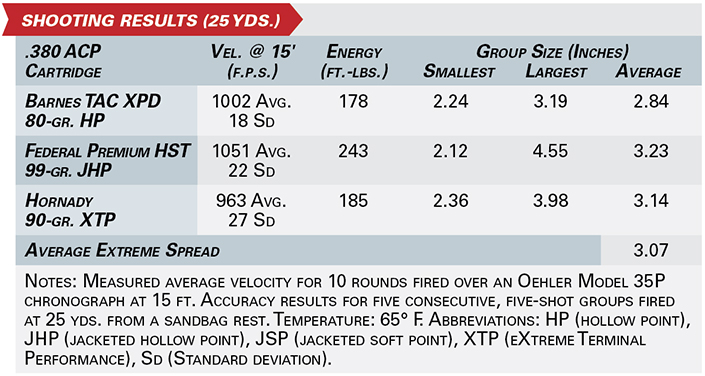 Not Lost In Translation
The Browning 1911-380 stands alone among today's handgun offerings as an interesting mix of classic design, minimalist proportions and broad utility. It has already won a measure of success, with the company citing 10 currently available variations, accounting for differences in stocks, sights, finishes and whether or not an accessory rail is molded into the frame. Not surprisingly, Browning is having difficulty keeping up with demand, and its nearby manufacturing partner—the same one that produces the company's excellent Buck Mark rimfire pistol—is expanding its capacity to make the 1911-380. There are even several versions of a 1911-380 "Commander" already on the market (see below). It makes one wonder if Browning might consider going the other way, and offering a "long-slide" version bearing the Buck Mark's micro-adjustable, target rear sight.
We'll never know what Browning, the man, would have thought of his namesake's 1911-380, but there's no denying that the appropriateness of its scale to its cartridge lends the pair a degree of appeal that is proportional to that of their full-size counterparts. And while that in itself is likely to endear the gun to most any fan of the full-size M1911, even more may find that the 1911-380 is a quite appealing platform in its own right—especially for those who want to wring out the .380 ACP's full ballistic potential. Whether it is, as Browning, the company, suggests, the ideal size for its cartridge will ultimately be up to the judgments of individual users. And though it may only be fanciful speculation, the imagination has hardly to stretch credulity to conjure an image of the usually stoic John Browning turning over a 1911-380 in his hands just before allowing a slight grin and approvingly uttering the words "just right."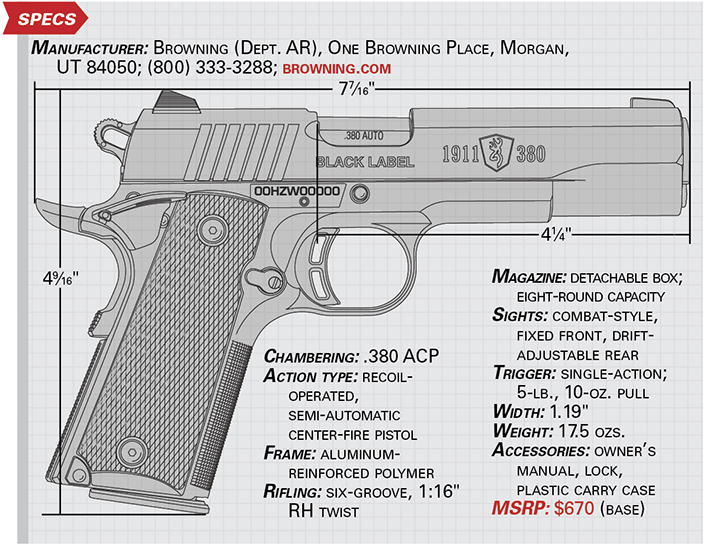 ---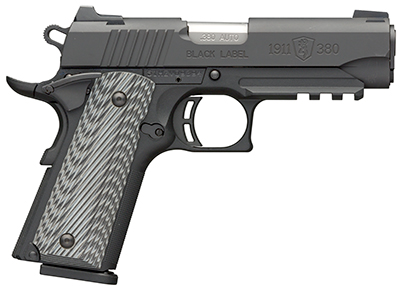 An Even Smaller 1911-380
Despite Browning's contention that its 4 1/4"-barreled 1911-380 is the "right" size, it has bowed to customer demand for an even more compact version. Some must have reasoned that if a scaled-down M1911 pistol is too cute to ignore, then a "Commander" version would be even cuter. The resulting limited-production Compact model is shorter and lighter and—since it employs the same frame, and, hence, the same eight-round magazine—is also available with or without an accessory rail. Other options include plain, three-dot or night sights and various stocks. Where the Compact actually differs is in its shorter slide and barrel assembly. At 3 5⁄8" the gun's barrel is still longer than that of many pocket .380s and allows for a respectable 4¾" sight radius. Its overall length of 6 7⁄8", or 9/16" less than its "full-size" sibling, opens up some alternative carry possibilities. Weight, too, drops to 16 ozs. Prices range from $800 to $909 depending on sights, stocks and the presence of an accessory rail.
Brian C. Sheetz