Support NRA American Rifleman
DONATE
For those who run in pistol competition circles, STI International is a familiar name. Although the company started out as a custom component manufacturing venture, its popularity led to the production of complete pistol lines for tactical, self-defense, hunting and target shooting applications. Well known for its modular polymer and steel 2011 double-stack frames and custom pistol components, this Texas-based manufacturing company also offers a variety of high-quality single-stack 1911 pistols.

Not long ago, in recognition of the growing demand for quality 10 mm semi-autos for handgun hunting, STI released a 6-inch barrel long-slide double stack pistol built on its 2011 frame called the "Perfect 10". While this pistol has sold well, one of the most common customer requests STI has received since its release has been for a 5-inch barrel single stack 1911-style 10 mm. In 2014 the company met this customer request with the release of the Nitro 10.

In looking over the specifications for the Nitro 10, it's clear that STI takes pride in the fact that the components used to build the pistol are in-house parts, many of which are their own designs. This pistol is constructed using a 1911 Government forged-steel frame and a classic, round-top steel slide. Both have a matte blue finish with polished flats on the slide. The slide features an oversized ejection port and wide-cut front and rear cocking serrations.

The sight system consists of Heinie target sights, with a serrated front sight blade and a square notch rear sight. The 5.01" linked stainless steel bull barrel has a polished feed ramp and a fully supported chamber. The full-length steel guide rod is supported by a single round wire recoil spring held in place by a spring plug instead of a barrel bushing. When removing the recoil assembly during routine maintenance, a takedown tool (i.e. a bent paperclip) is inserted into a small hole drilled in the guide rod while the slide is retracted.

The frame has an undercut rounded trigger guard and a dust cover unencumbered by a tactical accessory rail, which will be a plus to those shooters who appreciate the traditional 1911 form. The skeletal polymer trigger, with adjustable over travel screw, is part of STI's patented ignition system. This includes the Nitro rounded hammer, STI S-7 sear, and a titanium strut for reliable operation. The wide extended beavertail safety has a raised pad at its base to ensure positive engagement, even with a high grip.

The pistol's controls, including the slide catch, single-sided thumb safety, and round button magazine release, are all located on the left side of the frame. The front strap and mainspring housing have a simple, but effective, three-line grip surface enhancement. The grip is topped off with slim, smooth faced Cocobolo wood grip panels etched with the STI logo and held in place by matte blue hex-head screws. The Nitro 10 ships with one blued steel 8-round magazine.

Those who are familiar with shooting the 10 mm cartridge know that it produces a stout level of felt recoil. But it offers an excellent balance of flat shooting, hard-hitting stopping power in a cartridge that will fit in standard size semi-auto pistols. It's not painful to work with, like some of the souped-up big-bore revolver cartridges on the market, but it will give your wrist a workout. With an unloaded weight of 38.90 ozs., the all-steel Nitro 10 yielded a level of felt recoil comparable to a 4" .357 Mag. revolver loaded with full-power factory ammunition during two-handed, of-the-bench shooting. I happen to like pistols that speak with authority, so the Nitro 10 and I had what I would consider an enjoyable conversation at the practice range.

The overall fit and finish of the Nitro 10 is excellent. It usually takes 100 to 200 rounds to break in an all-steel gun, but the slide to frame fit of this pistol was as smooth as glass right out of the box. The recoil spring was heavy, so it took real intent to cycle the action. This was no surprise considering the potent caliber it's designed for. The crisp, clean trigger broke at 4-pounds 11-ounces of trigger pull with no travel after the break. All of the controls, the sights, and the magazine worked flawlessly.

The Nitro 10 had a healthy appetite for factory loads ranging from moderate power full-metal jacket rounds to hot hunting hollow points. The pistol did not experience any failures in the course of testing. Formal accuracy testing consisted of five 5-shot groups fired from a bench rest at 25 yards, in which the Nitro 10 demonstrated an out-shoot-the-shooter level of accuracy. When I can squeeze groups down to around 3" to 3.50" with a production pistol with factory iron sights, I know I'm doing my job correctly and that I have a solid pistol in my hands. But this 10 mm showed off its in-house custom parts and high quality craftsmanship with groups that ranged from 2.14" to 2.98".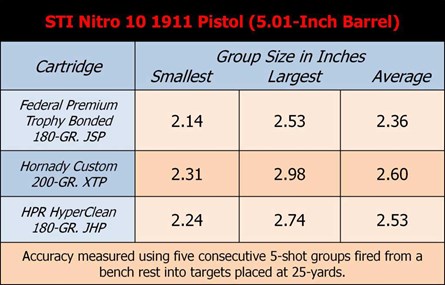 The best single group of 2.14" was produced using Federal Premium's new 180-grain Trophy Bonded jacketed soft point, which is a hot load specifically designed to squeeze a high level of performance out of the 10 mm cartridge. This round also produced the best five group average of 2.36". HPR's Hyperclean 180-grain jacketed hollow points averaged 2.53", followed by Hornady Custom 200-grain XTP loads at 2.60".

As an employee-owned company that produces all-American made pistols, STI has carved out a well-respected niche for themselves in the competition community. They certainly have all of their ducks in a row when it comes to producing high-quality defensive and hunting 1911 semi-autos, like the Nitro 10. I've had the opportunity to shoot a variety of factory-fresh 1911s, and I have to say this pistol was one of the best out-of-the-box products I've worked with so far. My trigger finger is already itching to shoot another one.  

Specifications
Manufacturer: STI International
Model: STI Nitro 10 1911
Action: Single Action
Caliber: 10 mm
Finish: Matte Blue
Slide Style: Classic with Front & Rear Serrations
Slide Width: 0.910"
Frame: Forged 1911 Government
Barrel: Ramped Bull Barrel, Fully Supported
Guide Rod: Steel One Piece
Trigger: STI Long Curve
Trigger Pull: 4 lbs. 11 ozs.
Safeties: High-Ride Beavertail Grip Safety, Single-Sided Thumb Safety
Grips: Slim Cocobolo Grip Panels
Sights: Competition Front, Fixed 'Ledge' Style Rear
Barrel Length: 5.01"
Overall Length: 8.77"
Height: 5.25"
Weight: 38.90 ozs.
Capacity: 8+1 Rounds
Twist: 1:16" RH
Rifle Grooves: 6
Accessories: One Magazine, Hard Case, Owner's Manual, Lock
MSRP: $1599