by
posted on December 24, 2015
Support NRA American Rifleman
DONATE
Springfield Armory's family of XD semi-automatic pistols has been well-documented in these pages, and guns of the XD(M) line have been reported on since 2008. Still, the XD(M) 3.8" Compact—introduced in 2011 and available in 9 mm Luger, .40 S&W and .45 ACP—caught our attention for its combination of desirable traits. One of many polymer-frame, recoil-operated center-fires on the market today, the Compact is perhaps the best-suited to bridge the gap between small, concealment handguns and larger, general-purpose pistols. 
When comparing firearms for concealed carry, we find weight and height (especially in terms of grip protrusion) to be amongst the most relevant dimensions. For most shooters, a commander-size M1911—roughly 36 ozs. and 5.5" tall—is at the large end of the concealable firearm spectrum. At 27 ozs. and 4.75", the XD(M) Compact compares favorably. More importantly, using the flush-fitting 13-round magazine—we tested the 9 mm model—the well-textured and ergonomic grip projects only 1.5" below the trigger guard, enough for a two-finger grip yet without excess length that might cause it to "print" under clothing. Beyond these dimensions, an argument can be made for the importance of width, but considering the majority of semi-automatic pistols hover between 0.95" and 1.3"—the Compact is 1.07" wide at the slide, 1.18" at the grip and 1.29" at the frame-mounted slide lock/release—these considerations are a bit more nuanced and less critical to portability. Overall, the XD(M) 3.8" Compact scores well as a concealment piece, and is among the smallest of the double-stack semi-automatics.
Beyond its trim dimensions, the Compact has several characteristics one might expect from a full-size service sidearm. The first is ammunition capacity. Springfield includes both a flush-fit magazine, which itself has a generous payload, and a longer, 19-round model—basically a box of ammunition for a reload. The longer magazine also has a textured collar that extends the overall grip size by about 1", and moves the entire platform soundly into the full-size pistol category. The extra grip length also facilitates a full three-finger grip, needed to maximize accuracy and control during fire. The 3.8" hammer-forged barrel is another advantage for the Compact. The barrel is longer than many in its class, offering an inherent, if marginal, boost to ammunition performance. As well, the similarly lengthened slide extends the Compact's sight radius to nearly 6"—a definite boon to accuracy.
Other enhancements, common to all XD(M) pistols, help the Compact stand out from the crowd. Its dust cover features a three-slot accessory rail for mounting lights or lasers (or both in the form of Crimson Trace's CMR-204). Three interchangeable backstrap units allow for +/-0.08" adjustments to the grip's "swell," so shooters can customize the Compact to fit their hands—appropriate magazine collars are also provided. Deep, semi-chevron cocking serrations, fore and aft, provide excellent purchase when manipulating the slide. Finally, the XD(M)'s three-fold safety system—internal firing pin block, grip safety and Springfield's Ultra Safety Assurance (USA) trigger system—is proven, and it's enhanced by a disassembly process that does not require the trigger to be depressed—a significant advantage, in our opinion, compared to firearms (including original XDs) that do require a trigger pull to remove the slide.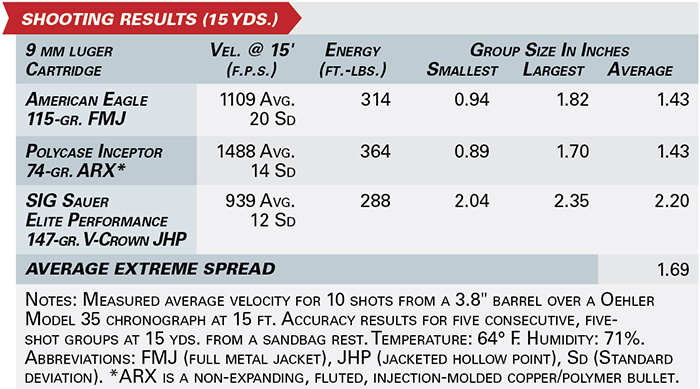 Accuracy was excellent from the bench and during familiarization firing. The flush-fitting magazine provides adequate grip surface, but the pistol really shines with the expanded-capacity, extended-grip magazine inserted, especially during action-shooting-type drills. As expected from an XD, function was flawless throughout testing. Overall, we found the Compact to be a cleverly designed cross-over, equally adept as a concealed-carry pistol or a general-purpose sidearm.