by
posted on August 8, 2022
Support NRA American Rifleman
DONATE
Since its debut more than a century ago, firearm designers subsequent to John Browning have made myriad changes—some subtle, others not—to his venerable M1911 pistol. Few companies have been as prolific in this regard as Springfield Armory, which currently catalogs nine separate M1911 lines with numerous options present in most of them. One of the newest, the Emissary, is less subtle in its tweaks than most other M1911s on the market, resulting in a highly stylized pistol with the look and feel of a custom gun. While other models make up the Emissary line, our test sample was the 5"-barreled .45 ACP.
Like the company's other M1911s, the Emissary's frame is forged; in this case, it's made from stainless steel, which nicely contrasts with the forged, blued, carbon-steel slide to create an attractive two-tone aesthetic. Immediately noticeable is the squared trigger guard, which provides additional space for a gloved trigger finger, as well as helping contribute to the pistol's distinctive appearance. The rub, however, is that the trigger guard's unique profile can make it more difficult to find compatible holsters. There's also an integral rail on the dustcover for adding accessories. Beyond the trigger guard, the frame's other eye-catching attributes are the grenade-pattern cuts on the frontstrap, which continue through the black/gray VZ Grips Thin-Line G10 stocks and the mainspring housing. This innovative design aids purchase without any of the discomfort of checkering.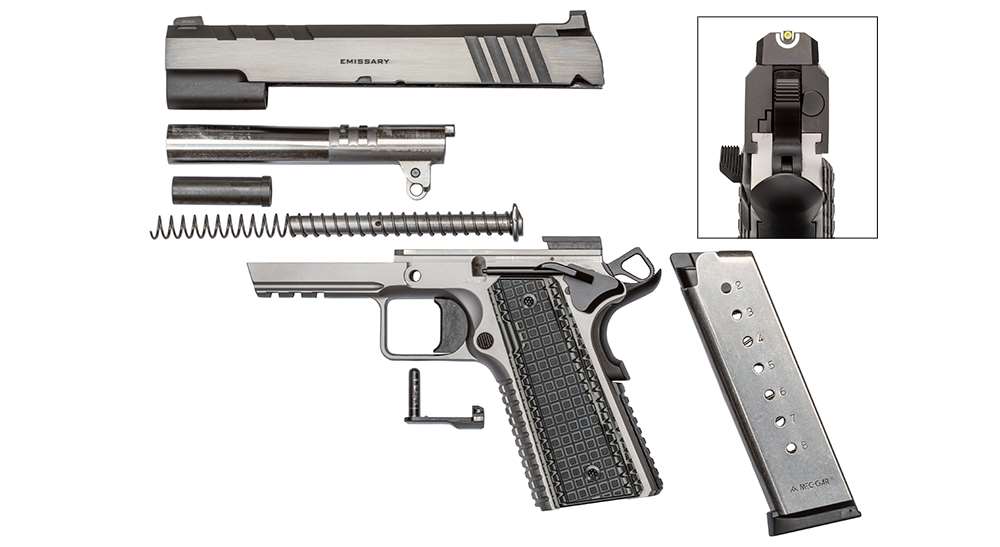 At the rear of the frame is the beavertail safety, which—like the slide, skeletonized hammer, hardware and fire controls—contrasts visually with the frame. The magazine well is beveled to quicken reloads. Machining of the frame was superb; only the faintest machining marks could be found in its interior. The Emissary ships with two steel, eight-round Mec-Gar magazines; witness holes with numbers on the sides reveal the quantity of rounds remaining.
Typical of most M1911s, the rear of the Emissary's attractive "Tri-Top" slide features cutouts—four per side—to ease the cocking process, however, it also has three grooves (per side) at the front to lighten the slide while also enhancing grip. Springfield also added 10 serrations, spaced at 40 l.p.i., that span from sight to sight on the flattened topstrap. These help to diffuse light and reduce glare.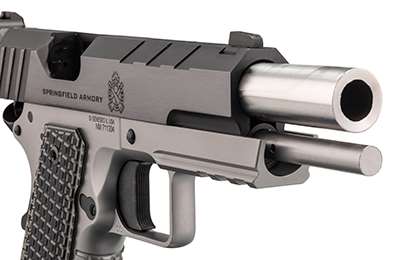 Concerning the Emissary's sights, Springfield opted for its proprietary tritium front and white-outline, U-notch rear sporting a tactical rack ledge on its front. Sight acquisition is immediate, even in settings with reduced lighting and/or varied backgrounds. The sides and back of the rear sight have been beveled to reduce snagging and improve holstering/unholstering. Both drift-adjustable sights are securely dovetailed into place.
The Emissary's match-grade, 5" bull barrel measures 0.695" in diameter, is machined from stainless steel and ends in a target-type, 11-degree crown. Beneath the barrel rests a full-length, one-piece steel guide rod. Extraction is by way of a traditional internal extractor, while the fixed ejector dependably clears the gun of empties.
Students of the M1911 will be acquainted with the gun's one-sided fire controls. The pistol has an extended, serrated thumb safety and slide stop, which also has grooves; both are traditionally located on the left side of the gun, as is the magazine-release button. Pressing the button drops the empty freely.
As a steel, full-size M1911, the Emissary weighs in at a hefty 40 ozs., and it'll be noticeable on the hip after extended carry, but the trade-off is that the additional weight reduces perceived recoil and muzzle flip.
Unlike the other controls, which are machined from metal, the lightweight trigger is plastic and features a flat face. According to a Lyman Digital Trigger Pull Gauge, the test gun's two-stage trigger broke at an average of 5 lbs., 4 ozs.—proper for a defensive gun. There was no discernible creep or overtravel, and the reset was exceptionally short.
Since it is foremost a defensive pistol, we used three personal-protection loads with bullets of various weights and profiles for accuracy testing. Remnant loads containing FMJ bullets from previous testing were also employed to ensure cycling. Our sample Emissary quickly demonstrated that it was capable of phenomenal accuracy.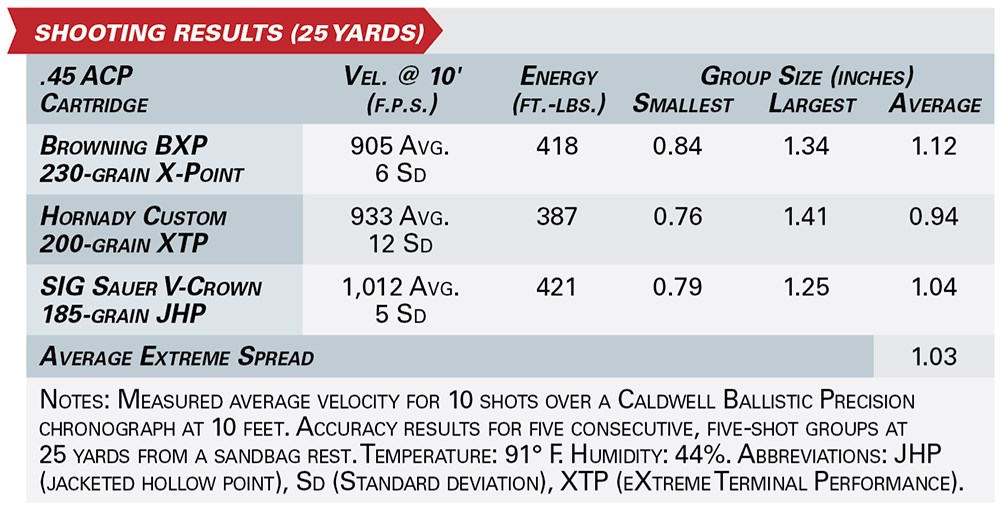 Firing from a sandbag rest at targets placed at 25 yards, Browning's 230-grain BXPs managed a five-group average of 1.12", SIG's 185-grain V-Crowns came in at 1.04" and Hornady's 200-grain XTPs stacked themselves into groups that averaged an incredible 0.94"—for an average extreme spread for the day of 1.03". This level of accuracy at this distance, across three test loads, is basically unheard of in a production gun. We can only imagine the results attainable with this pistol had we affixed it within a Ransom Rest or in the hands of a competitive shooter.
The M1911 is a classic design that is continually being re-imagined, and the Springfield Emissary is proof that this can be done very well. This pistol is well-equipped for personal protection, but it also exudes such a sophisticated and modern look that we wouldn't be surprised if users wanted to show it off.