Support NRA American Rifleman
DONATE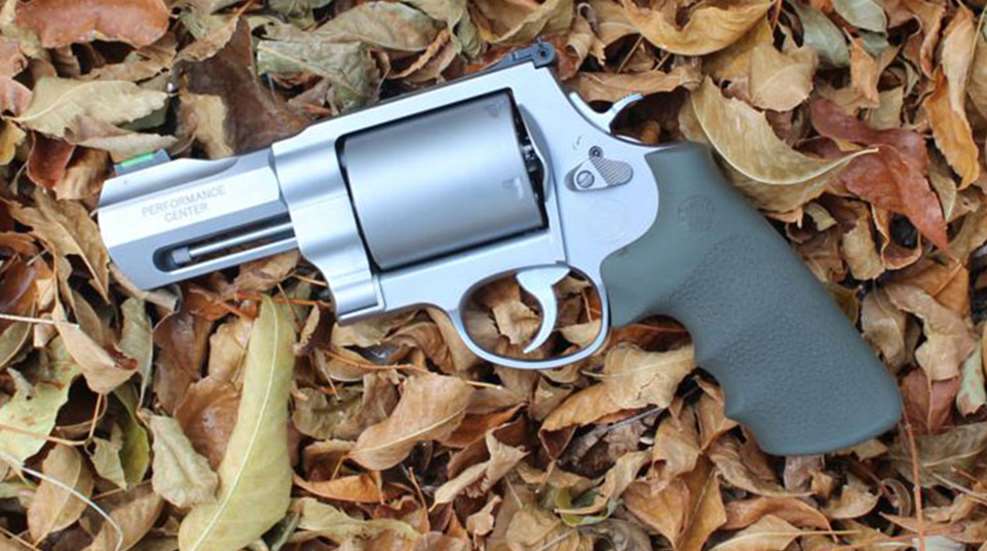 There are plenty of good reasons to get outside and enjoy the wonders of nature in the fall. Hiking, camping and hunting always seem to be more memorable somehow when the leaves are changing color and there is a nip in the air. But even though wild places are beautiful that time of year, they're not always safe. In several regions of the country, dangerous game can pose a real threat to an outdoorsman's safety. So, it makes sense to have a potent, portable defensive option on hand that can effectively stop threats of the wild variety.
Smith & Wesson, a premier American manufacturer of high-quality double-action revolvers, has been providing its customers with handy outdoor big-bore wheelguns for decades. These include the slim-barreled 625 Mountain Gun in .45 Colt, the dual-ammunition .45 Colt/.410 Governor, and the feather-light six shot 329PD in .44 Mag. But last year the company decided to ramp things up by releasing a beefy snub gun with just about as much stopping power as anyone could reasonably want. It's the latest addition to the Performance Center 460XVR line of revolvers chambered in .460 S&W.
The X-Frame revolvers chambered for the .460 S&W cartridge first arrived on the market in 2005, just two years after the .500 S&W X-Frames quashed the who's-going-to-build-the-biggest-revolver debate of the new century. Since then, most of the X-Frames have been constructed with long, heavy barrels intended to harness the .500 and .460 cartridges' power for handgun hunting. This new model has a 3.50" barrel specifically designed for defense against teeth, claws and horns that are too close for comfort.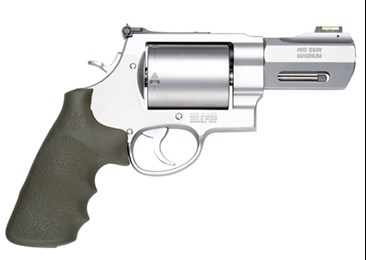 The 460XVR double-action revolver is wholly constructed of weather and corrosion-resistant stainless steel with a glass-bead satin finish. The revolver is topped with an excellent sight system consisting of a tough, square outline HI-VIZ green fiber-optic front sight and a fully-adjustable square-notch rear sight. If you prefer an all-black front sight, one is provided with the revolver. Just remove the small hex-head screw located above the muzzle to swap the front sight blades.
The unusually short slab-sided barrel housing contains an imported Lothar Walther barrel, held in place with a retention nut, and is proudly stamped with the words "Performance Center" on the left side. The massive 5-shot cylinder, which is 1.92" wide and 2.30" long, swings out to the left side of the revolver. A ball detent is fitted into the frame to provide the yoke with extra support when closed. The wedge-shaped cylinder release is located on the left side of the frame. Above the release is the keyhole for the revolver's internal locking mechanism which prevents the gun from firing when engaged.
The exposed hammer is deeply checkered to provide positive purchase when cocking the revolver for single-action fire. The rounded, integral trigger guard houses a smooth-faced trigger. This particular gun required 12 pounds of trigger pull to cycle the trigger in double-action mode or 4 lbs. 5 ozs. of pull in single-action mode (with the hammer cocked). The grip frame is covered by a pebble textured, recoil-absorbing, finger-grooved, synthetic mono-grip from Hogue.
Unloaded, this version of the 460XVR tips the scale at 59.5 ozs., making it a hefty handgun to hold. But every ounce of that weight becomes a blessing when touching off .460 S&W cartridges. Overall, the fit and finish of this Performance Center revolver was excellent. The in-house custom work shows in the revolver's lines and in the smoothness of the tuned action.
At the shooting range, I took advantage of the ammunition flexibility the .460 S&W chambering has to offer. With the exception of case length, the .460 S&W shares the same external dimensions as the .454 Casull and .45 Colt. This means all three cartridges, in all of their varying power levels, can be safely fired in this gun.
The 460XVR ran flawlessly with every variety of ammunition it was fed without any malfunctions. The swing of the cylinder was free and easy and the ejector rod was long enough to push out spent cases without a hitch. The trigger was smooth in double-action mode with a crisp, short break in single-action mode.
Casual target shooting with .45 Colt ammunition was a real pleasure since the revolver's girth tamed the recoil to that of a target-grade .38 Special when fired from a long-barreled .357 Magnum revolver. The .454 Casull loads were peppier to be sure but surprisingly manageable for a round that's notorious for its snappy comeback.
When it came time to load up the revolver with full-power .460 S&W cartridges, it became clear that this is one wheel gun that should not be taken lightly. Generally speaking, I rate revolver recoil on a sliding scale that usually ranges from mild to moderate to stout. But I have to say that launching 200 to 300-gr. .460 S&W projectiles from this snubby gun moved from feeling stout to punishing in short order. Obviously, the Average Joe is not going to sit down and pound 100 rounds of full-power ammunition through this revolver at the shooting range during their lunch hour but it should be noted that an understanding of how to safely manage the recoil of a big-bore handgun is a must with this particular model.
For formal accuracy testing, the 460XVR was fired in single-action mode from a bench rest into targets set at 25 yards using .454 Casull and .460 S&W ammunition. Winchester's Super X .454 Casull 250-gr. jacketed hollow points yielded a best 5-shot group of 3.20", with an average of 3.34". The Hornady Custom .460 S&W 200-grain FTX load produced the tightest group of the test at 2.98", with an average of 3.31". The heaviest load of the test, the wrist-bending Federal Premium .460 S&W 300-gr. Swift A-Frame jacketed hollow point, printed a best single group of 3.16" with an average of 3.39".
Smith & Wesson's new 3.50" -barrel Performance Center 460XVR is an expertly crafted revolver designed with a specific mission in mind, namely, to provide a massive amount of dangerous-game stopping power in as compact of a package as the .460 S&W cartridge will allow. The flexibility of being able to safely chamber and fire .45 Colt and .454 Casull allows this wheel gun to fill other close range purposes as well. If you want to pack a revolver with a powerful punch, then this is a model to consider. 
Technical Specifications
Manufacturer: Smith & Wesson
Model: Performance Center 460XVR
Action: Double-Action Revolver
Caliber: .460 S&W
Frame: Stainless Steel
Cylinder: Stainless Steel
Finish: Glass-Beaded Satin
Grip: Synthetic
Front Sight: Green HI-VIZ Fiber Optic
Rear Sight: Adjustable
Barrel Length: 3.50"
Overall Length: 10.00"
Weight: 59.50 ozs.
Capacity: 5 Rounds
Rifling: Lothar Walther Rifle Gain Twist
Accessories: Soft Carry Case, Two Security Keys, Extra Front Sight Blade, Lock, Owner's Manual 
MSRP: $1,609