Support NRA American Rifleman
DONATE
For rimfire enthusiasts, the .22 LR semi-auto pistols are all the rage. And well they should be. They're fun to shoot, quick to load, and affordable to buy. However, magazine-fed handguns are not the only option worth investing in. Hidden deeply within Smith & Wesson's inventory of semi-auto pistols, big-bore wheelguns and AR-style rifles are some of the best rimfire double-action revolvers available. Among the most versatile options is the compact Model 63 kit gun.
One of my all-time favorite Smith & Wesson revolvers is the 4" barrel Model 617 10-shot .22 LR. Beautifully balanced and producing almost no felt recoil, this full-sized rimfire serves very nicely as an understudy to the Model 686 .357 Magnum, or as a target shooting revolver in its own right. However, the 617 is a bit on the beefy side for a walking-around gun or for new shooters who tend to tire of holding it out at arm's length.
While researching a lighter, more compact revolver to supplement the Model 617, an opportunity to try out an early version of the feather-weight Model 317 Kit Gun came along. This little 3" round-butt J-frame is constructed almost entirely from aluminum. As a result, it weighs just 12.5 ozs. unloaded. An ultra-light .22 seemed like the right direction to go, until I spent some time with it on the range. Some folks will disagree but it seemed like this feather-weight revolver was so light that it was fairly easy to jerk the muzzle off target in the course of cycling the trigger. Although using the single-action trigger improved shot placement, it was still more work than fun. The goal in testing the gun was to find a compact .22 for casual plinking, field use and new-shooter training. It seemed this particular gun would take too much work for folks to enjoy using it right off the bat. And so, the 317 Kit Gun fell out of the running.
A good amount of time had passed when, during a visit to the local gun shop, a factory-fresh Smith & Wesson Model 63 caught my eye. It had all of the same features as the 317 Kit Gun but it was constructed of stainless steel. As I held it and looked it over, I knew I'd found the Goldilocks rimfire I had in mind. The 38.9-oz. 617 was too heavy for some tasks, while the 12.5 oz. 317 was too light for others. But the Model 63, with an unloaded weight of 26 ozs., was just right. I placed an order for one to work with and waited none too patiently for it to arrive.
This version of the double-action Model 63, the 63-5, is built on a small, round-butt J frame, which is the same size as those commonly used to make the snub-nosed five-shot .38 Specials. The components are constructed primarily of stainless steel, including the frame, barrel, cylinder and most of the appointments. However, the curved, smooth-faced trigger and the exposed hammer have a case-hardened finish.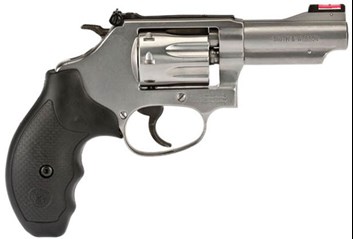 The 3" barrel sports a grooved top strap and an abbreviated under lug that shrouds the ejector rod. The sight system consists of a pinned fiber-optic front sight and a fully adjustable square-notch rear sight blade. The wedge-shaped cylinder release, on the left side of the frame, is pressed forward toward the muzzle to allow the 8-shot cylinder to swing out for loading. Located just above the cylinder release is the key hole for an integral locking mechanism which, when engaged, prevents the hammer from cycling. The finger-grooved synthetic grip consists of hard nylon inserts over molded with lightly textured black rubber.
The overall fit and finish of the Model 63 sent for evaluation was Smith & Wesson standard, which is to say, excellent. The cylinder yoke allowed the cylinder to drop into the open position with nothing but gravity to help it along. The cylinder would spin freely when open while locking up tightly when the hammer was cocked. The double-action trigger was smooth, requiring 11 lbs. 8 ozs. of trigger pull to cycle. With the hammer cocked for single-action firing, the trigger pull dropped to just 2 lbs. 12 ozs. with a crisp break and a travel distance of only 0.015".
The Model 63 is one of those little revolvers that beg to be taken to the practice range. It feels great to hold due to the slim round-back grip which is extended just enough to give all three shooting hand fingers a place to rest. The 3-inch barrel is just right for the job. It's short enough to give the revolver an excellent balance while being long enough to provide a useful sight radius for practical shooting beyond plinking distances.
Speaking of sights, the system mounted on this revolver deserves to be praised.  Some systems are fitted with fragile or removable light pipes that are easily lost or broken. Others have over-sized round light pipe heads that overwhelm the front sight's outline. This forces the shooter to try aligning their sights by sticking a round fiber-optic peg into a rear sight's square hole. It's not a pretty sight picture. The Smith & Wesson front sight, however, is exactly what a revolver like this one needs. The narrow light pipe is shrouded with a clear polymer cover and permanently affixed to a rugged steel housing. Although the front sight has a rounded top edge, the end facing the shooter is squared-off to match the notch cut into the adjustable rear sight blade. The result is a sight picture that is both bright and clear cut.
One of the real advantages of rimfire wheel guns (one that semi-auto fans tend to forget) is their unfinicky appetite for a wide variety of .22-caliber ammunition. This gun can fire pest control shot shells, .22 Shorts, .22 Long, and .22 Long Rifle ammunition ranging from powder puff sub-sonic to hot hyper-velocity hunting rounds. Obviously some rounds will be more accurate than others. However, with the exception of faulty primers, the revolver will keep running.
This inherent flexibility is an important feature when cartridge options are limited. As of this writing, the country is still suffering a dearth of .22 ammunition, even though the center-fire calibers are coming back online. When shooters are forced to use what's available, instead of what's best, it's good to know the gun will work properly. As it was, the Model 63 ran flawlessly with all of the varieties of ammunition that had been squirreled away for this range test.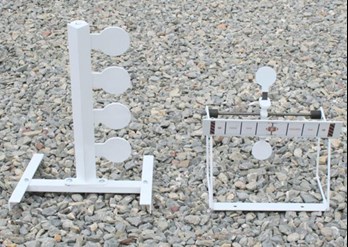 Shooting paper targets is all well and good but swinging steel plates takes rimfire practice to a whole new level of enjoyment. To spice things up during informal accuracy testing two of MGM Targets steel systems, especially designed for .22s, were set up down range. Both targets arrived in professionally packaged shipping boxes with easy to follow instructions. It should be noted here that MGM says their rimfire targets must be at least 15 yards away from the shooter when using a .22 handguns and no less than 50 yards away when shooting a rifle. 
The MGM 22DTC Dueling Tree features four 5/16-inch thick, 4-inch diameter AR500 steel plates which swing from left to right in a 24.5-inch tall angled post. The MGM 22FFT Football Target is a spinning design intended for friendly competition. Shooters can pick either the top or bottom plate attached to a central post that, when hit, spins toward one of the two goals to win the game. Both systems worked very well and they are tough enough for regular use. With these targets set up at 20-yards, the Model 63 provided plenty of oomph to push the steel plates around with satisfying regularity.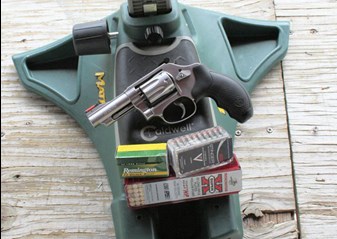 Formal accuracy testing consisted of five 5-shot groups fired into paper targets set at 15-yards. The revolver was stabilized using a Caldwell Matrix pistol rest while fired using the single-action trigger. The best single 5-shot group of 1.74-inches was produced using Winchester Super X 40-grain copper-plated hollow points. For the best five group average, the Winchester load at 1.95-inches was neck-in-neck with the CCI Stinger 32-grain copper-plated hollow points with a 1.96-inch average. The Remington Golden Bullet 40-grain plated round nose load averaged 2.01".
The Smith & Wesson stainless steel Model 63 3" barrel .22 revolver is one of those rare finds that has been obscured by a firearms market flooded with options. It successfully fulfills the kit gun concept by being compact enough for comfortable carry and the right weight for easy shot placement. The excellent sights and the smooth trigger make it an ideal all-around .22 revolver for new and seasoned shooters alike.
Technical Specifications
Manufacturer: Smith & Wesson 
Model: 63-5
Action: Double-Action 
Caliber: .22 LR
Finish: Satin Stainless
Grip: Black Synthetic
Front Sight: HI-VIZ Fiber Optic Red
Rear Sight: Adjustable
Hammer: Exposed
Barrel Length: 3"
Overall Length: 7.25"
Width: 1.29" (Cylinder)
Weight: 26  ozs.
Capacity: 8 rounds
Twist: 1:15" RH
Rifle Grooves: 6
Accessories: 2 Security Keys, Cable Lock, Owner's Manual
MSRP: $769