Support NRA American Rifleman
DONATE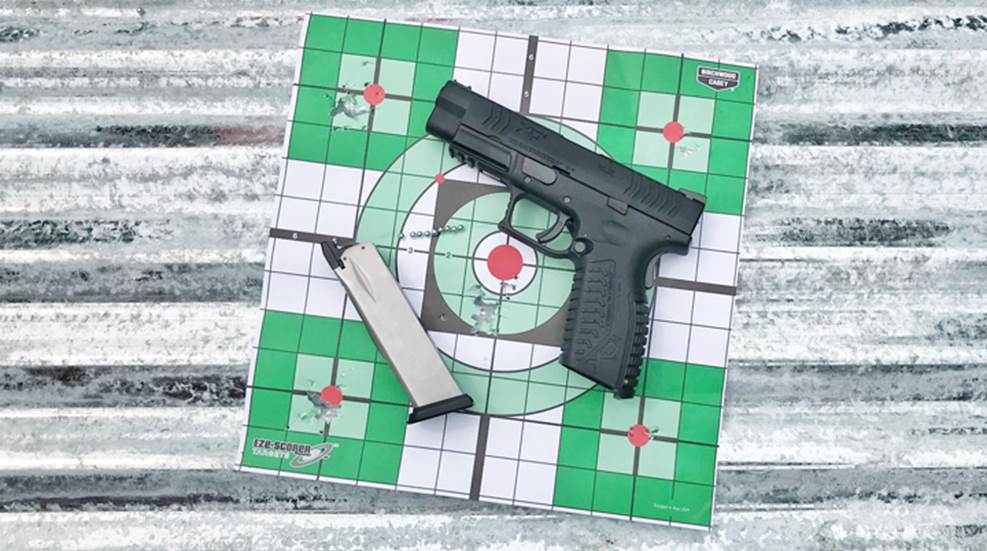 Of all today's popular firearms, most have been copied, to some degree, and fitted for using charged air, or gas, to fire 4.5 mm projectiles whether in BB or pellet form. Most interestingly, these gas-operated reproductions can be fired indoors and within a relatively small space. Of course, protective gear and a proper backstop is necessary.
This ability to practice fundamentals at your own pace and within the comfort of your home is often times overlooked and is most definitely a rewarding experience. When you're ready to take the plunge into the home airgun arena,
Pyramyd Air
provides a broad lineup of airguns and airsoft equipment worth poking through.
I sought out a gun offered by Pyramyd Air that is a faithful re-creation of the well-loved
Springfield Armor
y XDm pistol. As an owner of Springfield Armory pistols I felt this re-creation would provide me with the training tool I needed to hone skills in a cost effective, safe and simple manner.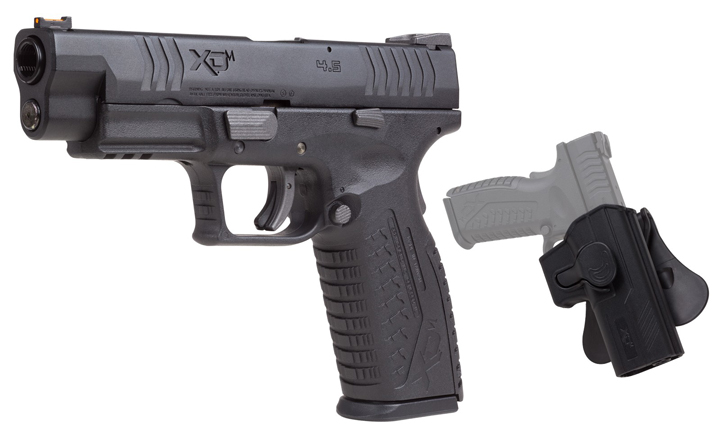 What I have in hand is an
Air Venturi
Springfield Armory XDM 4.5"
.177-cal CO2 Blowback, Black pistol. When the sample arrived, I was immediately sucked into reading the high-res packaging. If only it arrived in a polymer, lockable carry case with custom molding like the original, but that would cost more.
After a quick examination of the pistol enclosed within the cardboard, you'd be hard-pressed to discover more than a few dissimilarities compared to the center-fire model. A metal slide tops the pistol and includes machine cuts and stamps nearly indistinguishable from the original. The gun feels exactly like a Springfield XDm, and a holster is also available.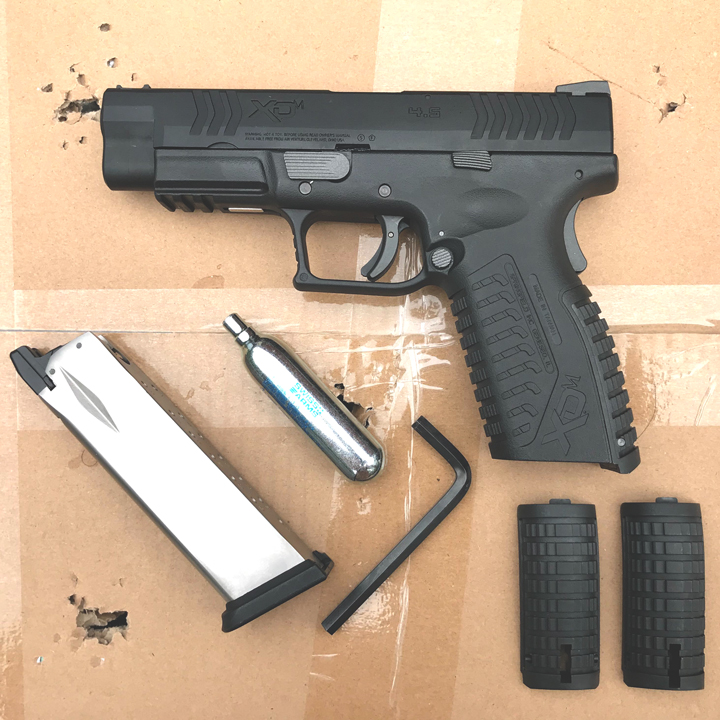 The officially-licensed CO2-operated semi-automatic fires 0.177-cal. (4.5 mm) BBs and is fed by detachable box magazines. These guns are modern BB guns that look, feel and act like their center-fire counterparts and are so closely aligned with their center-fire variants that the actions provide for an interactive user experience. The actions cycle the same and the magazines are removed by the same procedures. In fact, once topped off with 12-gram C02 cylinders and ammunition, the reproduction magazines mimic the feeling of a loaded center-fire magazine.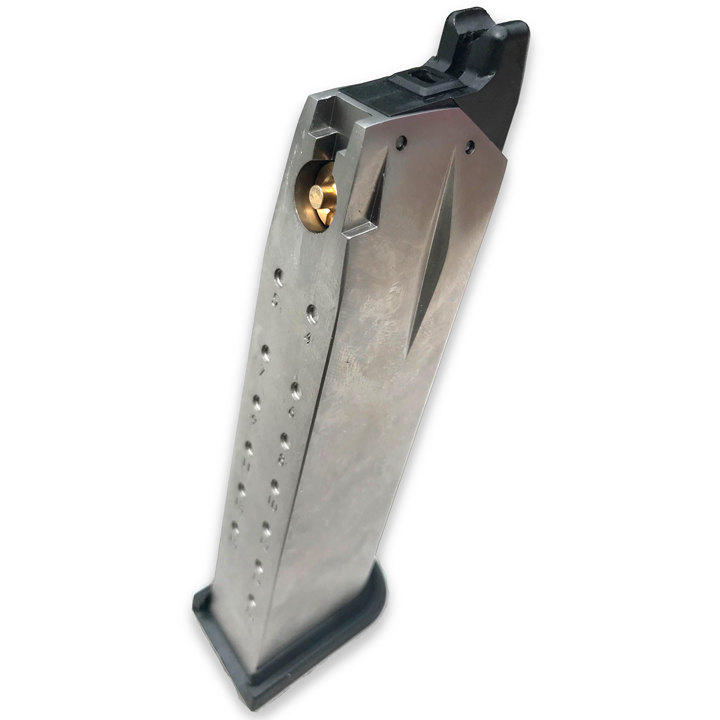 A 20 rd. detachable box magazine is supplied, and the gun field strips the same a real XDm. The clone includes bilateral magazine release buttons, a functional slide-stop lever and trigger safety. The slide even reciprocates when firing.
The gun is topped with a set of good-looking sights. I haven't tried to adjust them yet, but I've got a sweet spot I aim for that gives me consistent accuracy when held there. Accuracy is okay, and I didn't didn't expect to see one-hole accuracy from the BB pistol, but it is darn close. Most importantly, I hoped to be able to train with my carry holster and engage targets from the comfort of my backyard while minimizing training costs.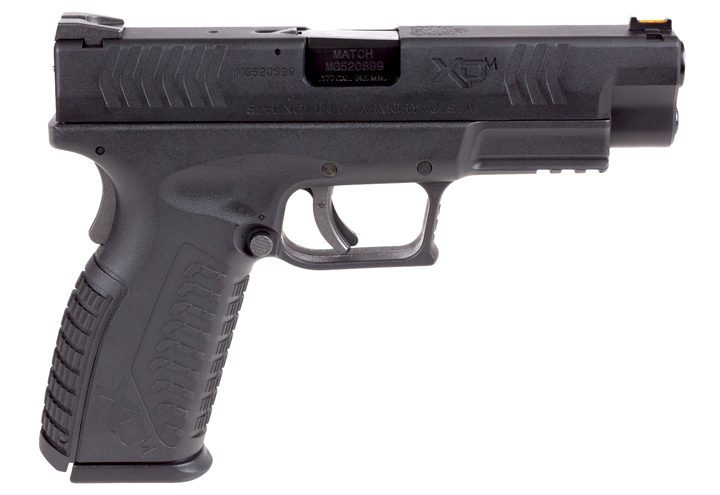 I have to say that my range experience with the XDM, both indoor and outdoor, was a lot of fun. I carry a Springfield XD Compact Service and with the full-size magazine and collar inserted, there is minimal difference between the two. Even though they are modeled differently, I attest that the CO2-powered XDm is a valuable trainer. The BB pistol also comes with interchangeable backstraps for small, medium and large hands, making it a versatile tool for students of the gun, big or small.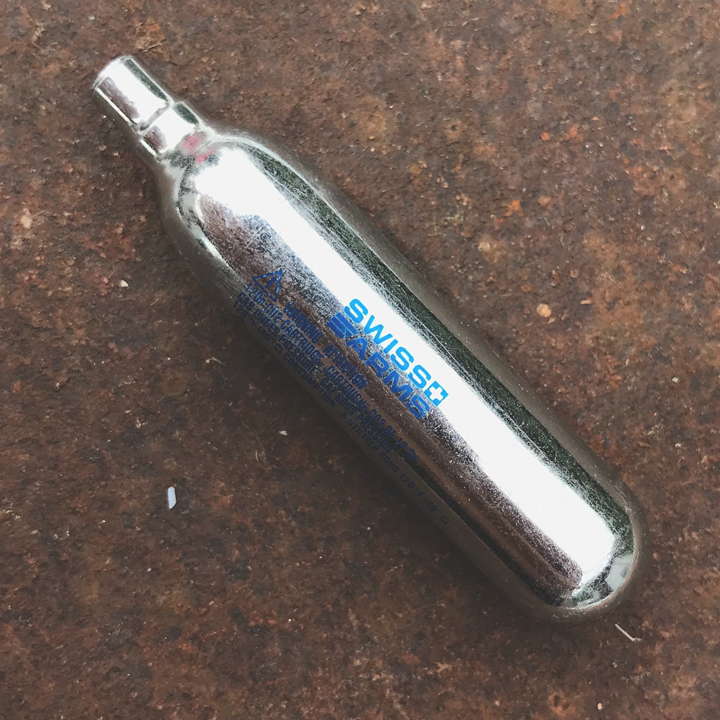 I set up a few steel airgun targets in my backyard range, included a few tomatoes for long-distance bonus points, and decided to run a course of fire. Knowing the potential for ricochet, I loaded the magazines with a uniquely-designed BB that is engineered to pulverize upon impact.
These
Dust Devil BBs
functioned well, but I did notice that with some of the swinging targets I shot at, there were a few bounce-backs. Hence, eye protection is always required. Users will also want to stay up on the maintenance of these guns and be mindful of the O-ring seals throughout.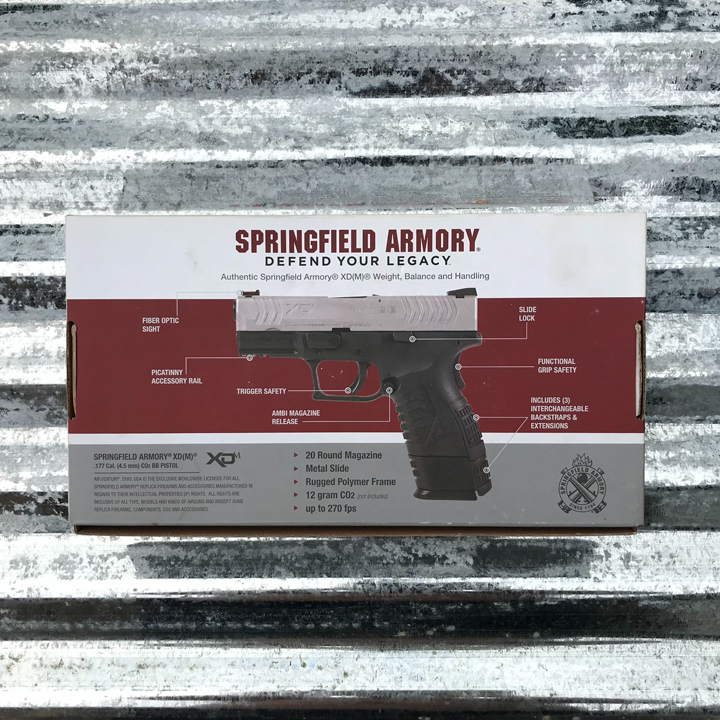 The XDm 4.5" .177-cal CO2 pistol sells for less than $150, depending on finish option. A
3.8" variant
with bi-tone finish is available, as well as 3.8" models rendered solid black. To learn more about the officially-licensed Springfield Armory XDm BB pistol, check out
pyramydair.com
.