Support NRA American Rifleman
DONATE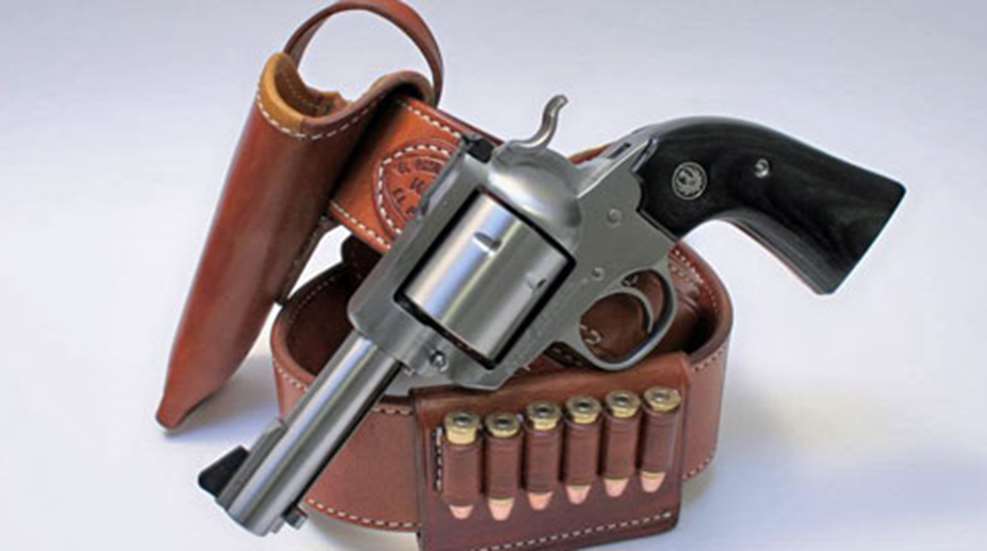 A few months ago, I was enjoying the view in the very long glassed-in pistol case at the local Cabela's when a stainless-steel, single-action revolver caught my eye. As I bellied up to the bar and pointed to the revolver in question, I was handed what turned out to be a Lipsey's Exclusive Ruger Bisley Super Blackhawk chambered for .44 Mag.
Lipsey's is a large firearms distributor located in Louisiana. Large enough in fact that the company has teamed up with several gun manufacturers, such as Ruger, to provide its associated dealers with both Limited and Exclusive editions of firearms. Limited editions, as the name implies, are part of a fixed-number run. In other words, when they're gone, they're gone. Exclusive editions, on the other hand, continue to be produced as long as they remain in demand, but they can only be purchased through Lipsey's. Because these Limited and Exclusive firearms are built in-house by Ruger, they are sold with all of the same guarantees and warranties as any other factory-fresh gun.
Once in hand, there was no doubt that this Lipsey's Exclusive revolver had the frame, grip and controls of the excellent Bisley Hunter. But everything forward of the receiver, including the reduced-length barrel, ejector and base pin were unique. I was smitten with the gun because it so closely mimicked the features of custom single-actions that have been trimmed down for easier carry in the field. So I got in touch with Lipsey's to request one of these slick .44s for a test drive.
The differences between the standard Super Blackhawk and the Bisley include changes to the grip, trigger and hammer design. The Bisley's grip frame is elongated with a less pronounced flair at the base in order to provide the shooter with a more comfortable and manageable hold. Not only is there plenty of room for a full three-finger grip, the grip frame provides more space for the revolver to roll back in the shooting hand to help mitigate magnum-level recoil. The Bisley hammer spur has been lowered and elongated to facilitate easier cocking and the smooth-faced trigger, housed in a rounded trigger guard, is more generously curved, making it very comfortable to work with.
Like other Ruger Super Blackhawk revolvers, the Bisley's frame is exceptionally strong and reliable. So much so that reputable reloading guides listing over-powered revolver cartridge loads usually mention the Super Blackhawk by name as one of the few guns capable of safely handling the increase in pressure. This one is constructed completely of stainless steel, including the ejector housing.
The unfluted six-shot cylinder is 1.7-inches long, allowing enough chamber space for a variety of long-bulleted heavy loads as well as standard weight bullets. Like other Ruger single-action revolvers, the chambers are loaded and unloaded through a swing-out loading gate located on the right side of the frame. This is a New Model Super Blackhawk, meaning it arrives with a transfer bar safety installed that allows the revolver to be carried with all six chambers loaded.
The sights consist of a fully adjustable rear sight with a pinned serrated ramp front sight. The Ruger catalog lists Super Blackhawks with barrels ranging from 4.62 inches all the way out to 10.5 inches in length. This version has a round barrel shaved down to 3.75 inches, which is just about as short as the barrel can be and still have a functional ejector. The head of the base pin has been trimmed down to just a button head. And just in case you were looking for the "Read The Manual" warning, it was squeezed onto the bottom of the barrel next to the ejector housing.
Kydex and molded polymer may be all the rage for concealed-carry holsters, but a beautifully crafted single-action like this one deserves a fine leather rig to ride in. One holster maker that truly understands classic wheel guns is El Paso Saddlery. This is a historic firm with 125 years of experience in the field. When I contacted El Paso about providing a holster system for this short single-action, I asked for something that could be put to work in the field while still looking good to wear.
What arrived was a fully lined Tom Threeperson's style holster custom cut to fit the 3.75-inch barrel of the revolver. The holster has a forward cant and a button-down strap to secure the revolver. It was accompanied by a 2.25-inch wide, heavy-duty single-thickness Black Powder belt with a six-round pistol cartridge slide. Finished in a russet brown, the rig was well made and showed the attention to detail I've come to expect from this company. If you want plenty of comfort and a secure holster for getting from point A to point B, by horse, 4-wheeler or on foot, then this El Paso rig is ideal for the job.
At the shooting range the 3.75-inch barrel Bisley proved to be handy and accurate. For those who haven't shot a single-action revolver, it may seem strange that some folks are so enthusiastic about a handgun design that seems anachronistic compared to modern polymer-framed semi-auto pistols. But much like the century-old 1911, single-action big bore revolvers have a natural pointability and a trigger that just can't be found on any other style of gun.
With the reduced-length barrel and the stainless-steel grip frame providing extra weight at the back end of the revolver, the Bisley Super Blackhawk was very well balanced. It sat straight down into the shooting hand without the muzzle-heavy feel of some revolvers. The hammer cocked smoothly and easily and the 5-pound, 3-ounce trigger had a crisp, clean, creep-free break. In regards to felt recoil, it was no surprise that the .44 Mag. cartridges were full of vim and vitality. It's not possible to set off any .44 Mag. revolver loaded with full-house loads without it catching your attention. But the Bisley grip shape gentled the recoil to a manageable level that did not bruise or batter the hands. The revolver functioned flawlessly, loading, firing and ejecting spent cases with ease. Often, the cases would fall free with little or no encouragement from the ejector.
Formal accuracy testing involved the slow firing of five-shot groups from a benchrest into paper targets set at 25 yards. Group sizes ranged from 2.69 to 3.45 inches in size. The best group average of 2.98 inches was produced using Barnes Vor-Tx 225-grain XPB all-copper hollow points. The revolver's accuracy was quite consistent across the board with Hornady's Critical Defense 180-grain FTX averaging 3.07 inches, followed by the softer-shooting Blaser 240-grain jacketed hollow points at 3.33 inches.
Many fans of the hard-hitting Ruger Super Blackhawk revolvers have paid a pretty penny to have their factory guns nipped, tucked and modified into their idea of a perfect-packin' pistol for personal protection in the great outdoors. However, the price paid for this kind of customization can be exorbitant, sometimes doubling or even tripling the original cost of the revolver. The Lipsey's Exclusive 3.75-inch barrel Bisley provides fans of compact single-actions with the barrel of a custom gun, the strength of a magnum hunting revolver and the comfortable grip of a Bisley, and does so with an off-the-rack price tag. This revolver one of the best buys available in its class. If you're interested in this Exclusive, don't contact Ruger. Instead, visit Lipsey's website to find a dealer near you.
Manufacturer: Sturm, Ruger & Co., Inc.; Ruger.com
Distributor: Lipsey's; Lipseys.com
Model: New Model Super Blackhawk (0818)
Action: Single-Action Revolver
Caliber: .44 Mag.
Finish: Satin Stainless Steel
Grips: Laminated Black Hardwood
Front Sight: Pinned Blade
Rear Sight: Adjustable
Barrel Length: 3.75"
Overall Length: 9.63"
Cylinder Width: 1.75"
Weight: 44 ozs.
Capacity: 6 Rounds
Twist: 1:20" RH
Rifle Grooves: 6
Accessories: Hard Case, Lock, Owner's Manual
Suggested Retail Price: $820