by
posted on April 15, 2021
Support NRA American Rifleman
DONATE
If you told me that the day would come where it would cost about the same to shoot a Mosin-Nagant rifle as it would an M1 Garand, I'd say that you were crazy. Unfortunately, that day is here, and with that, we can expect to see the popularity of this rifle start to degrade. The real shame is not that collectors and enthusiasts will have to hang up these fun-to-shoot surplus rifles, but this once economical staple of the military surplus world will fall out of use with the next generations.

I used to refer to the Nagant as an entry-level rifle because you used to be able to walk into a gun shop with $200, buy a Mosin-Nagant M91/30 with accessories and a full spam can of ammunition. I don't want to live in a world where the phrase "Daddy, what's a Mosin-Nagant?" is ever uttered, and luckily, neither does Keystone Firearms. Many of us might be familiar with Keystone for its single-shot, bolt-action rifles that are fit just right for young sharpshooters.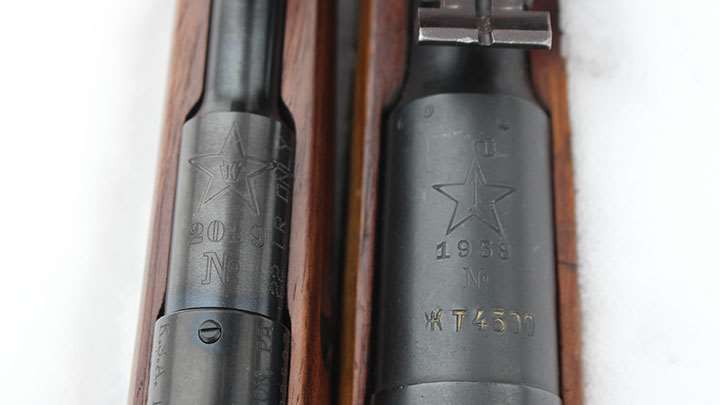 While these are the company's best sellers, Keystone flexed some creative muscle a few years back with the introduction of the Crickett Precision Rifle. The new rifle proved to Keystone that parents would be interested in other designs based on its simple single-shot action, and thus, the company now offers the KSA9130 Mini Mosin-Nagant rifle. 

As you have guessed, the KSA9130 has nearly all of the charm of the original Mosin-Nagant, except it is a full 15" shorter and nearly 6-lbs. lighter. It's also chambered in a slightly smaller rimmed cartridge, the .22 LR. The single-shot bolt action segregates cocking into a separate step, making it easier to open and close. This also acts as an automatic safety, should there be some fumbling around the trigger during cycling.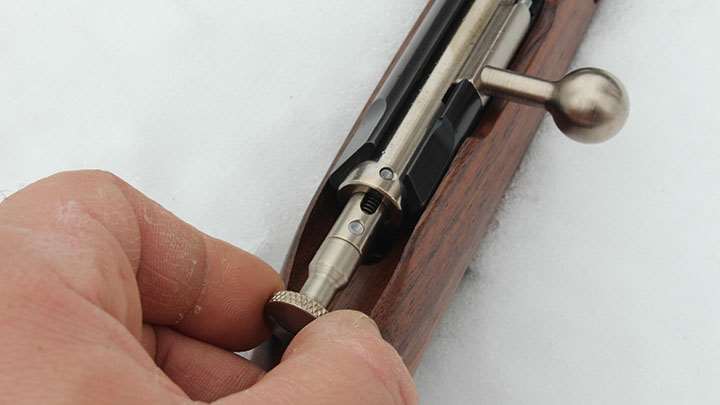 The instructor in me likes this, but at the same time it's important to instill in new shooters that safeties are not always automatic and that there is no better safety than keeping the gun unloaded until you are ready to shoot (safety rule number three). As for aesthetics, Keystone did an amazing job of recreating the bottom metal, butt plate, sling points, front sight hood and even the retaining rings that keep the stock set in place.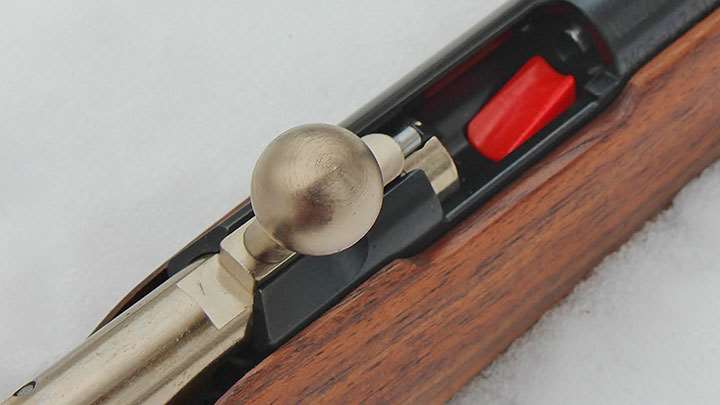 There is even a scaled-down canvas sling that fits the rifle, however it wasn't available at the time of testing. The only aspect that I can fault is that I have never seen wood on a Mosin that looks this good. Then again, your typical youngster will gleefully apply that "battlefield patina" in short order, so it'll "correct" itself in no time. I recruited the help of a special marksman, 8-year-old Jacob, to help me with the finer details of function testing after I conducted some 25-yd. accuracy testing of my own.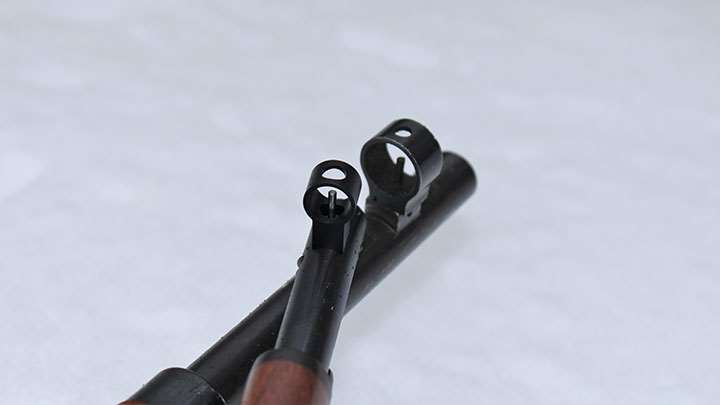 I rolled out the best ammunition that SK makes to include its Rifle Match and its Biathlon Sport offerings. My eyes are not as sharp as the intended users and I needed every advantage I could get. Besides, I liked the idea of using the SK Biathlon ammunition on this particular day because of the low temperatures. I'm glad I did, too, because accuracy was outstanding, as I was able to turn in groups as tight as .62" with the Biathlon Sport and .68" with the Rifle Match, despite the snickering of my friends who said the gun fit me "just right."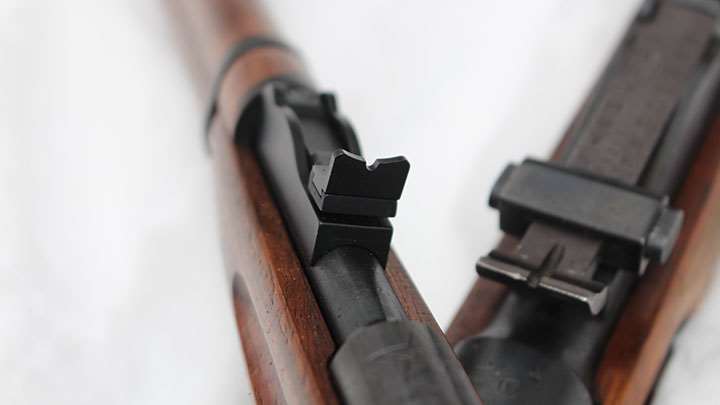 A tabulation of five five-shot groups left me with averages of .79" and .91" respectively. It was interesting to see the Biathlon Sport outperform the best rimfire that SK makes, but that is just testament to it being purpose-built for the 20-degree weather that we had to endure. My 6 o'clock hold turned out to be dead on, but if I wanted my rounds to land in the X-ring, I could have easily made that adjustment on the rear sight, which can be also be adjusted for windage, if need be.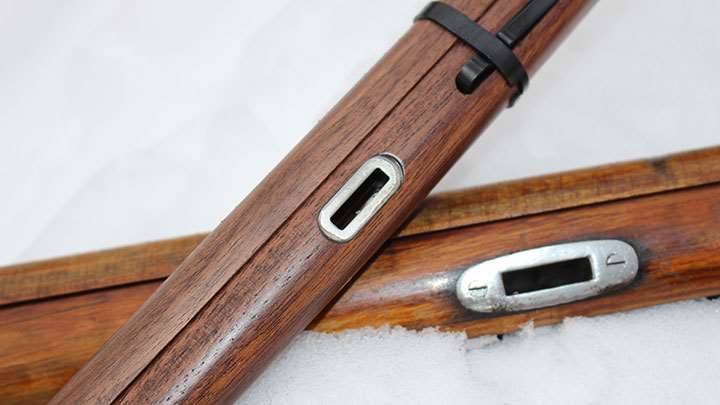 I found the trigger to be similar to the original military surplus rifle, as it involved a spongy  6.5-lbs. pull to discharge the firearm. That should be read two ways, authentic and safe. While giving a kid a gun with a 2-lb. trigger might seem like a kind gesture to their little hands, it's not leaving them any room for error should they accidentally put their finger on it while they are learning safety rule number two. While I have a positive opinion of this rifle, it's Jacob's thoughts that really matter.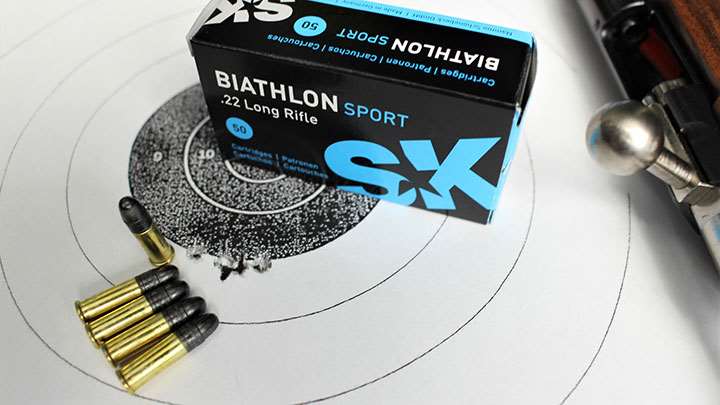 I turned it over to him with a bag of mixed .22 LR ammunition and let him have at it. We let him put close to 300 rounds through the gun and nearly had to pry it away from him, despite the sub-freezing weather. Feeding the tiny .22 LR cartridges into the single-shot action was made easier through the spring-loaded EZ-Load feed ramp that aligns the cartridge with the chamber and then ducks out of the way when the bolt is closed. Jacob had no problem doing this or cocking the rifle, even with his gloves on.
The KSA9130 retains the straight-bolt handle of the original Mosin-Nagant, and this also aids in the ease of handling. The 11.5" length-of-pull was just right for Jacob to properly shoulder the rifle and build a solid cheek weld, to which I was able to help him clean up a bit. Jacob reported a little bit of recoil, mainly because the gun is so light, but it obviously wasn't enough to turn him off from shooting it. If you ask me, it's the perfect amount of reaction, because it introduces a young shooter to recoil without associating it with pain, which will pay dividends when it's time for them to shoot centerfire cartridges.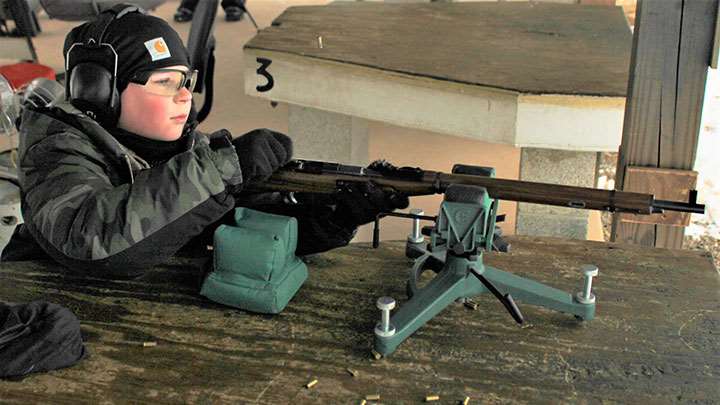 As we wrapped up our range session and retreated for warmer temperatures, we thanked Jacob for his expertise and he thanked us for letting him gobble up enough .22 LR to buy a Lamborghini in the current ammo market. I was very appreciative of what Keystone Arms has created, as exposure to military surplus rifles should not be limited to ammunition availability.

When I first pick up the rifle, it was "rumored" that Keystone was going to offer some of the other military classics, and at the time of this writing, the website now reads, "It is the first of a series of "Mini Mil-Surp™ rifles." So, be on the lookout for some of our other military favorites. For more information visit on the Keystone Firearms KSA9130 Mini Mosin-Nagant rifle, visit keystonesportingarmsllc.com.