by
posted on July 7, 2016
Support NRA American Rifleman
DONATE
Burris' Veracity line includes hybrid tactical/hunting riflescopes featuring reticles in the front, or first, focal plane. While the market is steeped in scopes exhibiting outstanding optical qualities and first-focal-plane reticles, most of them cost around $2,000. The Veracity line, consisting of a 2-10X 42 mm (tested), 3-15X 50 mm, 4-20X 50 mm and 5-25X 50 mm, utilizes 30-mm tubes, finger-adjustable windage and elevation turrets, side-mounted parallax adjustment and crisp optics—all for less money than scopes with comparable features. While $700 to $1,000 isn't inexpensive, the Veracity can be used for many applications thanks to its 5X zoom ratio, outstanding brightness, low-profile turrets and generous eye relief.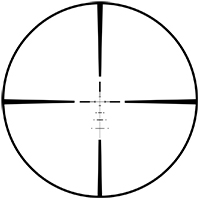 Foremost, it's impossible to peer through the Veracity at dusk without noticing its brightness and clarity. It owes this to high-quality glass, precision grinding and Burris' proprietary Hi-Lume multi-coatings that are "index matched" to the lenses. This means that optical engineers found the ideal type of coating for the type of glass chosen so that light transmission is optimized and glare-causing reflections are minimized. The scope also comes with a sunshade that, when shooting into the sun, is very effective at cutting glare.
All Veracity models house Burris' Ballistic Plex E1 FFP Varmint reticle. Although it's labeled varmint, it's a great all-around ballistic reticle. Four subtension hash marks under the main horizontal crosshair can be used for instant drop compensation; one hash mark is above the main crosshair. (We zeroed the center crosshair at 200 yds., then used the uppermost crosshair for 100-yd. shots.) Hashes and dots on both sides allow precise holds into the wind. The reticle's main crosshair is fine, while the thicker posts become coarser as they extend out. Most importantly, a first-focal-plane reticle means that subtension values remain constant relative to its zero, even as the magnification is adjusted.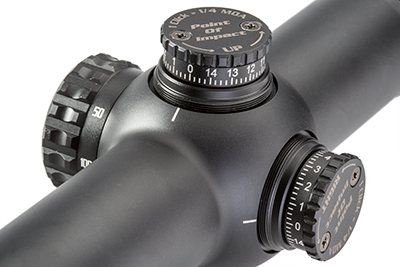 Tactile, 1/4-minute-of-angle (m.o.a.) adjustments make dialing-in easy and accurate, too. A turret stop feature is handy for returning to zero after dialing for long-range shooting, preventing shooters from "getting lost" in the adjustments. Indeed, there are very few features Burris failed to place into the Veracity.
Using a 0.6-m.o.a. Ruger Precision Rifle to shoot the square, adjustments shifted on command without any tapping on the scope after making them, but point of impact was 3/4" higher than the tester's original zero.
During testing, the scope's rifle was propped on the ground by its buttstock and allowed to fall five times on grass. When shooting resumed, the point of impact had shifted 6" to the left. The rifle was re-zeroed and the test conducted again; this time the POI shifted 1" left. It is possible that the scope mounts were the culprit, but this is worth reporting. It should also be noted that many scopes fail this test. While shooting normally, the scope did not shift.
So how can Burris make a European-style scope while keeping costs down? It's no secret—the white importation stamp on the scope's tube states, "Made in the Philippines." Formerly this would have been cause for concern, but in recent years—with heavy European and American engineering consultation—Pacific Rim suppliers have made vast strides. The Veracity is proof.
We asked Burris how it makes scopes in the Philippines and retains the great reputation for which Burris (now owned by Beretta) is known.
"We spent over two years cultivating a quality control culture that would meet our expectations prior to producing the first scope," said Chief Global Marketing Officer Stephen McKelvain. "We sent engineers to the Philippines every six weeks and spent countless hours conferencing to refine every production process.
"Burris is one of the few optics companies that can truly say its products are 100-percent-quality-control certified. Every scope goes through a multi-step quality-control process at the factory and is then double-checked at our plant here in Greeley, Colorado," McKelvain said.
Consumers will be able to judge for themselves the performance of the scope. Burris backs this and other scope lines with its "Forever Warranty," that will replace the unit if it's ever damaged or becomes defective at any time. The warranty also transfers to subsequent owners.