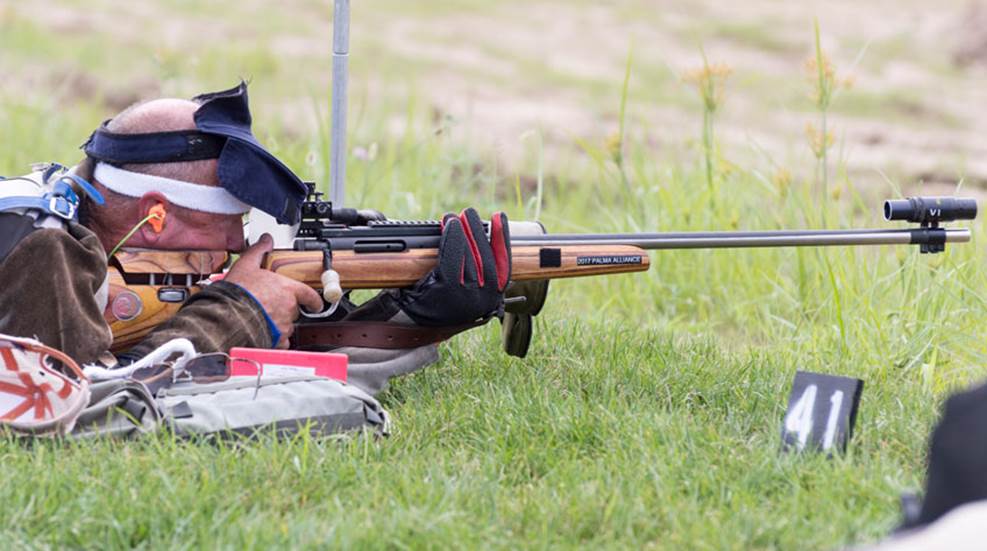 The finest civilian and military marksmen in the country made the trek to Camp Atterbury, Ind., for 20 days of High Power Rifle competition at the 2017 NRA National Matches. Shooting this summer at Camp Atterbury included the National High Power Championships, the National Mid-Range Championships and the National Long Range Championships. New side matches included the NRA Extreme Long Range One Mile Club.
Indiana first lady Janet Holcomb helped to kick off the NRA National High Power Rifle Championships during the First Shot Ceremony. Holcomb is a staunch supporter of the Second Amendment, a certified NRA pistol instructor and a multi-discipline shooter with experience in pistol, shotgun and rifle. She has led training classes throughout the state of Indiana, and especially enjoys sharing her passion for the shooting sports and personal protection with other women. She and her husband, Indiana Gov. Eric Holcomb, are both NRA Life members.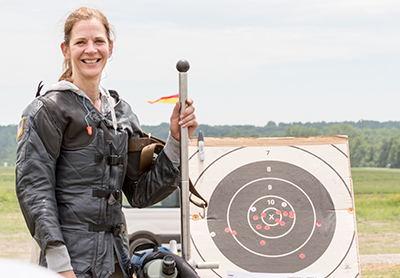 Match Director Mid Tompkins is no stranger to the NRA High Power Rifle Championships; his first year was 1954, and he has never missed a year since. Regarding the move from Camp Perry, Ohio, to Camp Atterbury, he said, "The NRA made the right decision moving to Camp Atterbury, this facility is fantastic, and I would know! The surrounding area has more places to eat, more things to do, and the people here on base are very easy to work with. Even better, the airport makes it easy to get here."
The historic move to Camp Atterbury, although controversial to some, was embraced by competitors who participated at the new venue. One shooter who wanted to share an objective view of both venues had this to say about Camp Atterbury: "I, no doubt, love Camp Perry. I earned all my distinguished points at Perry, made the Presidents 100 there and I have [made] countless memories there. However, as a match rifle shooter, I will undoubtedly be back at Atterbury next year."
The 2017 Long Range Champion, John Whidden, chimed in regarding the Camp Atterbury experience. "A nice place and a very nice facility, everything was very well-manicured. It was exciting to be at a new venue."
Camp Atterbury is a training and mobilization facility that supports U.S. military operations throughout the world. The facility has more than 60 ranges—making it an ideal venue for the NRA to hold the National High Power Rifle Championships. And Camp Atterbury has already been selected to host the 2018 National Rifle Matches.
Across The Course And Mid-Range
One of the best rifle shooters in the nation, Norman Houle, won the National High Power Rifle Championship over a talented field of 168 shooters. Houle's score of 1989-93X made him the 2017 champ. Finishing second overall was Service Rifle shooter U.S. Army Marksmanship Unit Sgt. Ben Cleland, who recorded 1987-116X. Finishing third was Stephen Culpepper with 1986-98X. High Woman honors went to Brooke Culpepper, scoring 1972-63X.
For the Mid-Range Championships, Jeff Bartlett was the 2017 winner with a score of 2394-147X. For Any Rifle, the Army's SFC Eric Uptagrafft took the title with 2396-172X.
Long Range And Palma
The NRA High Power Rifle Long Range Championships kicked off with the Remington Trophy Match, which consists of 20 slow-fire shots, any sights, at 1,000 yds. from the prone position. Shirley McGee posted a score of 98-5X for the win over runner-up Aubrey Brock. In third was Jeff Bartlett.
The Mustin Trophy match is nearly identical to the Remington except only metallic sights are allowed. John Whidden won with a score of 199-13X. High Service Rifle Champion was Joseph Sopko, scoring 187-4X. Kent Reeve won High Palma Rifle with 198-10X. High Woman was Nancy Tompkins, who finished with a score of 199-10X.
The Leech Cup is a metallic-sights-only match with 20 slow-fire shots prone at 1,000 yds. The Porter Trophy and Andrus Trophy Matches are both fired concurrently with the Leech Cup. The Porter Match is fired with service rifles. The course of fire for the Andrus Match is for Palma rifles. Jim Sokolowski was the Leech Cup winner, finishing the shoot-off with a score of 98-4X. For the Andrus Trophy Matches, Anette Wachter won the shoot-off with a score of 142-3X. Her score was a single point ahead of second-place finisher Keith Hoverstad, who also won High Senior. In third place was Daniel Altman.
John Whidden's 2017 performance crushed his previous score by six points—1246-91X—securing the Long Range Championship. For the any-rifle matches he used a .243 Win., and for Palma he used a .308 Win. Both rifles were built in his namesake custom shop, Whidden Gunworks. In second place was Phillip Crowe, with a score of 1245-68X. Finishing third was the 2015 champion, Nancy Tompkins, with 1244-65X.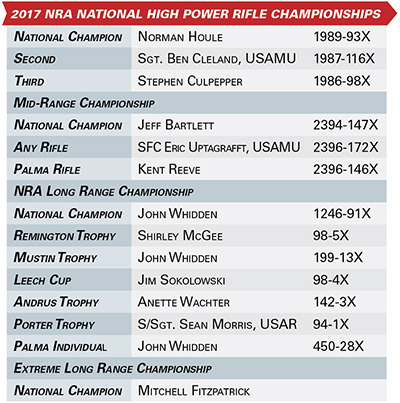 Extreme Long Range
Camp Atterbury's Range 3 has a firing point at 1,760 yds., which NRA put to good use, with the debut of the NRA One Mile Club. Extreme Long Range is generally thought of as precision rifle shooting beyond 1,500 yds. The One Mile Club Match uses 36" square AR500 steel targets at distances of 1,400, 1,575 and 1,788 yds. Only after a confirmed impact are competitors allowed to continue to the next distance. Shooters that hit the 1,788-yd. target were awarded the NRA One-Mile Certificate and club pin. To break a tie between Corbin Shell and Mitchell Fitzpatrick, an NRA LR (1,000-yd.) target was attached to a backer at 1,988 yds. (1.13 miles). Amazingly, Fitzpatrick continued his perfect streak of hits, becoming the very first NRA One-Mile ELR Champion.
"This is only the beginning of what we can do at Camp Atterbury," said Match Director Sheri Judd. "Having a venue with this kind of Extreme Long Range capability is the just tip of the iceberg."
---
2017 NRA National Smallbore Rifle Championship Results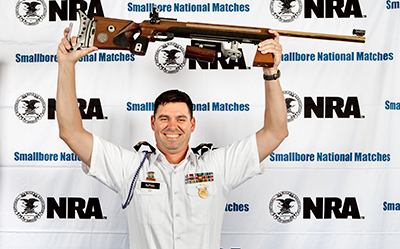 Conventional Prone Championship
There was virtually no wind in the Meter Match, which was won by Mark Del Cotto's near perfect 400-39X. Del Cotto's victory came on a tiebreaker with Michele Makucevich. Army Marksmanship Unit (AMU) teammates Mike McPhail and Kevin Nguyen both shot 400-38Xs, with McPhail besting his fellow soldier for third place.
Junior Erick Hazelton shot a 400-38X to win the Any Sights Dewar—a course of fire consisting of 20 shots at 50 yds. and 20 shots at 100 yds. Joe Graf and Cameron Keating both scored 400-38X, good for second and third, respectively.
As the final 100-yd. match began, the sky darkened ominously. McPhail and Hank Gray dueled for the win, with McPhail prevailing when his 400-37X outranged Gray's. Pat Sunderman made it a sweep for the Army, taking third when he posted a 400-36X.
No sooner had the last shot been fired then a slight drizzle turned into a hard rain. Considering weather reports, the match director postponed the team matches until the next day when they were fired prior to the Mentor Match.
Gray went clean on the day, one of eleven 1200 scores, with a 1200-108X for the win. Dan Pempel and Del Cotto added still another tie to the day when they found themselves knotted at 1200-106X. The NRA rules dictated that Pempel was second and Del Cotto third.
Gray—the newly minted 2017 Metallic Sight Champion—did not falter during the second two days and took the Any Sight Aggregate with a 2400-218X. Del Cotto and Eric Uptagrafft tied in both number of points and Xs with a pair of 1400-106X scores. Del Cotto won the tiebreaker, earning the second step on the podium.
Hank Gray's Metallic and Any Sight championships paved the way for his overall Conventional Prone victory. A superb four-day effort saw him shoot 419 Xs, sixty 10s and one 9 for a 4799-419X. He was hotly pursued by second-place finisher Mike McPhail, 4797-438X, and George Norton, 4797-397X, who earned the bronze.
Conventional Position National Smallbore Rifle Championship
The AMU's Patrick Sunderman opened the 2017 NRA National Smallbore Conventional Position Rifle Championship with a 400-38X in prone. Moving into standing, young Malori Brown shot a 397-18X while Mike McPhail shot a 400-30X, to win the kneeling match. Sunderman won the National Smallbore Conventional Position Metallic Sight Championship with a score of 1596-114X. McPhail was second at 1595-124X.
While both shot a 400-37X, Emporia State University's Megan Hilbish outshot McPhail for the win in the opening prone match of the Any Sight National Championship. George Norton's 398-25X gave him the standing match victory. Hilbish came back strong and posted the only 400 kneeling score.
Winning two of the three Any Sight matches delivered the Any Sight and High Collegiate titles, as well as the D.I. Boyd Trophy, to Hilbish, 1195-86X. Sunderman's consistency paid off. His 2391-167X aggregate score earned him the Conventional Position title. McPhail came within a point of winning the title—had he tied Sunderman on points, his 168Xs would have carried him over his teammate. Norton rounded out the top three, shooting a 2388-169X.
Metric Position National Smallbore Rifle Championship
The Metric Position Championship was held on the penultimate day of the championships. George Norton led off with a 396-24X prone victory. Junior Antonio Gross posted a 378-9X standing. Olympian Bill Beard was top gun in kneeling with a 385-14X.

Army Marksmanship Unit shooters swept the Metallic Sight Championship. In descending order, it was Norton, 1149-39X, McPhail, 1148-54X, and Erin McNeil, 1147-43X, who won out in the X count over Gross, 1147-43X, for third.
McPhail opened the Any Sight Championship with a winning prone score of 399-30X. Standing saw Hilbish win with a commanding score of 384-16X. The final 40 shots of nine days of competition would be kneeling, and Sunderman came through with a 388-19X for the win.
Norton, 1160-48X, won the day, a slim point ahead of McPhail, 1159-51X. Sunderman slid into third with an 1154-55X. When the two days were totaled, McPhail took the Metric title ahead of Norton, 4708-256X to 4707-273X. Sunderman rounded out the top three with a 4685-259X.
The final prone match (40 shots on the metric target with any sights) was the deciding factor in the Iron Man competition, and McPhail beat Norton by four points. Over the eight-day match, McPhail shot a 9504-711X, Norton a 9501-655X and Sunderman a 9478-640X.
---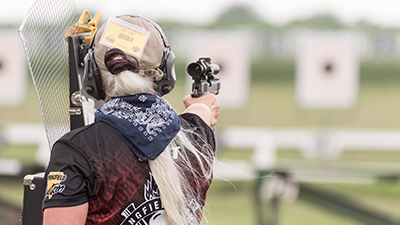 2017 NRA National Pistol Championships
The 2017 NRA National Precision Pistol Championships, held at Camp Perry, Ohio, had 500 competitors, and the match determines the NRA National Pistol Champion. NRA Precision Pistol (also known as Bullseye) is one of the most popular pistol shooting disciplines.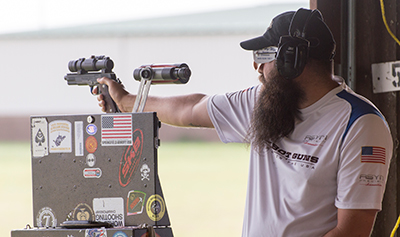 Jonathan Shue is 2017's champion, finishing with a score of 2638-126X. A retired Marine, Shue's score also netted him high civilian honors. Additionally, he won the Cabot Guns/NRA Centerfire Championship. For centerfire and .45, he was shooting a Cabot Guns 1911 Black Diamond Deluxe Bullseye, which he said was "specifically designed for this type of shooting." His ammunition was a factory match 185-gr. JHP load from ASYM Ammunition. A member of Team Cabot, Shue added that Cabot "uses this gun as a base for all of their team's guns." For rimfire, Shue was shooting a Marvel Precision .22 Conversion on a BlackMass Custom 1911 frame.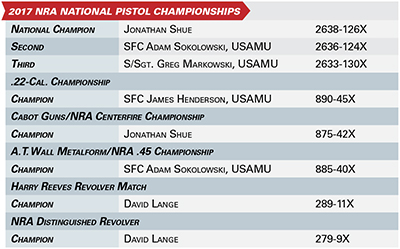 In second place overall was the AMU's SFC Adam Sokowloski. His score of 2636-124X also earned him the High Service award. Earlier this year, Sokolowski fired the first perfect score with iron sights at the NRA Bianchi Cup. His AMU teammate S/Sgt. Greg Markowski finished in third with a score of 2633-130X.
Last year's champion, Philip Hemphill, earned two nods, High Police and High Senior. He finished the match with a score of 2618-108X. High Woman was Kimberly Hobart-Fleming with a score of 2536-78X. Juan Pena-Velasquez won High Junior, scoring 2460-57X.
---

2018 National Match Schedule
Beginning in March 2018, with the Intercollegiate Pistol and Rifle Championships at Fort Benning, Ga., the upcoming target-shooting season includes iconic competitions, such as the NRA Bianchi Cup, the National High Power Matches at Camp Atterbury, Ind., the National Pistol Championships at Camp Perry, Ohio, the National Smallbore Championships in Bristol, Ind., the NRA World Shooting Championship in Glengary, W.Va., the National Police Shooting Championship in Albuquerque, N.M., and many more exciting events throughout the spri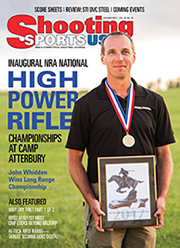 ng and summer. For more information about NRA Competitive Shooting, including how to get started, program rules and regulations, match information and more, visit explore.nra.org.

Looking For More On NRA Competitive Shooting? 
For more than 50 years, Shooting Sports USA has provided competitive shooters with how-to articles, firearm reviews, match schedules for 11,000 tournaments each year and expert advice from the pros. For complete match reporting, go to ssusa.org. With a growing library of online back issues, years of Shooting Sports USA are now only a click away. Sign up for your free monthly subscription at ssusa.org or go to the website for daily updates on the action at the NRA National Matches, Bianchi Cup and other NRA events. For more on NRA Competitive Shooting, go to compete.nra.org.