The National Matches, considered America's "World Series of the Shooting Sports," have been a tradition at Camp Perry, Ohio, since 1907. Each summer, the nation's finest civilian and military marksmen and women square off for five weeks of rifle and handgun competition in a variety of formats and events.
For 2016, the sounds of vintage American warbirds kicked off the matches with the Liberty Aviation Museum's World War II Navy TBM Avenger, B-25 bomber, Georgie's Gal, and the Yankee Air Museum's B-17 bomber, Yankee Lady, soaring above the crowd at the First Shot Ceremony. Each year, the ceremony serves as the official opening of the National Matches.
2016 NRA National Smallbore Matches
The return of the 6400-point course of fire and selection for the 2017 Roberts Team had competitors at the 2016 National Smallbore Prone Rifle Championships fired up. Except for a few sidelined by Olympic preparations, the line in Bristol, Ind., was full of the nation's finest prone shooters.
The level of competition was quickly apparent as all four matches on the first day went to 400 points with high X counts. Matt Chezem took home the first victory of the metallic sight aggregate with a 400-38X. The U.S. Army Marksmanship Unit's (AMU) SFC Hank Gray put up a 400-37X for a win in the Dewar. The day ended at 100 yds., where Mark DelCotto and Gray both shot 400-35X with the win going to DelCotto. Day two saw the first of three 400-40X unbreakable ties at 50 yds. Defending National Champion Kevin Nevius achieved prone perfection, taking the day with a 1600-134X.

The metallic sight aggregate was won by DelCotto, who let one slip away at 100 yds. on day two, scoring 3199-265X. A win at 100 yds. gave Chezem the daily aggregate with a 1600-149X. Lurking behind on the day, but ahead in the aggregate was DelCotto at 1600-136X.
At the end of the final day of individual prone there were three 3199s on the board. Chezem had 291Xs for the daily win followed by Gray and DelCotto, with 278Xs and 264Xs, respectively. In spite of hard holding, Gray and Chezem could not close the gap with DelCotto, who emerged the National Champion—winning the coveted Critchfield Trophy.
John Pitts opened the Conventional Position Championship with an iron sight 400-36X. Lisette Grunwell-Lacey and S/Sgt. George Norton of the AMU were in a real dogfight ending with Grunwell-Lacey posting a 397-17X to Norton's 396-17X. At the end of the day Norton would be in the lead.

Norton established a new National Record standing with a 400-28X, setting the tone for the rest of the tournament. Norton rounded out the day with a 399-25X victory in kneeling, which gave him an aggregate score of 1199-87X and his second National Record of the day. It was no surprise that Norton would wear the conventional position crown.
The course of fire was the same for the Metric championship but the targets switched from the fat A-23 to the rather thin-ringed A-50. Norton would not be denied, and won standing, shooting a 388-12X. Specialist Patrick Sunderman of the AMU bested Norton's prone score, beating him 391-23X to 391-20X, but it was too little, too late to win the aggregate. A consistent Norton won the Metric metallic sight title with a score of 1164-49X.

Norton opened the any-sight phase with a winning 398-28X in prone. Next after winning standing, posting a score of 387-14X, Norton slammed the door with a 389-12X win in kneeling. He left no doubt in anyone's mind as to who would wear the position champion's crown. Norton, 1174-54X, bested second place Jared Desrosiers, 1151-44X, by 23 points, and third place Ruby Gomes, 1149-44X, by 25. Norton took home the Metric title with an aggregate of 2338-103X. Sunderman and Gomes were in second and third, shooting a 2306-91X and 2285-76X, respectively. The same three shooters finished in the same order in the National 3-Position Championship, 4730-262X, 4681-232X and 4652-209X.
The 2016 Iron Man winner was Patrick Sunderman of the AMU, who accumulated a total score of 11049-666X. Desrosiers was second, and Gomes finished in third place.
—Hap Rocketto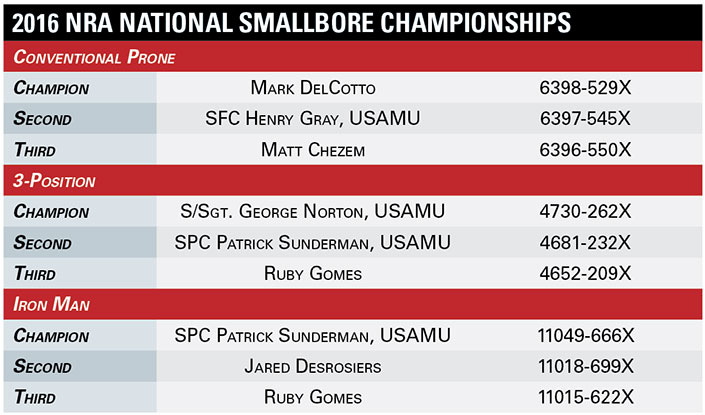 ---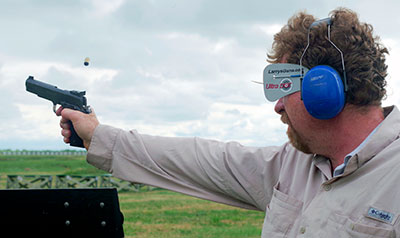 2016 NRA National Pistol Matches
No stranger to the winner's podium, Philip Hemphill won his first NRA National Pistol Championship at Camp Perry in 2011. He is also a 10-time NRA National Police Champion. In 2007, NRA awarded Hemphill "NRA Law Enforcement Officer of the Year." At the 2016 matches, he finished a windy week of precision pistol shooting with a score of 2598-107X, earning him the NRA National Pistol Championship as well as the Police and Senior Championships. The U.S. Army Marksmanship Unit's SFC Adam Sokolowski placed second with a 2595-93X, which also earned him the Regular Service Championship. John Zurek finished in third with a 2595-89X, netting him the Civilian Championship. Glenn A. Zimmerman repeated his win last year at Camp Perry as Junior Champion with a score of 2513-73X. Brenda Silva, who recently retired after 30 years with the Riverside, Calif., County Sheriff's Dept., won this year's Women's Championship with a score of 2514-73X.
For rimfire, Hemphill used a Feinwerkbau AW93 paired with an Aimpoint Micro H1. For the center-fire and .45 matches, he used a Rock River Arms M1911 paired with an H1. For ammunition, he used 185-gr. JHP Zero Ammunition factory match.
This was one of the windiest National Pistol Championships in recent memory, which affected all the scores. On center-fire day, there were 35 m.p.h. winds, both day and night. Hemphill recalled, "It was a catfight [between the top shooters], there were just a few points separating us, due to all the windy days." On the firing line, winds were calmest in the mornings and usually picked up in the afternoons. Notably, there were no scores over 2600 this year—but all at Camp Perry seemed to enjoy themselves since there was very little rain and mostly sunny skies.
—John Parker, Managing Editor, Shooting Sports USA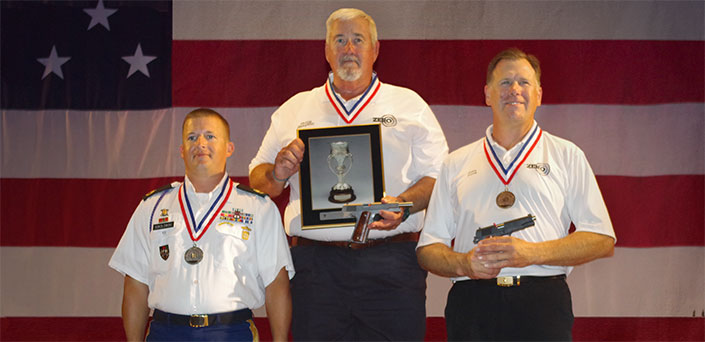 ---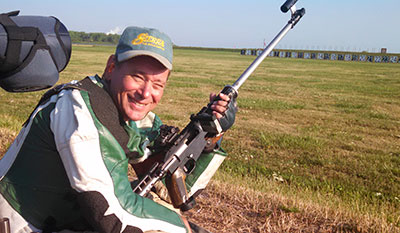 2016 NRA National High Power Rifle Matches
Nearly 300 total competitors attended the NRA High Power Rifle Championships at Camp Perry, and the winner was Norman Houle. Finishing the match with an overall aggregate score of 2383-130X, Houle also won the Match Rifle Championship. In second place was last year's champion, the AMU's SFC Brandon Green with a score of 2381-120X, six points below his 2015 winning score. In addition, Green finished in second place behind Houle in the Match Rifle Championship, also winning High Service. Rounding out the top three was U.S. Army Reserve Sgt. Nick Mowrer with a score of 2381-114X, and he also took the Service Rifle Championship.
No stranger to the winner's podium at Camp Perry for both smallbore and high power rifle, Robert Gustin won the Mid-Range Championship with a 2395-168X. Gustin was a collegiate All-American and from 1970 to 1972 shot for the AMU.
"It was hot and humid and took a lot out of all the shooters," Gustin said. "Shooting a four-day match in three days is hard, especially in the weather conditions we had. One thing I did do differently was to shoot out of my left eye, right handed. My right eye has a cataract and I have a problem getting a good sight picture. I was Smallbore Position Champion in 1975 and was on many National Championship teams. But the last two years, winning both the individual and team Mid-Range Championship has been my highlight."
John Whidden was 2016's NRA National High Power Rifle Long-Range Champion, after finishing the match with a score of 1240-77X. Whidden also won the Leech Cup after a shoot-off, finishing with a score of 200-14X. Whidden said, "I'll remember this year as being one with winds that changed quickly. I felt like I really had to watch the conditions hard. It was very easy to get caught in a quick wind change and not be in the 10-ring."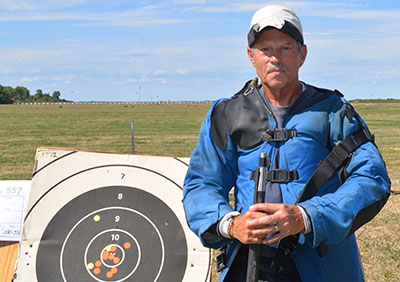 Finishing in second place was a familiar face—SFC Brandon Green of the AMU, who was two points behind Whidden with a final score of 1238-67X. Winning third place was William Gelet with a score of 1238-57X.
In the Palma Individual Trophy Match, competitors shoot 15 shots prone at 800, 900 and 1,000 yds. Sergeant First Class Brandon Green won this year's competition with a score of 447-25X. In second place was William Gelet with a score of 447-18X. Steve McGee finished third with a score of 447-18X.
The Wimbledon Cup course of fire is 20 shots slow fire prone at 1,000 yds. Norman Crawford won with a 200-16X. The AMU's SFC Shane Barnhart finished in second place with a score of 199-16X. David Tubb finished in third with a score of 199-15X.
—John Parker, Managing Editor, Shooting Sports USA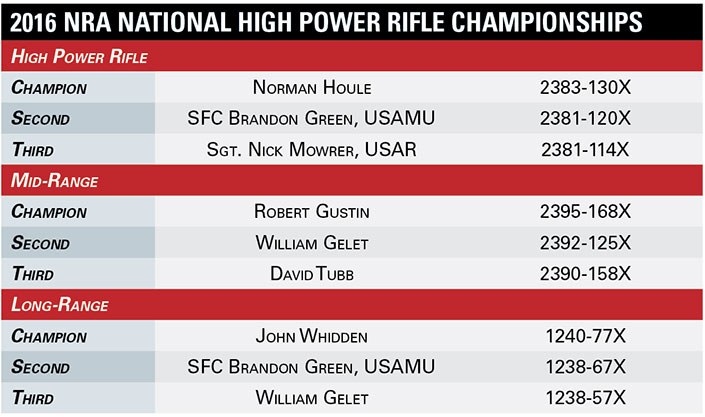 ---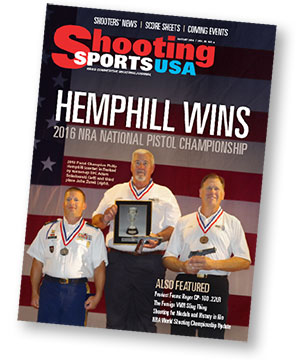 Looking For More On NRA Competitive Shooting? 
For more than 50 years, Shooting Sports USA has provided competitive shooters with how-to articles, firearm reviews, match schedules for 11,000 tournaments each year and expert advice from the pros. With a growing library of online back issues, six years of Shooting Sports USA is now only a click away. Sign up for your free monthly subscription at ssusa.org or go to the website for daily updates on  the action at Bianchi Cup, Camp Perry and other NRA events. For more on NRA Competitive Shooting, go to compete.nra.org.