by
posted on May 27, 2014
Support NRA American Rifleman
DONATE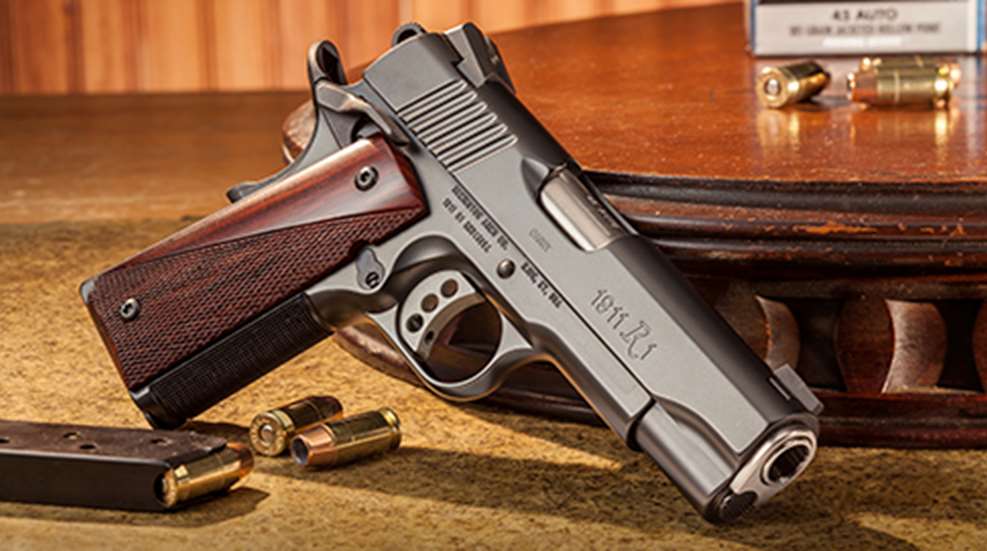 There was a time when commercial M1911-style pistols came in only one configuration. They were 5-inch barreled guns with small sights, a small thumb safety, an arched mainspring housing and a short trigger. The trigger pulls on out-of-the-box pistols were also nothing to get excited about. It was a take-it-or-leave-it market, and the customer had to go to extra expense and time to have any useful modifications made to the pistol.
Fortunately, manufacturers began to listen to their customers and produce handguns that would truly meet their needs, especially those of the defensive shooter. A good example of this is the R1 Carry Commander from Remington.
The R1 Carry Commander, in .45 ACP, is an all-steel pistol finished in satin black oxide. All of the sharp edges on the gun have been beveled for concealed-carry comfort. The 41/4-inch barrel is stainless steel with a feed ramp designed to properly cycle hollow-point bullets. The trigger is aluminum with an adjustment screw to prevent overtravel.
The gun's Novak sights are of the fixed combat variety to aid in quick visual acquisition. Both the front and the rear sights are attached via dovetail slots in the slide. In addition, the front unit has a tritium insert, which is a great aid in low-light shooting. The illuminated front dot helps the user quickly acquire the sight and facilitates fast and accurate shooting.
With a nod to the needs of left-handed shooters, Remington made ambidextrous safeties standard-issue on the Carry Commander. Early-day M1911 wizard Armand Swenson first designed this type of ambidextrous safety some years ago, and it is still popular with many M1911 shooters. The right-side lever has a long toe that fits under a relieved area of the right stock for functional reliability.
The pistol's grip safety is of the popular beavertail design. On any M1911, the beavertail grip safety permits the shooter to take a higher grip on the pistol, which is always an aid in recoil management. With pistols that incorporate the Commander-style hammer spur, however, it also keeps the hammer and slide from injuring large hands. Scars on the web of the shooting hand used to be a clear indication that the person's chosen handgun was a Commander. Thanks to the beavertail grip safety, that is no longer the case.
As on all Remington M1911s, the R1 Carry Commander also incorporates a firing-pin safety that is designed to prevent the pistol from discharging should it be dropped on a hard surface. There was a time when these firing-pin safeties did not always function properly and often were the cause of a poor trigger pull. Nonetheless, those days appear to be past, and this Carry Commander's trigger exhibited a clean and crisp break at 4 pounds, 3 ounces.
The stocks on the Remington Commander are attractive rosewood that have been partially checkered with a diagonal pattern. In addition, the pistol's frontstrap and flat mainspring housing are checkered. Fortunately, the checkering offers a more secure grip for the shooter without being so sharp that it is uncomfortable.
Range work with the R1 Commander Carry was quite pleasant as the pistol handled and performed well. We tested the R1 Carry Commander with three different 230-grain .45 ACP loads: a Black Hills jacketed hollow point at 814 f.p.s., a Remington full metal jacket (FMJ) at 810 f.p.s., and a Double Tap 230-grain FMJ flat point at 880 f.p.s. The Double Tap load was not only the fastest of the three tested, it was also the most accurate. Despite the full-metal-jacketed bullet's flat point and broad ogive, it fed and functioned through the R1 Carry Commander without a hitch. For years it was available in the Frontier line of ammunition from Hornady, and it is nice to see that Double Tap has brought it back.
Actually, all three of the test loads shot very well in the Remington R1 Carry Commander, exhibiting proper power and accuracy. More importantly, the pistol handled the shooting test with full reliability.
Today's shooters just don't know how good they have it. High visibility sights, dehorning, ambidextrous safeties, tuned triggers, and polished feed ramps, were once custom features that had to be added after the pistol was purchased. Today, guns such as the Remington R1 Carry Commander effectively satisfy the demand for carry-ready packages in the flourishing American market for self-protection pistols.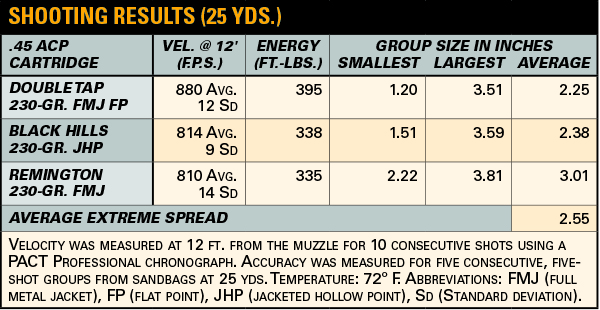 Manufacturer: Remington Arms Co., P.O. Box 700, Madison, NC 27025-0700; (800) 243-9700
Caliber: .45 ACP
Action Type: recoil-operated, center-fire, semi-automatic pistol
Stocks: checkered rosewood
Finish: satin black oxide
Barrel: 4.25" stainless steel
Rifling: six-groove, 1:16", RH twist
Magazine: detachable box,seven-round capacity
Sights: Novak fixed combat (tritium insert in front), drift-adjustable for windage
Trigger: single-action,4-lb., 3-oz. pull
Overall Length: 8.5"
Width: 1.34"
Height: 5.5"
Weight: 35 ozs.
Accessories: owner's manual, spare magazine
Suggested Retail Price: $1,299