by
posted on September 27, 2018
Support NRA American Rifleman
DONATE
It is probably no exaggeration to refer to the M1911 pistol as "America's Sidearm." The functional beauty of John Browning's masterpiece has made it one of the most beloved and recognizable firearms of all time. In recent years, though, the trend toward all things tactical has produced increasingly utilitarian-looking M1911-style handguns devoid of classical styling. Connecticut-based Standard Mfg. Co., though, has moved in the opposite direction. This company, which is a division of the Connecticut Shotgun Mfg. Co., is loaded with the rare combination of modern machines and traditional gunmaking know-how. Built in-house, Standard Mfg.'s 1911 Case Colored #1 Engraved combines aesthetic design and finish elements with modern functional enhancements.
It doesn't take a trained eye to see why this handgun stands out, thanks to the case-colored finish that covers most of the pistol. Case-coloring is the fortunate byproduct of a hardening technique that has been used in firearm manufacturing for centuries. Unlike many firms in the industry that use chemicals to imitate case colors, Standard Mfg. casehardens these parts the old-fashioned way using a furnace-heated crucible loaded with bone and charcoal. The entire slide, frame, grip safety and mainspring housing on the 1911 are covered in swirling blue, purple and straw hues. The colors are accented by a variety of small parts, including the slide stop, safety lever, stock screws and pins that are brightly nitre or "fire" blued. The stocks are double-diamond-checkered rosewood with a satin finish. These contrasting colors are all presented over slide flats and a frame that is highly engraved with attractive scroll patterns, making for a visually striking handgun.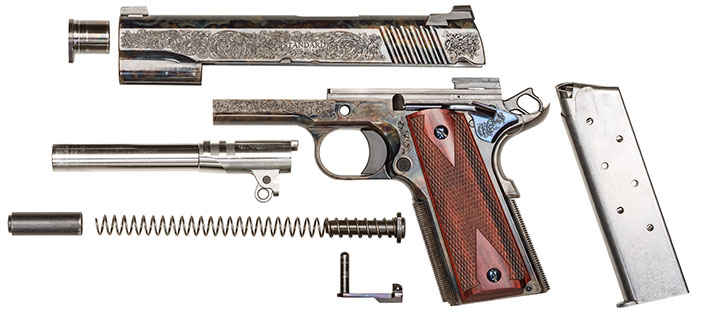 Though the engraving and finishes give this M1911 a throwback feel, its construction materials and methods are quite modern. Standard Mfg. CNC machines the frames and slides from raw 4140 carbon steel forgings, and small parts such as slide stops are machined, not cast. The match-grade barrel is made from stainless steel and features a loaded-chamber indicator slot cut into the rear of the hood. The overall design is a fairly faithful clone of the traditional M1911 design, albeit with some modern enhancements that have evolved out of decades of tinkering with the platform. The cocking serrations on the slide are end-mill cut at an angle, the ejection port is both lowered and flared back to facilitate consistent ejection, the hammer is a modern commander-style unit, the magazine well is slightly beveled and an upswept beavertail grip safety allows for a high grip on the gun. Both the frontstrap and steel mainspring housing are flawlessly checkered at 30 lines per inch, which provides a solid purchase without being overly abrasive to the hands.
The overall fit and finish on this handgun is excellent for a factory firearm, and better than many examples produced by custom makers. The polishing was uniformly excellent, and the engraving—though done by machine—was well-executed. Likely thanks to the maker's use of CNC equipment and skilled hands, parts fit was consistently good and there was no sign of the "rattle" present on some examples we've encountered from other makers. Slide-to-frame fit, a key to M1911 accuracy, was very good. Disassembly is identical to traditional M1911s, since this handgun uses a recoil spring plug rather than a full-length guide rod. Removing the barrel bushing did not require a wrench, but the part was sufficiently tight to be conducive to mechanical accuracy.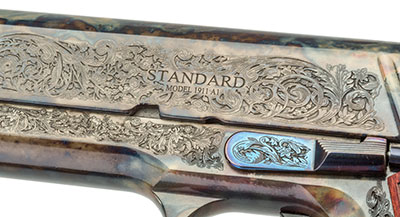 The sights on this M1911 are from the modern end of the spectrum and are made by Warren Tactical. The black, 0.125", serrated front sight is easy to find in the U-shaped, 0.150" rear notch that is also serrated. Both front and rear sights sit in dovetails (Novak cut), and the rear sight is drift-adjustable for windage. These snag-free sights are devoid of sharp edges with the exception of a lip designed to aid in one-handed cycling of the slide in the event of an emergency. We found the sights to be very practical during both the formal accuracy testing and more casual rapid-fire range drills used to evaluate this handgun.
Sights and triggers are vital to accuracy, and the trigger on this M1911 was on the good side of average. It broke consistently at 3 lbs., 8 ozs., albeit with some pretty noticeable creep. Though it was undetectable when we shot the gun on short-range targets, it was apparent when we moved to the 25-yd. line. Approximately halfway through the trigger pull, there was a tactile "shelf" that almost acted as a second stage during our bench testing. This creep didn't appear to have a detrimental effect on accuracy, it merely kept the trigger pull from being exceptional. Two-handed standing groups at 10 yds. produced one-hole groups, and the 25-yd. accuracy results were consistently good. Don't let the presentation appearance of this handgun fool you, it shoots and handles like a good M1911 should.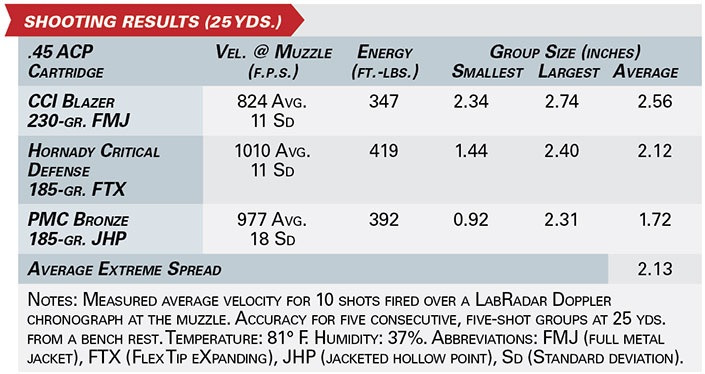 The M1911 design is not one that always lends itself to mass production, and many examples lack the reliability that shooters have come to expect from more modern handguns. We found this 1911 from Standard Mfg. to be reliable, save for one failure to feed with PMC Bronze's 185-gr. JHP load. This bullet's ogive is fairly abrupt, and we questioned from the start whether it would feed reliably. Sure enough, at round number 60, we experienced a failure to feed from slidelock as the bullet caught on the frame-mounted feed ramp. The malfunction was quickly cleared and we experienced no further hiccups.
M1911s can run the gamut from spartan to ornate, and this example from Standard Mfg. runs toward the latter end of that spectrum. The combination of contrasting and colorful finishes, engraving that covers the flats of both the slide and frame, and functional enhancements that keep pace with the M1911's latest evolutions makes for a unique package. Non-engraved examples are available, as are models with more subtle finishes. This handgun's performance is on par with its looks, and, given the quality components used and the labor-intensive finishes chosen, the price is very reasonable.