by
posted on June 1, 2023
Support NRA American Rifleman
DONATE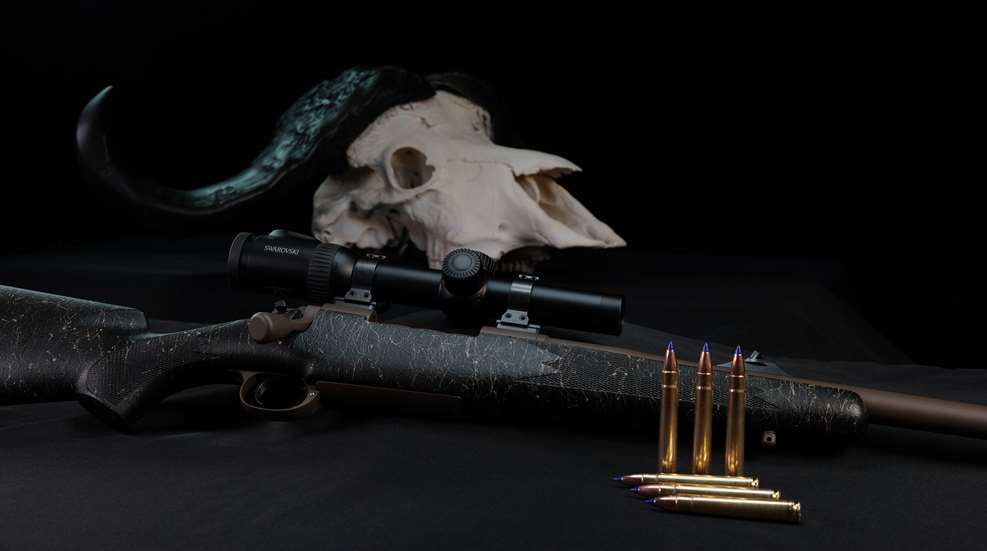 Introduced in 1962, the Remington Model 700 was an improvement and replacement of Remington's successful Model 721 series, produced from 1948 to 1961. Remington's timing for this new bolt-action was excellent. It was introduced along with the 7 mm Rem Mag, answering a ground swell of requests for a "fast" factory 7 mm, led by well-known riflemen such as Les Bowman and Warren Page. In 1962, the .264 Win Mag. was at its short-lived zenith. Considered more versatile and blessed with the wider range of 7 mm bullets, Remington's Big Seven blew the .264 off the market, quickly became a world-wide standard, and for many years was the world's most popular "magnum" cartridge.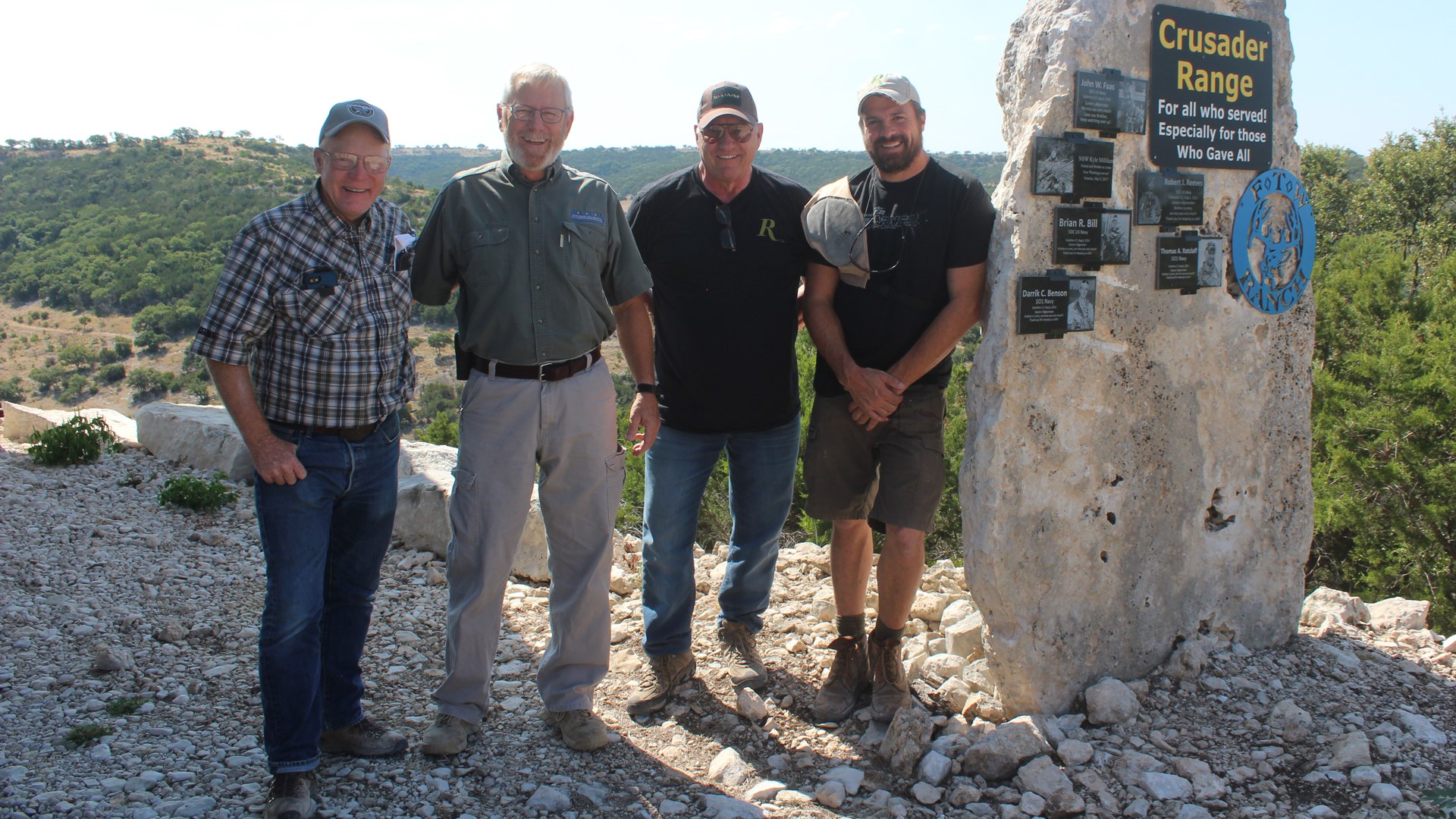 Left to right, Craig Boddington (author), Tim Fallon, Ken D'Arcy and Mike Schoby at the "Crusader Range" on Fallon's FTW Ranch next to a monument to FTW/SAAM students and friends who have been killed in action in Southwest Asia.
Remington's ad campaign touting the action's "three rings of steel" surrounding and supporting the case head—enclosed bolt face, barrel shank, and action forward ring—must have resonated; the "push-feed" Model 700, immediately known for accuracy, was well accepted. But there was a bit of luck involved: The Model 700 was still in diapers when Winchester changed from its much-beloved "Mauser clone" Model 70 to the post-'64 push-feed Model 70. The post-'64 Model 70 was and, is an accurate and dependable rifle—but the press and much of the public were outraged at the changeover. The Remington M700 prospered; until 2020, it had been in continuous production for 58 years, the longest of any production bolt-action. Variations and chamberings have run the gamut. Back in 2019, I had the opportunity to take a look at not just a Remington 700, but a Custom Shop-produced model that, at that time, highlighted a new direction for the company.
Model 700 X Custom
The Remington Model 700 X Custom was produced in the Remington Custom Shop in Sturgis, S.D., a place that was also home to the Marlin Custom Shop and Dakota Arms back during the Remington Outdoor days. The 700 X Custom came with interrupted fluting on a match-grade Shilen barrel, Cerakote finish in a fully bedded McMillan "Game Hunter Elite" carbon fiber stock that I'd describe was a blend between tactical and sporting. The stock was not adjustable, but it has a fairly vertical target-style pistol grip with palm swell, camouflage paint, and stippled panels on both fore-end and grip that gave an excellent feel. It had dual sling swivel studs and a flat-bottom fore-end for use on sandbags. A muzzle brake was standard with thread protector included. Mating between the muzzle brake and barrel was so precise that you have to look hard to see the joint.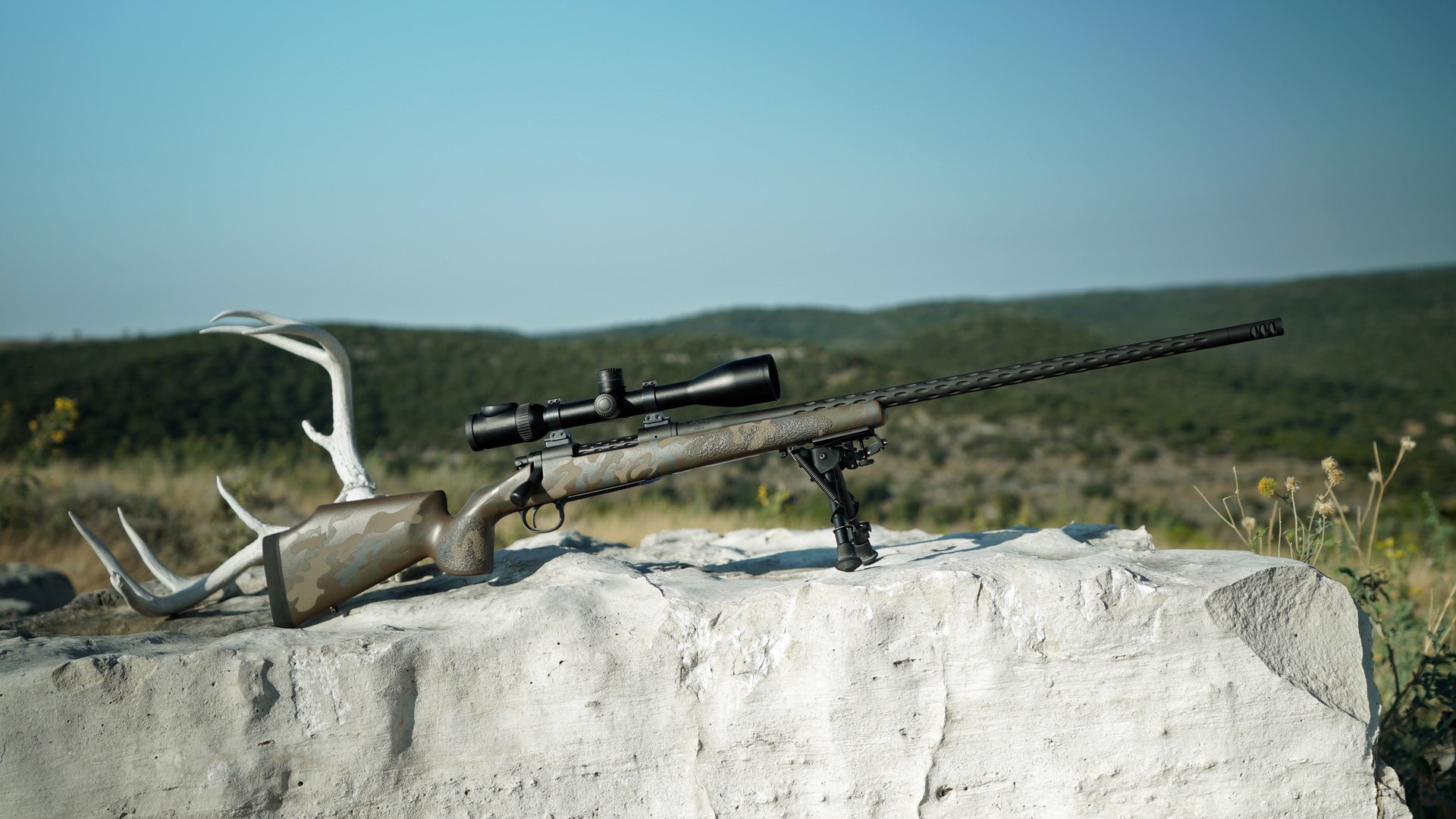 The action was the familiar BDL with floorplate and two-position safety. The bolt release is on top, on the rear bridge of the action. On the X Custom, the trigger was a Timney Calvin Elite; the bolt had dual ejectors, AR extractor and a target bolt handle. The action had been blueprinted for more consistent accuracy, and the bedding was tight, smooth and perfect.
Back then, you probably could have had an X Custom almost any way you wanted it, but this initial batch all had 26" medium-contour barrels (28" with muzzle brake). With Z8i 3.5-28X 50 mm scope, weight was exactly 11 lbs., and it was about 9 lbs. without scope. The X Custom had no iron sights, and Talley mounts and rings came standard.
As a Custom Shop rifle, a variety of chamberings were available, but for this unveiling, all were chambered to 7 mm Rem. Mag. A new 700 simply had to be chambered to a Remington cartridge, and the "Big Seven" is one of Remington's all-time-great cartridge achievements. The X Custom in 7 mm Rem. Mag. came barreled with a 1:8" twist, faster than the standard 1:9" (or 1:9.25"), which made it better-suited to the heavier, longer bullets typically used for long-range shooting. And, for sure, a 7 mm is more pleasant to shoot all day than any fast .30-cal. and, still and always, a fine and versatile choice for most of the hunting any of us intend to do. The X Custom came ready to hunt or travel in a fitted SKB hard case, including Harris bipod, gun sock, sling and a computer-generated test-target printout. It was ready for a long day on the range, which is exactly where these rifles were headed.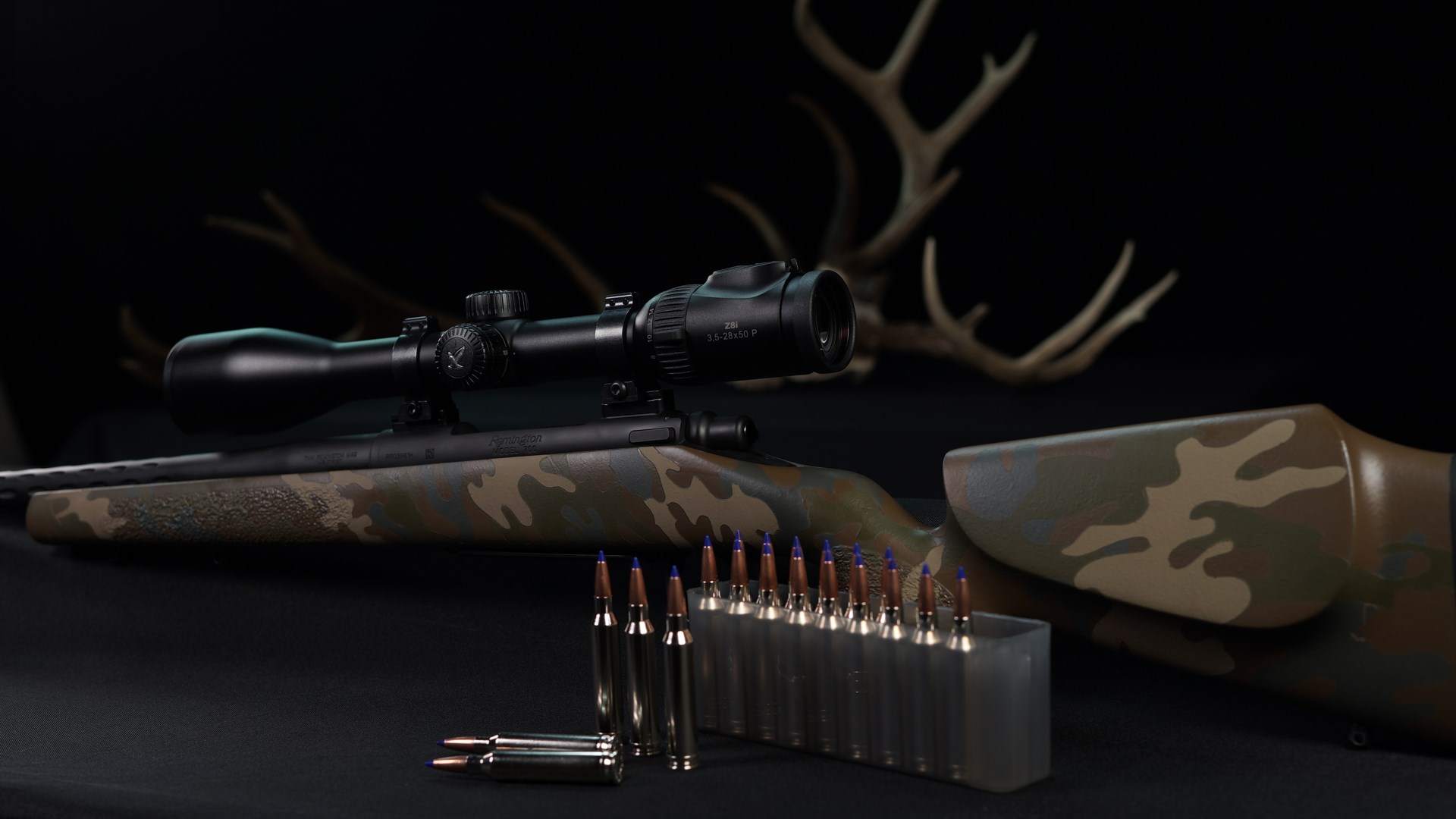 The new M700 X Custom from the Custom Shop is intended to be a complete, ready-to-go long-range target or hunting rifle, with Shilen barrel, Timney trigger and McMillan stock. Test rifles were topped with a Swarovski X8i riflescope.
On The Range With The X Custom
We were a dozen writers, each with his own rifle. Not all the scopes and reticles were exactly alike, but to be honest, the X Custom I used to be slightly different from the rest: It was the only mirror-image left-hand version, which was much appreciated. Initially all the rifles wore Remington suppressors, which were very pleasant. After we got ballistic data with suppressors, we replaced them with muzzle brakes and shot for more data. Most of us reported less than a one-m.o.a. change, which I found amazing.
We were all shooting Barnes Custom ammo with 168-grain LRX. The printout for my rifle suggested 2,852 f.p.s. Later, at my range in Kansas, my Oehler gave me 2,910 f.p.s. for the same load. Either way, it is a fast and flat-shooting load!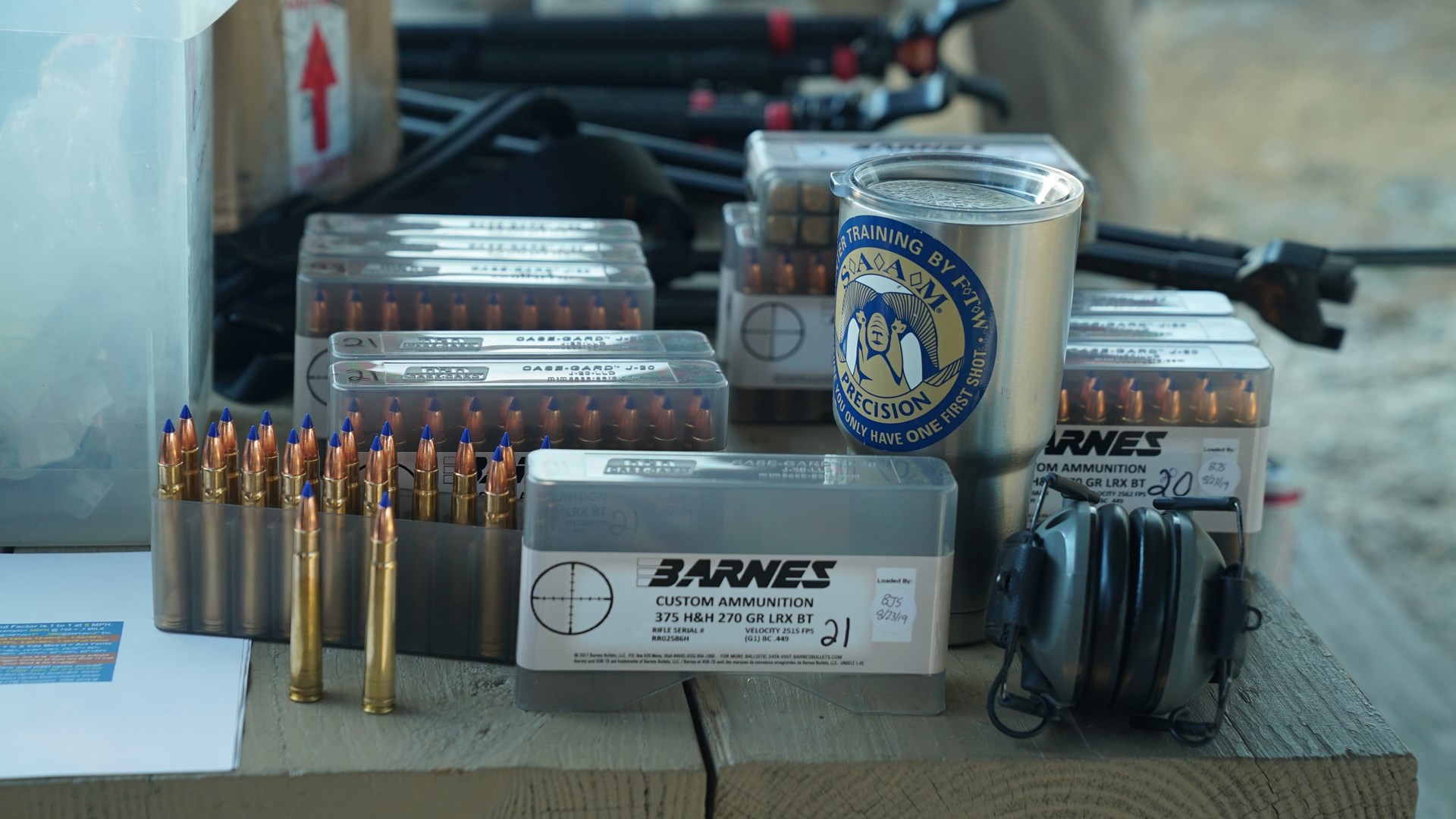 Shooting with the dangerous game rifles in .375 H&H was done with Barnes Custom 270-grain LRX boattail, accurate and hard-hitting.
At FTW, we started with some classroom work, including an overview of the rifle, then to one of several dozen steel-plate ranges that festoon FTW's ridges and canyons. Most shooting was done prone or over backpacks; none were from the bench. The idea was an abbreviated SAAM Precision course, resulting in proper zero and range card data to at least 700 yards. Initial shooting was on paper to finalize zero, after that, all shooting was on steel targets, which I have to say is a lot more fun than punching holes through paper. In my "relay" of six shooters, we were all happy with our rifle's groups, needing few shots to go from "almost in zero" to perfect.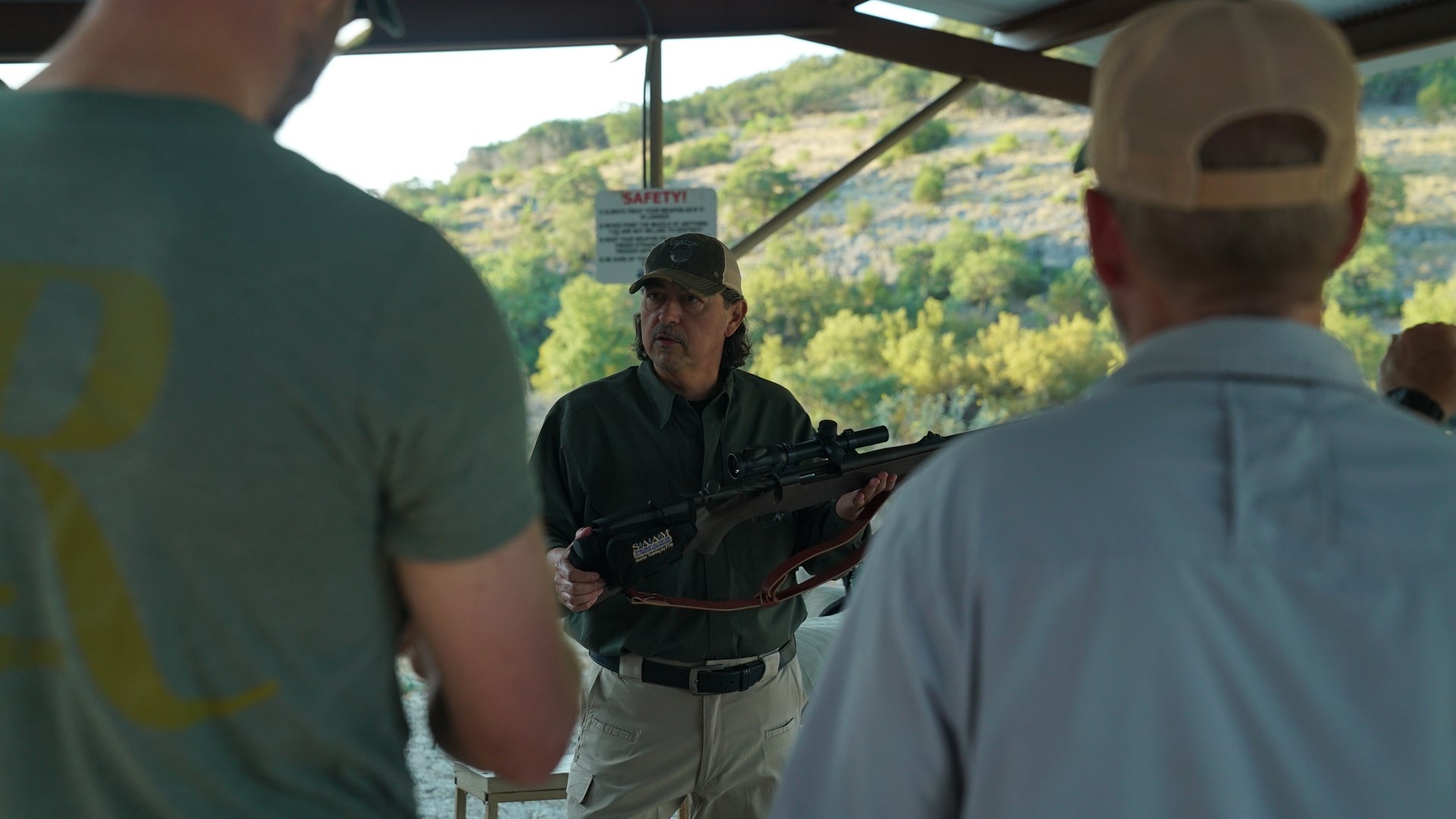 On the range, Carlos Martinez of the Remington Custom Shop shows the features of the newest dangerous game version of the Model 700.
The Swarovski Z8i used at the event offered-up an amazing 8X zoom ratio. The scope was illuminated, too, hence the "i" in its nomenclature. My scope's additional stadia lines were in mils, while some of the guys in the group had m.o.a. optics, and not all the scopes had the powerful 3.5-28X magnification like I had. This made for differences in getting data exactly right, but that's the luxury of doing this kind of work at FTW, with superb instructors. Seemingly effortlessly and almost instantaneously, these guys can go back and forth from mils to inches—a bridge I cannot cross! The scope I used had Swarovski's Ballistic Flex Turret (BTF) with centimeter adjustments, (three to the inch). I used the BTF as a top turret for elevation; it can also be used as a side turret for windage. To adjust the turrets for ballistic compensation, first the rifle must be zeroed. Then, with the help of computer ballistics magic, up to four marking rings can be stacked in the turret. The result is a turret calibrated for the load, offering the ability to "dial the range"—or hold with the stadia lines within the reticle.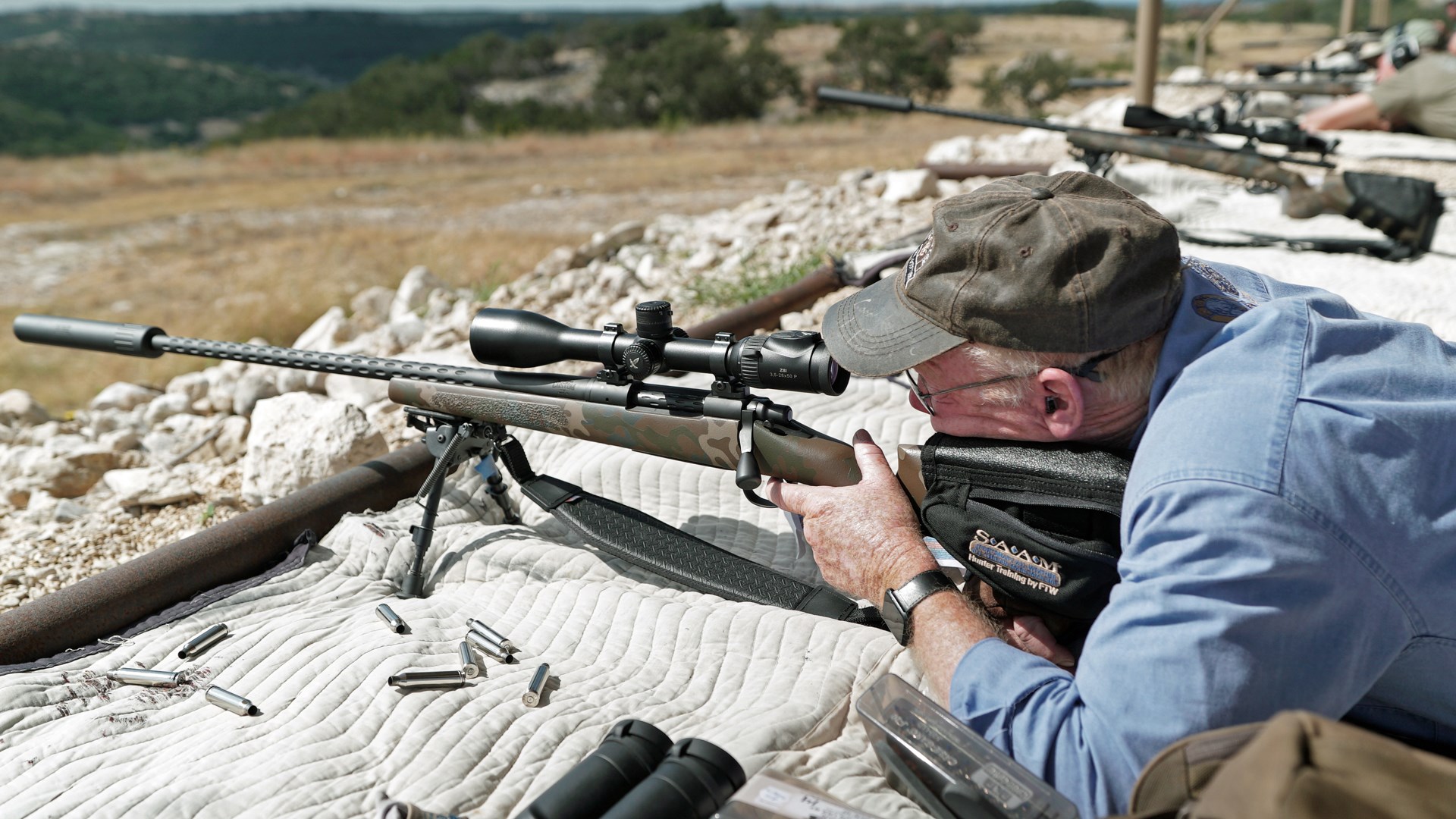 On the range with a left-hand X Custom 7 mm Rem. Mag. For proper cheek weld from the prone position Boddington used a strap on cheekpiece. All test rifles wore suppressors, which made shooting very pleasant.
It takes a bit of time, but the results were so precise that, with no trial and error, I was able to dial the turret and make first-round hits on steel plates out to 700 yards—as could everyone else! Our results suggest that such shooting is easy, and some folks seem to think shooting at such distance can be done just as easily in the field. Note: We had relatively calm conditions, plus the huge advantage of skilled instructors who shoot on these ranges all the time. It's their home, and they know how to read the wind, but even they don't get it right every time. In the afternoon, with stronger and trickier wind, we went on out to 1,000 yards. I got there, but it took more trial and error.
Meeting Protocol
The Model 700 has long been famous for accuracy, and the X Custom rifles I sampled were awesome. The test target for my rifle shows a three-shot group of 0.300". Prone off a bipod, some of my zeroing groups equaled this, and if I did my part, I had no trouble ringing 9", 12", and 18" plates 'way out there. But that isn't the NRA protocol, which calls for five five-shot groups with several loads. This is a rigorous protocol for any rifle. With a fast-stepping magnum, it inevitably incorporates barrel heat and shooter exhaustion quickly.
A view downrange on one of many ranges at FTW with hard-to-spot steel plates stretching out to at least 1000 yards.
Just two weeks after the FTW event, I got the rifle to my home range in Kansas, and I was blessed with an amazing day: Sunny and mild with almost no wind (that doesn't often happen in Kansas).
Under such ideal conditions, and from an extremely solid bench, I felt I was shooting well—and the rifle shot very well with loads it liked. Barrel heat was an issue; I took all day and cooled between each group. The barrel had been broken in at SAAM, so I cleaned after each load, then fired fouling shots and cooled again before starting groups "for score."
Using my Oehler, all five of the loads I fired delivered bonus velocity from the 26" barrel. Not surprisingly, the Barnes Custom 168-gran LRX load, the same load I'd used at FTW, provided the best five-group average at 0.898". Second-best was Hornady Precision Hunter with 162-grain ELD-X, averaging 0.947" for five five-shot groups. These results aren't surprising because, after all, this is good ammo and an accurate bullet. And the faster twist should give slightly better results with the heavier bullets. The ELD-X load also produced, the tightest five-shot group: 0.413".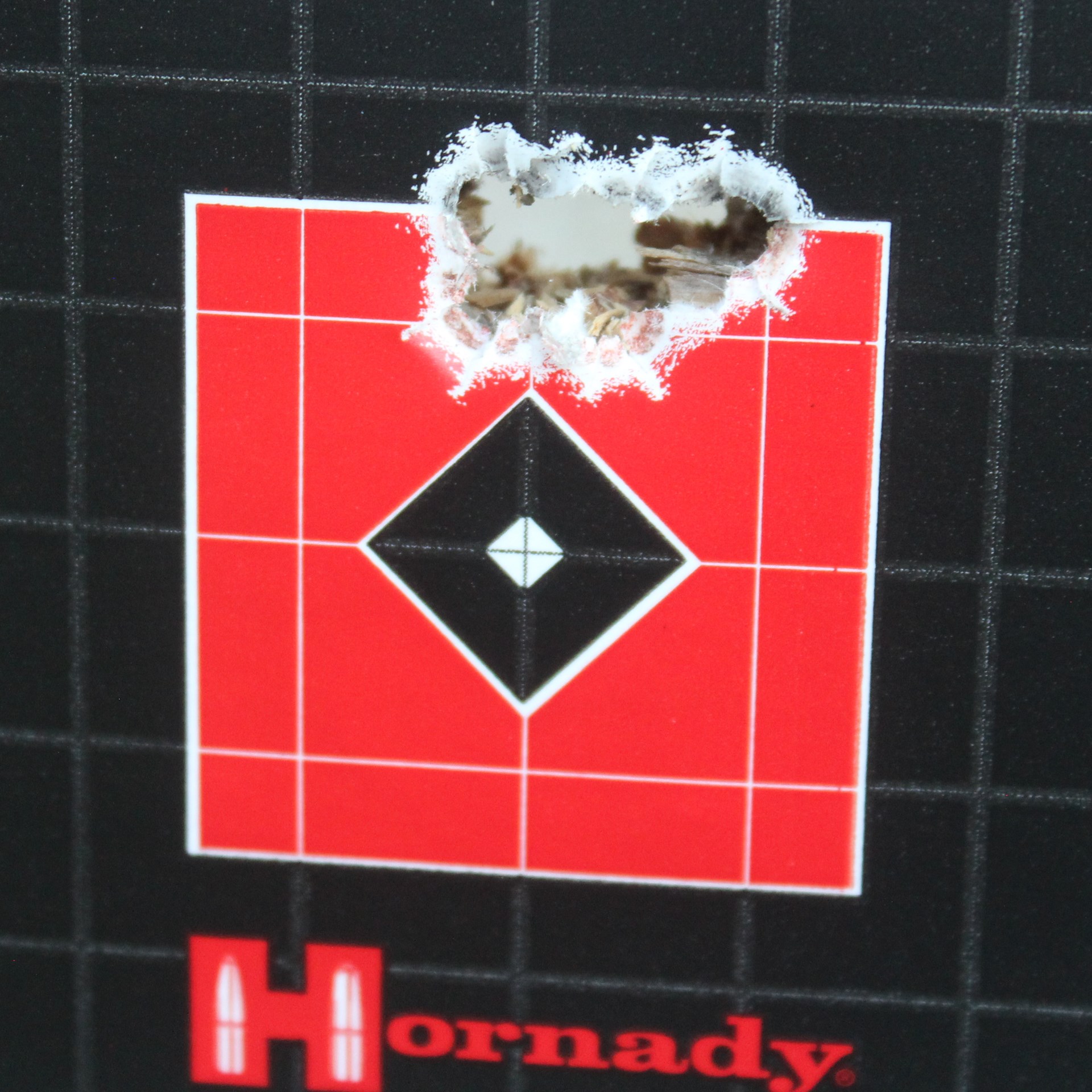 Although the average group was larger, the X Custom produced sub-half-inch five-shot groups with both Barnes 168-grain LRX and Hornady 162-grain ELD-X. This is one of the best of the 25 groups measured.
Perhaps this rifle has a snobbish streak and only likes premium ammo! It wasn't crazy about 154-grain Interlock in American Whitetail, averaging an acceptable 1.402". It hated the 139-grain Interlock in American Whitetail, possibly a barrel-twist issue, except it did pretty well with Superformance 139-grain GMX, averaging 1.14". Some barrels shoot best with more compressible lead-core bullets, while others produce their best groups with homogenous alloy bullets. I'll have to try a few more loads . . . as soon as my shoulder recovers!
Seriously, combining a good muzzle brake with plenty of gun weight, recoil was okay—but the 7 mm Rem Mag is not a benchrest gun. For two widely different loads to average under an inch is awesome. If you took the average of the top three of the five loads I sampled, you'd have an average of 0.986" for 15 five-shot groups. I'd take this rifle hunting!
A BONUS DGR!
While we were at FTW Ranch, the Remington team also trotted out a brand-new M700 Dangerous Game Rifle (DGR)—so new, it wasn't officially named. Also from the Custom Shop, this rifle was intended to be a mid-priced option, an upgrade from a standard M700, but not a full-up Dakota. So, on the second day, we tackled the Dangerous Game course. All the rifles present were chambered to .375 H&H.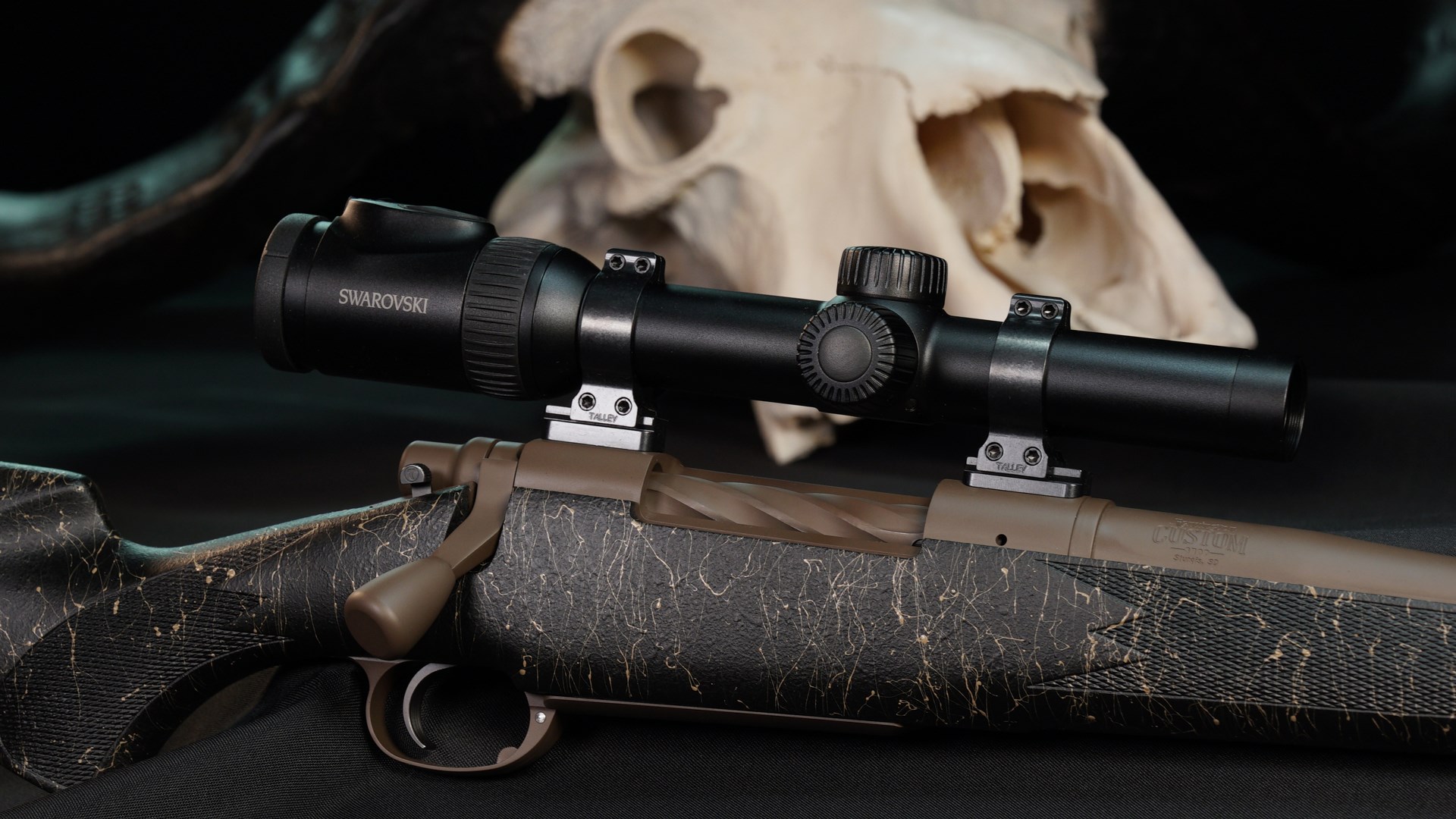 The new M700 dangerous game rifle features premium a synthetic stock, Cerakote finish, internal magazine, Talley detachable mounts and rings, and good iron sights … what more do you need?
A "DGR" is a different deal. The .375 offers much versatility; with Swarovski Z8i 1-8X 24 mm scopes attached, we checked zero and smashed 200-yard gongs. Accuracy was impressive, but most of our shooting with the .375s was at large animal (I mean large, as in elephant and buffalo) targets at close range. Here, handling qualities take priority.
I thought the Remington Custom Shop team really got this rifle right! Truth be known, I probably know more about rifles for dangerous game than I do about long-range tack-drivers. This rifle had everything I'd want in the swamps of Mozambique or the forests of central Africa: Tough McMillan synthetic stock, Cerakote finish, slight belly in the magazine for added capacity, Timney 510 trigger. Most importantly it came with a stiff barrel to get the overall weight up and recoil down. And as I think necessary to a DGR, the Remington had Talley mounts and detachable rings and iron sights with a sturdy express rear on island and bead-on-ramp front sight with a flip-up extra-large bead for low light.
The stock style was excellent for fast handling, and recoil the tolerable. We had a ball doing close-range drills on life-size buffaloes, running buffaloes, and charging elephants, finishing up on the "jungle walk"—complete with sound effects. It was another great day at FTW.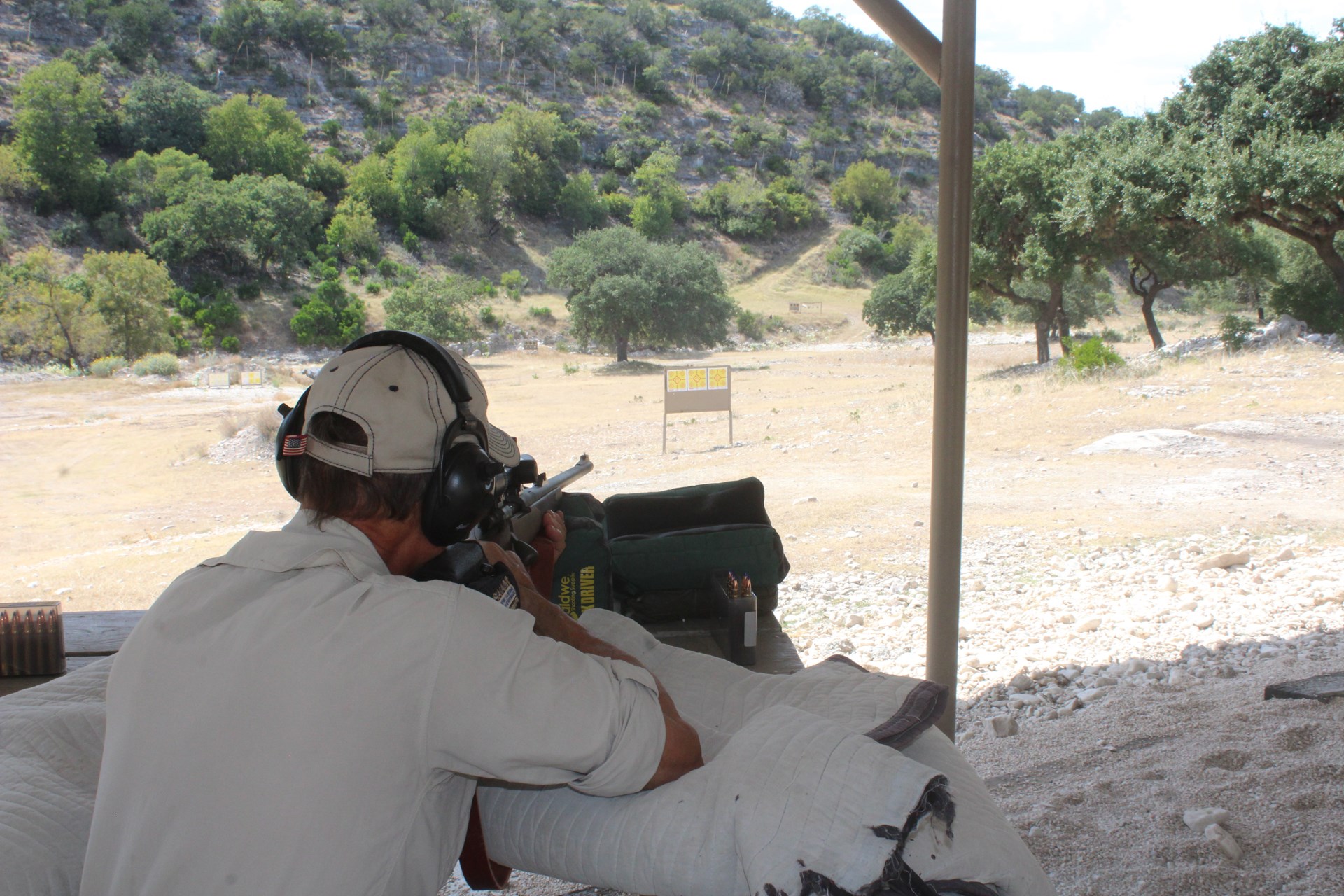 Most shooting with the dangerous game .375s was done offhand at close range, but we checked zero from the bench and rang six-inch steel gongs at 200 yards.
As everyone knows, Remington Outdoor filed for bankruptcy not long after we had our range event at FTW. The new Custom Shop rifles we saw at the range were not to be. Fortunately, Remington seems to have risen from the ashes, and a new company has emerged under the RemArms name. Ken D'Arcy, the man who set up our shoot at FTW, now plays an important role in the new company. When I spoke with him at the time, he told me, "We have a huge cadre of great people who eat, sleep, breathe and bleed Remington. Together, we can turn this around, but it's going to take time, and we have a big job ahead." Now, in 2023, that still holds true, but if the rifles we shot at FTW all those years ago are proof of anything, it's that Remington is capable of producing great rifles when everything lines up. Let's hope the company finds its way again.