Support NRA American Rifleman
DONATE
"American Sniper" has been released in a few select theaters. The television and airwaves are alive with images from this remarkable Clint Eastwood film. "American Sniper" is the story of a remarkable American. Chief Petty Officer Chris Kyleused his rifle to save his fellow American servicemen in combat against our nation's enemies. Despite his heroism on the battlefield, Chief Kyle was murdered by a very troubled young man. His funeral at the Dallas Cowboy's Texas stadium was one of the largest such events ever held, with a procession thatstretched 200 miles. A fewyears ago we ran a story by Maj. John L. Plaster (U.S. Army, Ret.) about Chief Kyle's exploits on the battlefield. Before heading to the movie theater this weekend, I strongly recommend taking time to read this story.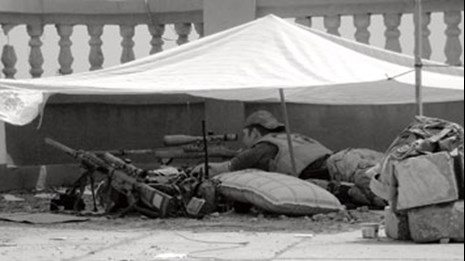 Chief Kyle wasn't just a trigger puller; he was a gun guy. And an American patriot. And a man who had an appreciation for the place firearms hold in American Freedom. Think Chris Kyle was just a knuckle dragger? Then I suggest you read this story on the American longrifle that he did for his book, "American Gun."
It shows great understanding of firearms and perspective of how firearms earned American freedom. We published the article after Chief Kyle's death with the knowledge and approval of his widow, Taya Kyle. She, too, is a remarkable American, and I defy you to watch her entire speech at the NRA Annual Meetings two years ago without tears coming to your eyes. A foundation has been set up to benefit the Kyle family and others who served our nation so nobly. To find out more about the Chris Kyle Frog Foundation, go to chriskylefrog.com. Often, Hollywood actors are confused with heroes; through "American Sniper," though, Hollywood honors a real one and his memory.