Support NRA American Rifleman
DONATE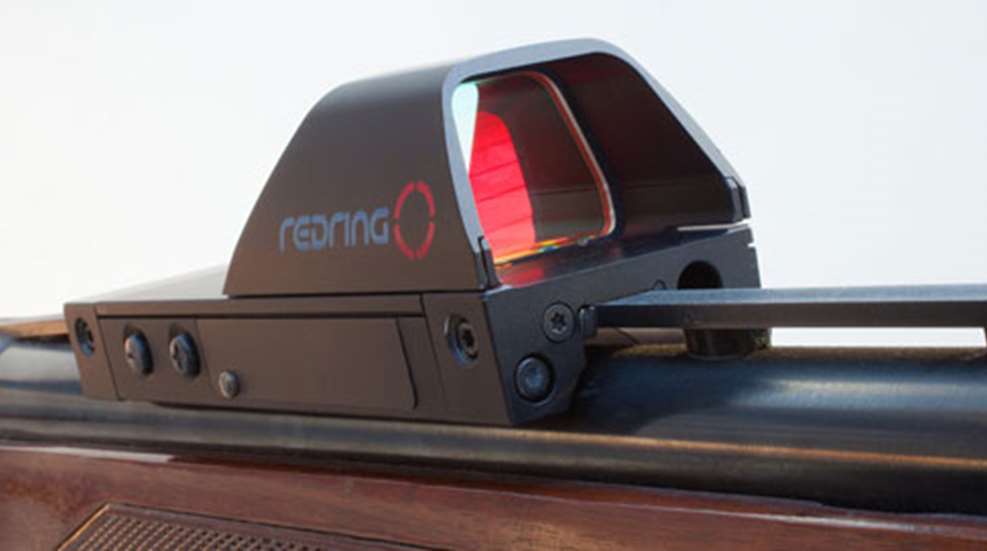 Designed primarily for clay shooters and hunters, testing by AmericanRifleman.org in December determined the Redring shotgun sight can be a valuable asset on some clay stations and provides novice shooters a visual indication of their shot pattern at distance. I've seen turkeys taken with it, too, so it's reliable afield. But, is it a viable home-defense optic?
Let's face facts. Many people who use a shotgun as their primary home-defense firearm can't afford to own two, and after a long day at the range it's easy to forget to remove it from your shotgun. But, ghost-ring sights are fast, period. If you haven't had the pleasure of crawling behind a set from XS Sight Systems, you owe it to yourself to do so. The big, glowing red ring in the Redring struck me as being somewhat similar, so I rigged it up on my old Winchester Model 1400 Mk II.
It mounted fast, coming with enough adapters to secure onto any shotgun with rib widths of between 5 mm and 11.5 mm. Activation is a self-defense drawback, though. Both manual-brightness-adjustment buttons (located on the right side) must be depressed simultaneously and held down until the red ring appears. Then you release the buttons and the ring blinks furiously for a split second, at full output. The rate of blinking reflects battery power, but in a dark room the brightness was dazzling. In addition, I don't have huge hands, so I couldn't just wrap around the fore-end to turn it on. I had to release my off hand and reach over the sight. Odds are good I could defeat the problem with enough practice.
Once activated, the automatic brightness adjustment worked flawlessly and instantly, whether swung through dark closets or toward bright lights. There was no perceptible delay and the advantages are obvious when you include the use of today's blinding tactical flashlights.
The sensor that samples downrange light is recessed almost ½ inch in a cylindrical hole with a .272-inch-diameter at the lower left of the front housing. The aluminum body gives it the sturdiness required for self-defense, while a black anodized finish gives it the looks, and standing slightly more than 1.3 inch above the rib, it certainly has the stature.
The holographic ring is projected onto a 1.4" by 1" glass surface that-due to the bottom of the Redring's housing-winds up .17" above the rib. On my stock 1400, I had to move my cheek weld up to see the front brass bead, and with the delay in activating the unit I'm pretty sure I'll be relying on that old front sight if the unthinkable happens fast. It isn't terminal in regard to self-defense, but unless you have a high front sight don't expect things to co-witness easily.
The Redring's reticle, according to the manual, is 60 centimeters in diameter at 20 meters-roughly 24" at 65 feet. That rules out precision slug work, but at self-defense distances with buckshot it's still MOA of bad guy.
Rarely mentioned is the ability to register your Redring and download a program that allows you to customize some of its functions. A USB cable (provided) attaches it to your computer to make changes. The Redring's connection port is inside its AAAA-battery compartment.
For obvious reasons, the Redring is more at home at the range. It's not ideal for self-defense, nor was it meant to me. But, when a homeowner bunkers down in a safe room awaiting the arrival of authorities there should be time to activate the unit. And, with a high front sight, you can still rest easy after a day of clays, even if you forget to loosen that pair of Allen bolts.