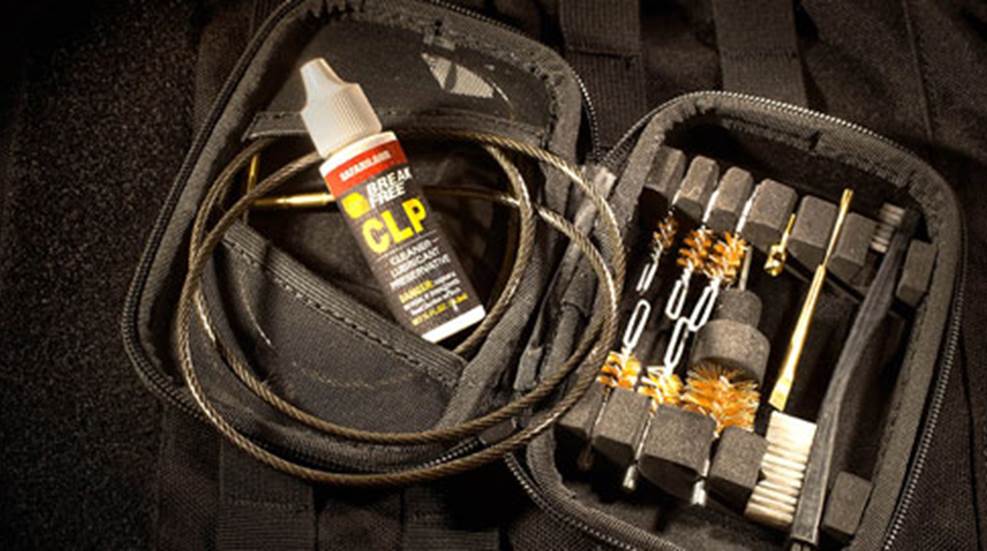 Gun folks are finicky. Don't take my word for it, consider the following topics guaranteed to stir range debate: 1911 vs. polymer; 9 mm vs. .45 ACP; striker fired vs. hammer; bolt-action vs. semi-auto; mil vs. MOA; fiber optic vs. tritium; odd or even groove count; blued, stainless, anodized or parkerized; gas impingement vs. piston; and who really put the ram in the rama lama ding dong.
Those strong opinions carry over into the gear they use. If your gift comes down squarely on the wrong side of the fence-and almost no shooters sit on a fence-it will collect dust in a closet until the family's annual yard sale.
Take heart, though, the answer is easier than figuring out the lyrics to Barry Mann's tune. Guns need cleaning. And, if you pick an easily transported range-bag system, it won't be eyed with contempt like great aunt May's annual soap-on-a-rope package.
KleenBore has some awesome complete kits designed for shooting-bag storage, but my favorite is the CPT-U Universal. It comes with Break-Free CLP, brushes, mops, cleaning cable, patches and stores in its zippered, molded-nylon 4x6x2-inch case. It works for most handguns, rifles and shotguns, and mine is currently on duty with an ROTC cadet. Having all of the gear together in one easily deployed unit is a big advantage, according to him. Any shooter on your list will appreciate the same convenience.
If they have an AR, consider Gunslick Pro AR-Rifle Pull-Thru Cleaning Kits. They come with cable, jags, patches, chamber guide, scraper, rod, brushes and Ultra-Care solution and two kits are available-.308 Win. and .223 Rem. The gear stores neatly in a zippered-nylon pouch that keeps those small items from disappearing.
Perhaps the person on your list is a harder case to crack, so to speak. If so, consider the M-Pro 7 Advanced Small Arms Cleaning Kit. It comes with all the essential cleaning gear for 5.56 mm, 7.62 NATO and 9 mm firearms, but is available in a hard-sided polymer case. A molle-attachable nylon version seeing use in combat is also available. If it's good enough for those on the front line of freedom, it's sure to put a smile on your recreational marksman's face.
Perhaps nothing here caught your fancy. If so, take a look at AmericanRifleman.org's holiday buying guide. There are many good ideas there. But, guns need cleaning and that takes supplies-which makes any of these a good choice for that hard-to-buy-for person on  your list. So sit back, toss down a THOR Tactical Energy drink, and enjoy the "dip da dip da dips" of last-minute-buying panic.