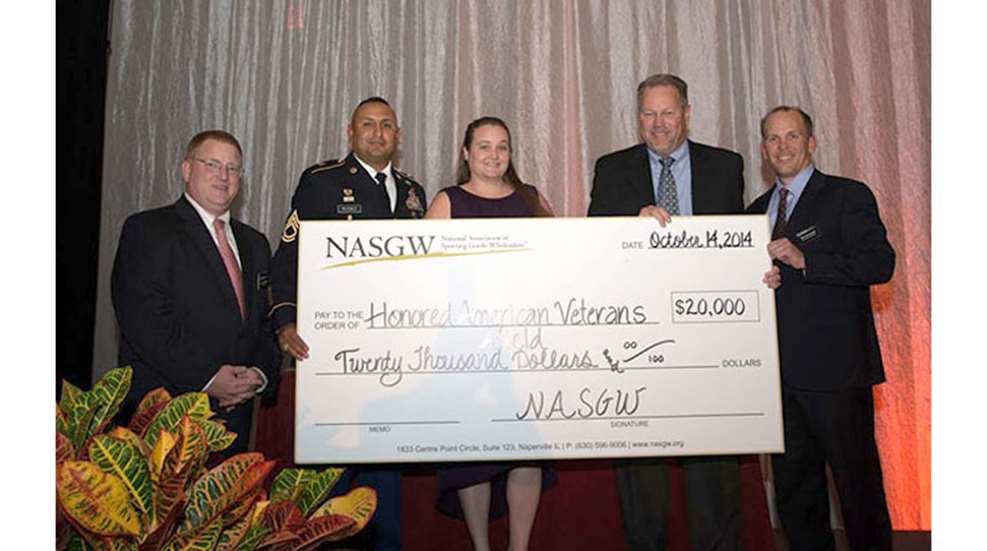 In October the National Association of Sporting Goods Wholesalers (NASGW) donated $20,000 to Honored American Veterans Afield (HAVA), an organization dedicated to serving disabled American veterans and their families as they try to rebuild their lives. "Our industry is one with a big heart for veterans, and we will continue to answer their call as they did when their country needed them," said said NASGW President Maurice Desmarais.
The inaugural Remington Great American Shoot raised $1.2 million for Special Forces Charitable Trust and a variety of other military non-profit organizations in September. Event founder Mike Reynolds said, "Remington's generosity in providing incredible prizes and all ammunition has allowed us to give back to deserving service members, veterans and their families."
The Special Forces Charitable Trust, which received $1/2 million of the proceeds, "….provides meaningful financial support, programs, and services to the U.S. Army Special Forces (Green Beret) community and their families through our programs of Education and Motivation, Family and Command Support and Veterans, Advocacy and Heritage," according to its website.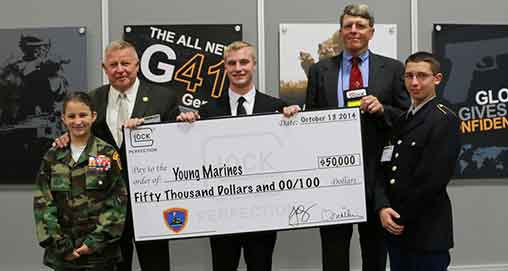 Glock contributed another $50,000 to the Young Marines organization in October during the Association of United States Army Annual Meeting & Expo. "It's important for the future of all of us that we have organizations that foster and champion young people into leaders of strong character," said Josh Dorsey, vice president of Glock who is also a Marine veteran.
When a special "SEAL on the Mountain Hunt" took place last fall, Weatherby eagerly partnered with Base Camp 40, Warriors in the Wild—an organization that hosts hunts and fishing trips for veterans, this one in memory of Chris Kyle—to provide eight Vanguard Series 2 Synthetic rifle packages at a deep discount.
The generosity isn't limited to military-oriented organizations, either. MidwayUSA owners Larry and Brenda Potterfield donated $350,123 to the Midway USA Foundation, which helps provide financial aid to youth shooting teams and organizations.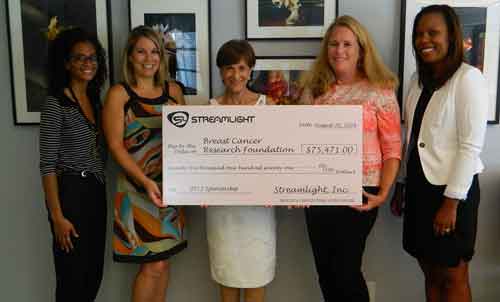 It also extends beyond shooting. Since 2010, proceeds from Streamlight's "pink" flashlight products have been donated to the Breast Cancer Research Foundation, which is dedicated to finding a cure and prevention of the disease. Streamlight recently donated $75,000 to the non-profit organization, bringing its total contribution since the program began up to $525,000.
That's just a snapshot of the industry's donations during late September and October, and this report is far from complete. Add the rest of the year and unreported donations—like the one Federal Premium made to a U.S. Army facility in North Carolina last year, despite knowing it could never be fully disclosed—and it's obvious the firearms industry is unparalleled when it comes to giving back to the community, and helping those in need.
At a time when the headlines are dripping bad news, it sure makes me proud. How about you?