More student athletes than ever are choosing to participate in the Minnesota State High School Clay Target League's (MNSHSCTL) this spring. More than 10,300 shooters from 319 high schools throughout the state will be headed to the range for what should be a record-breaking year for participation in the sport.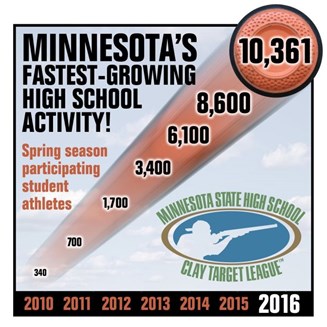 "This League continues to be the fastest-growing activity in Minnesota schools," said Jim Sable, executive director of the MNSHSCTL. "Such high participation shows the continued demand for alternative high school activities related to Minnesota's longstanding outdoor traditions."
The MNSHSCTL is fully co-ed and open to adaptive shooting, making it an attractive option to many high school shooters. Essentially, the students are creating a "virtual" competition, with high schools thorough out Minnesota eligible to participate. There is minimal cost to competitors and their families because practice and competition are conducted at a shooting range near their home school's location. Student athletes can track their performance via smartphone, tablet or on a computer using the Shooter Performance Tracker program. Clay Target shooting has proved to be one of the safest sports in Minnesota high school athletics, with no injuries reported since the league's inception in 2001.
The MNSHSCTL is an affiliate of the USA High School Clay Target League, a 501(c) (3) non-profit organization. The organization is an independent provider of the shooting sports as an extracurricular co-ed and adaptive activity for students in grades 6 through 12. The organization's priorities are safety, fun, and marksmanship—in that order