Support NRA American Rifleman
DONATE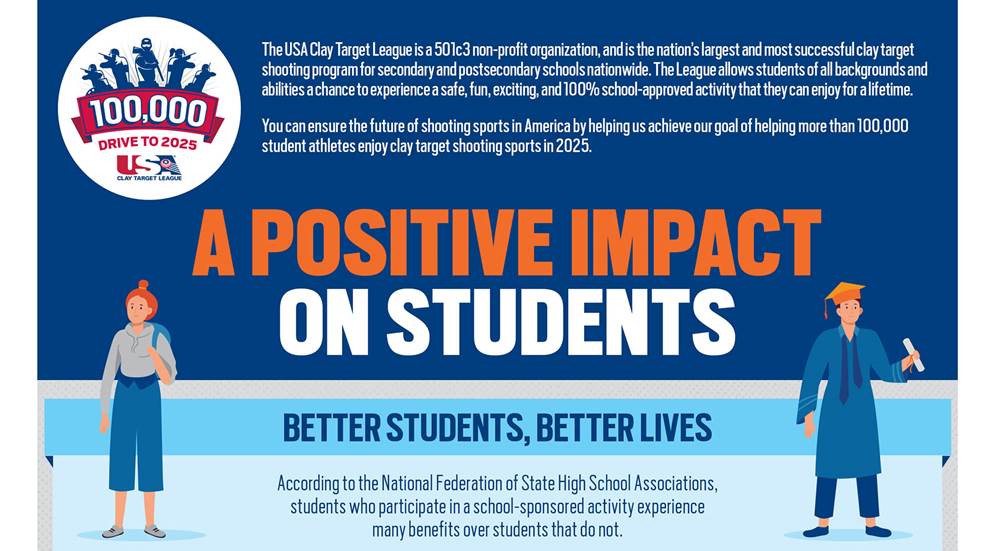 Student athletes representing 651 high school and college teams—11,783 of the young enthusiasts, to be precise—are participating in USA Clay Target League (USACTL) programs this fall. In all, 34 states are represented. More than 7,800 local volunteers will serve as coaches, range safety officers and team staff.
"Despite constant challenges both last year and this year, we are pleased to have our largest fall registration numbers ever," said John Nelson, president of the USACTL. "The record-setting participation this fall is the result of the incredible efforts of coaches and families to overcome ongoing issues with the pandemic and ammunition shortages."
The League's co-ed and adaptive nature are key attractions to schools nationwide. The League is fully Title IX compliant with both male and female athletes competing on the same team. Additionally, it's an 'adaptive' sport, which allows students with physical disabilities to take part. The League is also the safest sport in high school and college, with not one reported injury since the inception of the League in 2001. Each athlete must complete firearm safety certification before participation.
"Athletes of all types are able to participate in clay target shooting," said Nelson, "The League has a 'no benchwarmers' philosophy, and the True Team scoring system is designed so that everyone's score matters, not just the top athletes on a team."

With nearly 40,000 participating athletes in 2021 the League is the largest youth clay target shooting sport program in the nation. The League offers trap, skeet, sporting clays, and 5-stand leagues to secondary and postsecondary schools across the country. The League is the only 100-percent school-approved clay target shooting sport program in America.
The League attracts student athletes to participate in shooting sports while creating a 'virtual' competition among other League teams throughout each state. Family travel is minimal because practice and competition are conducted at a shooting range near each school's location. Conferences are determined by team size rather than geographic location for fair competition.
The USA Clay Target League is a 501(c)(3) non-profit organization and is the independent provider of clay target shooting sports for secondary and postsecondary schools. The League's priorities are safety, fun, and marksmanship – in that order.