by
posted on August 21, 2019
Support NRA American Rifleman
DONATE
Mounted on a heavy-barrel Ruger American Hunter in 6.5 mm Creedmoor with a Badger Ordnance alloy Unimount, the Trijicon AccuPower 4.5-30X 56 mm scope is well-suited for extended-range pursuits, from hunting to competition.
Did you know that the distance from Orange, Texas, heading west across the entire state to El Paso is 762 miles? That's about 30 miles farther than the distance from El Paso straight west to San Diego's coast. The point is, Texas stretches seemingly forever, and its many huge-acreage ranches provide perfect ground for ultra-long-range shooting and testing new equipment.
"Gimme three left, then wait for me," said Chip Beaman, who sat behind me with his eye welded to the spotting scope. I responded by shifting the third stadia line on the right side of the m.o.a.-style crosshair to the center of the 36" square steel target.
"On it," I mumbled as a prelude to zenning-out to the rhythm of my own pulse while we both waited for the legendary West Texas wind to give us a window. Moments before, I'd received a humbling lesson on how a slight gust could push my bullet off by more than 8 ft. if it wasn't called right or if I didn't adjust accordingly. With my finger resting on the Sabatti's 2-lb. trigger, I waited.
"Send it, send it, send it," said Beaman with no inflection, so I began to pull immediately. I'd learned that when a professional spotter reads the wind and makes a decisive call, you'd better press the trigger before the window closes. But this complicates things. I've always let the trigger surprise me when target shooting. It's easy to do when firing at my leisure, but it's tougher when the wind dictates and the rifle must go off within about four seconds. The challenge is pressing the trigger—not willing it—yet staying stone-steady while doing so. And believe me, it's easy to see any disturbance when you've got top-notch glass cranked to 25X.
Boom! The rifle lurched, but thanks to its weight and the 6.5 mm Creedmoor's mellow recoil, not enough to pull my eye fully off target. I counted a second, then part of another and … splash! Through the sideways-undulating heat mirage I saw a disturbance on the steel 1,500 yds. distant and then a streak of silvery lead where formerly all had been white. At that range and in that wind, hearing the satisfying gong of steel is impossible—in fact even determining a hit at all can be difficult without a spotter who's dialed in on the bullet's trail.
"Hit," said Beaman calmly, and just like that, a couple days' instruction had all come together.
Mind you, I'm not suggesting anyone couldn't have hit the target with ample bullets, a great rifle and some basic shooting fundamentals, but I'm also not going to pretend I wasn't satisfied knowing I aimed at a target farther than my naked eye can see and dinged it three times in a row. I rolled onto my back, away from the gun and finally breathed freely again.
The quest for a 1,500-yd. group started the morning prior when we'd mounted Trijicon's behemoth new AccuPower 4.5-30X 56 mm tactical scopes atop Sabatti STR rifles and opened our notebooks to study the nuances of ballistics, long-range-shooting fundamentals and practical tips from Beaman, a former SEAL sniper.
Shooting at this range and beyond, any variable in the equation—a reticle that doesn't track corrections absolutely perfectly; inconsistent light through the scope; a rifle that won't hold a half-minute-of-angle (m.o.a.) or better; inconsistent cheekweld; or an unobserved 3-m.p.h. wind gust three-quarters of the way to the target—can ruin all chances. The key to long-range shooting, then, is to control all variables possible, like the rest, the rifle, ammunition, optics and your shooting form, so you can concentrate on reading the wind, applying the right dope and accomplishing the perfect trigger press.
But to obtain near perfection in optics, you must pay for it. And after using Trijicon's AccuPower 4.5-30X 56 mm tactical rifle scope, I believe it comes close.
A Brief History Of Trijicon's Innovation
Trijicon, Inc., was founded in 1981 by an optical visionary named Glyn Bindon (1937-2003). Bindon was an advocate of using both eyes to aim a firearm. He adamantly believed that doing so would allow full advantage of humans' peripheral vision that, if left unencumbered, combines with its acute distant focusing to produce the most amazing optical system the world has ever known. He found that if both eyes are kept open, one eye will focus on whatever object the brain chooses while the other can transpose a close-range image—or in this case a brightly colored aiming point—onto it.
Trijicon imported its first entry in the market, the Armson OEG (Occluded Eye Gunsight), from South Africa. The simple device used what is now referred to by the company as the Binden Aiming Concept. In a nutshell, it contained a glowing red aiming point, powered by the radioactive isotope tritium. The "scope" was not intended to be looked through, but rather used with both eyes open with their focus on the target so that the brain would superimpose the floating dot (placed between the dominant eye and the target) on the target. It maximized peripheral vision—awareness—and aiming speed, and Trijicon hung its hat on that design and many iterations of it for a couple decades.
During that time, however, the company released its tritium-powered Night Sight for pistols, revolutionizing the industry. The glowing tritium capsules contained in the robust iron sights allow them to glow continuously for more than 12 years so shooters can see to aim their gun in low- or no-light conditions.
In 1992, the company released its flagship ACOG optic that soon won favor with militaries around the world for its durability, versatility and effectiveness at close and medium ranges in all lighting conditions. Current versions remain the gold standard for battle optics, and there's no finer all-around four-power optic for everything from carbines to crossbows. Then, in 1998, Trijicon began offering its AccuPoint line of variable-power riflescopes that utilized a chevron-style reticle—the same one found in the ACOG—that was the hallmark of Trijicon optics until recent times. The chevron-shaped reticle was supremely effective, but it was generally misunderstood by an American hunting and shooting public that had cut its teeth on crosshairs. Finally, however, Trijicon gave American hunters what they wanted in full-fledged variable-power, traditional-reticle riflescopes. Concurrently, it made great advances and product releases in mini-reflex sights for pistols, new ACOGs and a half dozen other useful gunsights.
Today, the Wixom, Mich., company has fully invested in the riflescope market, specifically in the premium tactical and long-range niche, with its AccuPower models that are designed to challenge the current top-end competition, such as Kahles, Leupold, Nightforce and others. No doubt Trijicon has military contracts and the burgeoning precision rifle shooting sports market in its sights.
After testing Trijicon's robust 4.5-30X 56 mm model extensively, I can't find a major negative about it. Indeed, like every Trijicon product I've used over the years, the AccuPower is world-class in terms of optical technology and quality of build. What follows is its full review.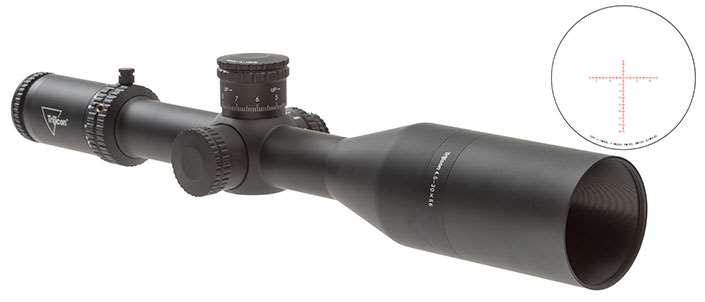 AccuPower 4.5-30X 56 mm
Most scope reviews begin the moment it's installed on a rifle, but not with the AccuPower; it begins with the box. The articulated, thick cardboard box serves as a storage container complete with custom foam cutouts that house the scope and its accoutrements, including a battery, flip-up lens covers, LensPen, Scopecoat and sunshade with spare compartments for mounts. The large-format diagram on the inside lid serves as a working owner's manual with all external parts and controls listed. While a box is just a box, it foreshadows that Trijicon spared few expenses on this optic, right down to its packaging.
In lifting it from the foam, the scope's sheer size becomes evident; it's as large as modern riflescopes get with its 56 mm objective lens, giant controls, 34 mm main tube, 14.3" length and significant 36-oz. weight. Yet, there's a reason for its tube size, and that's to maximize its adjustment range and accommodate larger, more durable components. It features 100 m.o.a. (29.6 mils) elevation and 50 m.o.a. (14.5 mils) windage. For comparison, Trijicon's 30 mm tube AccuPower scopes have an 80-m.o.a. adjustment range, while its 1" tubes have 60. While any light-gaining advantages of a 30 mm vs. 34 mm are questionable given similar exit pupil diameters—a result of objective diameter divided by magnification—the extra weight of the thick 34 mm tube adds a negligible few ounces when it's atop a 12- to 20-lb. rifle that's locked in sandbags, but its added adjustment range and durability will be appreciated. Plus, 34 mm tubes are trendy in the heavy-tactical market wherein Trijicon now wishes to play.
On close inspection of the scope's underside, you'll notice two inscriptions. One reveals the unit's model number then the reference MICAH 7:8. That Bible passage reads: "Rejoice not over me, O my enemy; when I fall, I shall rise; when I sit in darkness, the Lord will be a light to me." While a similar inscription landed the company in some controversy a decade ago with the liberal media and the issue it had pertaining to separation of church and state and the company's government contract, I do not take it so seriously, and, in fact, I think the verse's reference to the company's illuminated products is rather witty.
Secondly is the inscription "Made in Japan." To be clear, most of Trijicon's optics are 100-percent engineered, made and assembled at its Wixom facility in the United States. Some parts of its AccuPower and AccuPoint products, however, are sourced from Japan then assembled in the United States. Trijicon feels this gives American consumers the best of both worlds, considering Japan's wonderful reputation for producing precision magnified optics at a reasonable cost while then ensuring Trijicon's own quality control by assembling them here. This way the company says it can produce top-quality products with Trijicon's lifetime warranty while saving some material and production costs. The reality is many other top-end optics companies often source from Japan, too, and it's how this scope can compete against the top-end tactical scopes from Kahles, Leupold, Zeiss and others, but remain less expensive.
Is there a difference in clarity, performance or durability? Frankly, I do love European optics for their optical resolution, and I'm Leupold's biggest fan for the durable optics it produces stateside, but most honest evaluations between the very top Japanese, American and European optics will reveal negligible, if any, tangible difference. In fact, most top-end, extra-low-dispersion optical glass is sourced from just a few companies in the world. What matters then is how the lenses are assembled and coated. All of these companies follow the same process so closely that choosing a top-end scope largely comes down to brand reputation/perception, individual features, lens coatings and price. Based on experience, I believe Trijicon's reputation for producing robust, quality optics is on par with the best. In terms of features for long-range shooters, the 4.5-30X 56 mm AccuPower is absolutely loaded.
Most notably—and perhaps the most important feature for long-range shooters—is its precise, repeatable and intuitive adjustment system. The AccuPower features a non-capped, oversize elevation dial that's clearly labeled with arrows, numbers and hash marks. Of course, this is standard in the industry and all such scopes must have it. Its click adjustments are precise with no play between clicks, and they just feel good to dial. They feel the way all scope adjustments should; if you want them to make an audible click, they will, but if you wish to carefully keep them silent, they'll do that too. Each click represents one-quarter m.o.a., and I tested this extensively both while shooting actual bullets and by locking the rifle in sandbags and measuring the come-ups as they move on paper at 100 yds. They're rock-solid and repeatable all the way through their range.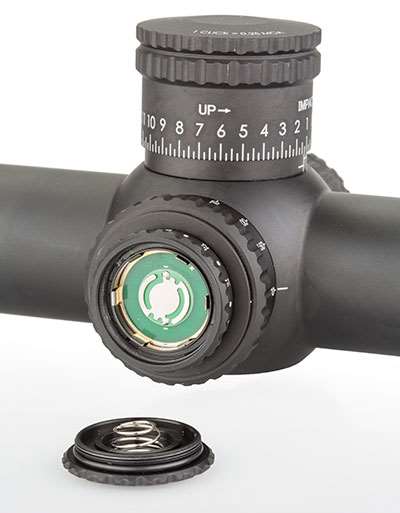 The elevation dial features a tool-less zero set and a vertical revolution indicator so shooters can quickly see what revolution they're on to prevent getting lost during multi-rotation dial-ups.
The windage dial is capped, and features "R" and "L" labeling so the shooter doesn't have to lift his head off the stock to figure out which way the dial should be turned. It's handy. The dual knob-within-a-knob dial on the left side of the scope hold several key features, including the parallax adjustment and the reticle illumination rheostat.
Trijicon's battery-powered illumination system features 20 stops total; five for increasing levels of red LED illumination and five increasing levels of green LED illumination with "off" stops between each one. The dual colors are for personal preference and provide a workaround for shooters who might be either red- or green-colorblind. Finally, the compartment for a CR2032 watch-style battery is located on the end.
Moving back toward the eye box that terminates in the diopter adjustment, the AccuPoint features a magnification ring that contains two points of attachment for its removable throw stud. This is a nice touch, as is the fact that the stud threads in an O-ring to prevent it from backing out and being lost over time.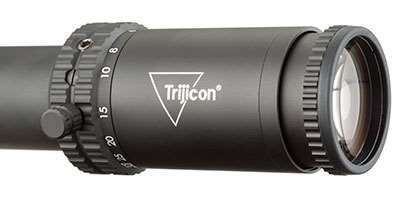 Magnification is written on the power ring that corresponds to a single white dot, but if I had one complaint about this scope (and most other long-range scopes) it is this: For second-focal-plane scopes, the reticle subtension values depend on the magnification chosen. While full power is easy to find—simply rotate the power ring until it will move no further—lesser-power settings need to be precise. So, I wish the AccuPower's magnification range numbers were marked with a precise point, rather than only numbers. For example, if your scope is dialed to use its reticle setup at 10X, you've got to be sure it's 10X and not 10.2 or 9.9. Do you dial to the 1, to the 0, or between the two? At ultra-long-distance, this could make a difference. Of course, a workaround is to mark the dial yourself.
What is most significant here, however, isn't the power ring that all variable power scopes have, rather, it's the power range itself. Traditionally, a 3.5X to 12X or 14X, or more recently 18X, was a wide range that gives the scope versatility for short- and long-range applications. The AccuPower is available in a 4.5-30X model and a ridiculous 5-50X model! The reason I say ridiculous is that I'm not sure how useful any scope used above about 35X magnification can be considering the effects of mirage, shake and the physical limitations of the scope's size in terms of exit pupil as a product of its objective size divided by magnification. Even giant spotting scopes are rarely effective above about 40X. However, as I found during my long-range shooting class, at 30X the AccuPower can be used as a spotting scope in most conditions. It was nice having the ability to examine targets as well as the spotter could with his dedicated spotting scope.


What the high power really means is that the scope can be used to great effect without losing critical field of view at close distances inside 500 yds., while still allowing the shooter to aim small at ultra-long range. Indeed, at 4.5X with the illumination turned on, you can even use the Bindon Aiming Concept with this scope. What you gain with this new optical technology, then, is versatility. It's downside? Cost. Scopes of similar quality in the 3.5-18X range are significantly less expensive.
Trijicon engineers chose to use a giant 34 mm main tube body to house the guts of the scope, allowing its erector tube a great deal of leeway to move, hence the 100-m.o.a. elevation range. It also allows for a beefed-up erector assembly that is touted to be tougher (and heavier) than others. What I can say for sure is that I let the rifle and scope fall over five times on grass, and it pained me more than it did the scope. I re-fired and the scope was still zeroed. But, to be fair, most reputable 1" and 30 mm scopes also pass this test. It does, however, lend an added level of confidence for serious shooters and operators, especially when shooting big magnums and .50 BMG-chambered guns. Trijicon also touts that the scope is waterproof to depths of 10 ft. I dropped mine in a 9-ft. swimming pool, and it's still brilliant.
Optically, the Trijicon is right in there with the best. With the power set on a moderate magnification of 10X, I could see a white target well enough to shoot it at 200 yds. under moonlight—and this is where the illuminated reticle, set on its lowest setting, shines. Resolution is outstanding—on par with the European greats thanks to extra-low-dispersion glass. All lenses, of course, are fully multi-coated to ensure maximum light transmission. During the morning shoot at Texas' renowned JL Bar Ranch, we shot directly into the morning sun. Of course, any such scenario is challenging with any scope, but the lens coatings did a good job of mitigating lens flare. Then, as the sun rose higher around 10 a.m., use of the sunshade worked wonders.
It is evident the company put great thought into the design of its etched reticles. Both scope models are available with either an m.o.a.- or mil-based reticle, and in either a first- (FFP) or second-focal-plane (SFP) arrangement. I chose the m.o.a. reticle in the second focal plane because I like that at low power the reticle isn't overly large, and because it can be more versatile if you learn the subtension values for various powers. Other folks will prefer a first-focal-plane reticle for its set values across the power spectrum.
The m.o.a.-based reticle is useful and straightforward. It features a crosshair with vertical and horizontal stadia lines every one m.o.a. (at 30X), with subtension values for common lesser powers etched on the bottom of the glass for easy reference. Every other stadia length is the same size, so the risk of choosing the wrong one as you're engaging various targets is mitigated.
The mil version is a little more complicated. Below the main crosshair is a second crosshair of diamonds and dots midway down for precise wind holds at long distance. Every diamond and dot serves as a hold reference. Both reticles, like all multi-hold reticles, are very effective after time is invested in learning them and their relationship to your load. I like the fact that Trijicon does not dictate what it thinks is best, but lets the consumer choose.
After a few days shooting many rounds with the Trijicon mounted on the wonderful Sabatti Tactical chassis rifle, I formed several conclusions. First, ultra-high magnification scopes offer the benefit of aiming smaller at truly long-range distances. While 30X may not be practical for all but the steadiest rests under good light, it's handy to have. The Trijicon has one of the smoothest—not too tough, not too easy—adjustment knobs and magnification rings in the industry, and this does much to enhance its quality feel. I also like that the scope requires no tools in order to manipulate its controls, and that all the dials were made so the shooter never has to break cheekweld to see to adjust them.
Trijicon has built an iron-clad reputation for having some of the toughest and most durable products in the optics game, and from what I've seen of the AccuPower, it holds true. Optically, only a few people in the world, under controlled test conditions, will be able to tell any difference from it and a dozen other scopes in its price class.
And speaking of price class, here is the reality. At its $2,600 suggested retail, the Trijicon's price compares well to what is probably its closest competition, the Leupold VX-5HD. Similar riflescopes from Kahles, Nightforce and Vortex all cost more—often considerably more. However, on swfa.com, I found the Trijicon for $1,870.
For under $2k, I'm convinced the 4.5-30X 56 mm AccuPower is as good a value as any top-end, long-range scope available today. With its power and precision mounted atop a quarter-minute rifle like the Sabatti, I felt like I could hit a coconut all the way in San Diego if Beaman would just call the range and the wind! What is certain, however, is Trijicon's commitment to the realm of ultra-long-range shooting.