by
posted on January 26, 2021
Support NRA American Rifleman
DONATE
The author wrung out several Trijicon riflescopes during his testing, including the 3-18X 50 mm AccuPoint on a Remington Model 700 (top) and the 3-12X 40 mm Huron on a New Ultra Light Arms (above).
When most folks think of Texas, they don't think of mountains—but I'm confident one schlep up the Davis or Glass ranges in the state's extreme southwestern portion would change their opinion. That's where free-ranging aoudad sheep hang out. And because these hardy goats prefer the rimrock to the lowlands, they thrive there, despite enjoying no hunting regulations whatsoever on their taking.

That's exactly why I chose a 5-lb., 8-oz., .30-'06 Sprg. rifle made by New Ultra Light Arms for my hunt there. And since I didn't want to spoil its weight savings by attaching an obese target scope to its action—yet still insisted on top-quality optics that I trust and can afford—I chose Trijicon's new Huron 3-12X 40 mm riflescope that I found for around $500. If you weren't aware of this model, you're not alone. It was among the six new riflescope lines the company introduced last year as part of its push into the mass market.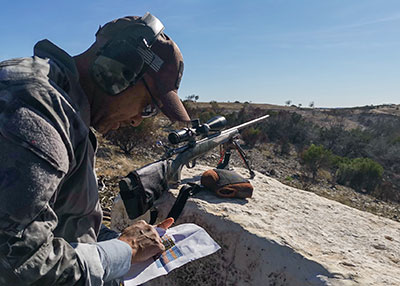 You see, for years Trijicon has been the brand carbine gurus wanted, but one that most couldn't justify buying based on price alone. And while it's good to be the brand everyone wants, I suppose it's not all that great if few people actually buy. Of course, Trijicon is somewhat insulated from consumer market sales due to its hard-earned military contracts (at the time of this writing, its VCOG was announced as winner of the Marine Corps' lucrative USMC Squad Common Optics contract) but even so, there's still meat on the bone in terms of the consumer sporting market.

The company believes it can be competitive there if it can lower the price of specific models geared toward everyday hunters and shooters. It believes it can offer optics that hunters, shooters and competitors want with features they demand, at prices they can afford, yet still deliver the quality folks have come to know from Trijicon. In short, it's hoping it can convince shooters to think of everyday riflescopes—not just red-dot sights—when they see the name Trijicon.
Beginning officially in 1985, the Trijicon company, headquartered in Wixom, Mich., produced tritium-powered red-dot sights for carbines and tritium night sights for handguns, and today these remain its bread-and-butter products. Currently, if someone wants the best mini-reflex sight they can buy, I point to Trijicon's RMR. But until recently, perhaps with the hire of world-traveling hunter and shooter Chuck Wahr, I'd argue that the company as a whole perhaps didn't know the hunting and civilian shooting markets as well as it could have, because, again, it didn't have to. 
I remember when Trijicon's marketers presented its products to NRA Publications staff in 2004 or so when it was trying to reinvigorate a marketing campaign for its first hunting riflescopes. The excellent AccuPoint series featured magnified, non-battery-powered fiber optics that illuminated the reticle, but all models utilized the red chevron-shaped reticle for which Trijicon was known.

That style of reticle was at one time very popular in Europe, and, when illuminated, it's ideal for use with the company's Bindon Aiming Concept, named for company founder Glyn Bindon, wherein the user keeps both eyes open to superimpose the reticle onto the target. No doubt it worked great and is perhaps even superior to other reticle designs for this type of use, but I remember when American Rifleman Editor In Chief Mark Keefe raised his hand during the Q&A session after the presentation and said something like, "Well that's great, but this isn't Stalingrad. American hunters will still want a traditional crosshair, so why not give them one?"
Fact is, the metric system may be better, but Americans prefer their pounds, feet and Fahrenheit. American shooters, and especially hunters, tend to be traditionalists by nature because skill, guns and gear are often passed down, and therefore any wholesale change in the way a rifle is aimed takes time, testing and convincing before American shooters will buy in.
It took the company several years—I suspect after enduring dismal sales on an otherwise great product—but finally it offered a crosshair reticle for the American market. However, there was another problem: simple economics. As previously mentioned, Trijicon is known for its high-priced, military-grade optics, and it carried these prices into its hunting scopes.

The trouble was, and still is, that the bulk of the American hunting and shooting market buys optics in the bottom half of the price spectrum, and the AccuPoint, at around $1,200 back then, simply outpriced most hobbyists. In 2015 the company launched a premium line of variable-power, often high-magnification scopes called AccuPower, and though it consists of optics rivaling the best in the world, at around $2,700 at the top end, it was never Trijicon's mission to win over the masses. 
But Trijicon is savvy, and so it borrowed a tactic out of Zeiss' playbook. You see, over a decade ago when it was established that Zeiss had a name in optics that everyone wanted but few could afford, it launched its Conquest scope line that hit mid-range price points so that most American sportsmen could now own a Zeiss optic if they wanted one. Trijicon did the same with its launch last year of six new riflescope lines. Following is an in-depth look.
Scoping Out New Territory
Despite its ACOG and VCOG lines technically being riflescopes, these aren't new, nor are they what hunters and shooters envision when they go to purchase a scope for their sporting rifles, so I will omit those lines, as well as the older AccuPower series, for our purposes here. Instead, I will focus on the new models in Trijicon's AccuPoint line and the six altogether new lines of variable-power, traditional-looking scopes: the Ascent, Credo, Credo HX, Tenmile, Tenmile HX and Huron.

While several of these lines have models that overlap in terms of features and sizes, they are branded as such to denote various intended purposes and price ranges. All are made in Japan, because this is one of only a few places in the world capable of providing top-quality optics at affordable prices because it has precision engineering, precision mass manufacturing and skilled labor capabilities, yet the labor there is cheaper than American or European labor even after tariffs and shipping costs are applied. 
Trijicon executives tell me that all its optics are made to the company's exact specifications and tested vigorously. The company touts its series of testing protocols that it calls, "The Science of Brilliant." Basically, the company says that since it has earned a reputation for producing bright, rugged and precise optics, it isn't going to offer any products that could erode its brand.

Therefore, before it releases a new product, that product is tested against its: "Alaska to Africa" temperature testing, wherein it must survive in extreme heat and extreme cold; "Solid Zero" testing to ensure the scope isn't prone to losing zero for any reason; "Drop Tested;" "Shock and Vibration" tested; and "Immersion" tested protocols.
More tangibly, Trijicon guarantees all its products to be free from defects in material and workmanship for the lifetime of the original owner. It should give any hunter or shooter peace of mind knowing that Trijicon believes in its own optics enough to back them, and that, if something goes "bad wrong,"—as my granddad used to say—you're covered. 
---


Ascent
The Ascent is a non-illuminated scope line geared toward consumer-level tactical guys and 3 Gun competitors. By "consumer-level tactical guys," I'm not talking about SWAT team members, but rather, someone who buys an AR and wants a dependable optic that does what he needs it to do. In most cases this means shooting the gun for fun at the range and potentially defending the home.

Some of the standard features include: a matte finish, knurling on adjustments for grip, lightweight design, anti-scratch glass, capped adjustment knobs, second-focal-plane reticles, 30 mm tubes for large adjustment ranges, BDC reticles and common power ranges meant to cover CQB or mid-range engagements. Ascent includes: a 1-4X 24 mm model, 30 mm body tube, $650; and a 3-12X 40 mm model, 30 mm body tube, $699. 
---


Credo
The Credo line is a mid-to-upper priced, premium line of optics for tactical work, professional competition and long-range hunting/target shooting. It features reticles in the first or second focal planes and many premium, optional features such as 30 mm and 34 mm tubes, large objectives, wide magnification ranges, target-style turrets, a return-to-zero feature, battery-powered illuminated reticles and more.
These scopes are what most shooters envision when they dream of putting the perfect optic on their AR, long-range hunting or mid-weight tactical rifle, if cost is no hurdle. Credo optics are top-notch, from the features, sizes, optical clarity and brightness, adjustments and illuminated reticles. Anymore, if I have a firearm that I depend on whether for hunting or shooting, I prefer an illuminated reticle, because sometimes, even if you can see the silhouette of your target in the scope, it matters none if you can't see the reticle. But illuminated reticles are not all made equal.

Cheaply made illumination systems can cause the entire ocular lens to glow, causing the entire image to be washed out so that the target all but disappears in dim light—when you need it most. It also impairs the shooter's night vision. But Trijicon is the master when it comes to illumination, and the Credo embodies this with its line of illuminated, precision, etched-reticle optics. I also like a few of the Credo's model sizes for their versatility.

For example, the 1-8X 28 mm could be used on anything from tactical ARs and competition guns, to mid-range hunting rifles and dangerous game guns thanks to its wide magnification range and 28 mm objective that allows it to be mounted low to the bore. By the same token, the 2-10X 36 mm may just be the ultimate hunting scope, and so I'm not sure why Trijicon doesn't offer it in its Credo HX line.
Credo includes: a 1-4X 24 mm (four reticle options), 30 mm tube, $999; a 1-6X 24 mm (four reticle options), 30 mm tube model, $1,200 to $1,350; a 1-8X 28 mm, 34 mm tube model, $1,799; a 2-10X 36 mm (two reticle options), 30 mm tube model, $1,399; a 2.5-10X 56 mm (two reticle options), 30 mm tube model, $1,150; a 2.5-15X 42 mm, 30 mm tube model, $1,299; a 2.5-15X 56 mm, 30 mm tube model, $1,399; a 3-9X 40 mm (six reticle options), 1" tube model, $799; and a 4-16X-50 mm (two reticle options), 30 mm tube model, $1,499.
---

Credo HX
The HX denotes that the line is intended for hunters, with more traditional, non-tactical aesthetics, such as satin finishes, low, capped adjustments on most models, options for .308 Win.-calibrated BDC reticles in addition to .223 Rem., and adjustments that aren't as aggressively knurled. Everything else is virtually identical. For around $1,200, any serious hunter would be hard-pressed to find a better do-all riflescope than the 2.5-15X 42 mm Credo HX.
Credo HX includes: a 1-4X 24 mm (four reticle options), 30 mm tube model, $999; a 1-6X 24 mm (six reticle options), 30 mm tube model, $1,200 to $1,350; a 1-8X 28 mm, 34 mm tube model, $1,799; a 2.5-10X 56 mm (four reticle options), 30 mm tube model, $999 to $1,150; a 2.5-15X 42 mm, 30 mm tube model, $1,299; a 2.5-15X 56 mm, 30 mm tube model, $1,399; and a 4-16X 50 mm (four reticle options), 30 mm tube model, $1,399 to $1,499.
---


Tenmile
Trijicon's Tenmile scopes are premium, long-range, ultra-high-magnification models designed for serious long-range shooters, snipers and PRS competitors. It's my guess that it will consume and replace the AccuPower line in the future. Tenmile optics have detailed, highly engineered features that long-range shooters have come to expect and love such as: advanced reticle options for mils/MRAD, m.o.a. and precise windage holds at any distance; heavy, rugged design for maximum durability; side parallax and illumination adjustments; first-focal-plane reticles; 30 mm and 34 mm tubes for huge adjustment ranges; tactile click adjustments for precision dialing; capped or zero-stop adjustments; and top-end magnification (as high as 50X) for precision shooting at ultra-long range.
I tested Tenmile scopes during a long-range shooting school at Texas' FTW ranch, and so I can assuredly say they are lacking in no areas. All scopes held up to recoil, adjustments tracked and held true, and all adjustments felt very tactile and precise. I love the 5-25X 50 mm model, because it does everything I need it to do, and it has enough power to be useful at a mile but not so much as to be useless elsewhere. Plus, it's price of $1,999, while high for a scope, is not all that bad for an ultra-long range, illuminated-reticle scope in this class.
Tenmile includes: a 3-18X 44 mm, 30 mm tube model, $2,199; a 4-24X 50 mm, 30 mm tube model (two reticle options); $1,799; a 4.5-30X 56 mm, 34 mm tube model (four reticle options), $2,600 to $2,675; a 5-25X 50 mm, 30 mm tube model, $1,999; a 5-50X 56 mm, 34 mm tube model (two SFP reticle options), $2,700; and a 6-24X 50 mm, 30 mm tube model (two SFP reticle options), $1,399.
---


Tenmile HX
Like the Credo HX, the Tenmile HX is geared toward hunters by making certain models more traditional in styling and appearance. HX models are offered in simplified, illuminated, center dot MRAD reticles more conducive to hunting. The line is intended for long-range hunters who need every advantage they can get in an optic and don't mind lugging some extra weight to get it. 
Tenmile HX includes: a 3-18X 44 mm, 30 mm tube model, $2,199; a 3-18X 50 mm, 30 mm tube model, $1,799; a 5-25X 50 mm, 30 mm tube model, $1,999; and a 6-24X 50 mm,
30 mm tube model (two reticle options), $1,399.
---


Huron
The Huron line is Trijicon's most affordable and the one most similar to the vast majority of hunting riflescopes on the market. All Huron models feature fully multi-coated optics with scratch-resistant lens coatings that are optimized for all-around use, hand-adjustable dials, and waterproof and fogproof construction.
I chose the Huron 3-12X 40 mm for my aoudad hunt because it's one of Trijicon's least expensive optics, and I reasoned that if it worked as advertised, then the higher-quality, more expensive lines should also perform.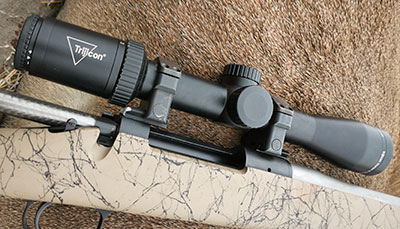 Before hunting with the Huron, I tested it by dunking it in a tub of warm water for 10 minutes, after which it showed no signs of internal fogging or leaking. Low-light performance was good for similarly priced/sized optics, which is to say that it provides all the brightness needed for legal hunting hours, but it certainly wasn't in the same class as the $2,700 AccuPoint scope I also compared it to.

When "shooting the square" for repeatability and adjustment precision, my test unit registered closer to 0.3" adjustments at 100 yds. than the 0.25" (1/4 m.o.a.) adjustment at 100 yds. that it claims. While this may alarm you, it shouldn't, because many if not most scopes are not exactly 0.25" at 100 yds. What is important is the consistency of the adjustments, and they were consistent.

Nonetheless, this leads to my one and only criticism of the Huron—or perhaps any of Trijicon's optics: The Huron's click adjustments, the actual feel of them, are not as crisp and tangible as I've come to expect from today's mid-level ($699 MSRP) scopes. Sure, "feel" is my perception, very subjective and difficult to describe, but what I feel is more akin to some of the cheaper Pacific Rim optics rather than the high-end European, American and Japanese adjustments. Objectively, the adjustments work as intended and the scope holds zero as designed.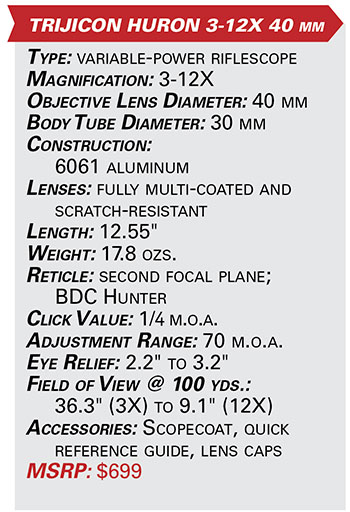 In addition, the Huron will hold up. How do I know? By having followed the same advice I'd give someone else looking to wreck a scope. I installed it on a mid-caliber, ultra-lightweight rifle so it would produce tremendous recoil speed/momentum, then I placed the scope/rifle in a Lead Sled to arrest that momentum instantly. Much of the force in such a situation is transferred to the scope's internal parts, and if the scope isn't made well, you can forget about it holding zero—much less holding together. The Huron did fine, and, in no time, I was zeroed at 200 yds. and doped to 500 with the BDC "Hunter Hold" reticle that's not so complex that it's complicated, yet is detailed enough to offer precise aiming points for wind and distance at reasonable hunting ranges. While it's intended to be used by zeroing at 50 yds., I prefer to zero at 200 and then note the ranges at which the hold-over points strike at given magnifications with my load. Having hunted aoudad in West Texas before, I knew I'd need such a reticle. And I did.
With the aoudad having a superior vantage mid-way up the mountain, the closest I could crawl, slither and sneak was 310 yds. before running out of cover. As the rams spied us, they began seeking the safety of the rimrock above, and I realized my window was closing. Swiftly I went prone, dropped the rifle's fore-end on my pack and clearly found the aoudad's shoulder crease through the Huron's 10X magnification. I pasted my 300-yd. hash on the animal, allowed about 3" for wind, took a breath and began a steady squeeze. A second later the animal dropped when the 165-gr. Hornady slammed through its broad chest. I racked another round, centered the crosshair on the animal's now-visible sternum and fired another, but it was unnecessary. The rifle, the bullet and the optic all did their jobs in unison, with little worry from me, the rifleman, about the unit failing to work as intended.
Huron includes: a 1-4X 24 mm, 30 mm tube model, $650; a 2.5-10X 40 mm, 30 mm tube model, $699; a 3-12X 40 mm, 30 mm tube model, $699; and a 3-9X 40 mm, 1" tube model (three reticle choices), $699.
Whether for hunting, competition or defense of your home, an optic should be something that a shooter must fully trust and never think about, regardless of the conditions, lighting, climate or scenario. And that's why I now have a Trijicon atop my favorite hunting rifle. Well, that … and because now I can actually afford one.
For more information, contact Trijicon at (800) 338-0563, trijicon.com.
---


AccuPoint Expansion
In addition to six entirely new scope lines, Trijicon expanded its AccuPoint line with four new models. AccuPoint scopes differ from most other illuminated-reticle riflescopes in that they are powered by a combination of tritium (a radioactive, naturally glowing isotope) and fiber optics that take ambient light and direct it to the reticle.

Inasmuch, the illumination system never needs batteries and always works in any or no light. Models feature 1" and 30 mm tubes, a host of illuminated reticle choices, premium glass, wide power ranges and many other features you'd expect of top-end optics. Of all the riflescopes ever made, its existing 3-9X 40 mm AccuPoint for around $800 might be my all-time favorite, all-around hunting scope for under $1,000.

 
New AccuPoints include: a 3-18X 50 mm (five reticle choices), 30 mm tube model, $1,799; a 4-16X 50 mm (11 reticle choices), 30 mm tube model, $1,399 to $1,499; a 4-24X 50 mm (five reticle choices), 30 mm tube model, $1,899; and a 5-20X 50 mm (12 reticle choices), 30 mm tube model, $1,399 to $1,599.