by
posted on September 1, 2016
Support NRA American Rifleman
DONATE
There are some truly outstanding sub-compact defensive pistols chambered in 9 mm Luger on today's market. These pistols are reliable, lightweight and easily concealed. Additionally, 9 mm Luger defensive ammunition has improved greatly in the last decade or two and recent studies by the FBI indicate that the 9 mm Luger, with proper ammunition, can be a very effective fight stopper. Combining the improved terminal ballistics of these modern 9 mm loads with these modern sub-compact pistols is a very logical choice for all-day concealed carry.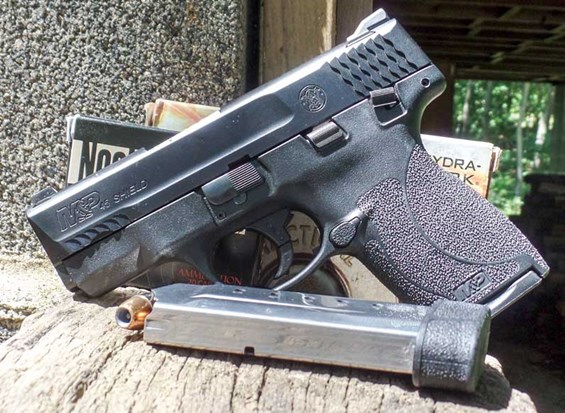 Despite what the newest FBI testing shows, there will always be handgunners who don't trust the 9 mm Luger and prefer to carry a firearm chambered in 45 ACP. While possibly more of an emotional choice than a logical one, it is hard to argue with the 45's century-long proven record of effectiveness. The downside to carrying a 45 has almost always come down to weight. Traditionally, many of the pistols chambered in 45 ACP are steel-framed behemoths based on one form or another of the 1911 Government Model. While the Government Model is a timeless classic, it can become a bit of a burden when worn inside a waistband day in and day out. Attempts have been made to reduce weight by using frames made of aluminum or polymer but many of these lighter pistols are still blocky and bulky and can print badly without careful wardrobe selection. So what if personal preference or departmental policy requires a 45-caliber but duty assignment or garment choice hinders one's ability to successfully conceal a 1911 Government Model? Is there a handgun that is as small and easy to conceal as a sub-compact 9 mm but offers the peace of mind of carrying a 45? Smith and Wesson may just have the perfect solution with the new M&P45 Shield.

The new M&P45 Shield is an offshoot of the incredibly popular Shield previously available in either 9 mm Luger or 40 S&W. Quite surprisingly, the 45 is only slightly larger overall than these earlier chamberings and it is entirely possible to confuse the 45 Shield with its older cousins at first glance. Width, height and length have only been increased to the point necessary to accommodate six rounds of 45 ACP ammo in the flush-fit magazine.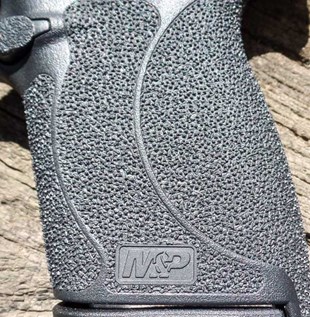 The only immediate visible cue that the 45 is somehow different is the texturing on the frame. The 45 Shield's frame is more finely pebbled with a pattern very similar to what S&W is using on the M&P C.O.R.E. This finer rougher texture enhances grip, especially with full power defensive loads, but isn't so aggressive as to cause hot spots or pain after an extended range session. Also, the new texture does not appear to be so coarse that it will tear up clothing. I wore the 45 Shield in an inside the waistband holster for nearly two weeks and noticed no chafing or fraying on undershirts or cover garments.

Another, although less noticeable, cosmetic difference on this new model is the addition of front cocking serrations. These serrations are short and do not extend across the slide's full height. Smith and Wesson no doubt added these serrations to aid in performing the "come underneath with finger and thumb" press check that is popular with many shooters. Personally, I found the serrations too short and shallow to render much assistance when checking to see if the pistol's chamber was properly loaded. Fortunately, the Shield's barrel hood has a small viewing port in the shape of a half-moon cut. This cut makes visual verification of the chamber a fairly simple matter. If brass is visible through the cut, the chamber is loaded.

On the range, the M&P45 Shield is a joy to handle and fire. The pistol's slightly increased frame length makes the pistol that much more comfortable in the hand. The pistol's trigger is surprisingly crisp with a measured pull of 5.5 lbs. The three-dot sights (painted not tritium) are well regulated and shoot to point of aim with 185-gr. and 230-gr. jacketed hollow points from 10 and 15 yards.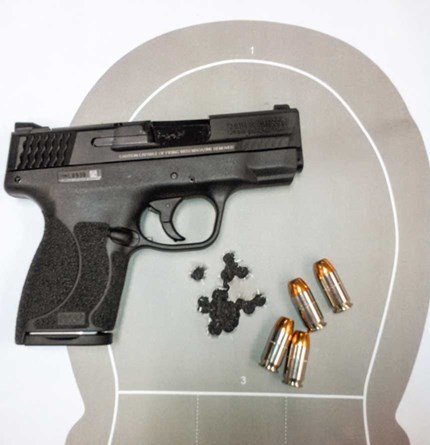 During the course of my evaluation, I used Winchester Silvertip, Federal Hydra Shok, Nosler JHP, Hornady Critical Duty and Federal American Eagle "hardball" with no issues or malfunctions. The 45 Shield proved to be surprisingly pleasant to shoot and several people who fired it remarked that the recoil wasn't as bad as expected. That's not to say that the 45 Shield is a pussycat, but anyone willing to devote some time to practicing with the little pistol should become quite proficient with it.





A noted firearms instructor is known to have said that a person's daily carry pistol should be comforting, not comfortable, meaning the choice of caliber should take precedent over ease of concealment. But Smith and Wesson might just have the right combination of caliber and concealability to make this new Shield "comfortably comforting." The Shield series in 9 mm Luger and 40 S&W has already been extremely popular with the self-defense carry market and S&W has just set the bar that much higher with this new model.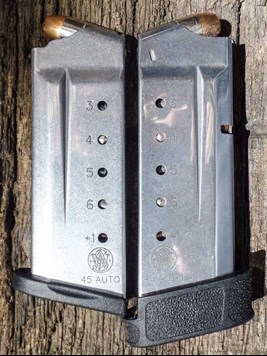 The M&P45 Shield is available with or without a manual thumb safety and ships with a flush-fit six-round magazine and a seven-round extended magazine.  

NRA Specficiations
Manufacturer: Smith & Wesson
Model: M&P45 Shield
Caliber: .45 ACP
Action: Recoil-operated, Striker-fired, Semi-automatic Center-fire Pistol
Frame: Polymer
Finish: Black Armornite
Slide: Stainless Steel
Barrel: 3.3", Stainless Steel
Magazine: Detachable Box; Six- and Seven-round Capacity
Sights: dovetailed three-dot configuration
Trigger: 5-lb., 11-oz. pull
Weight: 20.5 ozs.
MSRP: $479