posted on September 4, 2018
Support NRA American Rifleman
DONATE
Well, summertime has certainly slowed down my range activities, but with kids back in school and the beach season winding down, I've been able to buckle down and complete what is now the long overdue finale for the 2,000-round extended review of SIG Sauer's P320 X-Carry pistol.


When we left off, the X-Carry had surpassed the 1,500-round mark without issue. The gun had been cleaned and lubed twice—once at zero rounds and again after more than 1,000 rounds had been fired. I'd topped the gun with SIG Romeo red dot for a stretch, but returned to the excellent iron sights, SIG's X-Ray night sight system with a bold, green front dot and three tritium vials for low-light conditions. The gun had digested a wide variety of ammunition without fault or complaint, and it appeared to be cruising toward a successful 2,000-round evaluation.
182 Rounds (1706 total)
In my first-of-the-last range sessions with the X-Carry, I fired 75 rounds of SIG 124-gr. FMJ ammunition, 67 rounds of SIG 124-gr. V-Crown JHPs, and an additional 40 rounds of Remington UMC 115-gr. FMJs. This was a fun little range session to get back in the swing of shooting the X-Carry, and I shot the Dot Torture Drill—48/50 at 3 yds., dropped two on the support-hand-only—and ran through some basic defensive drills and transitions.
I also shot groups for accuracy testing with the three loads—five, five-shot groups, in accordance with American Rifleman protocol. Given the X-Carry's 3.9" barrel length, and it's intended role as a carry or personal defense pistol, this model of the SIG P320 was tested at 15 yds., which is typical for compact- or carry-size handguns.



I was not at all surprised by the results, the X-Carry is a very accurate pistol, on par with even some of the custom-grade M1911s I've tested. Accuracy is excellent for a service or self-defense firearm, and I would wager that the other guns in the P320 X-Series that feature longer barrels and target-style sights would be equally accurate, if not more so. Perhaps there is something to its extra-tight fitting, which I discussed in Part 3 of this report.
Of interest to me was how consistent the X-Carry was across the three ammunition choices. The range of bullet weights used was fairly narrow, but the price—and by extension, quality—of the ammunition was a somewhat wider gap, from the bulk pack Remington ball load up to the premium-grade, 20-to-a-box SIG V-Crowns. By price, the ammunition performed exactly as one might expect, with the more expensive loads yielding tighter groups. But the average group size for all three were still all within 0.14". Pretty neat.
With about 300 shots to go, there were no functionality issues to report, and the test goes on.
225 Rounds (1,931 Total)
If I'm totally honest, the only goal of this range session was to increase the round count and edge this evaluation closer to the finish line. The breakdown of the 225 rounds fired is as follows: SIG 124-gr. FMJ, 150; SIG 124-gr. V-Crown JHP, 40; SIG 365 115-gr. FMJ, 25; and Remington UMC 115-gr. FMJ, 10.
Now, I wasn't just loading magazines and spraying the backstop, I was working the fundamentals and I did set up a few drills to shoot. I will admit to shooting a bunch of Bill Drills, though—six shots at a single target, as fast as possible while still ensuring good hits. I also shot another speed training drill that I picked up from a Rob Leatham video, where you set your shot timer to a par time of three seconds, and work on shooting progressively longer shot strings within that time constraint. So, first, you draw and fire one shot within three seconds. In the next round you fire two shots, then three, and four, and so on until you are either shooting too fast and missing, or you are busting par time. I could consistently get six shots clean, I could often get seven, but I wasn't able to get to eight shots within the limit. 
The only other item of note is that I shot some of SIG's relatively new 365 ammunition, in this case it was the 115-gr. FMJ practice load. Aptly named after SIG's latest micro-compact pistol, which I reviewed a few months back, the 365 ammunition is engineered to perform well in pistols with shorter barrels (read, sub-4" barrels) and to produce less recoil—an obvious plus, especially when shooting small, lightweight semi-automatics. The X-Carry is slightly less than a full-size pistol in terms of slide and barrel length, but it is also considerably larger than the P365, so I wanted to see if the "lite" ammo would still reliably cycle the P320's slide. It did. It shot great, and there was a noticeable reduction in felt recoil, especially compared to the full-power V-Crown defensive loads.
105 Rounds (2,036 Total)
This was it, the final range session in the SIG P320 X-Carry extended 2,000-round evaluation, and let me just say, it was more interesting than I anticipated. I had 69 rounds to go, so I loaded up five 21-round mags with 25 SIG 124-gr. JHP cartridges and 80 124-gr. FMJs—enough to put me comfortably over the finish line.
However, right off the bat I noticed that the gun was feeling a little bit sluggish. The slide velocity seemed a little bit slow, and I started noticing that the upper assembly wasn't returning all the way forward. It was returning to battery, and the gun was firing, extracting and ejecting the spent case, and picking a fresh cartridge up while, again, returning to battery. But, it seemed to my eye that the slide and barrel, though locking together, were stopping just short of their usual location. This didn't seem to be a dangerous situation, but I suspected that, with more than 900 shots since its last cleaning, the X-Carry was starting to feel the effects of accumulated fouling.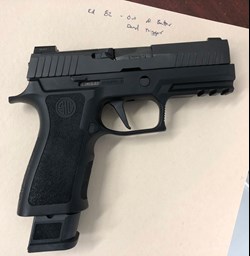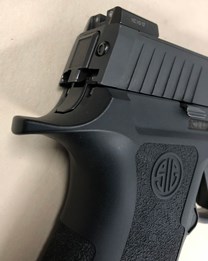 I got through three full magazines without a failure, but on round 82 of this range session the slide failed to go fully into battery, and the X-Carry came up lame with a dead trigger. I can't remember for sure because I was shooting quickly, but if I had to guess, I probably pulled the trigger on 82 and got a "click" but no "bang." There wasn't a dent in the primer, though, which suggests the slide stuck well short of the firing pin's range.
At first, I was a little bummed. To this point, the X-Carry had run flawlessly, and I was convinced it was going to cruise through the 2,000 rounds. This failure to fire, though not unexpected from a very dirty and tightly-fit gun, was a little disappointing.
Then I did some math. The failure happened on round number 82 of the current range session, which made it round number 2,013 of the evaluation. So, in fact, the X-Carry was righteous. It made it through 2,000 rounds, plus a few, without any failures or malfunctions. Bravo SIG, and well-done to the P320 X-Carry; I knew you had it in you.
Of course, I couldn't just let it end there. I took the gun over to the shop and did a very quick cleaning of the slide's rails, and, truly, cleaning is a strong word in this case. I wiped the rails once with a Q-tip and some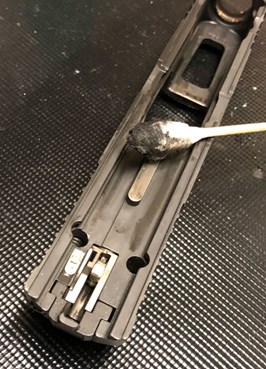 Ballistol. My suspicions about the built-up fouling were pretty much confirmed—the X-Carry's guts were filthy. After the cursory cleaning, it was back to the range with the remaining 24 rounds, including ole number 82. The gun ran like a champ. Slide velocity was back up, and lock up was complete and sure. All that was needed was a little oil.
The final round count stands at 2,036, the first 2,012 of which were failure and malfunction free. And, if extra lubrication were allowed during these tests, the X-Carry probably could have gone on for far longer. Overall, the X-Carry proved itself to be a very reliable, highly accurate firearm, well worthy of it's manufacturer's reputation for quality, and an excellent representative of the P320 family of pistols—a family that is arming military and law enforcement professionals, as well as armed citizens, in ever increasing numbers. And I'm convinced, after this extended evaluation, that those folks are right to put their trust in SIG Sauer's P320.

Range Report: SIG P320 X-Carry—Part 3  
Range Report: SIG P320 X-Carry—Part 2  
Range Report: SIG P320 X-Carry—Part 1   
NRA Gun Gear: SIG Sauer P320 X-Carry  
NRA Gun Gear: SIG X-Carry—Mounting an RDS  
SHOT Show 2018: SIG Sauer P320 X-Carry Pistol