Support NRA American Rifleman
DONATE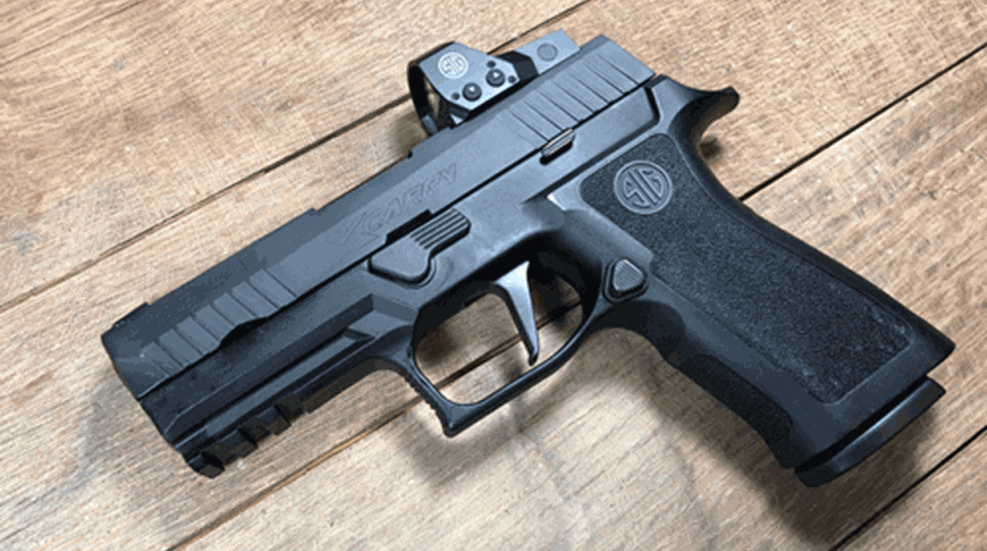 200 Rounds (730 Total)
Breezing past the 500-round mark without incident gave me confidence that SIG's P320 X-Carry is a well-made, well-functioning firearm, and it may just go the distance. Of course it's too early to say but, in my experience, most malfunctions caused by bad firearm design or poor quality control manifest themselves within the first few hundred rounds. Past that, you are looking at durability or construction issues—a well-made pistol should be able to go a few thousand rounds without major issues or broken components. And beyond that you get into the realm of normal wear and maintenance—parts wear out over time and use, so if you shoot a lot, expect to replace a few components. Coming back to the X-Carry, so far there have been no issues at all, we are just humming along.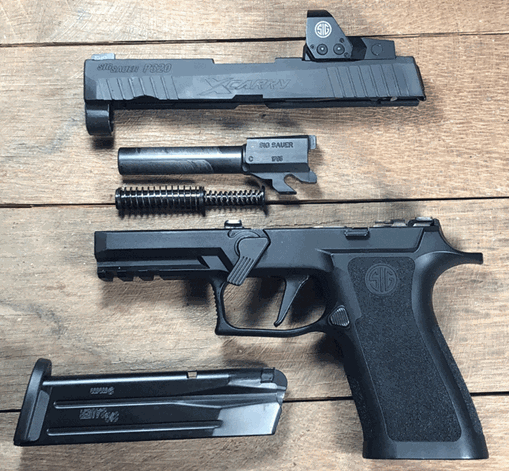 For this range session I shot 124-gr. Federal Premium Syntech Total Synthetic Jacket (TSJ) ammunition. These cartridges look like 9 mm lipstick tubes thanks to the red polymer coating that covers the lead bullet. The benefits to such an arrangement include reduced bullet-to-bore friction, which can extend barrel life and reduce fouling—in fact, the synthetic jacket actually acts as a polymer wipe of sorts, filling the rifling grooves and pulling along any debris as the bullet traverses the barrel. The bore of the X-Carry was actually cleaner at the end of this range session than it was at the start. Federal's TSJ loads also use "clean burning" propellants to, again, reduce fouling, and the jacket also reduces splash-back when fired against steel targets—though I didn't realize that benefit since I was just punching paper.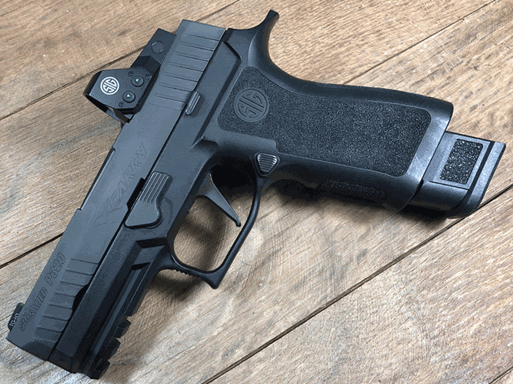 I got a little more practice with the red-dot, and the Romeo1 is holding up just fine. I did decide, however, to replace the rear sight plate after 1,000 rounds. The red-dot works great, but the X-Ray sights are one of the features that drew me to the X-Carry. All in all, 200 more rounds in the books, and no issues of any kind to report.
277 Rounds (1,007 Total)
For this range session, I was back to SIG ammo—124-gr. FMJs (250) and 124-gr. V-Crown JHPs (27). The company sent me a pile for this evaluation, and I intend to use it. Thanks SIG! I did nothing in this range session except practice target transitions. I set up three pistol targets with some air in between them and just practiced engaging one and transitioning to the others in turn. In particular, I was working on moving my eyes first and letting the gun follow—I'd heard from an instructor I trust that this helps you get on to the next target quickly, without swinging through, or swinging past the target. I definitely noticed an improvement in my performance, far more center-mass hits and far fewer shots squeaking in around the edges.
I'll tell you what, though, I am darn ready to get the red-dot sight off. Don't get me wrong, the Romeo1 is a great sight and red-dot optics are serious force multipliers for handguns in many shooting situations. But you have to learn to use them, it's a skill unto itself and I'm not ready to commit to that right now. I shoot handguns pretty well, and currently I'm a good deal faster with traditional sights than I am with the handgun red-dot—especially when those sights are SIG's X-Ray Day/Night arrangement.
277 rounds, 1,007 total, zero malfunctions, stoppages or issues of any kind.
1,000-Round Inspection/Cleaning
As I've stated before, these extended range reports are endurance tests, but not torture tests. My goal is to see if a gun is well designed and well made, and can be expected to perform for its owners as a reliable everyday carry companion. Too that end, I clean and lube the guns every 1000 rounds—I keep my carry gun cleaned and lubed because I want it to be in the best possible condition should I need it to save my life; I'm giving the test gun the same consideration.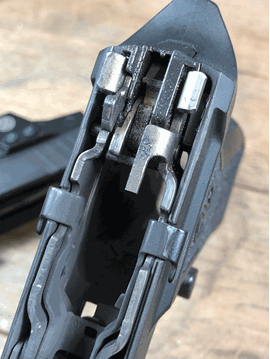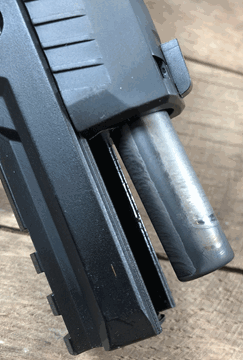 With a few more than 1,000 rounds fired, the gun is definitely dirty, but it isn't filthy, and there isn't any grit or grime that is noticeably changing how the gun feels or functions. That's a good sign; being dirty is ok, creeping towards malfunction is not. The P320 is definitely designed for hard-duty use, and the X-Carry is shrugging off typical range fouling without any issue.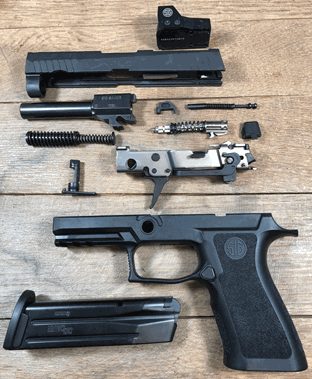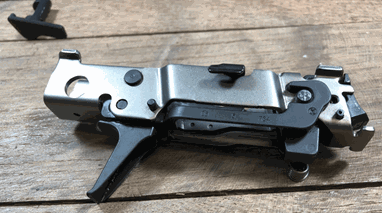 Disassembly of the gun is one of the sterling features of the P320 family—with an unloaded gun, simply rotate the takedown lever clockwise until it stops (from 3 o'clock to about 7 o'clock), and pull the slide assembly forward off the frame. No trigger pull required. With the slide removed, the barrel and dual-captured recoil spring come right out. And, by removing the takedown lever from the frame, the chassis can also be withdrawn from the frame for cleaning—remember, the modular chassis is the "firearm," legally, and can be used with other P320 frames, barrels and slides to create differently-configured, or even differently-chambered, P320 platforms without purchasing a new "firearm."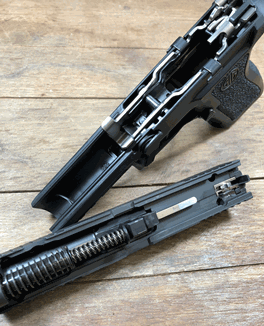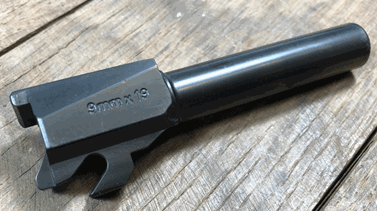 Inspecting the components, particularly the barrel, I was concerned there may be more visible wear marks than I anticipated. Crescent-shaped striations on the top and bottom of the barrel looked like they may have been marring or permanently cooked-in fouling. Thankfully, I was completely wrong. In fact, the entire X-Carry and all its bits, inside and outside, cleaned up perfectly—quick and easy, good as new.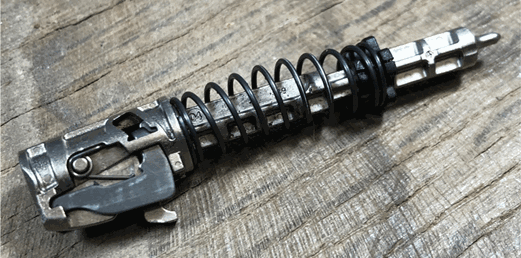 While the gun was taken apart, there were a couple components worth looking at closely. First, the skeletonized striker assembly used in the X-Carry, and now all P320s, is a solution to the "drop safe" pandemonium that gripped the Internet last year. The lightened component simply does not have the mass to ignite a primer except during its mechanically-powered firing sequence. Notice, though, that I said it is a solution, not a response, to the drop safe issue. SIG already had these rocking and rolling in the X-Series guns and the Army MHS guns, and had plans to use them in the standard configuration P320s as well—the company's timeline for implementation simply got moved up. Anyway, cool looking component, though you will only see it during firearm maintenance.


The second part I wanted to look at quickly is the magazines for the P320 X-Carry, not because there is anything radical going on, but because I forgot to talk about them earlier. The X-Carry uses a full-size frame, so the gun comes with full-size mags—three of them out of the box, each holding 17 rounds of 9 mm Luger. For a few more beans on-board, the 21-rounders used with the X-Five competition model and the MHS guns also fit nicely. For this test, I got a handful of 17- and 21-round magazines, and so far they have all worked well. Spring tension can be a little tough to overcome during the first few loadings, but the magazines all seem well made and have performed well. For what it's worth, some are marked "Made In USA" and others say "Made In Italy" (likely by Mec-Gar to SIG's specs). In either case, they look identical and, most importantly, have functioned flawlessly. At the heart of a good pistol is a good magazine—the P320 has one.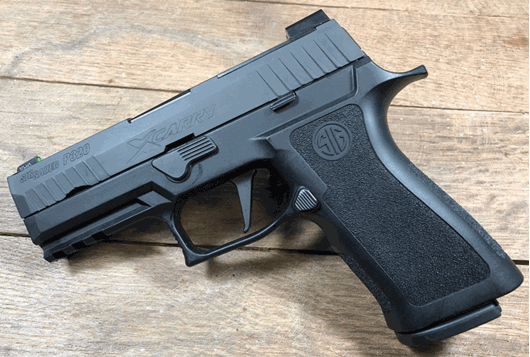 While I had the gun apart, I did remove the Romeo1 red-dot and replaced the rear sight plate. I'm looking forward to shooting with irons again. Besides a little paint coming off its brightness control buttons, and bit of lint and powder on the lens, the Romeo1 was still in perfect condition. I also busted out the Lyman digital trigger gauge to check the gun's pull weight. Prior to testing, the X-Carry had an average pull of 4 lbs., 12 ozs., and after 1,000 rounds, that number was unchanged—4 lbs., 12 ozs.
We've hit the half way point in the extended test of the SIG P320 X-Carry and have experienced exactly zero issues. Be sure to check back for more updates from the range.

Additional Reading: 
Range Report: SIG P320 X-Carry, Part 1
Range Report: SIG P320 X-Carry, Part 3 
Range Report: SIG P320 X-Carry—2,000 Rounds
NRA Gun Gear of the Week: SIG Sauer P320 X-Carry
SHOT Show 2018: SIG Sauer P320 X-Carry Pistol