posted on January 12, 2018
Support NRA American Rifleman
DONATE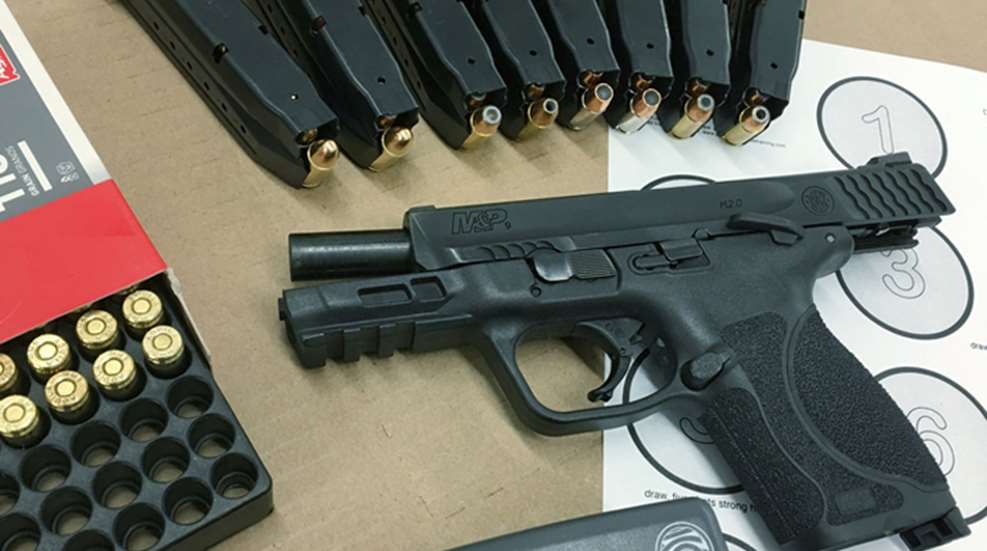 185 Rounds (805 total)
Continuing my extended evaluation of Smith & Wesson's M&P9 M2.0 Compact found me back at the range working on the basics: sight picture, good trigger press, the draw, target transitions, reloads, strong- and weak-hand shooting, and fast, controlled pairs. Pistolcraft is like any skill, everything builds of the fundamentals and they should be revisited often. One of my favorite range session warm ups is the 50-round Dot Torture course of fire which tests all of the basic skills with a focus on accuracy—it is a challenging skills check that can help tailor your training goals. A quick Google search will yield printable targets if you want to give it a try.
All in, I fired 185 rounds, 150 of the 115-gr. +P FMJs from Aguila Ammunition, and 35 of the 117-gr. JHPs, also Aguila, as I refreshed my carry magazines. I was feeling pretty good about the gun—still no failures or stoppages, and none expected—and how I was running it, so I shot a few Bill Drills at 7 yds., and was consistently around the 2.6-second mark for a clean run, which isn't blazing for professionals, but it's pretty darn good for me.
I have decided for certain that the factory sights need to go, I will probably make the swap at 1,000 rounds, as well as give the gun a good cleaning and maintenance check. I had also planned to swap the trigger, if needed, at that time, but I have to admit that the factory bang switch continues to grow on me.
208 Rounds (1013 total)
Mixed bag day! I had 58 rounds of mixed defensive-grade ammunition (mostly 124-gr. Federal HSTs and SIG 124-gr. V-Crowns) in my "remainders" bin and decided to let the Compact snack on those, in addition to 50 rounds of Aguila 117-gr. JHPs and 100 of the 115-gr. FMJ loads. The varied diet yielded not even a hiccup, much less a stoppage. The M2.0 Compact is proving its mettle.

Now, with more than 1,000 rounds through the pipe, it was time for a good thorough cleaning. A personal defense gun should be able to run dirty for an extended period of time. At 1,000 rounds, the Compact has, with aplomb. On the other side of the coin, a firearm carried for personal defense, a handgun intended to save a life if necessary, should be well maintained—and that responsibility is on the carrier. So with cleaning solution and brushes in hand, I was prepared to strip, clean and lube the M&P.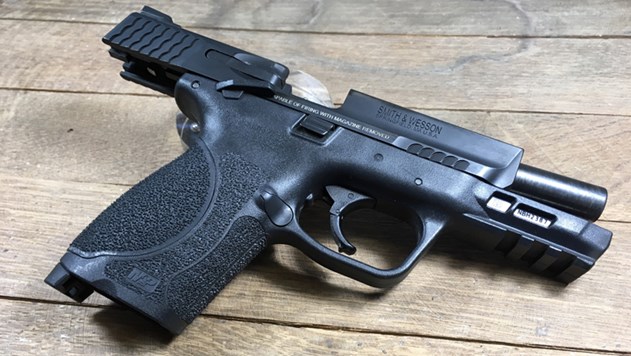 Upon fieldstripping the gun, I was actually a bit surprised by how clean it was. Don't get me wrong, it was dirty—brass and propellant fouling were present, and the aggressive texturing of the grip frame, while extremely effective, seems to be taking its pound of flesh, as reward. But, for a gun with more than 1,000 rounds fired and more than three weeks of constant carry, it really didn't look too bad. I think at least a portion of the credit there goes to Aguila Ammunition; I mentioned in the first part of this review that the cartridge exteriors were pretty darn clean, and it seems the ammo burns pretty clean, as well.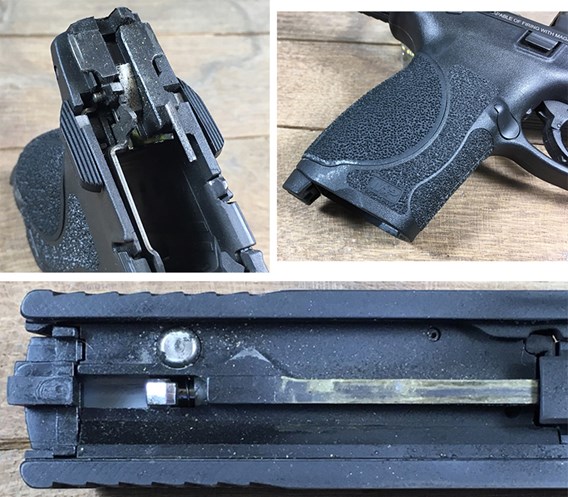 Pistol parts prior to cleaning.

Using M-Pro 7 gun cleaner, the Compact cleaned up quite nicely, and fairly easily. A closer inspection of the components revealed no damage, and the wear marks—from metal-on-metal contact—were exactly where they should be (rails, barrel hood, etc.) and were symmetrical, a good sign that validates the mechanical design is working as intended, and that the product was manufactured and assembled to spec. Overall, the gun received a clean bill of health, and a couple drops of M-Pro 7's Gun Oil LPX to keep it running smoothly.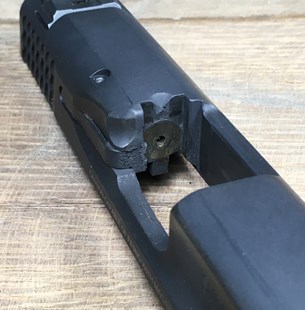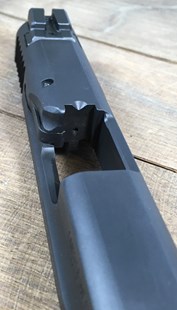 Slide, before and after cleaning.
During the cleaning process, I did make one other interesting observation. After topping 1,000 rounds, I measured the Compact's trigger pull to compare with the 5-lb., 13-oz. average posted by the gun when it was still "new in box." Not surprisingly, the pull weight had dropped to 5 lbs., 11 ozs., and, more significantly, the feel of the pull has smoothed considerably over time. This happens with most guns after the first few hundred rounds as all the moving metal parts wear-in and polish against each other, reducing friction during function. More interesting to me, however, was when I re-measured the pull, post-cleaning, it had dropped again to 5 lbs., 4 ozs. (all weights are the average of 10 pulls with a Lyman digital trigger gauge). That is a total reduction 9 ozs., or more than half a pound, and a great "hidden" benefit realized by cleaning the striker-fired pistol.
Overall, the trigger pull is lighter, smoother and breaks more crisply. I can see absolutely no reason to change or "fix" the trigger at this point, and have no intention of doing so. My, how far the M&P trigger has come.
200 Rounds (1213 total)
At the same time as its 1,000-round tune up, I also changed out the factory sights. I selected the relatively new Tritium Pro night sights from TruGlo. The sights feature a bold, white front dot and a U-notch rear sight, which is a proven combination for fast acquisition. They also possess embedded tritium vials to create a glowing three-dot sight arrangement for use in low-light conditions. A final feature is the rear sight's aggressive, forward-cant ledge which is intended to facilitate emergency one-hand manipulations of the slide by providing a "hook" that can engage the edge of a belt, holster or other surface.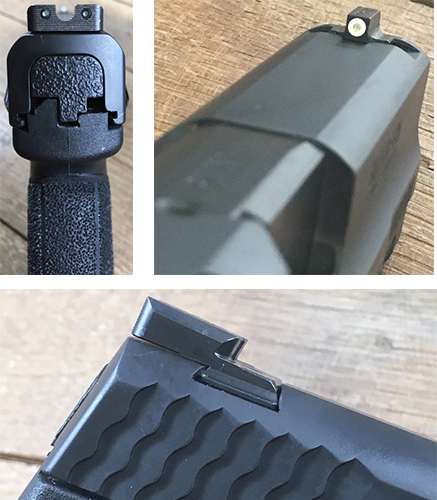 TruGlo front and rear sights.
Installation was pretty easy with my MGW Sight Pro—an armorer-grade sight tool, available from Brownells. It is worth mentioning, though, that like all M&Ps, the M2.0's striker safety plunger (striker block) and spring, and a thin protective plate, are housed beneath the rear sight, so care should be taken not to lose or damage those components when changing or adjusting the sights.
With the new sights installed, it was important to quickly get to the range and make sure the sights were properly aligned. For this session I used Aguila Ammunition's 115-gr. +P FMJs (50 rounds), 117-gr. JHPs (100) and 147-gr. FMJ FPs (50). There were no issues whatsoever, and I was pleasantly surprised that 15-round groups at 3, 5, 7 and 10 yds. were spot on and spread concentrically around the center of the target—heavy left- or right-leaning groups would have suggested the sights were misaligned. 


The Compact has now surpassed the 1,200 round mark and is on the back half of its approximately 2,000-round evaluation. I have absolutely no complaints about the gun or its performance, and Aguila's 9 mm Luger ammunition has also run extremely well. Smith & Wesson's M&P9 M2.0 Compact has now been my trusted carry companion for more than a month, and I expect it's going to be in my holster for a long time to come. Check back for further evaluation updates, including ballistic data for the five Aguila loads when fired from the Compact.
Additional Reading:
Range Report: M&P9 M2.0 Compact Pistol  
Range Report: Smith & Wesson M&P9 M2.0 Compact Pistol, Part 2  
Range Report: Smith & Wesson M&P9 M2.0 Compact Pistol, Part 3  
First Look: Smith & Wesson M&P92.0 Compact