Support NRA American Rifleman
DONATE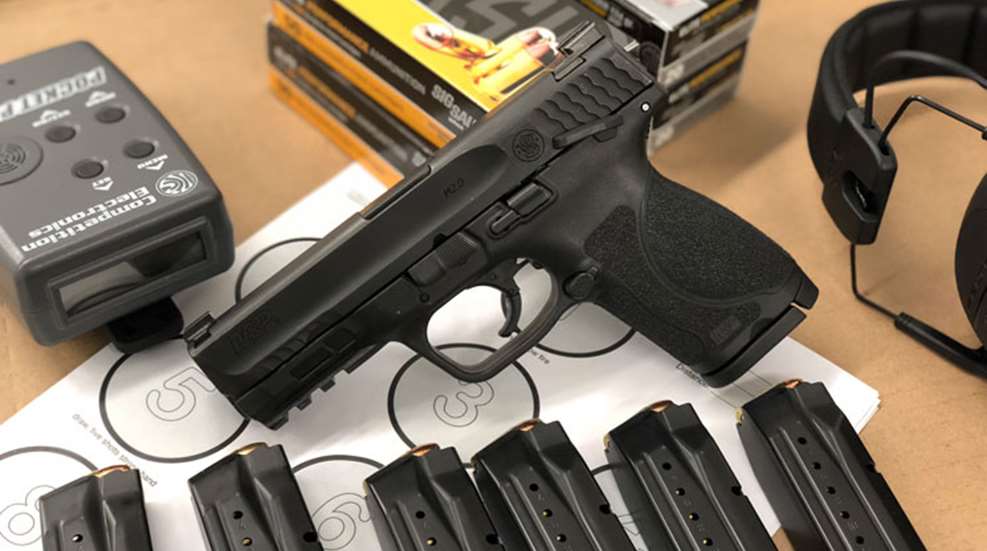 Preliminary Reading:
Range Report: M&P9 M2.0 Compact Pistol, Part 1  
Range Report: Smith & Wesson M&P9 M2.0 Compact Pistol, Part 2  

115 Rounds (1328 total)
Although SHOT Show and some tight deadlines delayed testing a bit, I did manage to get the Smith & Wesson M&P9 M2.0 Compact to the range. My first priority was get the chronograph set up and to run the various Aguila 9 mm loads through to glean velocity and energy data. Despite being indoors, the range was pretty warm and very dry due to a renovation of the climate control system—about 80* F, and 10 percent humidity. Using an Oehler Model 36 chronograph at 15 ft., I fired 10 rounds of each load and recorded the average velocity and standard deviation (Sd). 



Overall, the Aguila ammunition tracked very close to advertised velocities, the one exception being the hollow-point load, which was about 80 f.p.s. slower than listed. I actually expected all the loads to track on the slow side, as most manufactures use test fixtures with longer barrels than the 4" tube on the Compact, so I was quite please with the results. As well, the ammunition exhibited good consistency, shot to shot, which is a positive mark for Aguila's quality control procedures. 
Since I had the chronograph set up, I also tested a very light load—NovX 65-gr. Poly/Copper ARX—and a heavy defensive load in the form of SIG's 147-gr. V-Crown. It is always enlightening to shoot those super-light projectiles, plug the numbers into the calculator and see that velocity, not mass, is really the primary concern when it comes to ballistic energy.

In addition to velocity testing, I turned over my carry magazines with 117-gr. JHP cartridges, and I shot a few extra magazines of 115-gr. FMJs just to keep my trigger press in good working order.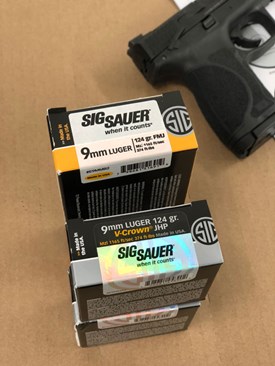 220 Rounds (1548 total)
As this evaluation cruises past the 1,500-round mark without a single incident—none, zip, zilch, nada—we are definitely getting into churn-and-burn mode in the race to 2,000 rounds. Every range session is an opportunity to practice the fundamentals and for me to push the pace on skill drills, but if I fail to provide a blow-by-blow accounting from this point on, it's only because the gun is running perfectly. It would be far easier to expound on issues that could arise, but the Compact continues to function with 100-percent reliability. The trigger is still the best of any striker-fired pistol I've handled—excepting only custom-tuned mechanisms. And the new sights are still on target. So, no news is good news from this point out.
The round count included two boxes (100 rounds) of Aguila's 117-gr. JHP, and 90 rounds of the company's 147-gr. FMJ FP. This was basically the end of my initial ammo supply from Aguila, save a few boxes I've held aside for official testing for an upcoming article. That said, I've swapped my carry mags over to SIG's 124-gr. V-Crowns, ammunition I have used a lot and really like. For good measure, I ran 30 rounds of SIG through the gun to ensure reliable function—no surprise, there were no problems.
208 Rounds (1756 total)
The last range session of this entry added 208 rounds through the Compact, 40 SIG 124-gr. V-Crowns and 168 of the company's 124-gr. FMJ ball loads. There were no issues encountered. In fact, I shot a near-perfect Dot Torture from 3 yds., dropping only one round on the four-shot 6-to-7 transitions. It would have been my first perfect run with the Compact, but I can't complain since the gun and I have consistently shot in the 45 to 48 range with good speed.
Only a couple hundred rounds left in this 2,000-round evaluation. Stay tuned for the conclusion and my final thoughts on the gun.

Additonal Reading
Range Report: MP9 M2.0 Compact Pistol, Part 1  
Range Report: Smith & Wesson M&P9 M2.0 Compact Pistol, Part 2