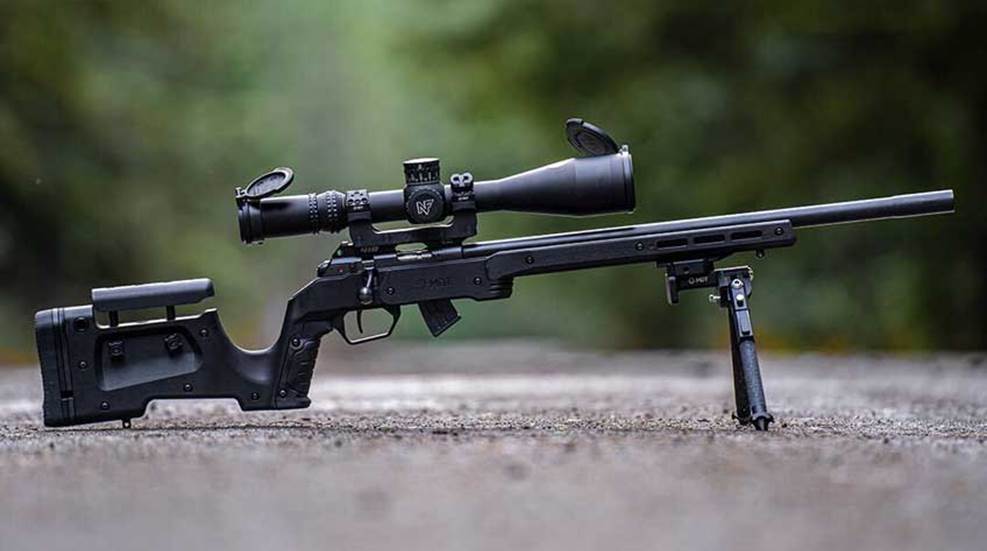 Modular Drive Technologies (MDT)
has announced that it will offer its XRS Chassis machined for CZ USA rimfire rifles. The hybridized XRS Chassis system fulfills the needs of target shooters while providing traditional ergonomics that are adaptable for today's hunter.
At the core of the XRS Chassis is CNC-machined aluminum, grade 6061 to be exact. MDT utilizes a bedding system with V-shaped machining to center and provide rigid support and consistent placement of barreled actions. Currently, MDT offers its XRS Chassis to not only CZ 457 rifle footprints, but Remington 700 SA, Remington 783 SA, Savage SA, Tikka SA, HOWA 1500 SA and Weatherby Vanguard rifles as well.
The XRS Chassis features a replaceable grip system constructed of high-strength polymer that is over-molded and textured to supply a comfortable and customizable shooter interface. To exchange grip modules, simply remove two screws in each panel. MDT supplies an angled and vertical grip with each chassis. 
A fully adjustable buttstock is provided on the XRS Chassis. Users can simply adjust comb height via two square knobs located on the right side. Length of pull is also adjustable. MDT provides 1/4"-thick plastic spacers that rock into position between recoil pad and chassis. Magpul's M-LOK system is provided along the fore-end for further customization.
Combining the XRS Chassis System and CZ's 457 bolt-action creates a customizable, precision-level experience target shooters and small game hunters will enjoy for days on end. The XRS Chassis for CZ 457 rifles retails at $499, and MDT provides options for Black and Flat Dark Earth finishes. For more information on this product and other firearm products, visit
mdttac.com
.